Health Minister: 'Risk of community transmission in Bac Giang is very high'
Bac Giang Province may report a surge in new Covid-19 cases in the coming days in locked-down industrial parks and residential areas with crowded workers, Health Minister Nguyen Thanh Long said at a meeting with the province on May 18.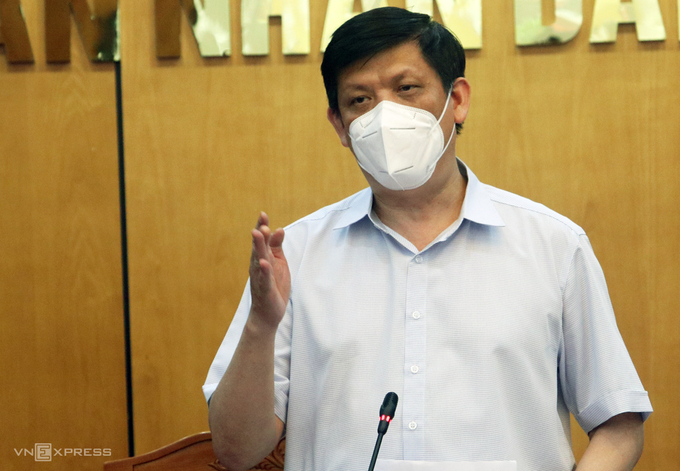 Health Minister Nguyen Thanh Long at the meeting. Photo: VnExpress
At a meeting, Minister Long said the latest coronavirus outbreak had a quicker infection rate than that of previous ones. Several provinces and cities have documented cases related to the outbreak in Bac Giang.
"The risk of transmission in the community is very high, hence, Bac Giang needs to tighten pandemic prevention and control both in blockaded industrial parks and in the community," he stressed.
Vice Chairman of the Provincial People's Committee Mai Son said the whole Viet Yen District and three communes of Yen Dung District had applied social distancing. Four industrial parks including Van Trung, Dinh Tram, Song Khe-Noi Hoang and Quang Chau have also shut down.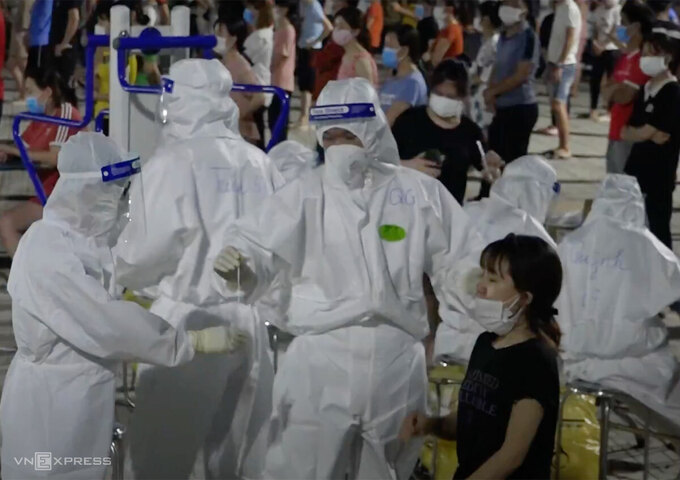 Residents in Quang Chau Commune, Bac Giang's Viet Yen District have their samples taken for Covid-19 testing. Photo: VnExpress
As many as 100,000 laborers in industrial zones and 200,000 residents have their samples taken for Covid-19 testing.
The province's testing capacity now stands at 500 samples per day, equivalent to 7,500 pooled samples.
Minister Long requested the province to speed up testing to detect infections early.
The Ministry of Health will also establish a special standing unit in Covid-19 prevention and control, led by Deputy Health Minister Nguyen Truong Son.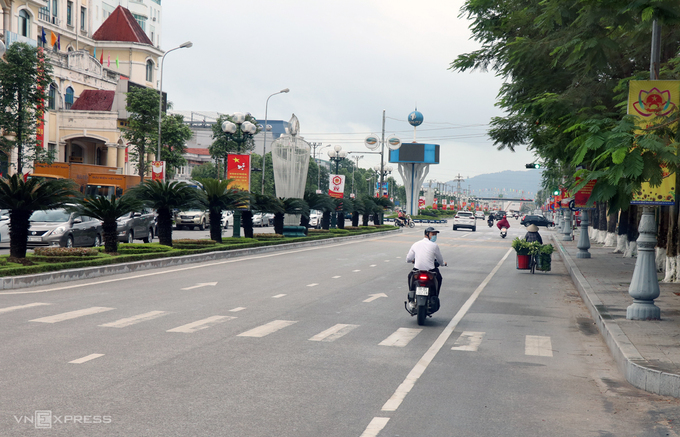 A street in Bac Giang amid the Covid-19 surge. Photo: VnExpress
Bac Giang leaders said the province has prepared 600 beds for treating Covid-19 patients and would raise the capacity to 1,600 beds.
Health Minister assigned the Medical Examination and Treatment Department, in cooperation with Hanoi-based Bach Mai Hospital to assist Bac Giang to set up 50 intensive care units.
Long also required Bac Giang to prepare scenario of having 3,000 people contracting the virus. Field hospitals and centralized quarantine facilities must ensure at least 3,000 beds, with support from both military and civil medical personnel.
Leading medical experts from the health ministry were dispatched to lend a hand to Bac Giang on Saturday night after the province reported rapid transmission of Covid-19 over the weekend.
The working group included leaders of the Institute of Occupational and Environmental Health, National Institute of Hygiene and Epidemiology, Department of Preventive Medicine, Department of Health Environment Management and Hanoi's Bach Mai Hospital.
Also on Saturday, more than 200 medical workers from Vietnam-Sweden Uong Bi Hospital and the health department of northern Quang Ninh Province were sent to help Bac Giang.
On May 17, about 300 mobile policemen were also sent to Bac Giang. They have assumed responsibility for preventing and handling violations in the fight against Covid-19 in the province.
Hanoi also dispatched 20 anti-pandemic medical experts to help the province.
Besides, the city also will support Bac Giang Province to take more than 10,000 samples for Covid-19 testing, assist the pandemic region for the epidemiological investigation, tracing, zoning and testing biological products at Van Trung Industrial Park with nearly 100,000 workers, ensure environmental hygiene and spray disinfectant in the industrial park.
Since the new wave of local transmissions began in the country three weeks ago, Bac Giang has registered 411 cases, including 326 in industrial parks.
The domestic Covid-19 cases in Vietnam have risen to 3,072, with 30 patients confirmed in the past 12 hours as of 6 am on May 19, the Ministry of Health said.
Of them, 16 were recorded in Bac Ninh province, 10 in Bac Giang, three in Lang Son and one in Ho Chi Minh City.
The ministry also documented one imported case on the morning, bringing the total imported infections to 1,471.
As many as 1,502 Covid-19 patients were confirmed in the nation since it was hit by the fourth Covid-19 wave on April 27.
A total of 121,010 people who came in close contact with Covid-19 patients or arrived from pandemic-hit areas are being quarantined nationwide, including 2,217 at hospitals, 32,348 at other quarantine sites, and 86,445 at residences.
Among the Covid-19 patients, 37 have tested negative for the SARS-CoV-2 once, 29 twice, and 23 three times.