Helicopter Tours in Vietnam Starting at $90
Get a bird's eye view of Vietnam's most beautiful spots!
As tourism reopens throughout Vietnam, Ho Chi Minh City has launched a helicopter tour of the city. Many travel businesses are taking advantage of this tour for the forthcoming Reunification Day holiday (April 30).
Visitors can enjoy this form of tourism in many other tourist destinations, including Vung Tau (Ba Ria - Vung Tau), Da Nang, and Ha Long (Quang Ninh), in addition to Ho Chi Minh City.
The cost of helicopter sightseeing excursions varies based on the duration of the flight.
The lowest ticket price starts at $87 USA per person for a 10-minute flight.
For $200, you can fly over Ho Chi Minh City
TSTtourist travel company is the first unit to finish the building of a helicopter tour product "viewing Ho Chi Minh City from above," which will be available starting from the end of the April holiday.
According to the poll, a number of other travel businesses, including Vietravel, Saigontourist, Fiditour And Vietluxtour, have started offering a helicopter tour of Ho Chi Minh City for around $175 to $200 USD starting on April 22.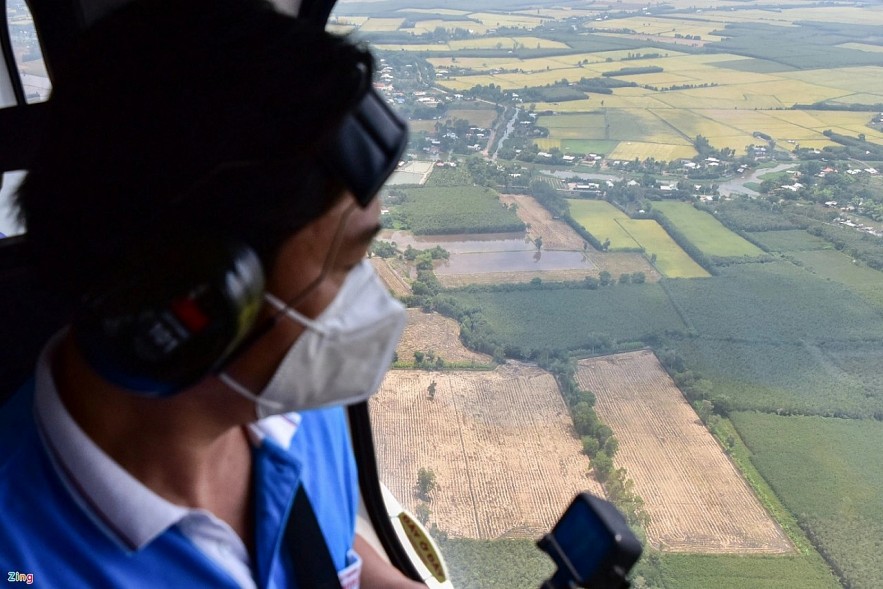 Visitors can experience the view of Ho Chi Minh City on a helicopter during the holiday of April 30. Photo: Duy Hieu.
TSTtourist's spokesperson stated that following the test trips, the business hopes to provide a variety of alternative tour options ranging from 20 minutes to 80 minutes, depending on the itinerary, to experience the mangrove biosphere reserve. Long An from above, Can Gio or Tan Lap KDL's limitless fields.
The trip "viewing Ho Chi Minh City from Above," according to the Ho Chi Minh City Department of Tourism, is the first in a series of new programs that the city's tourism industry is developing to attract tourists. When reopening under new normal conditions, the international visitor market will be expanded.
Vung Tau helicopter tours start at $150
This is the lowest fare for a 15-minute flight to Vung Tau, according to a Zing poll. Guests embark from the Vung Tau heliport, fly by Back Beach, the Christ statue, and the lighthouse, as well as several well-known tourist destinations like Bach Dinh, Ho May, and Da wharf, before returning to the departure location.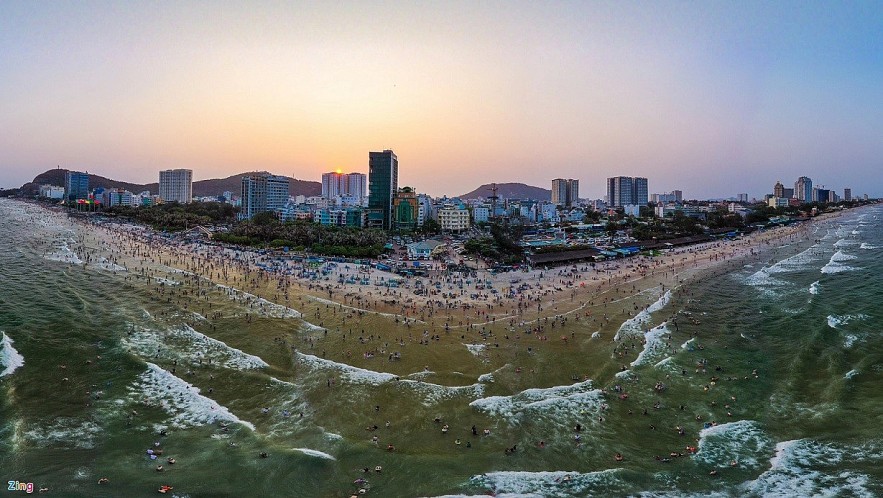 Back Beach Vung Tau seen from above. Photo: Quynh Danh.
A 30-minute flight to appreciate the scenery is also available for 5 million VND. Other Ba Ria - Vung Tau survey tours are priced at VND 9 million and VND 12 million, respectively, for 45-minute and 60-minute durations.
Helicopter scenic rides are limited to one passenger. The aircraft is a light Cabri G2 helicopter with one seat for the pilot and one for the passenger.
The cost of seeing Da Nang from the air is $108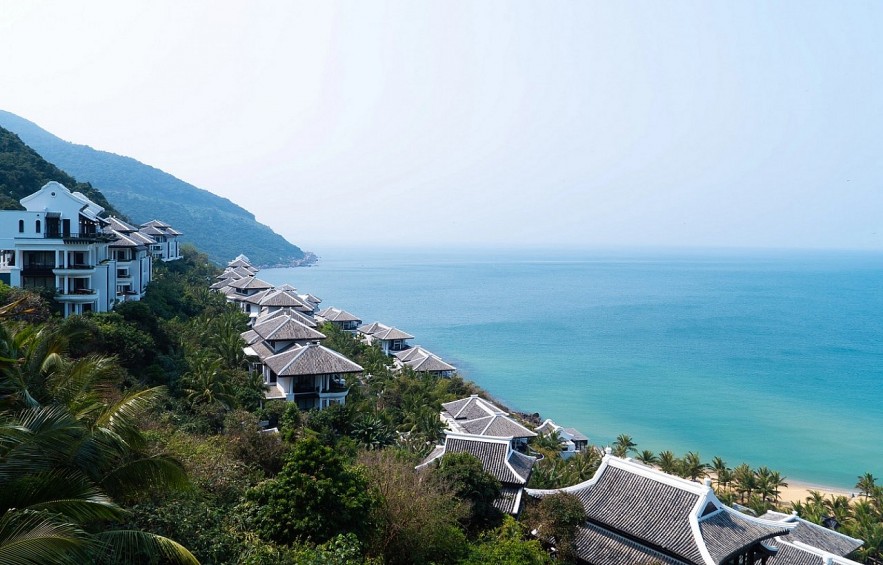 Watching Da Nang from above is an interesting experience that visitors can try on this occasion of April 30. Photo: Unsplash
Currently, a helicopter tour of Da Nang is only available for a 12-minute journey, with costs starting at $110 USD.
Every day, at 8:00 AM. and 2:00 PM, flights depart. The helicopter can accommodate up to 6 passengers.
From Da Nang Nuoc Man airport, a sightseeing flight leaves. The Marble Mountains will be visible from the air, and visitors will be able to fly along My Khe Beach, pass the Dragon Bridge, and travel to the Son Tra Peninsula.
For $110 USD, you can fly over Ha Long Bay for 10 minutes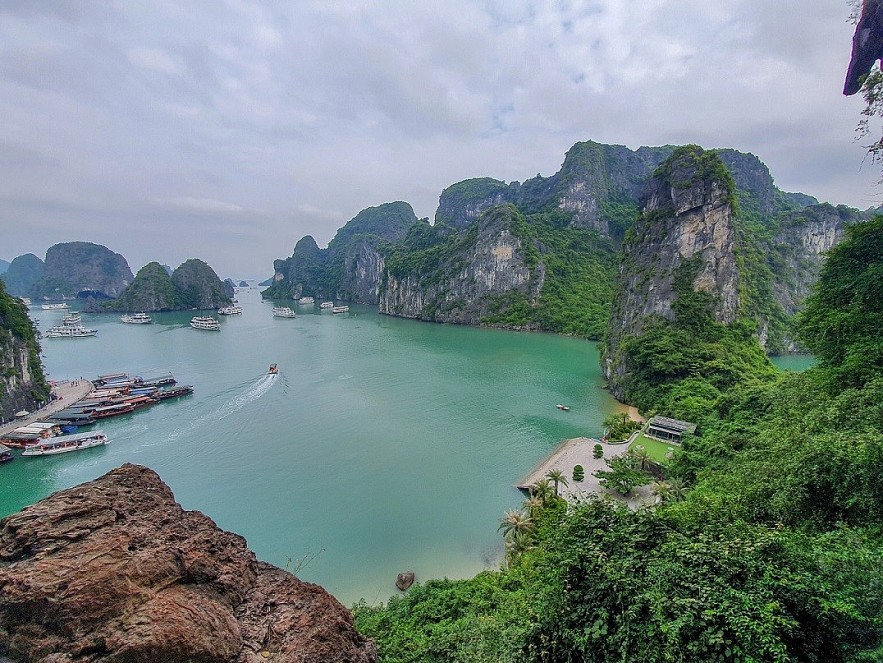 Ha Long Bay seen from above. Photo: Unsplash
Visitors can pick from three helicopter flights to see Ha Long Bay (Quang Ninh). The exploration tour costs $105 USD per person and includes a 10-minute flight. The helipad at Tuan Chau is where visitors depart. Visitors will be able to see the stunning scenery of Thien Cung cave, Dinh Huong island, and Ga Choi island during the journey.
A 15-minute flight trip costs $158 USD per person and includes flights over many of the bay's famed caves, Reu Island, Bai Chay, etc.
A $323 USD flight tour lasts 30 minutes. Thien Cung cave, Trong Mai Island, Titop island, Sung Sot cave, Cua Van fishing hamlet, Bai Tu Long bay, Cong Do island, dolphin bow, Quang Ninh museum, sun wheel, Bai bridge Fire, Lighthouse, Bai Chay beach, and Reu island will all be seen from the air.
For A Safe And Comfortable Road Trip

Road trip travel is an amazing experience for adventurous people, but it also requires some skills to avoid mistakes and potential dangers that beginners can ...
Zing