Ho Chi Minh city extends social distancing by 2 more weeks
Ho Chi Minh City should extend its current social distancing period by another two weeks due to ongoing coronavirus concerns, proposed the municipal health department on Monday.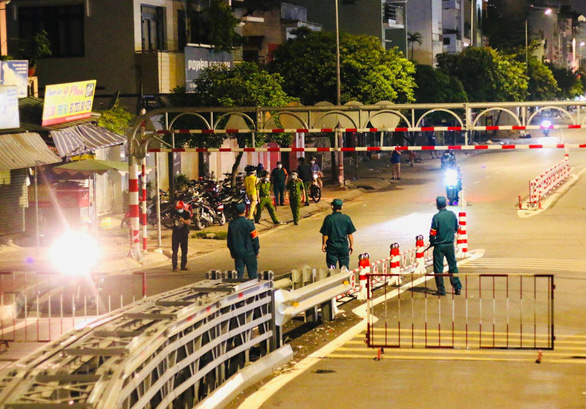 The stop at An Phu Dong iron bridge point from Go Vap district to District 12 and vice versa. Photo: VnExpress
The city-wide social distancing measure means social events are suspended while gatherings of 20 people or more in one place and of 10 people or more outside workplaces, schools and hospitals are banned. A minimum distance of two meters between people in public places should be ensured.
The extension is justified as the coronavirus still lurks inside the community, and a premature lifting of the social distancing order may give it a chance to proliferate further, said director of the Ho Chi Minh city Department of Health Nguyen Tan Binh, cited VnExpress.
A previous two-week social distancing period for the city began on May 31 and was supposed to end on Monday, where a similar ban on social events, gatherings of 20 people or more in one place and of 10 people or more outside workplaces, schools and hospitals was in place. Go Vap District and District 12's Thanh Loc Ward, the center of a major cluster emerging from a Christian mission, underwent a stricter social distancing order, where gatherings of more than two people in public are banned and people are requested to leave home only for emergencies, buying food and medicine, and working in factories, production facilities and businesses that involve "essential" goods and services.
Monday extension means Go Vap and District 12 now apply the same restrictions as other places in the city.
With 789 confirmed infections, currently all 21 districts and Thu Duc city in Ho Chi Minh city have recorded Covid-19 patients; 335 areas in the area are blocked.
The first patient in Can Gio district was announced by the Ministry of Health on the evening of June 13 along with 43 other cases, bringing the total number of Covid-19 cases in Ho Chi Minh city during this outbreak to 789, just behind Bac Giang and Bac Ninh. Today the city recorded the most infections since the outbreak appeared with 95 cases. Previously, the highest number of infections in the city in one day was recorded at 84 cases, on June 12.
According to Director of Ho Chi Minh City Department of Health Nguyen Tan Binh, the outbreak related to the activities of the Renaissance Mission Church in Go Vap district with nearly 450 infections is basically under control. However, the city is appearing many new infection chains due to the pandemic that has quietly appeared in the community before.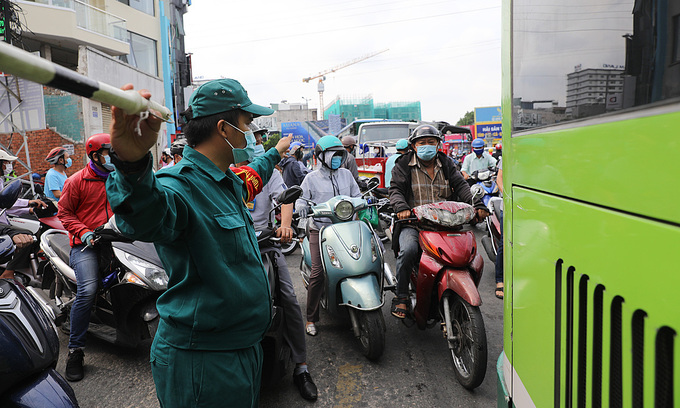 Vehicles are instructed to go around a Covid-19 checkpoint in Go Vap District under HCMC's social distancing order, June 1, 2021. Photo: VnExpress
In particular, the infection chain at the Hospital for Tropical Diseases in Ho Chi Minh City (the city's Covid-19 treatment facility with 550 beds, nearly 600 employees) was discovered on June 11 when an information technology employee tested positive for nCoV. The hospital has urgently screened, traced, isolated and sampled all medical staff and after two days, the total number of Covid-19 patients here has reached 53 cases.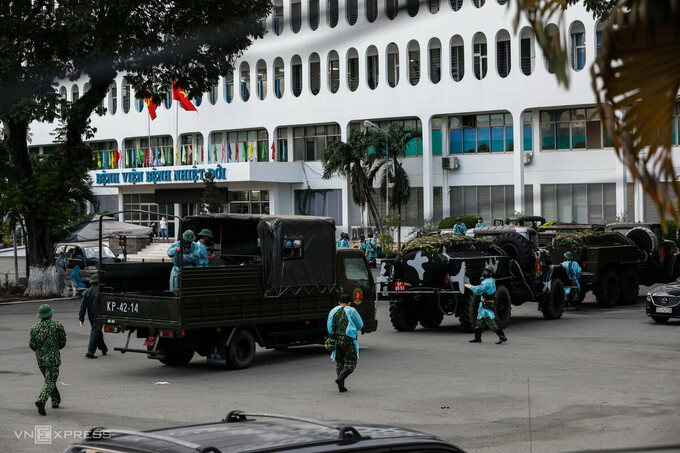 Ho Chi Minh city Hospital for Tropical Diseases was disinfected by district forces on the afternoon of June 13. Photo: VnExpress
In addition, a number of other outbreaks of unknown origin were detected during screening at hospitals such as: Cu Chi - Hoc Mon mechanical workshop; outbreak at Ehome apartment building, Ho Hoc Lam street, Binh Tan district; outbreak at Road No. 11, Hiep Binh Phuoc ward, Thu Duc city; outbreak in Tan Thoi 2 hamlet, Hoc Mon district.
On June 13, Vietnam recorded 293 more infections, of which 254 cases were detected in isolation and blockade areas. The total number of infections from April 27 to now is 7,333. Bac Giang still recorded the most cases of 4,045 infections; followed by Bac Ninh 1,343. The pandemic has appeared in 39 provinces and cities.
Yesterday was also the day Vietnam recorded the third highest number of infections since the outbreak appeared (293 cases), behind May 25 (444 cases), June 9 (381 cases).