Ho Chi Minh City has enough supplies to meet skyrocketing demand for necessities
Retailers in Ho Chi Minh city have stepped up preparation to meet increasing shopping demands as authorities enact social distancing orders.
On May 30, Ho Chi Minh City recorded a sharp increase in the number of customers going to shopping malls, supermarkets, and convenience stores. The average order value also increased by 50 – 100% compared to previous weekends.
Retailers in the city have stepped up preparation to stockpile necessities, ready to meet the fluctuations in demands and provide enough supplies for locals.
At Co.opXtra Pham Van Dong in Thu Duc city, the number of customers visiting increased sharply. The most sought-after goods at this megamarket included fresh meat, vegetables, fruits, noodles, and rice. Co.opXtra Pham Van Dong operated at maximum capacity and mobilized all staff members to meet the customer's demands while still adhere to Covid-19 prevention measures.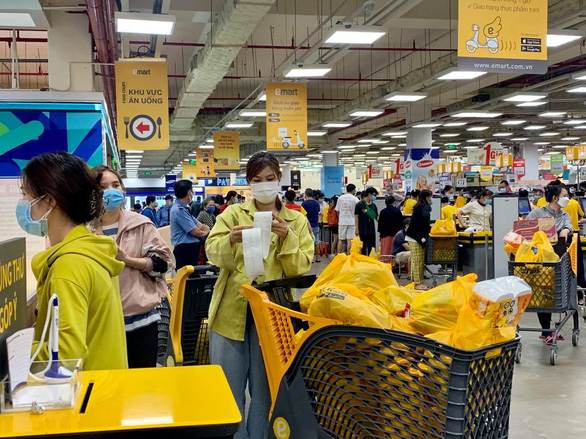 Photo: Customers shopping at a supermarket in Ho Chi Minh City / Tuoitre.vn
Tuyet Mai, from Thu Duc city, said her family usually goes shopping during the weekend to stockpile necessities for the whole week. However, as Ho Chi Minh city would enact social distancing per Order 15 starting 0:00 on May 31, she decided to buy more than usual to ensure the quality of her family's daily meals.
Similarly, Nguyen Thanh, a blue-collar working in Go Vap district, said he went to LOTTE Mart on Nguyen Van Luong Street during the lunch break to buy some items for his family. He also bought extra frozen, canned, and dried food.
Representatives of some supermarkets and convenience stores in Ho Chi Minh city said there might be a temporary shortage in the supplies of some necessities due to the sharp increase in purchasing power. They need time to restock these items.
However, retailers have stockpiled necessities, ready to adapt to the fluctuations in shopping demands, and ensure sufficient supplies.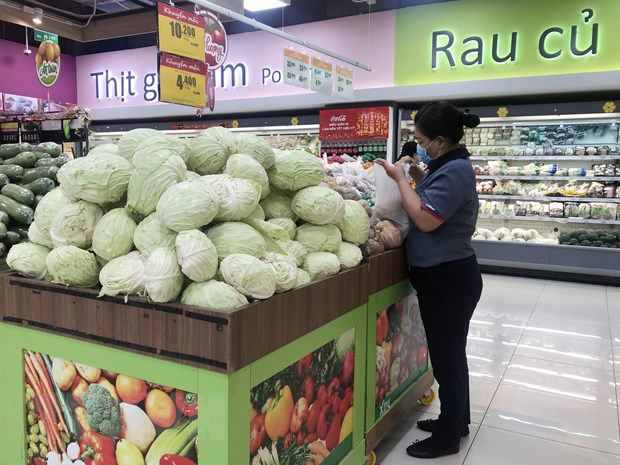 Photo: Saigon Co.op supermarket/Vietnam News Agency
Other businesses in Ho Chi Minh city have also prepared to diversify and ensure stable supplies of necessities, providing customers with enough necessary items as social distancing orders are enacted in the city.
Nguyen Anh Duc, Chief Executive Officer of the Saigon Union of Trading Co-operatives (Saigon Co.op), said the union's retail stores have seen an increase in the number of customers shopping during the weekend. However, with their stable sources of supplies, customers can shop at Saigon Co.op without worry. The union is also implementing various "fruits rescue programs," which offer in-seasonal fruits at a good price.
"Facing the unpredictable developments of COVID, Saigon Co-op would like to remind customers to adhere strictly to the 5K rules of the Ministry of Health and Covid prevention regulations of the Ho Chi Minh City People's Committee. Saigon Co.op is ready to extend opening hours to serve the maximum demand of customers and stabilize the necessities market," said Duc.
To prevent COVID and improve safety for customers, most shopping malls, supermarkets, and convenience stores in Ho Chi Minh city have applied various measures. For instance, many retail stores have cranked up the temperature inside to over 25 degrees Celsius, constantly reminded customers to keep a safe distance, or taken body temperatures and disinfected hands.