Hoi An and Sa Pa Named As Favorite Images Locations In Vietnam
Hoi An and Sa Pa in Vietnam have topped the list of favorite image locations in Vietnam, according to a survey on booking.com.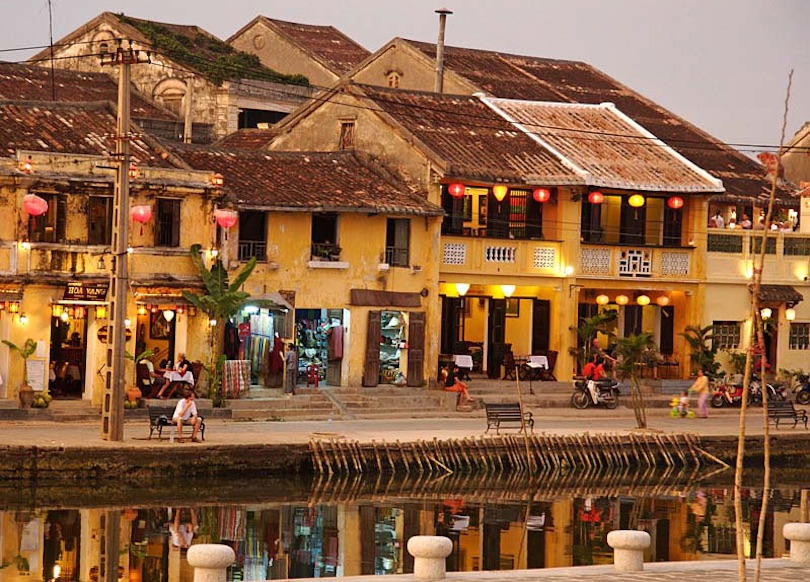 Hoi An Ancient Town. Photo Touropia
On the event of World Photography Day on August 19, world vacationers voted for engaging images locations when arriving within the S-shaped land. Hoi An, Sa Pa and Hanoi are the locations they love the most, ViGuide reported.
Visitors love the old style yellow-painted homes in Hoi An, the lengthy terraced fields, and waterfalls and romantic streams in Sa Pa. Moreover, the thousand-year-old capital of Hanoi additionally captures the hearts of overseas vacationers who go to. Not solely with worldwide vacationers, home vacationers additionally charge Hoi An because the primary vacation spot to take photos and Sa Pa ranked second.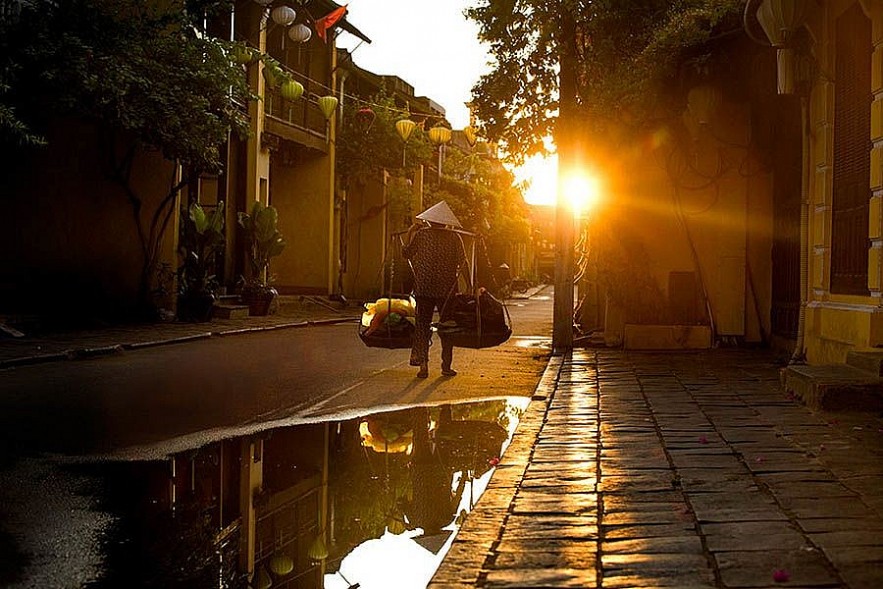 Hoi An Ancient Town at dawn. Photo rehahnphotographer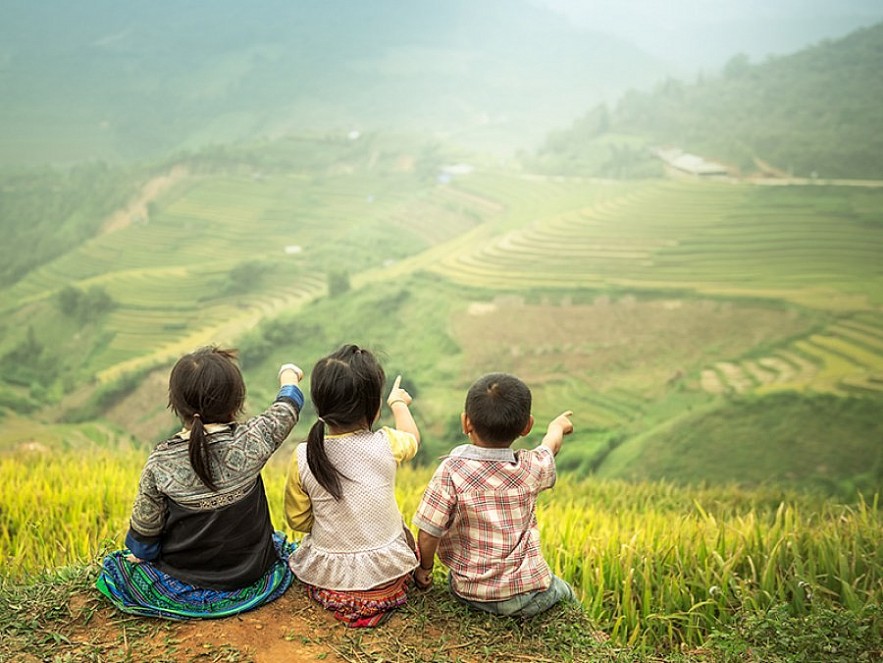 Sa Pa ranks the second in the booking.com's survey. Photo Trekking Sa Pa Tour
Favorite images locations are additionally based mostly on every individual's preferences, some individuals need to discover a bustling city setting, however others are "inspired" by pure surroundings, mountains. When coming to Vietnam, guests may have numerous choices.
Besides the above three locations, many vacationers additionally voted for different locations similar to Ha Long, Da Lat, and Phu Quoc. They love the white sand seashores with limitless shoreline in Phu Quoc. Or love the pure surroundings, romantic mountains and forests within the land of Da Lat. So, cities like Ha Long, Da Lat, Ninh Binh, Da Nang and Mui Ne are additionally within the prime 10 greatest images locations in Vietnam.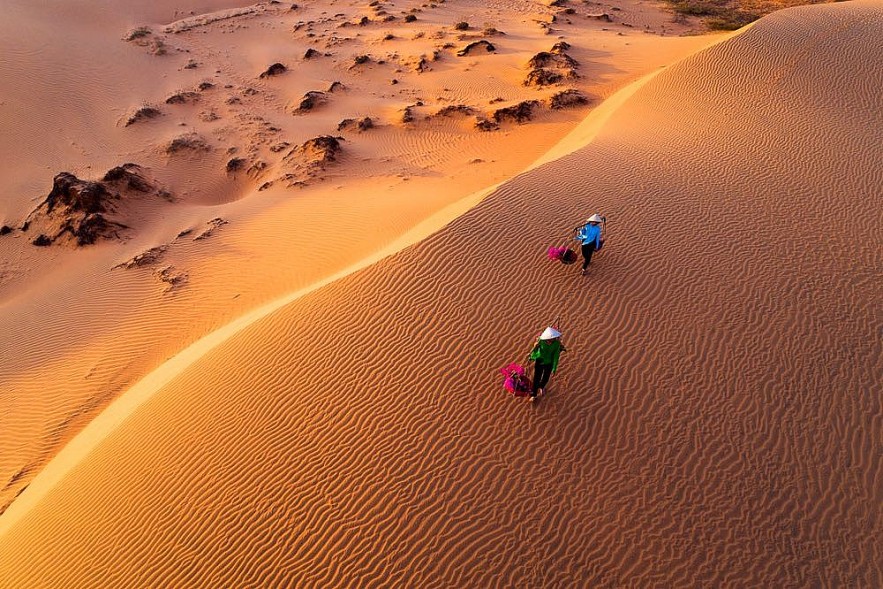 Mui Ne sand dunes make the place one of favorite image locations in Vietnam. Photo Vietnam Online
Booking.com's survey was carried out with adults who've traveled for enterprise or pleasure prior to now 12 months and should plan to travel within the subsequent 12 months.
Its evaluation is based mostly on the votes of 20,934 vacationers in 28 international locations and territories. They shared the most well-liked locations in Vietnam of their 'picture searching' journey.
Top 10 favorite images locations in Vietnam voted by foreign tourists
Hoi An
Sa Pa
Hanoi
Ha Long
Ho Chi Minh City
Da Lat
Ninh Binh
Da Nang
Mui Ne
Hue
Top 10 favorite images locations in Vietnam voted by domestic visitors
Hoi An
Sa Pa
Da Lat
Ha Long
Ninh Binh
Da Nang
Hanoi
Ho Chi Minh City
Hue
Tam Dao
Best Spots to Capture Hoi An
According to rehahnphotographer, timing is everything. Tourism in Hoi An is booming, which is great for the country but can be frustrating for photographers.
Hoi An is a warm and vibrant place with excellent food and authentic culture.
It's worth the time it takes to find the right location then just wait for the town to inspire you.
Japanese Covered Bridge, Hoi An Old Town
Photo VnTrip
The Japanese Covered Bridge is an iconic symbol that defines Old Town Hoi An. This beautiful arched bridge was built in the 1590s to connect the Japanese quarter to the Chinese quarter, back during a time when Hoi An was a bustling international port town. Take a look inside at the monkey and dog protectors on either end of the Japanese Covered Bridge for some close-up pictures, as well as the temple inside the bridge.
Tips: get there early in the morning to take pictures without lots of people (7 am). At this time you can also cross the bridge without paying a fee.
The iconic yellow walls of Hoi An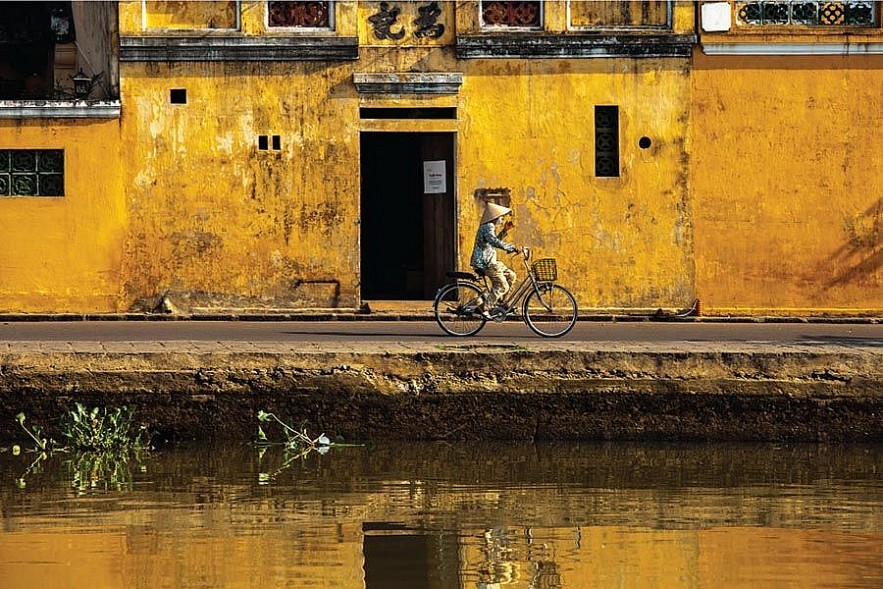 Photo Rehahn Photographer
The old yellow-walled buildings are everywhere in the ancient city and the photo opportunities are limitless. No Hội An trip is complete without wandering the narrow streets of old town for hours, discovering the many ancient buildings.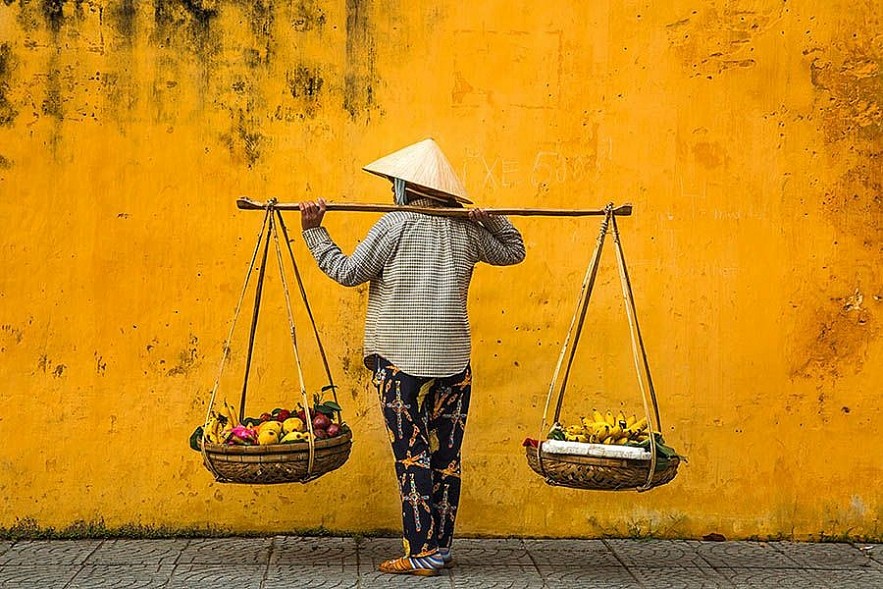 v
If you want to experience Hoi An Old Town in the morning join our Sunrise Photography Workshop!
Faifo Coffee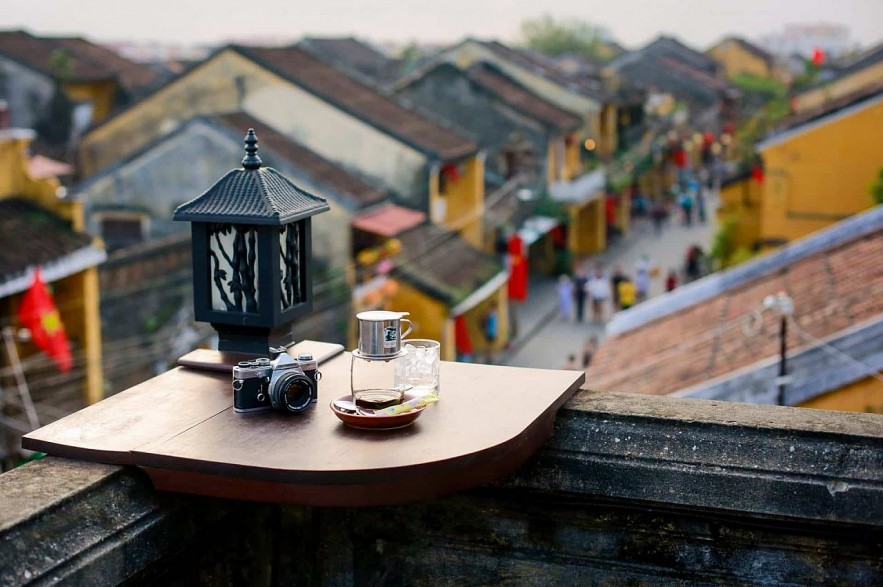 Photo Mia
Faifo Coffee shop has a rooftop terrace overlooking Hội An Old Town. It is one of the best views you can easily get, overlooking the terracotta roofs. The drinks are average for Hoi An Old Town (38,000 VND for an Americano) and its got a great atmosphere and is well worth a stop if you want to get a view over Hoi An with an Instagram perfect cup of coffee and ancient roofs. Perhaps the best place in Hoi An to take pictures of the roofs.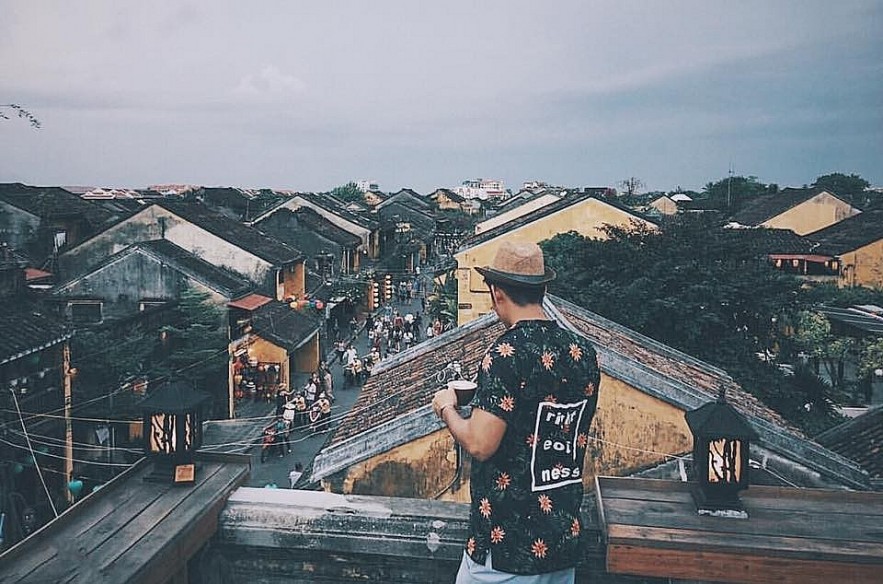 Photo MV Travel
"Hoi An Vibes Only" sign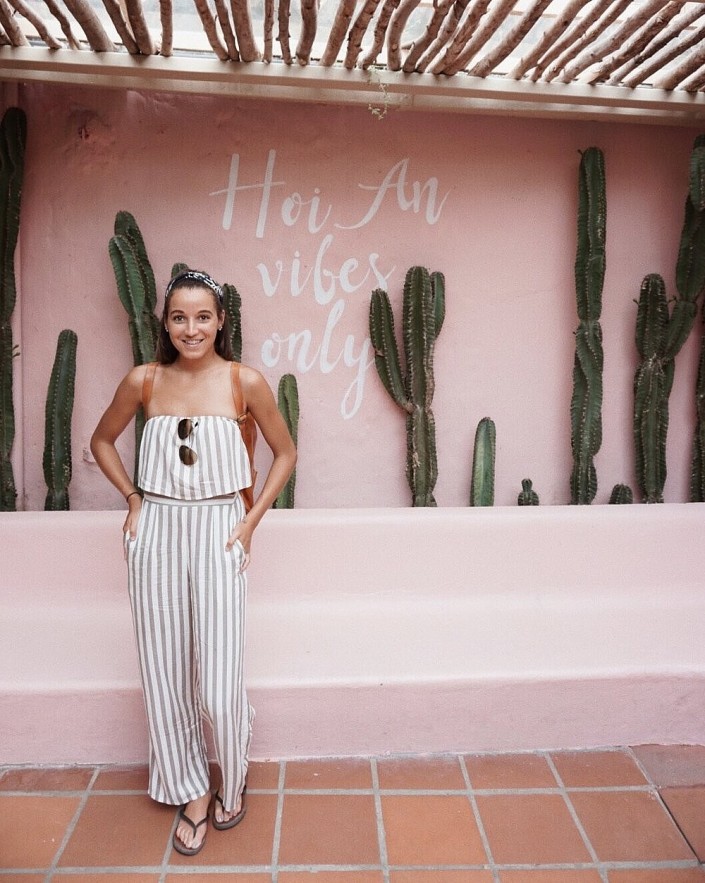 Photo Hall Around The World
Not quite as iconic as the yellow walls or Japanese bridge but any search for Hoi An on Instagram will probably bring up pictures of someone in front of the "Hoi An Vibes Only" sign. It's at the back of the "Sunday in Hoi An" store which sells all kinds of home accessories and nick nacks.
Time: Sunday in Hoi An — 76 Tran Phu Street
Opening Hours: Mon-Sun 9:00 am — 9:00 pm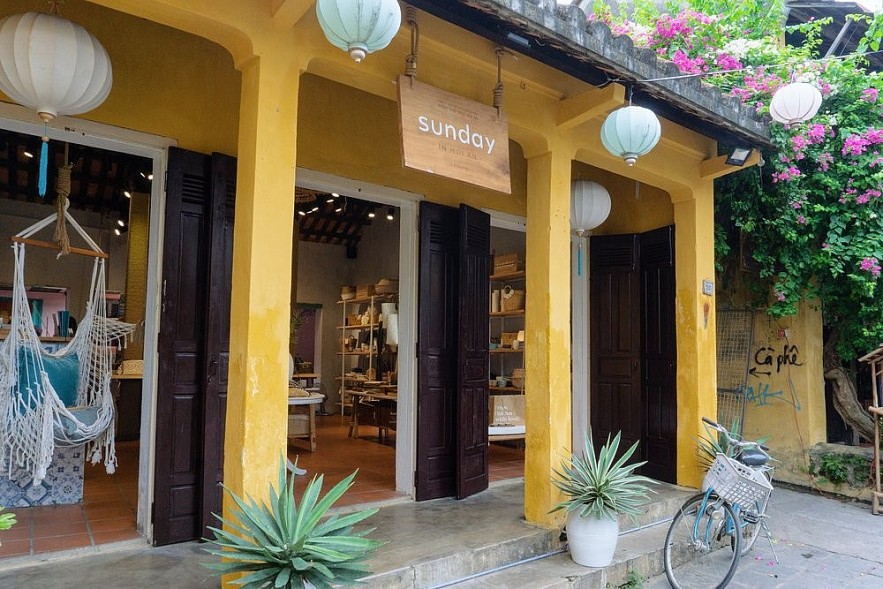 Photo Hall Around The World
Tips: Google maps has the location of the "Sunday in Hoi An" store a bit wrong but just pay attention to the address and you'll find it. In front of the store, there is a wooden sign that says "From Hoi An with love!" Another often photographed sign.
Hoi An Alleys
In addition to exploring all the beautiful storefronts in the ancient city don't forget to walk down the narrow alleys. Some of the alleys in Hội An have yellow walls some don't but there are many opportunities to take pictures with converging lines.
Temples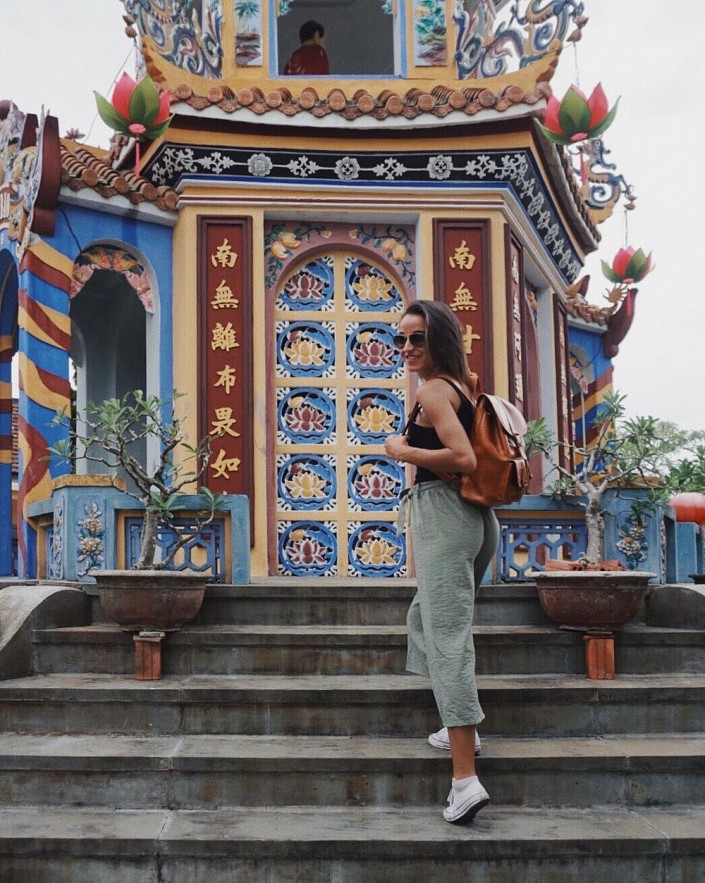 Photo Hall Around The World
Just like rice fields, there is no shortage of temples to explore around Hoi An.
It's a great spot to stop and snag some photos, but make sure you're dressed appropriately, Hall Around The World website suggested.
Tips: When visiting temples, you should always make sure that your shoulders are always covered.
Mural village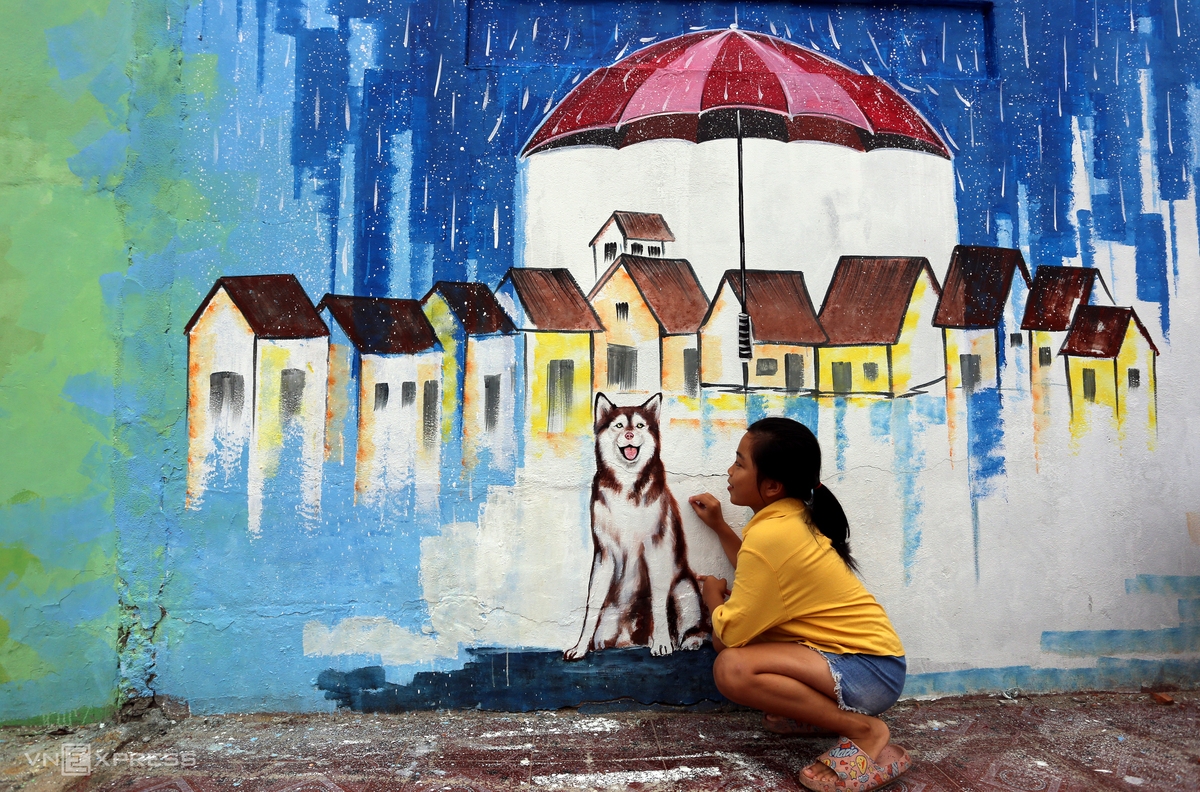 The children of the mural village are delighted at the picture of a dog and houses standing side by side. Photo VnExpress
The Tam Thanh Mural Village was a joint project between the Vietnamese Peoples Committee of Quang Nam Province and the Korean Community Art Exchange Program. Over a dozen Vietnamese and Korean artists painted over 100 murals around the community.
The project aimed to create art for a better community and to bring more tourists to the area. So far, it has been a massive success and has even inspired other similar projects to spring up in the area… more on that soon.
Though it's not technically in Hoi An, the Mural Village is just a short day trip away and well worth a visit if you're a fan of street art. It lies alongside a beautiful beach which was totally deserted when we visited… making it a pretty surreal spot for photos as well.
Top Photography Locations in Sa Pa
Asia Tour Advisor website has recommended three best places to take photos in the small town of Sa Pa:
Terraced fields – a beautiful sight created by Sa Pa people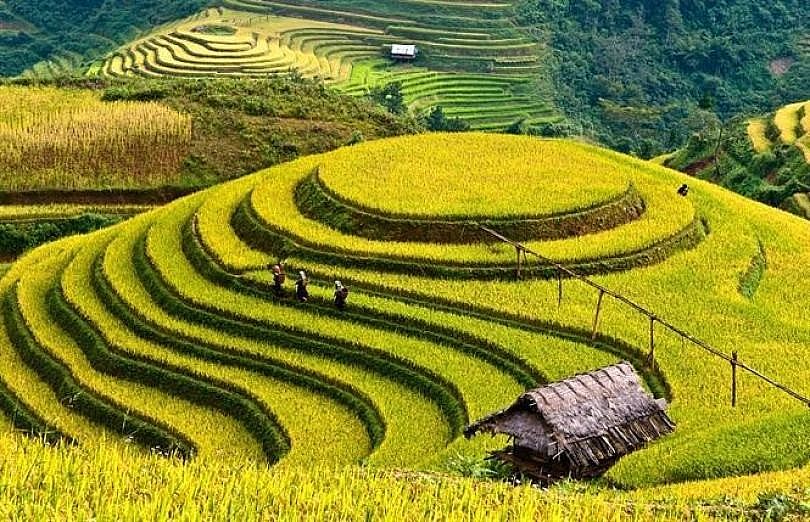 Photo ViGuide
Terraced fields are almost always beautiful, especially in spring, ripe or flooding season, even around May – June every year, Sa Pa fields enter the rice crop. You will have dreamy photos with Sa Pa terraces as backdrops.
Stone church – the place for creating beautiful photos in Sa Pa tours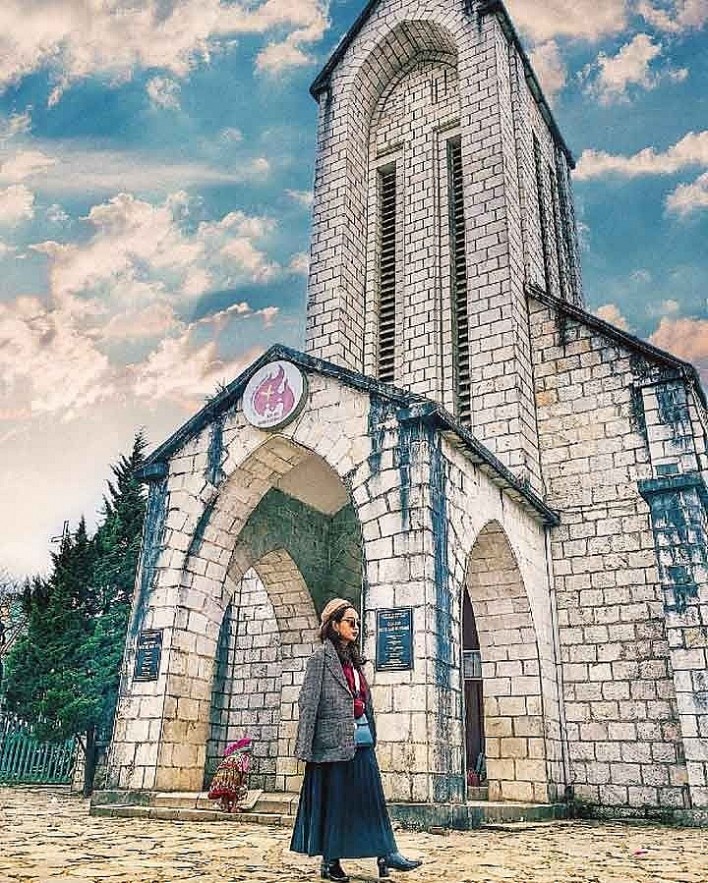 Photo Pinterest
Stone church located right in the center of Sa Pa town, built in 1895, is the oldest church in Sa Pa, built according to ancient French architecture, very unique and very special, becoming an image indispensable when mentioning Sa Pa town.
Right next to the church is the area of Sa Pa square and Cau May quarter with many dreamy cafes. You will be spoiled for choosing shooting angles for beautiful, sparkling photos.
Villages of ethnic minorities – the people representing Sa Pa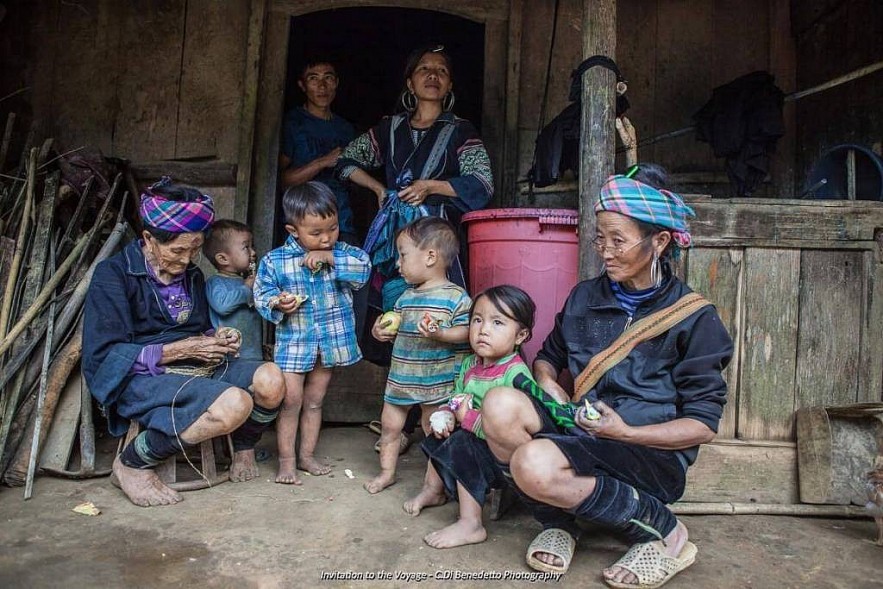 Photo Asia Tour Advisor
Sa Pa tours, visitors should not miss the opportunity to visit the village of the Black H'mong (Lao Chai) and Giay (Ta Van) or walk to Ta Phin to learn about the ordinary life of the two Red Dao and Black Hmong. The beautiful scenery of nature, lifestyle and culture cannot be intermixed with indigenous people here, which will make your travel journey more attractive and interesting. Here, visitors not only get unique pictures but also have the opportunity to talk with local people to understand the differences in their traditional culture.