How to disinfect entire home and minimize risk of exposure to COVID-19
Wiping the shelves and the TV console with a cloth dampened with just water isn't enough to kill the coronavirus. Here's a handy guide for you from CNA.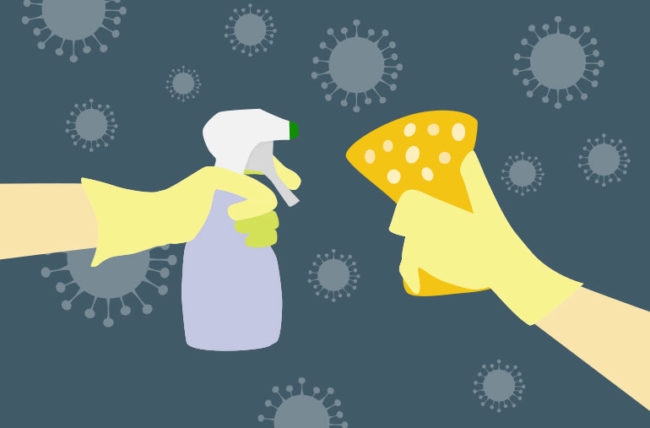 Keeping Your Home Clean in the Time of COVID-19.
Coronavirus can survive "on average about three days in our local climate" on glass, metal and ceramic surfaces, said Dr. Jyoti Somani, a senior consultant with the Division of Infectious Diseases at Singapore-based National University Hospital.
Environmental cleaning is one way to remove the virus that causes COVID-19.
READ THE LABEL ON THE DISINFECTANT
Not all cleaning agents effectively kill bacteria, viruses and fungi – but you want that tri-fold action. For that reason, it is important to read the label, advised Dr. Joseph Horvath, an associate professor of medicine at the University of South Carolina Medical School's Division of Infectious Diseases.
"Products labelled as disinfectants will adequately kill viruses and bacteria if used correctly," he told Business Insider. But if it says "sanitise", don't assume the product will take out the microbial trifecta of bacteria, viruses and fungi, said Dr. Horvath. It may only target 99.9 per cent of the bacteria, but not viruses and fungi if those are not mentioned.
LET THE DISINFECTING LIQUID DRY OFF
Yes, save yourself the trouble of drying off your freshly mopped floor, just-cleaned toilet bowl or wiped kitchen counter. In fact, for the disinfectant to work, the surface that it is applied to needs to be visibly wet for a specific period of time – otherwise known as the contact time.
The contact time can range from 15 seconds to even 10 minutes, depending on the manufacturers' instructions. For quick reference, see the National Environment Agency's (NEA) list below for the contact times of active ingredients used in common disinfectants.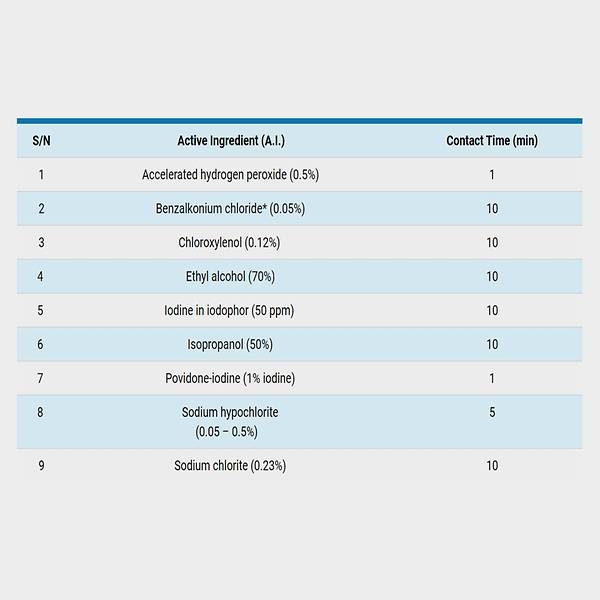 Art: National Environment Agency (NEA), Singapore
But what if the evaporation rate in your flat is high and your floor doesn't stay wet for the duration indicated in the manufacturer's instructions? You may have to go more heavy-handed in your initial application or reapply, according to Becker's Healthcare, a US website for the healthcare industry.
As for homes with kids, older folks or pets that aren't conducive to having a wet floor for 10 minutes, it may be a good idea to switch to a floor disinfectant that doesn't require a long contact time.
If there isn't one, mop the floor part by part, especially for bigger areas such as the living room and kitchen. For the bedrooms, close the door after mopping to prevent family members from going in and ensuring that the floor stays wet for the prescribed period.
DON'T USE ONE WIPE
When it comes to using wipes, the rule of thumb is: They are only effective if you can still wet the surface you're wiping. The rationale is the same as using disinfecting floor detergent – you must leave enough of the liquid on the surface for it to work, according to Business Insider. So don't be cheap and cover the entire kitchen with just one wipe.
The reason manufacturers don't prescribe a specific area for each wipe to cover is, the wipe's size and amount of disinfectant on each wipe varies from brand to brand.
"For these reasons, requiring the disinfectant to remain visibly wet on the surface is a useful and relatively simple practice to follow to ensure compliance and proper disinfection," wrote Becker's Healthcare.
TARGET HIGH-TOUCH AREAS
The NEA has a list of guidelines on how homes that may be exposed to COVID-19 should be cleaned. But what about homes that aren't?
Focus on the high-touch surfaces. These refer to areas at home that are commonly touch by you and your family, mainly the following, as highlighted by the Centers for Disease Control and Prevention (CDC) in the US:
Doorknobs
Table surfaces
Hard dining chairs (seat, back, and arms)
Kitchen counters
Bathroom counters
Taps
Toilets (seats and flush handles)
Light switches
TV remote controls
Game controllers
Wipe, mop or spray with household disinfectants.
Alternatively, make your own bleach solution. To do this, mix five tablespoons (or one third cup) of bleach per gallon (3.8 litres) of water. Or, mix four teaspoons of bleach per quart (about 1 litre) of water, suggested the CDC.
However, check that the bleach you use has not expired and is meant for disinfecting; for instance, bleaches for whitening or are colour-safe for clothes are not. And never mix bleach with ammonia or any household cleaning agent.
Cleaning clothes and laundry tips from UNICEF
It is currently unclear how long the COVID-19 virus can survive on fabric, but many items of clothing have plastic and metal elements on which it might live for a few hours to several days.
Exercise caution and common sense. Good practices to consider include removing your shoes when you enter your home and changing into clean clothes when you return home after being in crowded places, and washing your hands with soap and water immediately afterwards.
Doing laundry at home
Clean bed sheets, towels and clothes regularly.
Don't shake dirty laundry to minimize the possibility of dispersing the virus through the air.
Launder items with soap or detergent, using the warmest appropriate water setting and dry items completely — both steps help to kill the virus.
Wash your hands with soap and water, or use an alcohol-based hand rub, immediately afterwards.
Wash or disinfect your laundry bag and hamper as well. Consider storing laundry in disposable bags.
Doing laundry outside your home
If you need to use laundry facilities outside of your home, take sensible precautions:
Prepare laundry before leaving your home to help minimize the amount of time you spend outside.
Try to go at a time when there are fewer people.
Maintain physical distance to other people.
Wear disposable gloves if available, disinfect the surfaces of all machines you use and don't touch your face.
For indoor laundry facilities, wait outside for your laundry to finish if you can.
Fold your laundry at home.
Wash your hands with soap and water, or use an alcohol-based hand rub, immediately afterwards.
Wash or disinfect your laundry bag/ hamper as well. Consider storing laundry in disposable bags.
Note: If you don't have access to laundry facilities, hand wash your clothes at home with soap or detergent and the warmest appropriate water.
Coronavirus can travel up to 4 metres

A new study by Chinese researchers examining air samples from hospital wards with COVID-19 patients has found the virus can travel up to 4m – twice the ...