India blocks Internet after deadly violence of farmers protest at New Delhi
After the deadly protest of the farmers against new agriculture forms at New Delhi that left hundreds of injured victims, India blocked mobile internet services in several areas around New Delhi on Saturday.
India blocked mobile internet services in several areas around New Delhi on Saturday as protesting farmers began a one-day hunger strike after a week of clashes with authorities that left one dead and hundreds injured.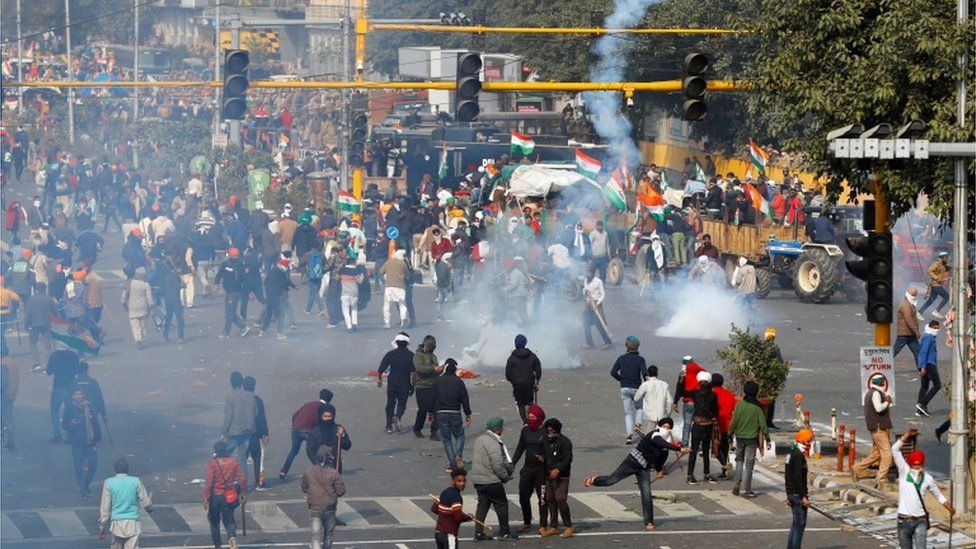 Tear gas was fired at protesters as police tried to reclaim the streets (Photo: Reuters)
Angry at new agricultural laws that they say benefit large private food buyers at the expense of producers, tens of thousands of farmers have been camped at protest sites on the outskirts of the capital for more than two months, Reuters reported.
At the main protest site near the village of Singhu on the northern outskirts of the city, there was a heightened police presence on Saturday as hundreds of tractors arrived from Haryana, one of two states at the centre of the protests.
"Many farmers' groups have joined the protest site since last night," said Mahesh Singh, a 65-year-old farmer from Haryana. "They have come to show their support and more farmers are expected to come in the next two days."
India's interior ministry said on Saturday internet services at three locations on the outskirts of New Delhi where protests are occurring had been suspended until 11 p.m. (1730 GMT) on Sunday to "maintain public safety".
Indian authorities often block local internet services when they believe there will be unrest, although the move is unusual in the capital.
Farm leaders said the hunger strike by hundreds of protesters, primarily at Singhu and two other protest sites and designed to coincide with the anniversary of the death of Indian independence leader Mahatma Gandhi, would show Indians that the demonstrations were non-violent.
"The farmers' movement was peaceful and will be peaceful," said Darshan Pal, a leader of the Samyukt Kisan Morcha group of farm unions organising the protests. "The events on January 30 will be organised to spread the values of truth and non-violence."
Agriculture employs about half of India's population of 1.3 billion, and unrest among an estimated 150 million landowning farmers is one of the biggest challenges to the government of Prime Minister Narendra Modi since coming to power in 2014.
Eleven rounds of talks between farm unions and the government have failed to break the deadlock. The government has offered to put the laws on hold for 18 months, but farmers say they will not end their protests for anything less than full repeal.
In the past week, a planned tractor parade on Tuesday's Republic Day anniversary turned violent when some protesters deviated from pre-agreed routes, tore down barricades and clashed with police, who used tear gas to try and restrain them.
Sporadic clashes between protesters, police and groups shouting anti-farmer slogans have broken out on multiple occasions since then.
Red Fort violence: Delhi police detain 200 after farmer protests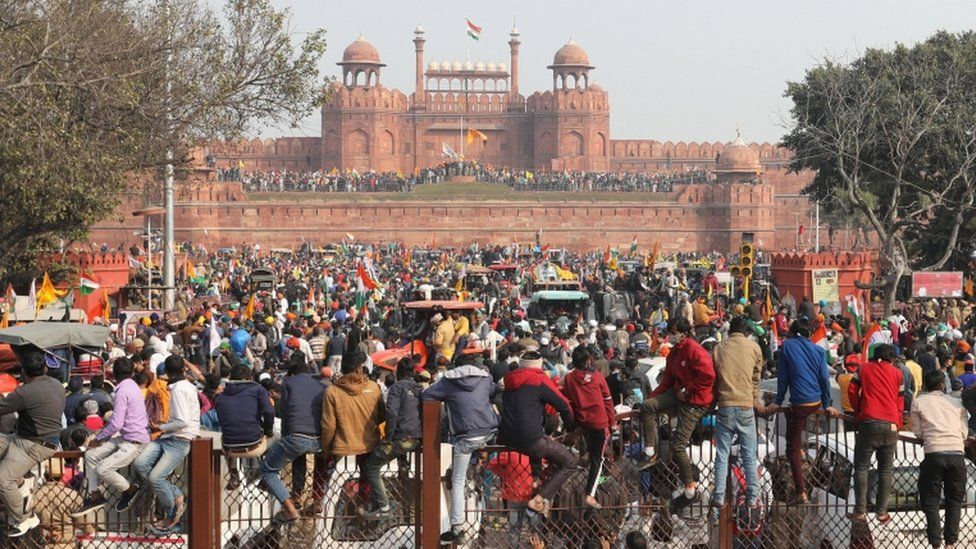 Protesters broke through security at the Red Fort (Photo: EPA)
Police have detained 200 protesters following Tuesday's deadly violence in India's capital Delhi during a massive protest against agricultural reforms.
Thousands of farmers clashed with police as protesters on the outskirts of the city forced their way in.
One protester died, and more than 300 police officers were injured.
Blaming the chaos on rogue elements among an otherwise peaceful march, most farmers' leaders said they would not call off their protests.
Those detained are being held on charges of rioting, damaging public property, and attacking police personnel. So far, 22 police complaints have been registered.
"We are making arrests after conducting proper verification. We are also looking into CCTVs near Red Fort, ITO, Nangloi and other areas where the violence erupted," police officials told the Indian Express newspaper.
According to BBC, India's government deployed 15 companies of paramilitaries to boost security after the protests, which also saw some farmers storming the city's historic Red Fort and occupying the ramparts until police drove them out.
The violence coincided with Republic Day - a national holiday that marks the anniversary of India officially adopting its constitution on 26 January 1950.
Samyukta Kisan Morcha, an umbrella group of protesting farmers, said in a statement that they "condemn and regret the undesirable and unacceptable events and dissociate ourselves from those indulging in such acts".
Two farmers' unions withdrew from the ongoing agitation on Wednesday, but most said they were determined to continue their protests against the new agricultural laws.
The government says its reforms will liberalise the sector, but farmers say they will be poorer as a result.
Tens of thousands of them have been striking on the outskirts of Delhi since November, demanding that the laws be repealed. Last week they rejected a government offer to put the changes on hold.
The government had opposed the planned rally by farmers, but police allowed it on the condition that it would not interrupt the Republic Day parade in central Delhi.
Farmers were given specific routes for the tractor rally, which would largely be confined to the outskirts.
But shortly after the parade came to a close, convoys of tractors broke through police barricades and converged on the city centre. One group of protesters burst through security at the historic Red Fort where they clambered on to the walls and domes of the fortress, even hoisting flags alongside the national flag.
By Tuesday afternoon, police said they had removed protesters from the complex.
Some of the most violent clashes took place near the ITO metro station junction - on the route to central Delhi. Footage showed farmers attacking police with sticks and metal bars while officers used tear gas and batons.
Police said one protester died at the junction when his tractor overturned after hitting a barricade.
Police said in a statement that they had acted after farmers broke conditions for the rally and took "the path of violence and destruction".
But one farmers' union leader accused the police of provoking the violence.
"When you attack a peaceful protest, then difficulties for the government will surely increase," Kawalpreet Singh Pannu told AFP news agency.
"This won't stop here. Our movement and message have only become stronger."
The laws loosen rules around the sale, pricing and storage of farm produce which have protected India's farmers from the free market for decades.
Farmers fear that the new laws will threaten decades-old concessions - such as assured prices - and weaken their bargaining power, leaving them vulnerable to exploitation by private companies.
While Mr Modi has defended them, the laws have been likened to a "death warrant" by farmer groups.
Most economists and experts agree that Indian agriculture desperately needs reform. But critics of the government say it failed to consult farmers before passing the laws.