Infiltrating a village fortress against Covid-19
A village in northern Vietnam has received a certificate of merit from the Prime Minister for its incredible pandemic prevention work.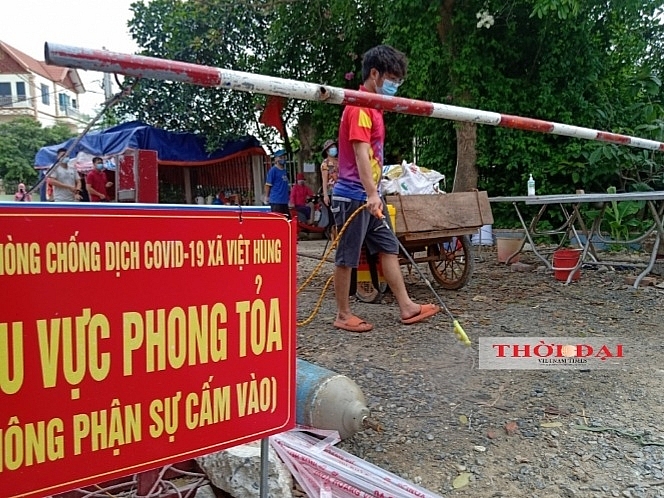 Lo Giao village in Viet Hung commune (Dong Anh - Ha Noi) has receive a certificate of merit from the prime minister for its pandemic prevention work
The road from Viet Hung commune's center to Lo Giao village is shaded with flags, and posters prepared for the coming election day. The countryside lifestyle here is quiet, but villagers are doing every thing in their ability to prevent the spread of the coronavirus pandemic.
Every route has a medical barrier station, where passengers go to take their temperature, fill out health declarations and collect masks. This first fortress against the pandemic, which we is the outermost layer of three layers against the pandemic to reach Lo Giao village - a Covid-19 hot spot in recent days.
On the road connecting villages, trucks and motorbikes packed with crucial goods whizz by. They are heading to Lo Giao, but first they must gather at the checkpoint of the village entrance. It's a hot, sunny day and Nguyen Huy Toan, a Dong Anh district policeman, is calmly telling people where to stand and wait, while vital commodities are unloaded. They are picked up by community volunteers. The whole process creates a protective barrier for people on both sides.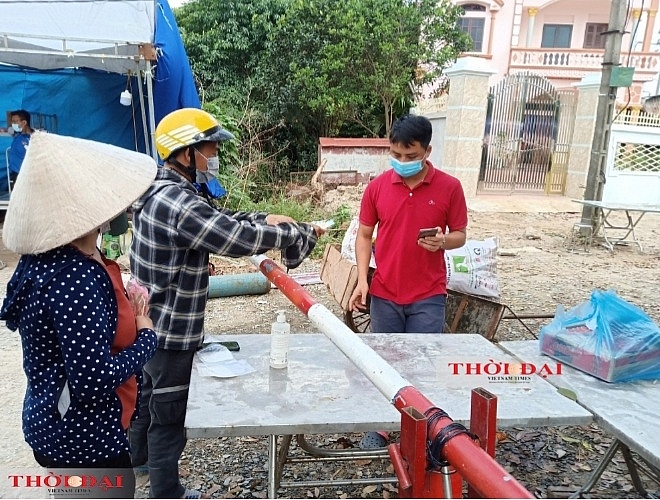 Covid checkpoints are set-up in roads connecting villages and communes in Dong Anh district
"This checkpoint was established in April 30, when there was a Covid-19 infected case. In the same day, 3 'hard checkpoints against the pandemic were established to blockade all entrances to the village," says Nguyen Huy Toan. "One 'soft checkpoint' was set at the village entrance, which has guards around the clock. This checkpoint is the only route to allow commodities and necessities from outside in to Lo Giao in the past 20 days."
Nguyen Khac Sang, 31, a Lo Giao villager, is on antiseptic duty. He is wearing antiseptic water and carefully spraying all vehicles inside the village. He then continues to transport foods from outside to the village. "The whole village is still in a no export, no import state," he says. "But we do not blockade commodities and merchandise. Commodities from inside the village have to be sterilized carefully, and are transported outside by a special team. The amount of commodities are steadily transported. Therefore, there is no scarcity of necessities inside the quarantine area."
Stay at home, 5K, reinforcements
At 11 a.m., a loudspeaker at the village entrance starts its program. Each day its broadcasts remind villagers about the pandemic and to strictly follow Vietnam's 5K safety rules.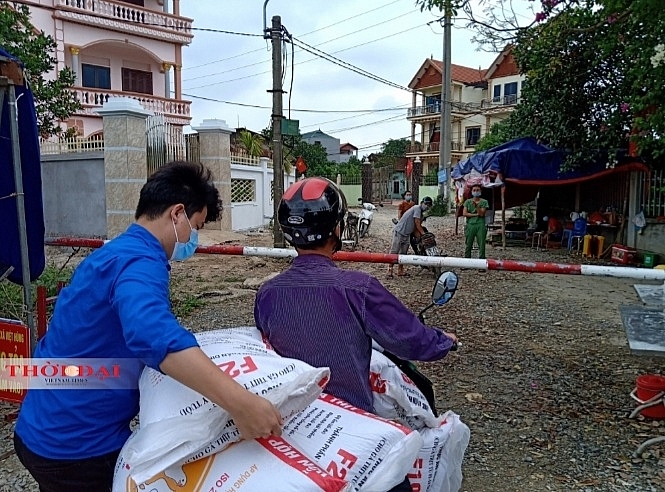 Youngsters in the village spend their time supporting the village's Covid fight
Nguyen Khac Sang remembers the extreme fear of the villagers when they discovered Covid-19 had arrived at their door. No one dared go out. Sang's family, including his old parents and his small children, rely on his income as a worker. During the quarantine at his village, Sang had to stop working. Fortunately, a strong community spirit has meant Sang's boss still pays him a portion of his salary. With less financial pressure, Sang and youngsters in the village have been able to spend their time to support the fight against the virus.
"On implementing the quarantine, everybody is home. Neighbors limit contact with each other," says Tran Thi Thuan, a Lo Giao villager, as she arrives at the checkpoint to pick up fresh food. For the past 2 weeks, her only exercise has been walking to the village entrance to receive fresh food, as she has been obliged to stay home. Life here originally based on agriculture, so supplies of rice and vegatables are dynamic. Meat, fish and necessities can be bought in markets by acquaintances of villagers.
After almost 3 weeks of blockade, people here are getting used to new lifestyle. Although checkpoints are still there and the pandemic is still surrounding, according to Ms. Thuan, people here no longer feel nervous. It is thanks to their serious obligation to 5K rules. Keeping distance, usual sanitizing, wearing mask, then the pandemic is repelled. When the people feel more comfortable, the village's lifestyle is less tension. "If we all determined to fight against the pandemic, our life will soon back to normal state," Ms. Thuan assured.