Insider tips for perfect Chung cake, with Video
Chung cake (Vietnamese sticky rice) is an indispensable offering to Vietnamse's ancestors during Tet. If you find yourself new to the recipe, here we offer you details on needed ingredients, cooking recipes, wrapping techniques, as well as how to cut the sticky cake nicely.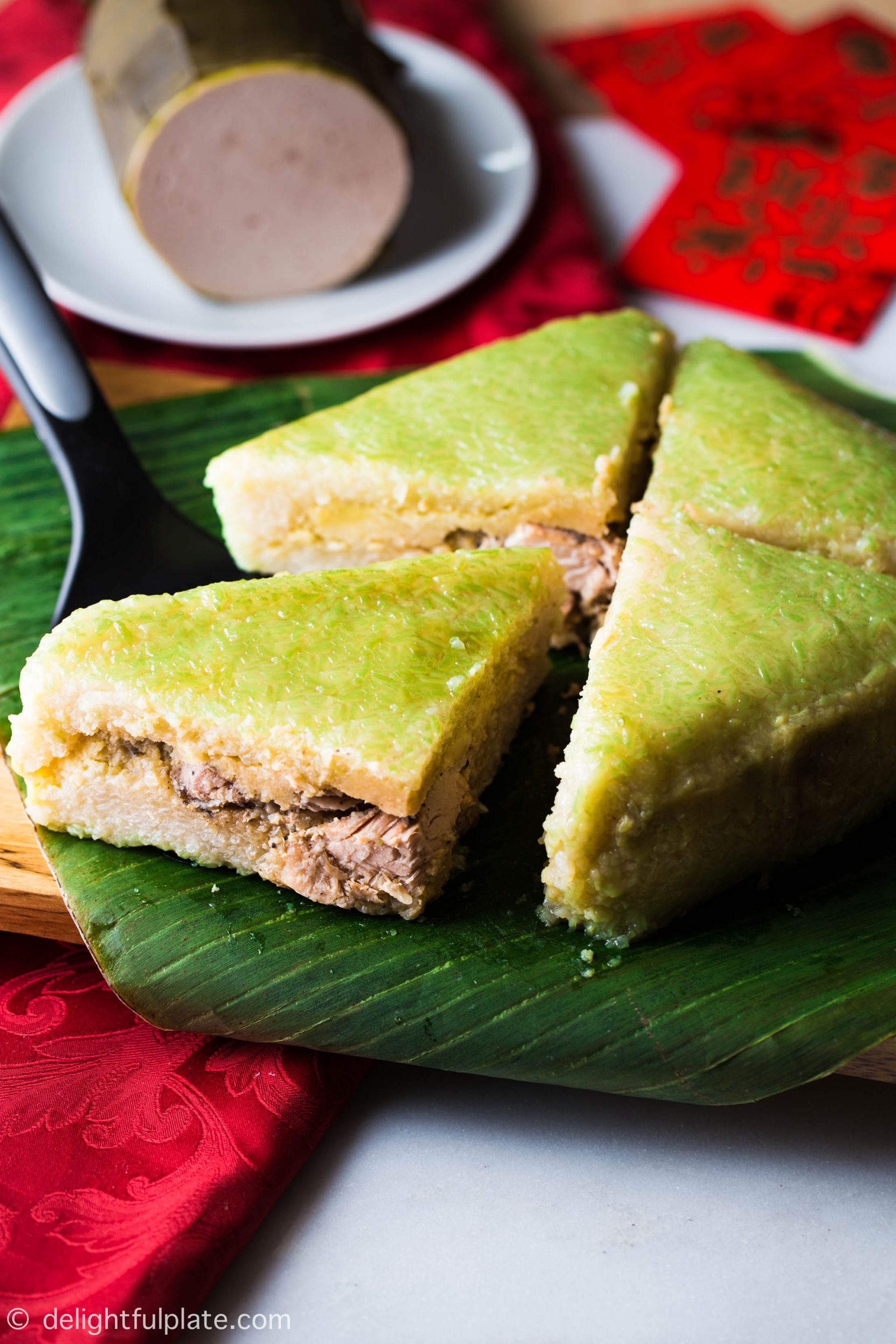 Chung cake is green on the outside when cooked (Photo: Delightful plate)
Ingredients:
To make Chung cake or Vietnamese Square Sticky Rice Cake, you'll need long-grain sticky rice, split mung bean, pork belly, salt and a lot of freshly cracked black pepper.
Make sure you use pork with fat because we want the fat to melt into the filling after long hours of cooking.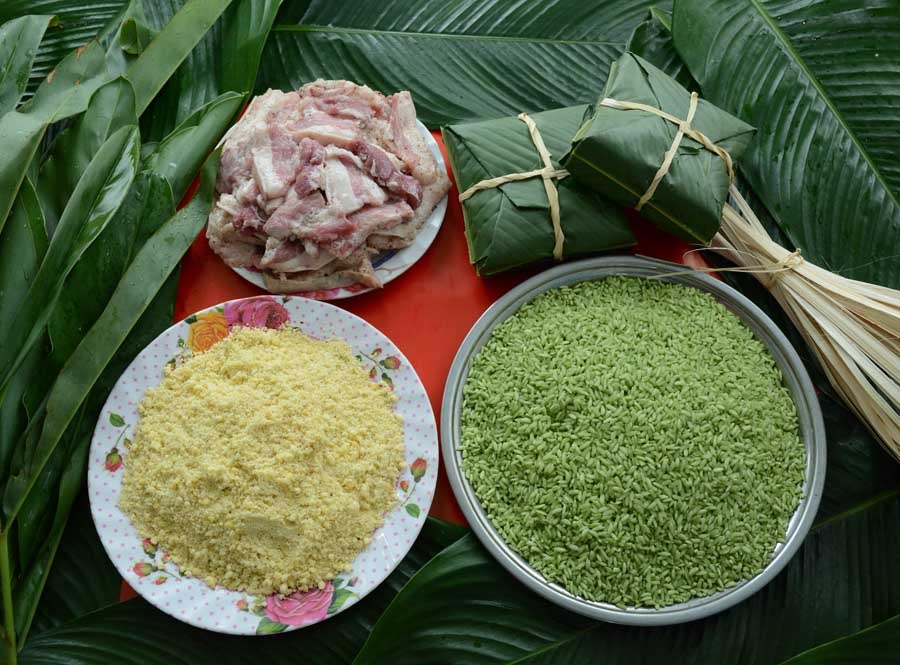 Ingredients to make Chung Cake are all readily available on the market (Photo: Lodayhelp)
How to make?
- Soaked the sticky rice overnight, then drain and shake with salt.
- Soak crushed mung beans in water for 2-4 hours, wash away the husks, cook, grind, and shape them into fist-sized balls
- Cut the pork into squares and season them with salt, pepper, and minced onion.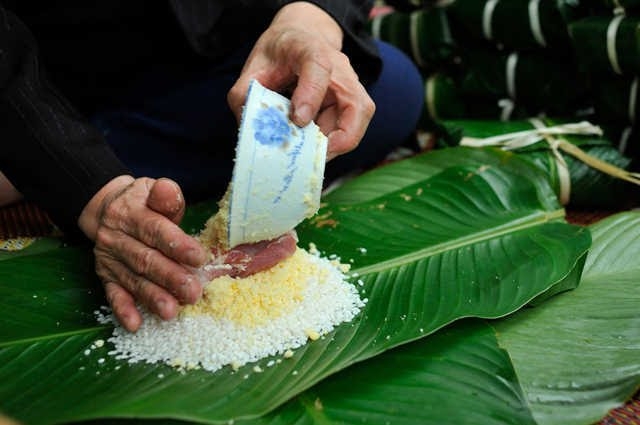 (Photo: Google Site)
- Place dong leaves on a flat surface; put a small bowl portion of rice on it, sprinkle on half of a mong bean ball, place 2 pork squares in the middle, sprinkle on the other half of the mung bean ball, and cover with another small bowl portion of rice. Fold the leaves over, wrap the cake into a square shape, and tie it with bamboo strings, according to VOV.
- Place cakes in a pot padded with dong leaf stalks, pour in enough water to submerge the cakes, and boil on high heat. As the water boils off, add enough to keep the cakes submerged. Boil continuously for 12 hours. After the cakes are taken from the pot, press them to remove excess water.
(Video: Hellen Recipe)
The Story of Vietnamese Square Sticky Rice Cake (Banh Chung)
All people in Vietnam, including little kids, know this story by heart. Once upon a time, a Viet king held a competition in which each of his sons would need to bring a delicious dish to honor the ancestors on the occasion of Lunar New Year. Whoever brought the most delicious dish would be the next king, as reported by Delightful Plate.
The poorest son of the king created Banh Chung from very simple and familiar agricultural produce. With a square shape and green outer layer, the cake symbolizes the Earth.
The main ingredient is sticky rice which was one of the most important foods to ancient Viet people. Hidden inside the sticky rice layer is the delicious filling made from mung bean and fatty pork. This cake is a beautiful representation of respects for ancestors and Mother Nature.
The King was so impressed with Banh Chung that he decided to pass the throne to its creator. Ever since then, Square Sticky Rice Cake has become an important component in Vietnamese Lunar New Year Feast. The cake is delicious with fragrant rice, creamy mung bean filling, tender pork and some heat from plenty of black pepper.
Serving
After pressing the cake, you can peel off the leaves and serve it immediately. Cut into four or eight slices depending on how big you like.
Eat it on its own or with Vietnamese pork sausage (gio lua) and/or with soy sauce. You can also pan fry it which will make it crispy and more delicious. I can eat this cake for any meals in the day.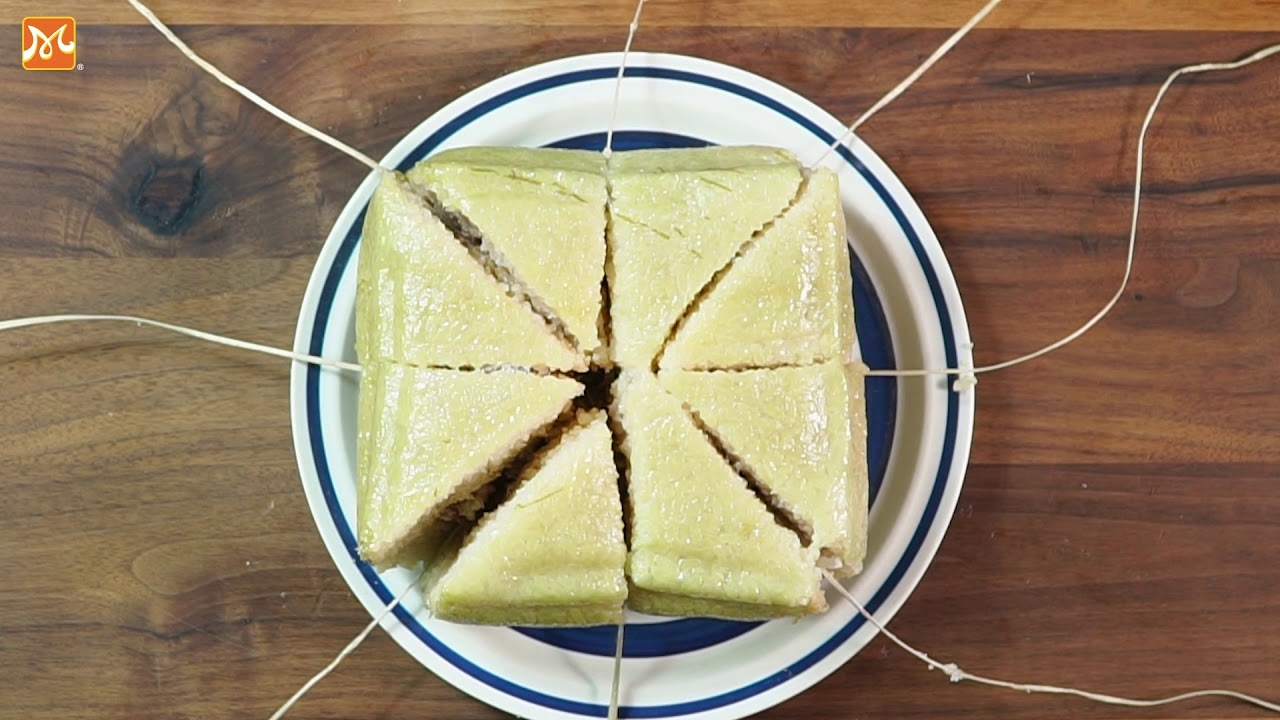 (Photo: Chung Cake)
Storing Vietnamese Square Sticky Rice Cake
Leftover can be stored in the refrigerator for a few days. After removing from the refrigerator, you can either microwave or pan-fry it.
The cake can also be frozen. If you freeze the whole cake, it's best to re-boil them for 1-2 hours. If you only freeze a few slices, you can thaw in the refrigerator and reheat in microwave or fry it.
Some small tips
If you are not confident with your wrapping skill, you can reinforce the cake by wrapping it with a layer of aluminum foil.
I like to start wrapping in the morning so I can finish boiling the cake before bedtime and then let the cake pressed overnight.
I hope you will give this traditional cake a try. You may be able to find it at some Vietnamese grocery stores or Vietnamese restaurants.