Inspirational Ho Chi Minh City teacher devotes 30 years to teaching children with disabilities
For three decades, Nguyen Thi Phuong Dung has strived to help parents realize their role in raising children with disabilities and promote inclusive education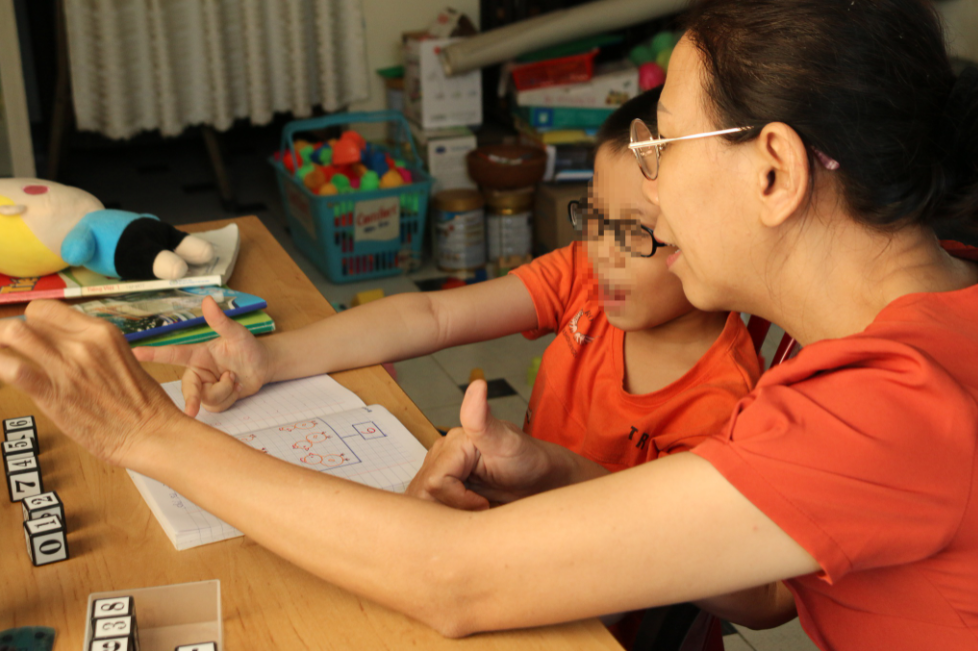 Dung and her autistic student. (Photo: Thanh Nien)
In a small tranquil lane in District 8, HCMC, Nguyen Thi Phuong Dung, uses her small house as a classroom to teach autistic children born into poor families, but people know that she is one Vietnam's pioneers in inclusive education for children with disabilities.
It was while she was teaching preschool, that Dung reluctantly became a temporary guardian to her friend's son, who had hearing impairment. When driving the child to a school for disabled children, Dung was inspired by the principal, and soon became a teacher for the hearing impaired. After two years teaching, she was chosen to join the first specialized training course about teaching hearing impaired children, led by the Hanoi National University of Education, before going to the Netherlands to study education models and the psychology of children with disabilities.
After studying, she returned to Vietnam and taught at many social facilities, inluding centers for hearing impaired people, but thoughts of inclusive education always stuck in her mind. In 1996, she opened a kindergarten in Binh Thanh District to implement inclusive education programs for children with hearing loss, and Down's syndrome.
Dung (R) receiving her graduation degree in the Netherlands. (Photo: Thanh Nien)
"The hardest part of my job in the last 30 years is how to eliminate the stigma against children with disabilities amongst parents and society. The inclusive education model used in my kindergarten was very new at that time. Parents of children without disabilities strongly opposed to it and did not want their kids to study at the same classes with disabled children," Dung says. "But my path is to pursue equality in education. I explained a lot to get their acceptance. In the end, this education model has gained success."
Dung was also in charge of training young teachers for children with disabilities in Hanoi and coordinating the Pearl S. Buck project, which aims to provide knowledge for parents and teachers in Dong Nai, Long An, and Dong Thap, while supporting children with hearing loss.
In 2000, as the Pearl S. Buck project came to an end, she acted as a bridge for Liliane Fonds, a Dutch project focusing on rehabilitation models for children with disabilities in HCMC. In 2007, she even closed her kindergarten to work full time for the project, which was deployed in Cu Chi District.
Over the next 10 years, she came to every house in Cu Chi to teach and support disabled children, giving them medical equipment such as hearing aids, positioning equipment and physical therapy expenses.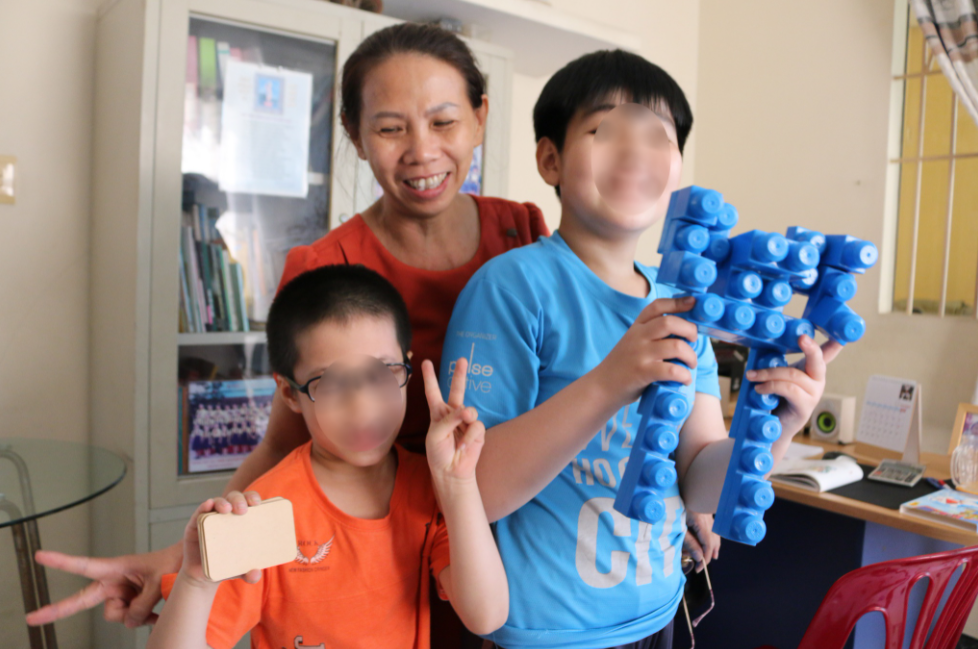 Dung plays with her students. (Photo: Thanh Nien)
Parents must trust their children
Though Dung says she has retired, she still diligently and quietly gives lessons to autistic children from poor families. "The parents can pay me as much as they want but these contributions show a joint responsibility for supporting children," she says.
It is a simple trust and love of children that has kept Dung committed all these years. She believes that disabled children have a potential that adults usually put little trust in, and that it is that it parents, not doctors or teachers, that are ideally placed to work miracles and give children the best education.
Dung is one of the pioneers in inclusive education for children with disabilities. (Photo: Thanh Nien)
In order to persuade the society to trust in the ability of children with disabilites, parents must first have trust in their own children. Dung insists that these children must be welcomed by schools and society so that children can have equality and respect to strive forward.
"We need to integrate inclusive education into the most basic of pedagogical training programs. Every teacher should be trained with knowledge of special child support so that an inclusive school can be developed," Dung says.