Interesting Facts about Lithophone – The Pride of Vietnam's Central Highlands
Lithophone, or stone gong, has been a signature musical instrument and the pride of the Central Highland locals for thousands of years
(Video: Facebook/ Sao Truc Mao Meo)
Lithophone is called Dan Da in Vietnamese, known as a percussion instrument made of stone. The name is applied to a specific instrument made of resonant stones that produces a ringing sound when hit.
As reported by Vietnam Discovery, the Vietnamese Lithophone is a set of stone slabs of different sizes and shapes fabricated through an elementary technique. These stones are available in the mountainous areas south of Central Vietnam and east of South Vietnam.
Lithophone's special sound
The sound of the lithophone has been hailed as can express the happiness or sadness of the Central Highlanders, the mystery of their majestic forests, or the murmur of a brook.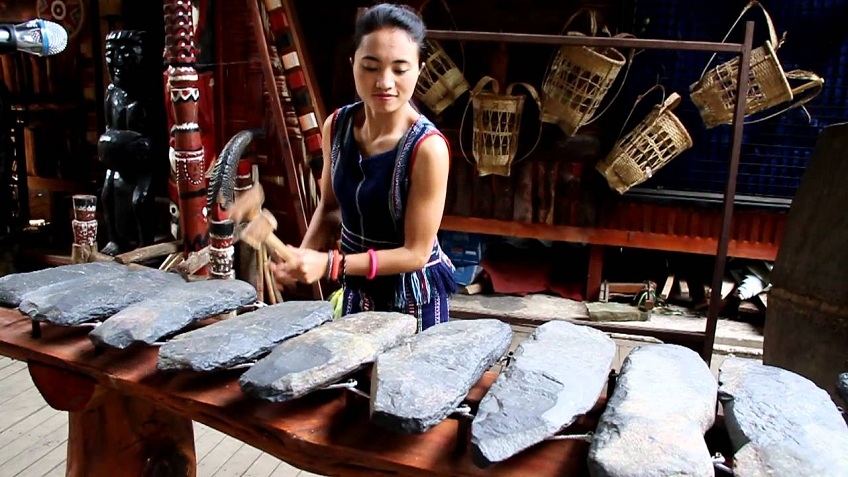 A woman playing the lithophone. Photo: Vi Vu Travel
History of Lithophone in Vietnam
Discovered by Georges Condominas – a French, in Dak Lak in 1949, Lithophone is an ancient musical instrument with 11 slabs of stone.
"The rocks can create different sounds. They were submerged in brooks for a long time and their surface was worn smooth. The core of the rock is hard and can produce sounds like a bell. When they are struck, their sounds echo hauntingly in the forest," Nguyen Tam, a researcher of the Central Highlands lithophone told VOV.
Later, four more Lithophone were discovered in Song Be and Khanh Hoa. It results from the researches that Lithophone existed between 4,000 and 10,000 years ago. At the end of the 1980s, 200 stone lithophone slabs had been discovered in Dak Lak, Khanh Hoa, Dong Nai, Ninh Thuan, Binh Phuoc, Lam Dong, and Phu Yen Provinces.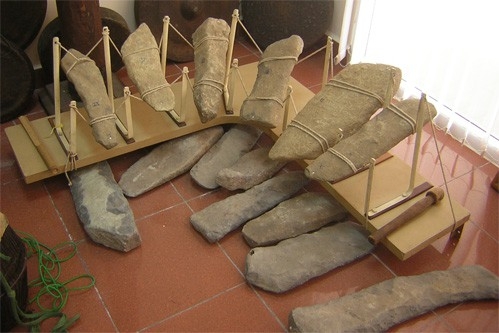 A lithophone displayed at Dac Lac Museum. Photo: VOV
Each set is comprised of between three and 15 bars. The the oldest extant set, first discovered at Ndut Lieng Krak in Dak Lak Province in 1949, is now kept in a French museum. Most of the other sets are exhibited throughout Vietnam. They were quarried from a place nearby where the rock is made of petrified wood and were chipped and shaped to tune them to a perfect pentatonic scale. They can still be played, by hitting them with wooden mallets, to make a sort of hugely antique stone marimba.
For some ethnic groups in Tay Nguyen or Central highland, the stone slabs are sacred and preserved as family treasures played during grand ceremonies for the gods. For others, the stone slabs are used for setting up crop-protection devices.
Lithophone holds important place in the hearts of Highland people.
It is considered a special instrument of the M'nong. The first lithophone of the M'Nong was discovered in Dak R'lap district, Dac Nong province, in 1993.
Since then, the M'nong produced many lithophones. They combined rocks of different sizes to create melodies. The long, thick rocks create deeper sounds while short, thin rocks create clearer sounds.
In ancient times, the M'nong used lithophones to scare away wild animals and protect their crops. Later they used lithophones in community events such as New Year festivals and celebrations of planting and harvesting, VOV reported.
The M'nong considered rock gongs a way to connect the world of men with the world of genies and spirits, the present with the past. Dieu Nhom is an experienced lithophone player in Quang Tin commune, Rlap district: "Rock gongs reminds me of our parents and grandparents. This musical instrument is our group's tradition. Our children will continue to play it because they cannot lose that tradition. We play it to celebrate a bumper crop and pray for prosperity."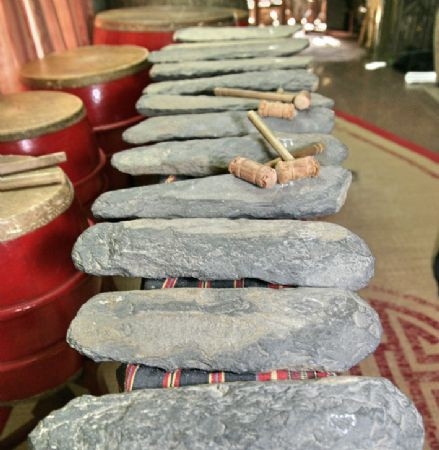 A lithophone at Dac Lac Museum. Photo: VOV
The special instrument is also the pride of Khanh Hoa's Raglai people
For many generations, the Raglai in Khanh Son District and other localities across Khanh Hoa Province have been proud of their rudimentary and unique musical instrument made of slabs of stone. Raglai people often place some pieces of sound-making stones along streams near terraces in order to repel birds and wild animals as well as to enrich their spiritual life. Lithophone is also played in the local festivals and ceremonies. Raglai people can perform solo lithophone or play it with other musical instruments such as "ta cung" flute, "đing tút" flute, "Tale piloi" flute, "bầu" clarinet, and "xarakhel" clarinet, according to Bao Khanh Hoa.