International Day of the Girl Child: NGO Works to Raise Awareness on Digital Safety
A project was carried out to communicate female children's rights across the country by Plan International Vietnam.
To celebrate International Day of the Girl Child (Oct. 11), Plan International Vietnam held a series of events to promote the rights of girl children in communes and districts nationwide from Oct. 9 to 20.
A project was implemented to promote children's rights in 10 communes in Quang Binh. Within its framework, many events were held to spread the message of "Girls Takeover." The events welcomed more than 600 children from 10 girl children leader clubs and 10 boy children clubs.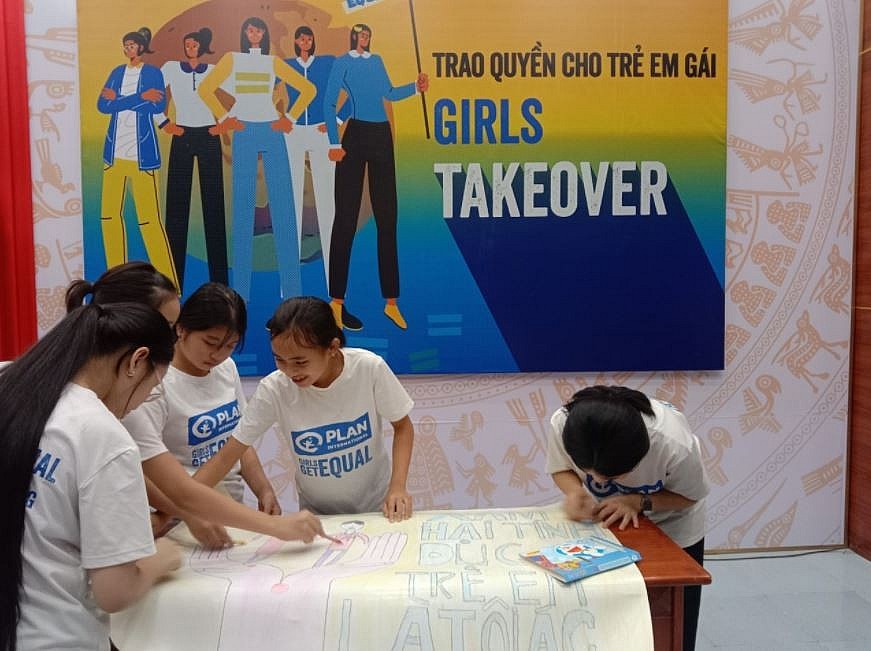 Girl children excitedly participate in the event in Quang Binh.
At these events, the girls were "appointed" by the commune leaders to be "chairman of the commune people's committee" or "secretary of the commune's youth union" to talk about a report on status of girls in 2021. They discussed the topic of girls' leadership in education and local daily life. They also watched productions about the Children's Council, where girls take on leadership roles in a variety of activities.
In addition, the children participated in many activities relating to safety in cyberspace where they talk about main risks when participating in social networks, how to protect themselves against digital risks, especially fake news.
Plan International Vietnam worked together with Quang Tri's Youth Union and districts' education departments to direct schools and teachers in the province to raise children's knowledge about safety in cyberspace. More than 700 children from 30 Champions for Change Clubs in 15 projects in commune level and more than 2,000 children from different schools have so far responded and signed the projects' open letters.
Children in Quang Tri spread messages of safety in cyperspace.
In Ha Giang, the project's management board coordinated with Lung Chinh Secondary School Boarding School in Meo Vac district to hold such activities. With the theme "Safety in Cyberspace"
In Ha Giang, the Project Board and Lung Chinh Secondary School Boarding School, Meo Vac District, Ha Giang Province coordinated to organize the activity Girls Takeover - Empowering girls. With the theme "Safety in Cyberspace", students in the Champions for Change clubs were equipped with knowledge to protect themselves against fake news. The knowledge was spread through quiz and debate activities.
At the end of the event, 305 students and members of Champions for Change communities signed a global open letter calling for the promotion of a safer, friendlier, and more equal cyberspace.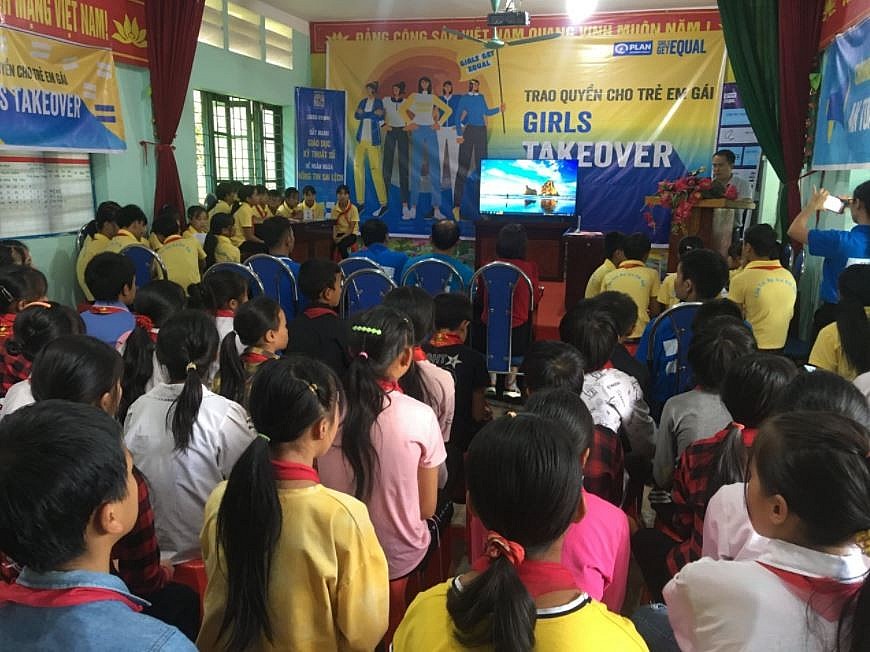 Girl children in Ha Giang join Girls Takeover activities.
Within the project's framework, Lung Chinh Secondary School's library was supplied with a book named "Women in Science: 50 Fearless Pioneers Who Changed the World." The book was donated by translator Nguyen Ngoc Minh Anh in the hope of inspiring girls to constantly develop their skills and pursue their passions despite stereotypes and societal norms.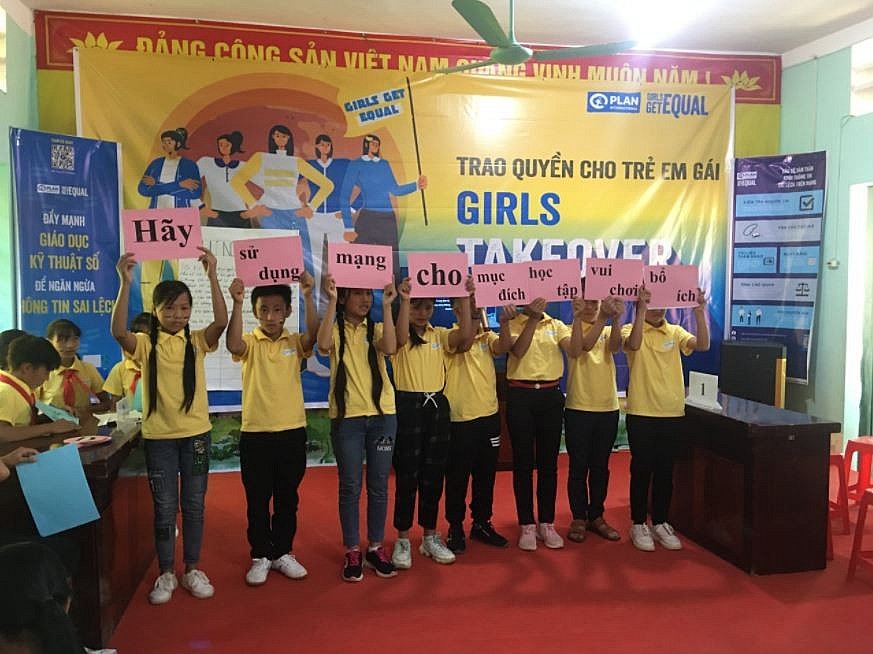 Ha Giang children send messages to adults.
260 students, staff, and teachers of the Ethnic Minority Semi-Boarding Secondary School in Dao San Commune, Lai Chau Province also participated in the event, which included activities regarding girl empowerment. Through games, students learn the necessary skills to protect themselves and prevent the spread of fake news on social networks, contributing to improving the quality of life. The event contributed to improving education for children about digital platforms to build a safe environment where they can build friendships and empower one another.
Students at the Ethnic Minority Semi-Boarding Secondary School equip themselves with necessary skills regarding safety in cyberspace.
In addition, students and teachers signed an open letter to encourage girls to speak up about misinformation and digital education improvement for children.