International media lauds Vietnam's 'Rice ATM'
The "Rice ATM" dispensing bagful of rice for vulnerable populations during coronavirus lockdown that first appeared in HCMC early April has greatly drawn international attention. Big news agencies like CNN, Reuters, Strait Times have given the novel creation rave reviews.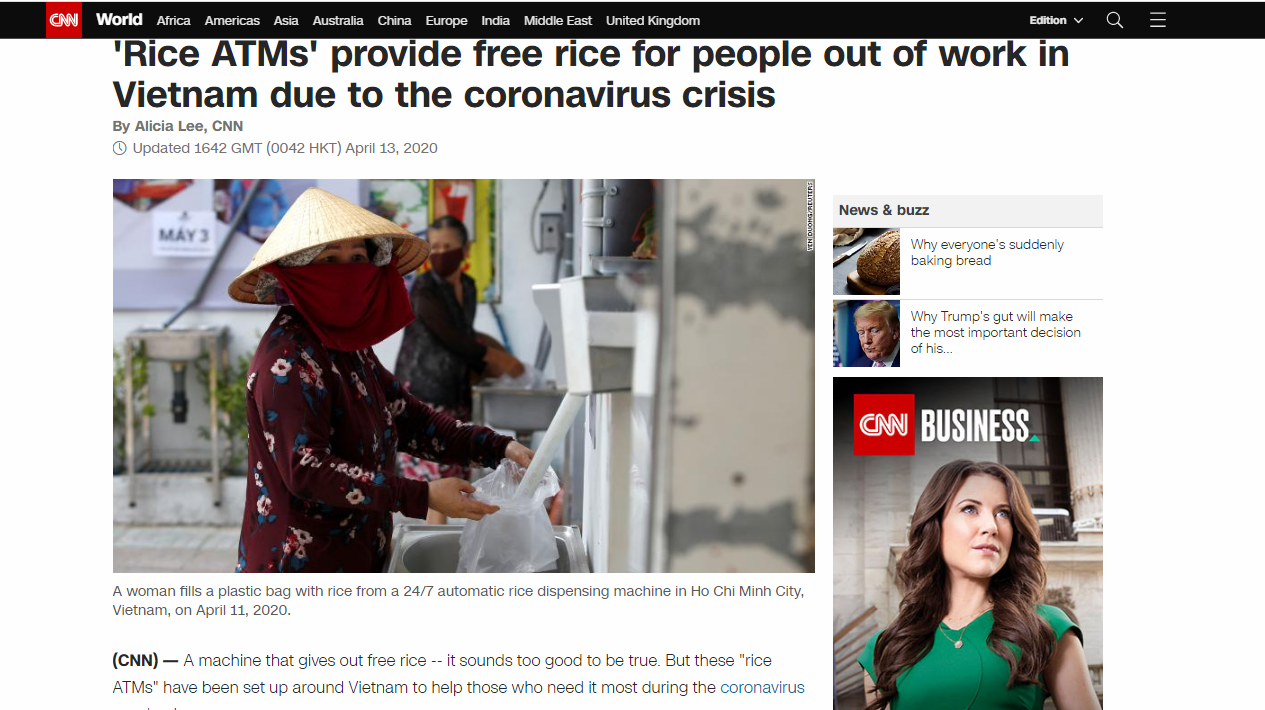 Vietnamese Rice ATM appears on CNN
Rice ATM is the invention of Hoang Tuan Anh, a Vietnamese young businessman. With an idea of giving free rice to people in need while still ensuring social distancing, Tuan Anh finished turning his technological expertise into rice distribution within one day. The rice ATM has since received large rice donations and financial supports from individuals, organizations.
CNN on April 13 called the dispenser "A machine that gives out free rice" and exclaimed "it sounds too good to be true".
The online newspaper reported that numbers of Rice ATM have been set up across Vietnam, from Hanoi, Hue to Ho Chi Minh city. Each local people can withdraw bagful of rice once a day, and "those waiting in line are required to stand six feet apart from each other and they must use hand sanitizer before receiving their rice".
Along with complementing on the Rice ATM, the news agency also lauds Vietnam's efforts in containing the pandemic.
"Vietnam has 265 cases of the novel coronavirus and zero deaths, numbers that are significantly lower than the rest of the world. But still, to prevent further spread, the government has enforced social distancing, effectively shutting down many small businesses and leaving thousands out of work", with 265 is the number of infections in Vietnam on April 13.
Reuters also praises the rice dispenser on April 13
While the International Business Times called Rice ATM "an ingenious way to fee people in need", Reuters reported the event through the view of Nguyen Thi Ly, a 34-year-old woman in Ho Chi Minh City, whose husband has temporarily laid off from work due to the virus.
"This rice ATM has been helpful. With this one bag of rice, we can have enough for one day," Reuters cited Ly as she was saying. "Now, we only need other food. Our neighbors sometimes gave us some leftover food, or we have instant noodles".
"I read about this rice ATM on the internet. I came to check it out and couldn't believe it came out for real. I really hope the sponsors would keep doing this until the end of the pandemic," said Ly, adding that her family's biggest problem was now paying their rent.
Tuan Anh, the businessman behind the idea, was also referred to.
"I refer to this machine as a 'rice ATM' because people can withdraw rice from it, assured that there are still good people out there who want to give them a second chance", Reuters quoted.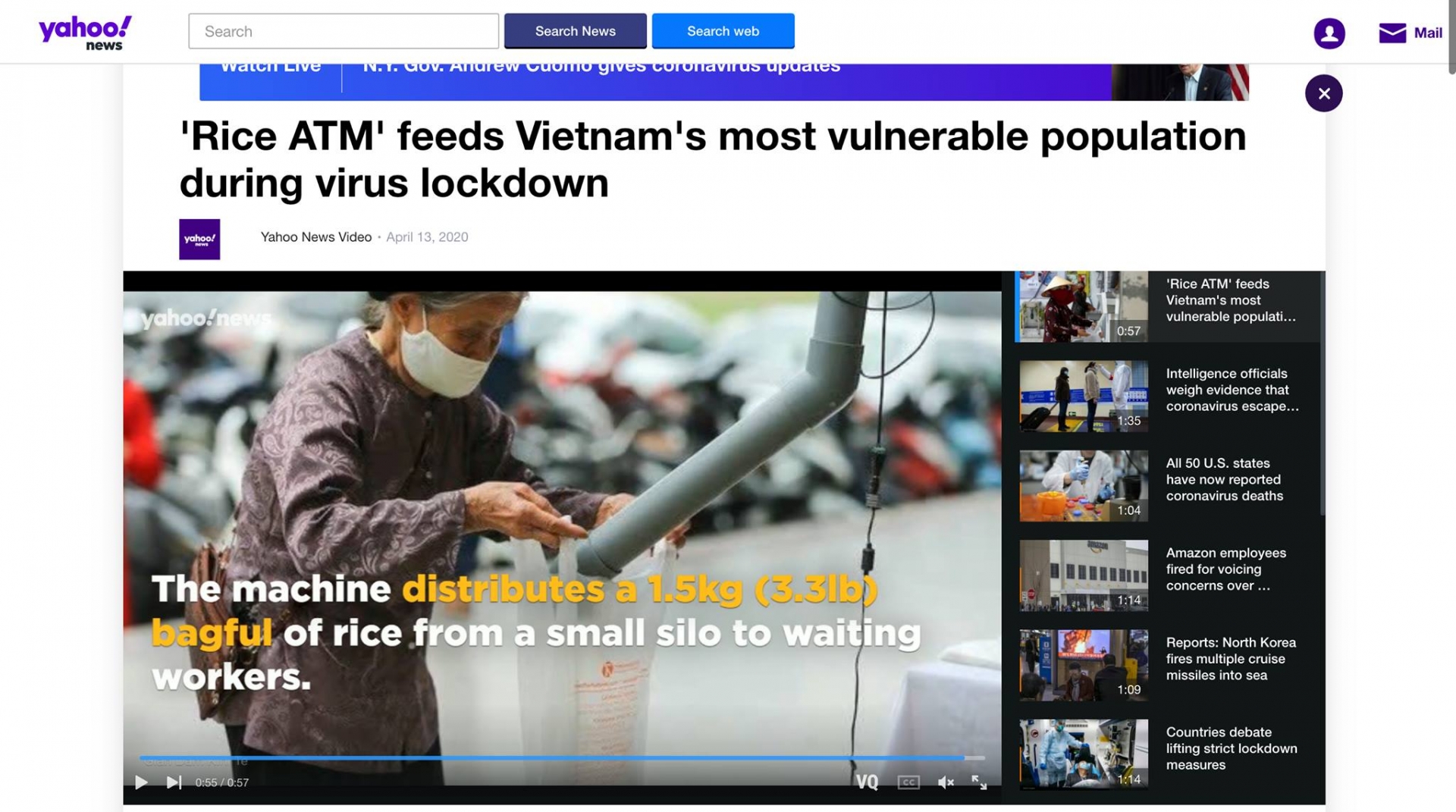 The Rice ATM is reported on different news outlet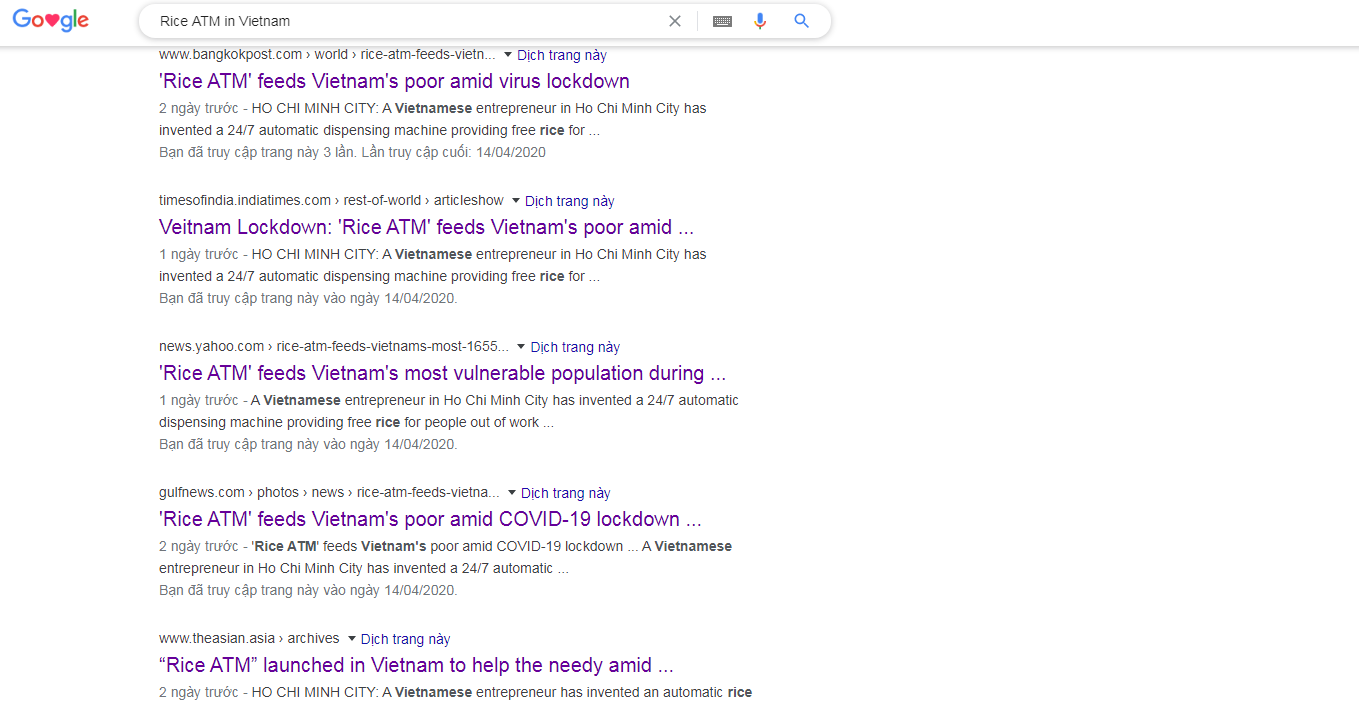 A search for "Rice ATM in Vietnam" gives out bunches of results, with articles written from different countries in the world
The article about Rice ATM appeared in Reuters is republished on other international media outlets such as USNews, New York Post, British Herald, Bangkok Post, UAE's Gulf News, Taipei Times, Australia's ABC News.