Japanese Schools Serve Bun Bo Hue In Menu
Bun Bo Hue, the Vietnamese spicy soup with beef in Hue style, has been put on the lunch menus of 35 Japanese elementary and secondary schools in Saijo City, of Ehime Prefecture in the northwest of Shikoku Island.
The Japanese city of Saijo served school students Hue-style beef noodle soup for lunch this week as part of efforts to deepen their understanding of Vietnam.
Bun bo Hue appeared on the menu at 35 elementary and junior high schools in the city in Ehime prefecture on April 26, Japanese newspaper NHK reported.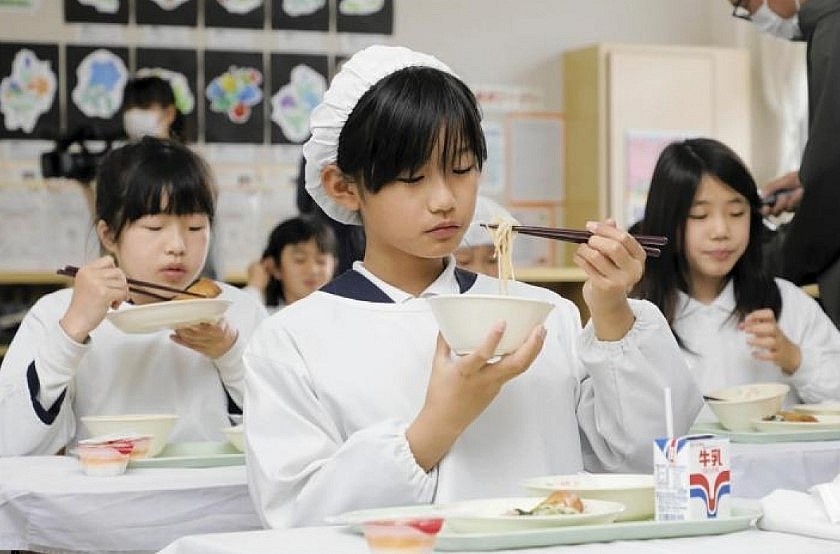 Japanese schools add Bun Bo Hue to lunch menu. Photo: VOV News.
City mayor Toshihisa Tamai visited an elementary school on Tuesday and spoke to the students about Hue, which established friendly relations with Saito in 2018.
Around 500 children at the school chose the Vietnamese dish for lunch, Yahoo News reported.
"I find this dish very tasty though a bit spicy," a girl told an interviewer after the meal. "It looks like ramen to me," said another student. "I want to continue to enjoy this dish next time."
According to Newsnpr.orf, one female student described Bun Bo Hue as having noodles that were as soft and delicious as Udon noodles, except for the orange broth and "the taste is very different from Japanese dishes".
Before enjoying their lunch at school, Japanese students will have the chance to watch a video introducing the typical cultural characteristics of Hue.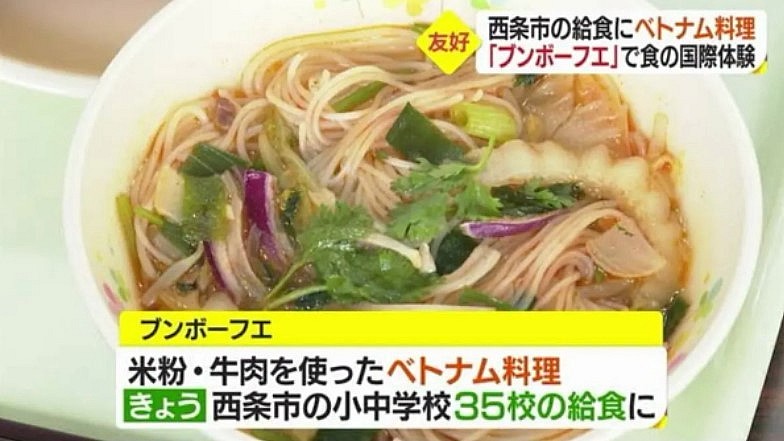 Hue beef noodle soup appears on the menu of a boarding house in Saijo city, Ehime prefecture, Japan, on April 26. Screenshot Fuji News Network.
The move is part of efforts being made by Saijo and Hue cities to strengthen friendly ties which were established back in 2018. Over recent years, they have implemented a wide range of cultural and educational exchange activities, as VOV News reported.
Japanese media describes the food as a specialty of Hue, with the main ingredients being rice flour and beef. It noted that Japanese students were very satisfied with the taste of the dish.
Saijo and Hue cities have implemented many cultural and educational exchange activities in the past 4 years to build a friendly relationship. Mayor Tamai visited Hue city in May 2021 to discuss measures to strengthen cooperation between the two localities.
"I'm very happy to experience Vietnamese food for the first time," said a boy at a school in Saijo. "Someday, I also want to come to Hue".
In 2016 late American chef, author, travel documentarian, and television personality Anthony Michael Bourdain called Hue-style beef noodle soup "the greatest soup in the world."
Photo: sao.baophapluat.vn.
Bun Bo Hue is the Vietnamese spicy soup with beef in Hue style, but you also can get it with pork or meatball as your preferable. The dish name is to recognize the original region dish but you can find that else where in Vietnam recent years because of its fame.
According to Huecookingclass.com, you will have chance to eat many different meat that the cook add in broth for flavor. From fresh beef to cooked beef shank, the pork feet to pork ribs or meat, the meatball and black pudding. So interesting to see it right at places and show to choose what you want to eat.
Bun Bo Hue is the best as breakfast and dinner along many street food stall. You can see many sign with its name" Bún Bò Huế" almost every street in the morning. In the evening it will have the area for its serving and there will be many different street stall at the same street.