Join Christina Noble Children's Foundation Children's Walk for Hope
Vulnerable children of Vietnam really need your help.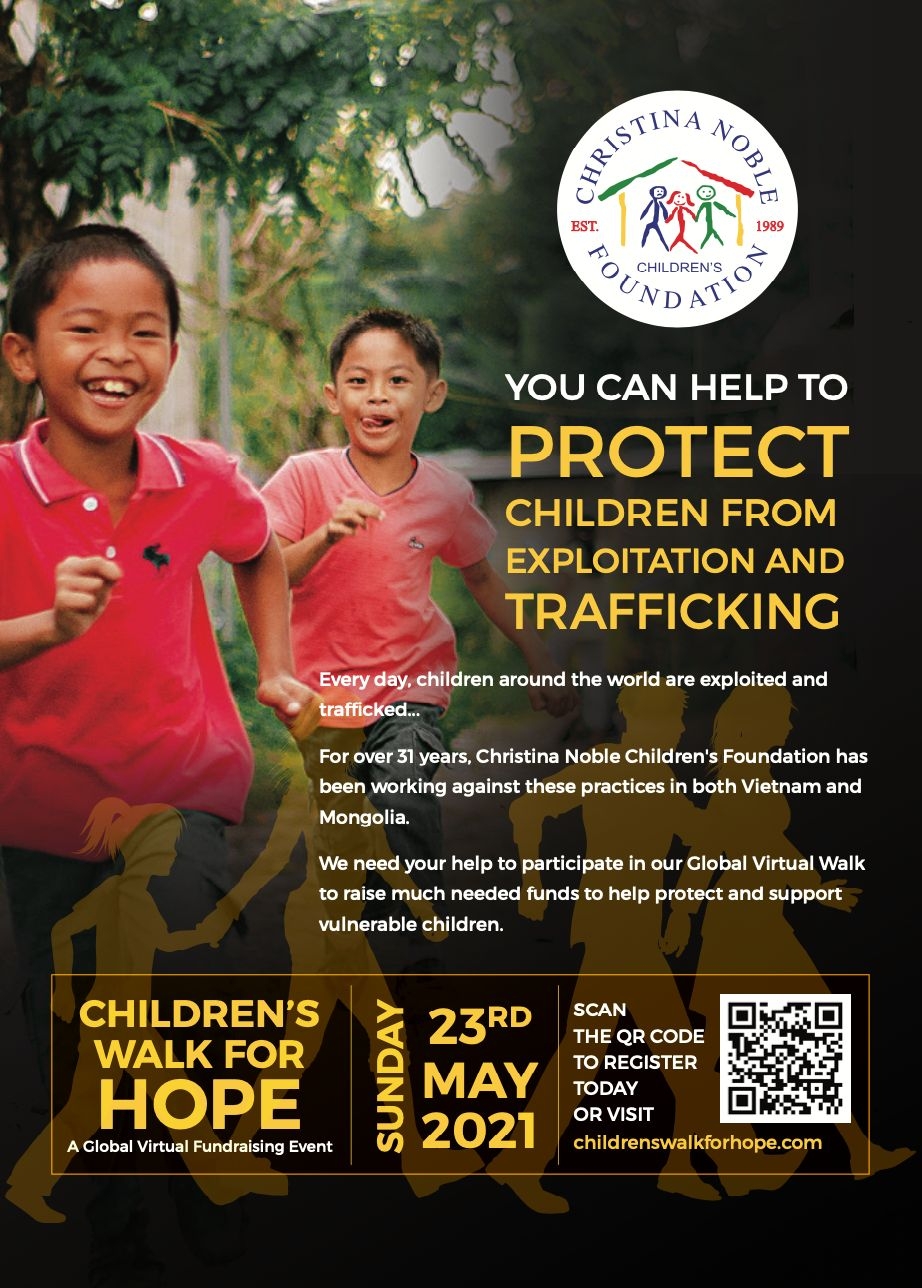 Exploitation of children is escalating due to the ongoing impacts of Covid-19 pandemic.
On May 23, Christina Noble Children's Foundation (CNCF) will hold a global virtual fundraising event, CNCF's Children's Walk For Hope, www.childrenswalkforhope.com.
The unique event will unite individuals and communities from across the globe to help protect, support and empower some of our world's most vulnerable children.
It aims to help provide them with the childhood and the chance of a better future, that they deserve. Participants can join by walking, running, swimming or cycling (or any other physical challenge of your choosing) any distance on the very same day in support of this cause.
100% of funds raised from participators, minus any transaction charge occurred, will go directly to protecting children from child trafficking, exploitation, and abuse.
For the price of a few coffees, you can help to change the life of a child. Take on 1K-2K-5K-50K-100K. This is a one-off registration donation fee only starting from equivalent of 25 U.S. dollars. No other fundraising involved and 100% GOES DIRECTLY TO HELP THE CHILDREN (less online transaction fee).
For all participators joining the event in Vietnam, you will receive the complimentary Children's Walk For Hope bandana available at the beginning of May. You can either pick up your gift from CNCF's Ho Chi Minh City head office or a member of the team can organise delivery for you, remember to note delivery costs will need to be covered by the receiver.
How to get hold of your gift? Once you have registered here, send a message to CNCF's Facebook page at http://www.facebook.com/ChristinaNobleChildrensFoundationInt, or an email to CWFH2021@cncf.org with your name and delivery preference and a member of the team will get back to you within two business working days.
Should you wish to purchase additional bandanas at a price of 50,000 VND per bandana, just let CNCF's team know in your message/email.
Christina Noble Children's Foundation (CNCF) is one of the longest serving NGO's in Vietnam and Mongolia.
For over 31 years, Christina Noble Children's Foundation has been helping abandoned and disadvantaged youngsters across Vietnam and Mongolia, by providing emergency and long-term shelter, medical care, nutritional rehabilitation, educational opportunities, vocational training, and job placement./.