Lastest COVID-19 vaccine updates, global experts are optimistic about vaccine development
While provincial governments across China are placing orders for experimental, domestically made coronavirus vaccines, UK to administer the first dose of Pfizer's vaccine this week, dozens of COVID-19 vaccination centers opened in Moscow, scientists optimistic about COVID-19 vaccines for all.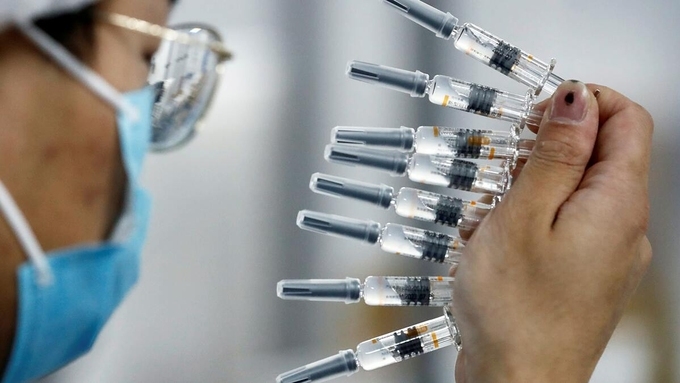 Chinese government has yet to say how many people it plans to vaccinate (Photo: Reuters)
China prepares large-scale rollout of coronavirus vaccines
Provincial governments across China are placing orders for experimental, domestically made coronavirus vaccines, though health officials have yet to say how well they work or how they may reach the country's 1.4 billion people, according to AP.
Developers are speeding up final testing, the Chinese foreign minister said during a U.N. meeting last week, as Britain approved the emergency use of Pfizer Inc.'s vaccine candidate and providers scrambled to set up distribution.
Even without final approval, more than 1 million health care workers and others in China who are deemed at high risk of infection have received experimental vaccines under emergency use permission. There has been no word on possible side effects.
One developer, China National Pharmaceutical Group, known as Sinopharm, said in November it applied for final market approval for use of its vaccine in China. Others have been approved for emergency use on people deemed at high risk of infection.
"We must be prepared for large-scale production," said Vice Premier Sun Chunlan, who has overseen much of the country's response, during a visit Wednesday to developers, according to the official Xinhua News Agency.
The government has yet to say how many people it plans to vaccinate. Sun said plans call for vaccinating border personnel and other high-risk populations this month.
The companies are using more traditional techniques than Western developers.
Health experts question why China is using experimental vaccines on such a vast scale now that the outbreak is largely under control within its borders.
Health officials previously said China will be able to manufacture 610 million doses by the end of this year and ramp up to 1 billion doses next year.
1st Doses Of COVID-19 Vaccine To Be Administered This Week In The U.K
As U.S. health authorities continue examining the proposed COVID-19 vaccines, residents in the United Kingdom — the first Western country to issue an approval for emergency use — are set to receive their first shots as early as this week.
But quickly vaccinating as many people as possible in the U.K. will pose enormous logistical challenges — from keeping the doses frozen to figuring out how to methodically and fairly distribute the vaccine across the nation of 68 million.
The first batch of the vaccine created by Pfizer and the German company BioNTech arrived in the U.K. last week. Doses are scheduled to be delivered to hospitals beginning Monday. Nursing home residents, health care workers, and people age 80 and over will be first in line.
Pfizer's COVID-19 vaccine (Photo: CBC.CA)
Across England, 50 hospitals have been chosen as hubs to administer the vaccine, the BBC reported. The government has initially ordered 40 million doses, which will vaccinate 20 million people. The National Health Service has said that more hubs will be set up as more doses arrive.
The doses will be frozen at minus 70 degrees Celsius (minus 94 degrees Fahrenheit). Health officials are still working out how to efficiently split apart the boxes of vaccine vials once they arrive.
"There's something like five doses to each vial, and each box is 975 doses," Sarah Boseley, health editor for The Guardian, told NPR's Weekend Edition. "Because they're kept in this deep-frozen state, they then have to be very, very carefully split up. And that is the bit, actually, that hasn't yet been properly figured out"
In addition to the U.K., Bahrain has also approved Pfizer's vaccine. On Friday, the Middle Eastern country became just the second nation in the world to issue an emergency use authorization, its state news agency reported.
Moscow opens dozens of COVID-19 vaccination centers
2 million doses of sputnik V will be available in coming days, says Russia's Putin
The city of Moscow is opening 70 vaccination facilities where thousands of doctors, teachers, and others in high-risk groups had signed up to receive COVID-19 vaccines starting Saturday, a precursor to a sweeping Russia-wide immunization effort.
The centers in the capital started giving shots to willing recipients three days after President Vladimir Putin ordered the launch of a "large-scale" COVID-19 immunization campaign, even though a Russian-designed vaccine has yet to complete the advanced studies needed to ensure its effectiveness and safety in line with established scientific protocols.
The Russian leader said Wednesday that more than two million doses of Sputnik V will be available in the next few days, allowing authorities to offer jabs to medical workers and teachers across the country starting late next week.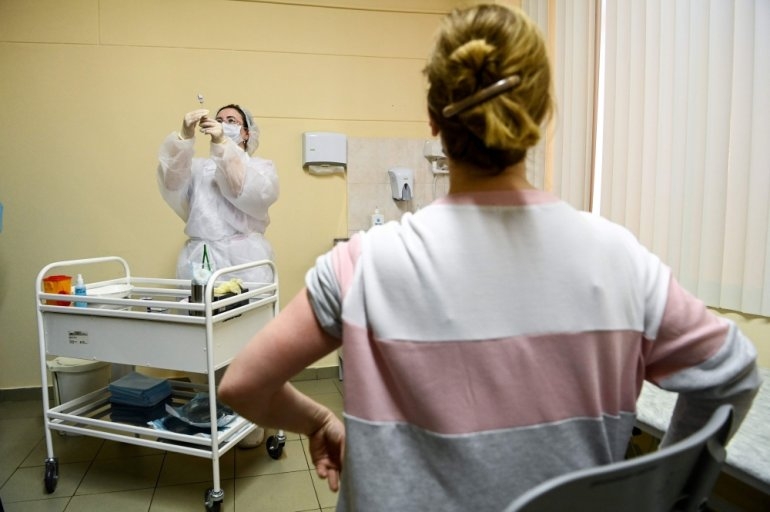 (Photo: The Penisula Qatar)
Moscow, which currently accounts for about a quarter of the country's new daily infections, moved ahead of the curve with the opening of the vaccination facilities on Saturday. Doctors, teachers, and municipal workers were invited to book a time to receive a shot. Moscow Mayor Sergei Sobyanin said that about 5,000 signed up in a few hours after the system began operating on Friday, as reported by CBC.
"Of course I had doubts, especially given that all the clinical trials haven't ended," said Tatyana Kirsanova, who received the vaccine Saturday at a Moscow clinic. "But I decided to go ahead and protect myself with all possible options."
Scientists optimistic about COVID-19 vaccines for all
Scientists developing COVID-19 vaccines are optimistic that by the end of next year, all people everywhere will have access to safe and effective treatments against a disease that has disrupted the entire planet.
Principals from BioNTech and Oxford University – both pioneers in the COVID vaccine rollout –participated in an online dialogue on Friday, held under the special session of the UN General Assembly devoted to the pandemic.
"There is no other option. We have to achieve it. And we can achieve it, and we will achieve it," said Professor Uğur Şahin, Chief Executive Officer of BioNTech, whose vaccine developed with pharmaceutical giant Pfizer was this week approved for emergency use in the United Kingdom.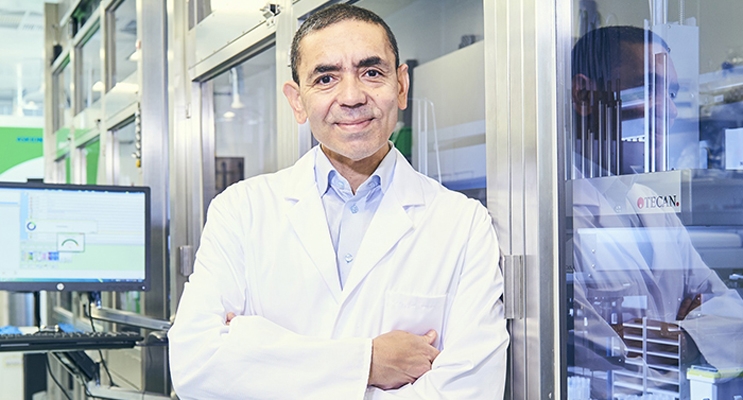 Professor Uğur Şahin, Chief Executive Officer of BioNTech (Photo: Live Science Leader)
A very exciting time
Research and development of COVID-19 vaccines is taking place in record time, according to the World Health Organization (WHO). Currently, more than 150 candidates are at various stages of development, at least 15 of which are in late-stage human clinical trials. Four are effective, according to interim results.
"We are in a very exciting stage now where we are seeing efficacy results coming out, and the first vaccine licenses. And what we need to do is continue with the collaboration because we need more vaccines than the ones we've heard about today," said Professor Sarah Gilbert from Oxford University, partners on a vaccine with pharmaceutical company AstraZeneca.
"And so, it is on us as scientists to continue to collaborate and make available the information that's going to help the development of the other vaccines, because that's the way we are going to get the most vaccines for the world."
Vaccine for the public good
UN Secretary-General António Guterres has repeatedly underlined the need to make COVID-19 vaccines "a global public good", affordable and available to all, through the COVAX Facility: a global mechanism which aims to deliver two billion doses by the end of 2021.
So far, some 189 countries are engaged in COVAX, which is led by Gavi, the Vaccine Alliance; the Coalition for Epidemic Preparedness Innovations (CEPI), and WHO.
BioNTech wants its vaccine to be distributed as widely as possible, which is why it is working with countries and COVAX, said Dr. Özlem Türeci, Chief Medical Officer.
"What we see is that this can only work as a global effort, and as a relentless collaboration," she said.
However, fears have been raised over the equitable distribution of the vaccines. Speaking during a later dialogue, Seth Berkley, the Chief Executive Officer of GAVI, emphasized how global collaboration is the only way to keep the planet safe.
"If everybody was doing bilateral deals, it would be very hard to make sure the supplies exist for everyone," he stated.
A great global effort
Meanwhile, funding for vaccines for all remains an obstacle.
COVAX is the vaccine pillar of a global partnership to speed up the development of coronavirus tests and medicines, known as the Access to COVID-19 Tools (ACT) Accelerator, which is facing an overall shortfall of $28 billion.
Distributing the vaccines will be a further huge challenge, requiring intense planning and coordination at the global level.
Countries will have to get ready for what could be the world's largest and fastest-ever procurement, which will include ensuring the low temperature-controlled environments to store and transport vaccines, known as a cold chain, is in place, News. UN reported.
To date, there are currently 11 COVID-19 vaccine candidates under the third phase of human trials. Pfizer/BioNTech's vaccine (the US) is the first vaccine to complete the trials with 95 percent effectiveness and granted the emergency use authorization from the UK and Bahrain. Meanwhile, Moderna's vaccine is in its final clinical trial phase, with an effective rate reaches 94.5 percent. Oxford/ AstraZeneca is 70-90 percent effective, depending on the injection dose. Russia's Sputnik V (95 percent effective) is scheduled to begin mass vaccination next week.