Leo Horoscope August 2021: Monthly Predictions for Love, Financial, Career and Health
Leo Horoscope August 2021: Happy Birthday! It's Leo season, and you will be glad to hear that this month is perhaps one of the best months of the year in Astrology. Even the stars recognize your vibrant energy; after all, the Sun itself rules your sign.
Monthly Planetary Horoscope
The Mercurial Solar conjunction happening on the last day of July will make you seem more intelligent in the way you express yourself. This could be the cause of many fun debates with your peers. Don't be surprised if you find yourself engaged in many friendly disputes throughout the month. With that in mind, some might read your prowess with words as arrogance. Be open to feedback because they could be right. Mercury in this placement can make us conceited, believing that we know more than we actually do. If you stand your ground, make sure you actually have the facts straight to back up your point. Don't use fancy words just to seem smart. Someone might just catch you, and I'm sure you don't want to look foolish. You don't need to pretend you are great. Everyone already knows that.
Mars will be cruising through Virgo for the whole month. This transit will be happening in your second house, bringing attention to how you deal with your finances. In Virgo, Mars possesses a more controlled semblance. The usually impulsive and erratic planet has to adhere to the structural processes of Virgo. This channels his energies much more constructively, which can be excellent for your finances. This transit can give you the drive you need to help you get your debt cleared out. Combining these energies with Mercury's blessings can help you create an actionable budget plan and won't leave you frustrated with massive cuts on funds for your entertainment. This is your birthday month, and you more than anybody know that at least a little chunk of your savings will spill into the party. It's okay to treat yourself a bit, don't worry.
Our neighbour red planet is also going to be interacting with a very important developmental cycle. In September of last year, we all collectively started a new karmic journey as the North Node shifted to the sign of Gemini. This is an 18-month long transit that is happening in your 11th house. This probably made you step into a more critical role in your community. While this has its perks as Leo's are natural leaders, you also likely have double the work. This can be a great source of stress, especially since it can turn a place where you felt secure and accepted into tiresome labor. With this Mars in Virgo square, you may begin to understand how to delegate work and share resources, so the stress is not just on your shoulders. Be mindful of tyrant behaviour, though. Mars can also channel your anxiety into unrealistic demands. Be assertive, but stay grounded and allow some room for mistakes to happen. This cycle ends in December. You're almost there!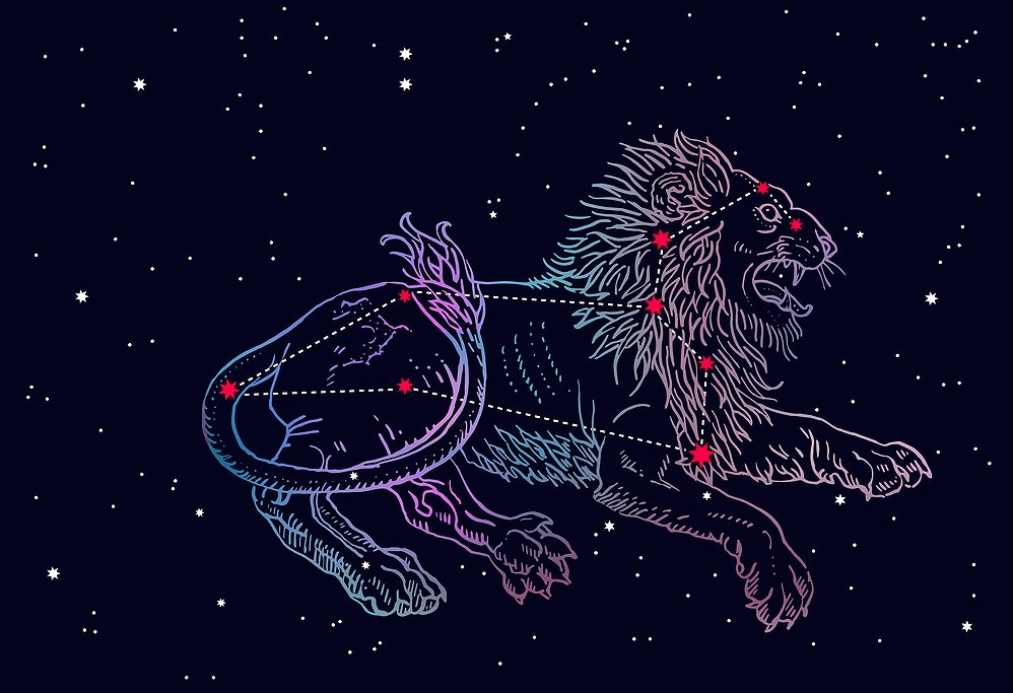 The New Moon happening in your first house will get you feeling fresh and ready for another year. This marks the start of a new journey, so take advantage of this particular lunation to set your intentions for a prosperous and joyful year. This New Moon will also get you in touch with your emotions, so allow the space for you to be vulnerable with yourself. When no one is watching, you don't have to be afraid of seeming week. In fact, a confident display of "weakness" is more robust than any Martian buffoonery. An essential aspect of this moon is the square it will be making with the planet Uranus in your 4th house. The rebellious primordial is reaching the middle of a 7-year cycle that has been manifesting many unexpected events concerning your career and your public image. If you feel frustrated, this can be an explosive time to make drastic changes in your life. Listen to your intuition, and even the most significant leap of faith will land you on your feet. Make this a testament to your feline superpowers.
The Aquarian Full Moon in your 7th house will slow down the pace of events as the moon wanes for the rest of the month. Use this time to wind down and get lost in the realm of ideas. This time could be when you develop innovative strategies to work with your peers to overcome the obstacles you haven't been able to overcome on your own. Be sure to share your plans with your best friend as they will likely have the perspective you are lacking to perfect your strategies. You are approaching the end game of many personal difficulties. Being well equipped is essential.
Leo Monthly Horoscope
For natives belonging to the zodiac sign Leo, the month of August will prove to be better than average. With regards to your professional life, the month will turn out to be quite exciting.
You will be free in taking a great amount of interest in your work which will make your professional life quite satisfactory. Job holders will come across an extremely favourable time. Meanwhile, natives who are looking for a job currently also get some good news. Students will receive positive outcomes. Love life will turn out to be satisfactory and there are chances of many couples tying the Knot during this time.
Unmarried natives belonging to the sign may also meet their soulmates and future life partners. Conjugal life will remain moderately blessful. You may plan a trip with your family members. New sources of earning money will be made available to you. However, you are advised to keep a tab on your spendthrift nature.
It is advised to remain specifically careful during the first half of the month. With regards to health, you may come across some ups and down. The best alternative you can adhere to right now is to take special care of your health during the first half of the month.
Leo Monthly Love Horoscope
For love relations in particular, this month will turn out to be great. After taking a look at the planetary positions, it can be stated that you will come across an extremely favourable time during August 2021.
Those natives who are already in a love relationship and are facing problems will witness them getting eradicated during the stretch of this month. All the misunderstandings and conflicts will come to an end finally. You will get some exciting opportunities to spend quality time with your partner. You may go out on dates shopping or even a trip with your beloved.
If you wish to get married to your partner, then this is the right time to go ahead with the idea. A little effort on your part will take your relationship to a whole new level. Unmarried natives may also be bombarded with marriage proposals. On the flip side, married natives will also come across an equally favourable time during the month of August.
If there have been any ongoing disputes with your life partner, then they will come to an end during August 2021. Mutual love, respect and intimacy will increase during this time. You will remain at the receiving end of conjugal bliss and happiness.
Love relationships of Leo people will be disturbed by family affairs and you have to be flexible and adjust to those changes. You should not allow relationships to be disturbed by your reckless conduct. There may be major changes in the way you love and plan for a baby.
Marital life can be made pleasant through compromises. Planetary influences will put a limit on your spending habits. It is up to you to bring harmony to the marital relationship.
Single persons will have very good opportunities to get into relationships if their egos are curbed. Make use of your meetings to bring romance into your life.
Leo Monthly Money Horoscope
If we talk about your economic life, then this month has some mixed results in store for you. Many sources of earning money will be made available but your spendthrift nature may pose problems for your financial condition. The royal planet Sun and the dualistic planet Mercury is residing in your 12th house and also aspecting the same house. For the uninitiated, the twelfth house happens to be the house of your expenses. Because of all these planetary positions, your expenses may increase drastically. Try to keep a tab on your expenditures.
The planet Venus will move. However, in the second half of the month, Venus will reach your second house, that is, the house of savings along with income. Also, the Sun and Mercury will also leave the 12th house and enter your zodiac sign. Extravagance will be curbed. On August 26, Mercury will again change its zodiac sign to reach your second house, where Venus is already seated.
This conjunction of Mercury and Venus will not only increase your income, but will also encourage you to save. Your bank balance may increase. There will be a tendency for some investment etc. and will invest the money correctly.
This month the combination of stars facing you is none too favourable for your financial prospects, and your efforts would bear little fruit, despite your association with several people of learning. Most of you, may have to struggle quite a bit to realize your anticipated objectives and even then achieve little success.
Writers, painters, and other artists would do well to make allowances for a lean period, because that is a distinct possibility. Further, the climate would remain far from congenial for investment and the launching of new ventures. These could easily get stuck. Overall, a month during which you should maintain a low profile and wait for the adverse period to be over.
Financial institutions will not be helpful in helping business people. This makes it tough for starting new projects. You cannot expect good returns from investments in financial instruments.
Leo Monthly Career Horoscope
With regards to your career, the month of August is expected to remain quite favourable. The presence of Rahu in your tenth house will keep you interested and inquisitive about your job profile. You will be seen working quite hard and implementing new ideas so as to make your professional life more successful. But, you should keep in mind that adhering to shortcuts would not be a wise thing to do currently.
Venus is present in it's own zodiac sign, because of which you will become proficient at your work. She will remain excited to accomplish each and every thing dedicatedly. If you happen to be a working professional then you will not come across in hindrances. You will be interested in your job and your work will also go on smoothly. Those looking for a job may also get some good news. Business professionals may come across a positive time.
You will make a great amount of profits and your self-confidence will increase. The 7th house of your sign is under the occupancy of Jupiter and it is being affected by Mars and Venus at the same time. These planetary positions will pave the way for success with regards to your trade ventures.
The efforts you have made in connection to your business will not go in vain. You may also get an opportunity to to initiate a new trade venture. It is also quite a favourable time to make new investments. Overall speaking, the time will be quite right for your professional life and new sources of earning money will be made available to you.
This month there would be excellent opportunities for your career advancement. The working conditions would remain excellent with no trace of tension or politicking. Association with gifted people of learning and spiritual stature would benefit you in every way.
A small amount of travel would also prove to be useful. This would be most advantageous in a Northern direction. Your efforts can be expected to realize the desired objectives. In fact, some of you would go on to make significant contributions in religious and social affairs. An excellent month, during which you should try to achieve something outstanding.
Leo Monthly Health Horoscope
Talking from the point of view of health, the month of August can be full of ups and downs for the Leo zodiac. The presence of the Sun in the 12th house can be somewhat troublesome in terms of health. Saturn is in the sixth house of the diseases and is aspecting the twelfth.
You may have to go to hospital etc. or there may be some expense on the diseases. But the latter half of the month will prove to be a troubleshooter. On August 17, the Sun's is changing zodiac signs and reaching your sign. This will improve health very fast. You will get rid of diseases. There is a need to be cautious in the first half. There may be bone related problems or any knee related problems prevalent in your body.
A good month, during which the stars are out to bless you with good health with the bare minimum of care and attention. However, there is need for a brief note of caution. You see, this month your health would to a large extent be determined by the nature of your general surroundings.
It is therefore, very important that you avoid people and places of the uncongenial variety. If you do this, the period is as it is favourable for your health. It might also be a good idea to take some kind of a tonic for coughs and colds since some minor irritation may be caused by these ailments.
Good health will not reduce your efforts to maintain your health by resorting to regular exercise and healthy diet. Stress due to overexertion can be taken care of by meditation or sports activities.
Leo August 2021 horoscope Important numbers: 4, 8, 9

Leo August important dates: 1, 6, 7, 16, 26

Leo Horoscope August special note:

"At the end of the month you will learn very interesting things about things that have been intriguing for you for a long time. Listen to all these questions carefully, absorbing word by word. Do not disturb, let alone enter the sentence. Do not be discouraged by the interlocutor, on the contrary - encourage him, because it is highly probable that you will have to use his help in the coming months."