List of US' prominent retailers filing for bankruptcy due to Covid-19 
Coronavirus has pushed some of the most vulnerable brands in the US toward the brink of bankruptcy as many as a running list of retailers have recently declared failure including J. Crew, Neiman Marcus, Stage Stores, J.C. Penney and the newly sunk Tuesday Morning among others. 
According to Washington Post, while many prominent retailers are looking for ways to preserve cash amid the uncertainties of the Covid-19 pandemic in the US, some stops paying rent, some
left workers and staff sabbatical, some just have to give away their business dream due to incapabilities of paying ongoing spendings.
On Wednesday, discount retailer Tuesday Morning became the fifth major U.S. retailer this month to file for Chapter 11 protection. Here is a running tally of pandemic-era bankruptcy filings:
1. J. Crew
Annual revenue: $2.5 billion in 2019
Number of stores: 492
Founded: 1947
On May 4,J. Crew, the clothing chain known for its preppy basics, became the first major U.S. retailer to file for Chapter 11 protection.
The company, which leases all of its stores, disclosed in a court filing that it had hired a real estate consultancy and liquidator to help it evaluate its leases and negotiate rent relief. Permanent store closings are possible.
"If certain accommodations with landlords are not achieved, the Debtors likely will reject certain burdensome leases and close the related stores," Michael Nicholson, president of J. Crew parent company Chinos Holdings, said in a court filing.
While the Guardian makes details that, the New York-based brand's parent company made the Chapter 11 bankruptcy filing in a Virginian federal court to buy itself breathing space as it plans to hand control over to its lenders, in exchange for the cancellation of $1.65bn (£1.3bn) of its debts.
With too much debt, the company was not well-positioned to deal with the same challenges that its competitors are facing, including declining mall foot traffic, digital threats and fast-fashion alternatives.
J. Crew has the sixth-most debt among distressed retailers, according to Moody's Investor Service.
The company's plan to spin off its promising women's apparel business Madewell in 2020 was supposed to help the company pay down some of its debt.
2. Neiman Marcus
Annual revenue: $4.9 billion in 2018
Number of stores: 43
Founded: 1907
Neiman Marcus Group, the 113-year-old chain known for its high-end department stores, filed for bankruptcy on May 7.
According to Vougue, while the Neiman Marcus debt is staggering—$4 billion with refinancing loans in the hundreds of millions—Bergdorf Goodman, the luxury department store, has the advantage of being the last grand dame of fashion in New York.
"Like a fine French dress, the Bergdorf Goodman building has a restraint in line and ornament," Vogue proclaimed in its May 1, 1928 issue in a feature extolling the virtues of New York's poshest retailer. Begun as a tailor shop in 1899 by Herman Bergdorf and transformed into Bergdorf Goodman with Edwin Goodman in 1901, the store had bopped around locations in Lower Manhattan, settling in the Vanderbilt mansion on 57th and Fifth Ave in 1928. With the feeling of a "private drawing room," it was celebrated for its exacting selection of hats, furs, frocks, and bags, one that eliminated "everything that is not in perfect simplicity and perfect taste."
3. Stage Stores
Annual revenue: $1.58 billion in 2018
Number of stores: 738
Founded: 1988
Stage Stores, which operates hundreds of Palais Royal, Bealls and Goody's department stores, filed for Chapter 11 bankruptcy late Sunday, making it the third large retailer to do so in the last week.
Inquirer reported that, the Houston-based company said it is searching for a buyer and plans to reopen and liquidate its stores beginning Friday. The retailer has 738 stores across a half-dozen brands, including the off-price chain Gordmans and the Peebles and Stage department stores, in small towns and rural areas in 42 states.
The company website lists a Peebles in Pennsville, Salem County, and a Gordmans in Kennett Square, as well as in Browns Mills, Bridgeton and elsewhere in South Jersey.
4. J.C. Penney
Annual revenue: $12.02 billion in 2019
Number of stores: 850
Founded: 1902
Department store chain J.C. Penney filed for bankruptcy protection on May 15 and said it would permanently close some of its 850 locations.
The 118-year-old retailer was struggling long before the public health crisis forced it to temporarily shutter its stores and furlough the majority of its 90,000 employees. It has nearly $4 billion in debt and hasn't turned a profit since 2010. Sales have fallen for four straight years as it struggled to win back longtime loyalists who have since gravitated to big box chains such as Target and Costco to outfit their families.
USA Today reported this May 26 reported that despite its bankruptcy filing and plans to close about 29% of its stores, J.C. Penney has launched a new home brand.
The chain announced Tuesday that its new Linden Street bedding brand is now available online and is "a significant enhancement to its home merchandise division."
In a news release, the company said the new bedding collection "represents a fresh beginning for the new home private brand, supporting the Company's commitment to returning fashion, quality and value to the home."
The sheet sets start at $40, and quilts and comforters range from $90 to $220.
In its bankruptcy filing, J.C. Penney said it has both assets and liabilities between $1 billion and $10 billion, and it owes money to more than 100,000 creditors. It also said it would close some stores, but did not provide details on where or when.
JC Penney files for bankruptcy, plans to close some stores
5. Tuesday Morning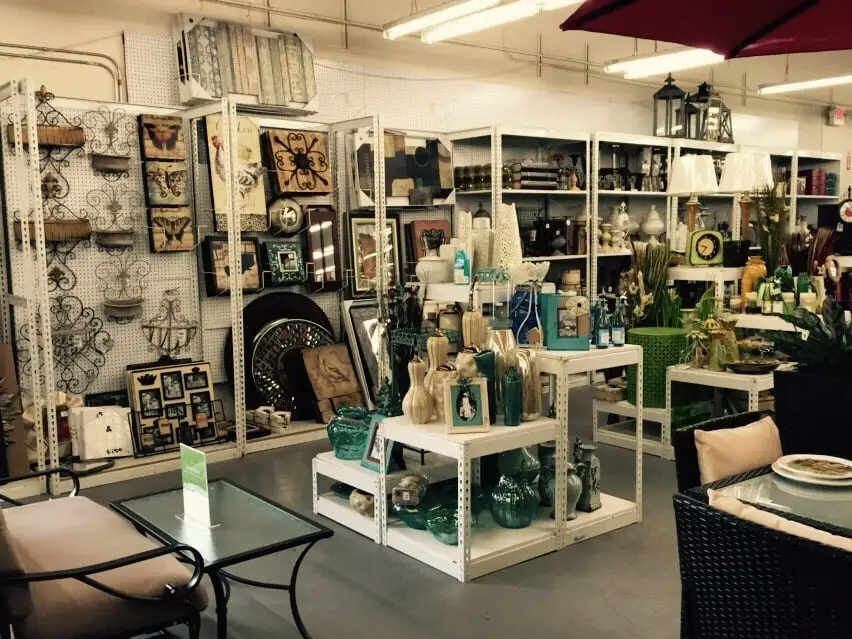 Tuesday Morning is closing stores after filing for bankruptcy. Lea Z. / Yelp
Annual revenue: $1 billion in 2019
Number of stores: 687
Founded: 1974
Discount retailer Tuesday Morning filed for bankruptcy on May 27 and said it will shut 230 locations, roughly one-third of its store holdings, this summer, after the coronavirus outbreak disrupted sales.
In its bankruptcy filing, the Dallas-based home goods chain said it owed between $50 million and $100 million to as many as 5,000 creditors.
"Many stores are not so much an Aladdin's cave of exciting treasures as a jumbled flea market of whatever buyers could seemingly get their hands on," Neil Saunders, managing director of GlobalData Retail, wrote in a note to clients. "Putting together a range requires enormous skill and a certain degree of flair. In our view, Tuesday Morning lacks both."
6. Lord & Taylor
According to Reuters, venerable U.S. retailer Lord & Taylor plans to liquidate inventory in its 38 department stores once restrictions to curb the spread of coronavirus are lifted as it braces for a bankruptcy process from which it does not expect to emerge, people familiar with the matter said on Tuesday.
Lord & Taylor's preparations to liquidate its inventory as soon as its stores reopen offer a window into the grim future of a high-profile retailer - a storied department store chain founded in 1826 and billed as the oldest in the United States - that does not expect to survive the pandemic's economic fallout.
7. Dean & Deluca
NBC News reported, the New York City-based gourmet foods retailer filed for bankruptcy on March 31, one of the first businesses to show signs of trouble due to coronavirus impact. The company was founded in 1977 and was acquired by Pace Food Retail in 2014.
8. Apex Parks
Apex Parks, which owns and operates 14 family entertainment and water parks in New Jersey, California, and Florida, filed for Chapter 11 bankruptcy on April 8. A release from the company indicated that they do not intend to close, according to NBC News.
9. FoodFirst, Bravo and Brio Restaurant Parent
FoodFirst Global Holdings, the parent company of restaurant chains Bravo Cucina Italiano and Brio Tuscan Grille, filed for Chapter 11 bankruptcy on April 10. FoodFirst acquired the brands in 2018.
10. Hertz
The Hertz Corporation, known for its car rental services, filed for Chapter 11 bankruptcy on May 22. Hertz, which owns other brands including Dollar and Thrifty, underwent a CEO change last week, its fourth in six years.
Chapter 11

is a form of

bankruptcy

that involves a reorganization of a debtor's business affairs, debts, and assets, and for that reason is known as "reorganization" bankruptcy.1 Named after the U.S. bankruptcy code 11, corporations generally file Chapter 11 if they require time to restructure their debts. This version of bankruptcy gives the debtor a fresh start. However, the terms are subject to the debtor's fulfillment of its obligations under the plan of reorganization.

Chapter 11 bankruptcy is the most complex of all bankruptcy cases. It is also usually the most expensive form of a bankruptcy proceeding. For these reasons, a company must consider Chapter 11 reorganization only after careful analysis and exploration of all other possible alternatives.
Fitness startup WeFit files for bankruptcy

Onaclover Jsc, the owner and developer of Hanoi-based fitness app WeFit, announced its bankruptcy and termination of services in a Monday email to customers due to ...