Many rare species animals found in Nui Ba, Vietnam
Many rare species of animals at risk of extinction found still living in the national park gives hope for the conservation of unique biodiversity of Bidoup - Nui Ba.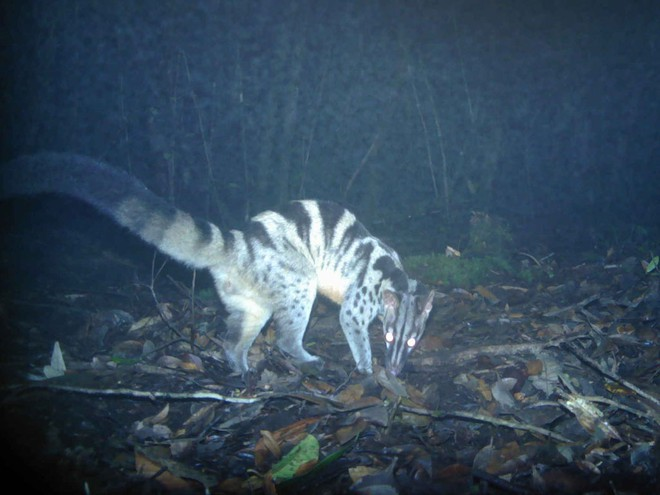 Cay Van (Chrotogale owstoni) found (Photo: Nui Ba National Park)
Since October 2019, the National Park, in cooperation with the Southern Institute of Ecology (SIE) and the Leibniz Wildlife Research Institute (Leibniz-IZW),has conducted a camera trap survey in the Park, finding at least 21 species, among that 7 ones are globally threatened, said PhD. Le Van Huong, Director of Bidoup - Nui Ba National Park on July 1st.
According to Huong, the most important finding is a recording series of the giant muntjac (Muntiacus vuquangensis) which can only be found in the Truong Son range classified as critically endangered (CR) in IUCN red book.
Besides, the camera traps captured another endemic species of Truong Son range, called Cay Van (Chrotogale owstoni), a small predator with remarkable fur, are nearly under extinction, due to outspreading hunting.
Many images of sun bear (Helarctos malayanus) were recorded, despite being quite common in bear raising farms in Vietnam, found rare in the our country's forests.
Another surprise is the image of albino porcupines, even though porcupines are relatively popular in most protected areas of Vietnam, the white porcupine found is a very rare phenomenon.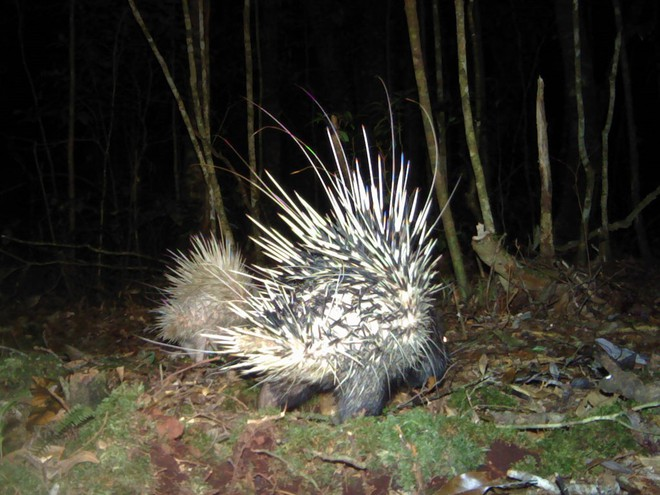 Albino porcupines. Source: Thanh nien news.
Although the survey was partially completed, the initial result shows that there is very high diversity of mammals in the National Park with many rare and endangered species still alive, bringing hope for the conservation of unique biodiversity of Bidoup - Nui Ba, said Dr.Huong.