National Assembly's 5th session opens, Land Law high on agenda
The 5th session of the 15th National Assembly opened in Hanoi at 9 am on Monday.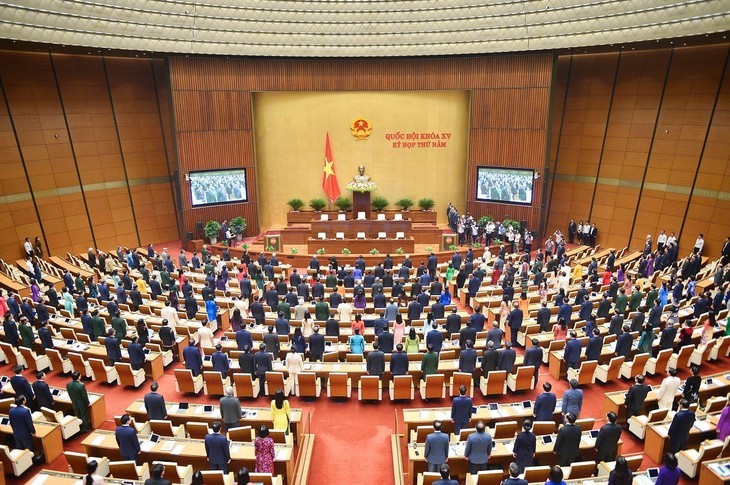 The 15th National Assembly performs the flag-raising ceremony, May 22, Hanoi. Photo: quochoi.vn
Two hours earlier, leaders of the Party, State, and Vietnam Fatherland Front, and National Assembly deputies laid wreaths to pay tribute to President Ho Chi Minh at his Mausoleum.
At 8 AM, the Assembly held a preparatory meeting. The opening session was broadcast live by Voice of Vietnam (VOV1), Vietnam Television (VTV1) and National Assembly Television.
The session is planned to approve 8 draft laws and 3 draft resolutions, and comment on 9 draft laws. High on the agenda will be the amended Land Law, review of reports on socio-economic and state budget, questions and answers, and personnel decisions.
Minister of National Defense General Phan Van Giang on Sunday called on the National Assembly deputies serving in the Army to maximize their sense of responsibility, perform well their roles to give quality opinions and make valuable contributions to the Assembly's session.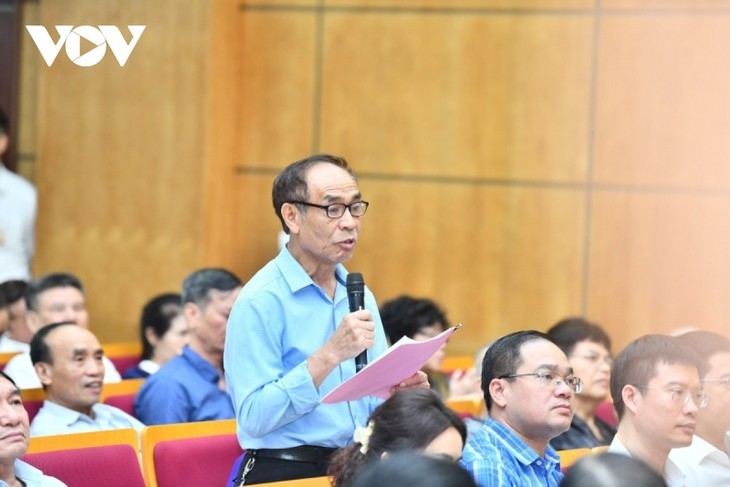 A voter speaks at a meeting with the Hanoi National Assembly delegation before the 5th session of the 15th National Assembly. Photo: VOV
Voters said they are hopeful that correct and timely decisions will be made on major issues such as the Land Law revision.
"The Land Law concerns land acquisition and prices. Land acquisition is not possible without specifying the land prices. Land distribution must be done seriously. Offenders must be severely punished because of the horrible harm they do to the country."
"Now what is the market price. If we calculate the market prices, we agree, but on the condition that we have a good control so that the prices reflect the market properly."
Voters expect the National Assembly deputies to come up with optimal solutions to remove difficulties for the economy, in order to achieve the 6.5% growth target for 2023.