NGOs Support Continuation of Teaching and Learning During Covid
In response to Covid-19, NGOs are providing additional resources for Vietnam's education and training sector.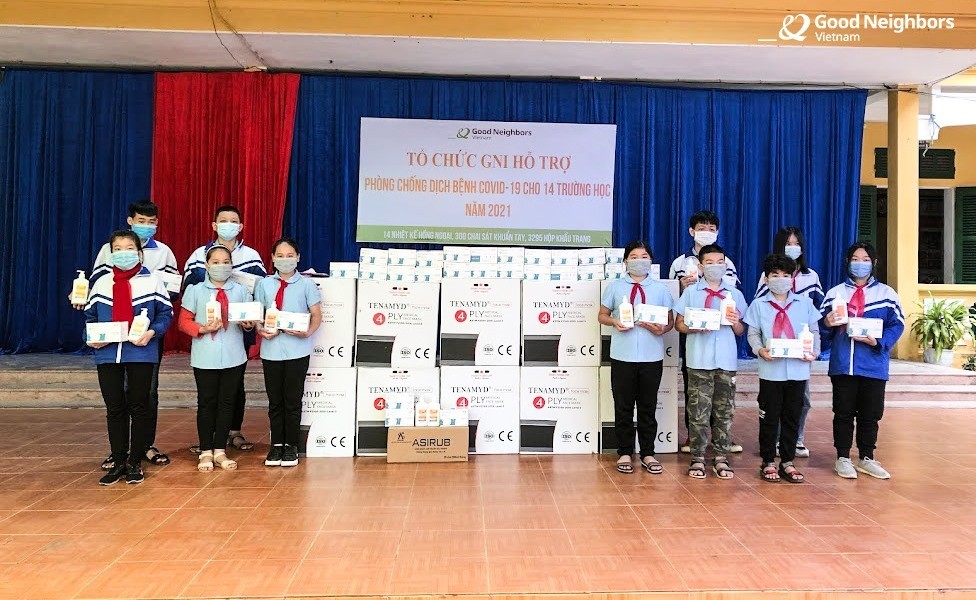 Good Neighbors International (GNI) supports Hoa Binh Province's educators and students' wellbeing during Covid-19.
New demands on school funds are emerging as schools, whether in person or virtually, try to make up for lost learning time and address the needs of their students.
In the context of the Covid-19 outbreaks, ensuring the safety of students when going back to school are extremely important.
Korean non-governmental organization Good Neighbors International (GNI) on Nov. 15 donated medical supplies worth more than VND 110 million to 14 schools in Hoa Binh City, Hoa Binh Province.
The gifts included nearly 3500 medical masks, 300 bottles of antiseptic water, and 14 infrared thermometers.
To stop the spread of Covid-19, along with other Covid appropriate behaviors, the practice of handwashing at regular intervals is a must. With the support of masks, sanitizers, and electronic thermometers, GNI wishes to accompany the school to ensure the safety of students when going to school and raise awareness of the implementation of regulations on Covid prevention and control.
Previously, in Hoa Binh City and Tan Lac District, GNI also provided masks, sanitizers and electronic thermometers to 92 schools with a total support value of more than VND 250 million.
On Nov. 3, GNI handed over 2243 antibacterial masks, 2243 bars of soap, 180 bottles of hand sanitizer, 12 electronic thermometers to 6 schools in Bao La and Xam Khoe Communes, Mai Chau District.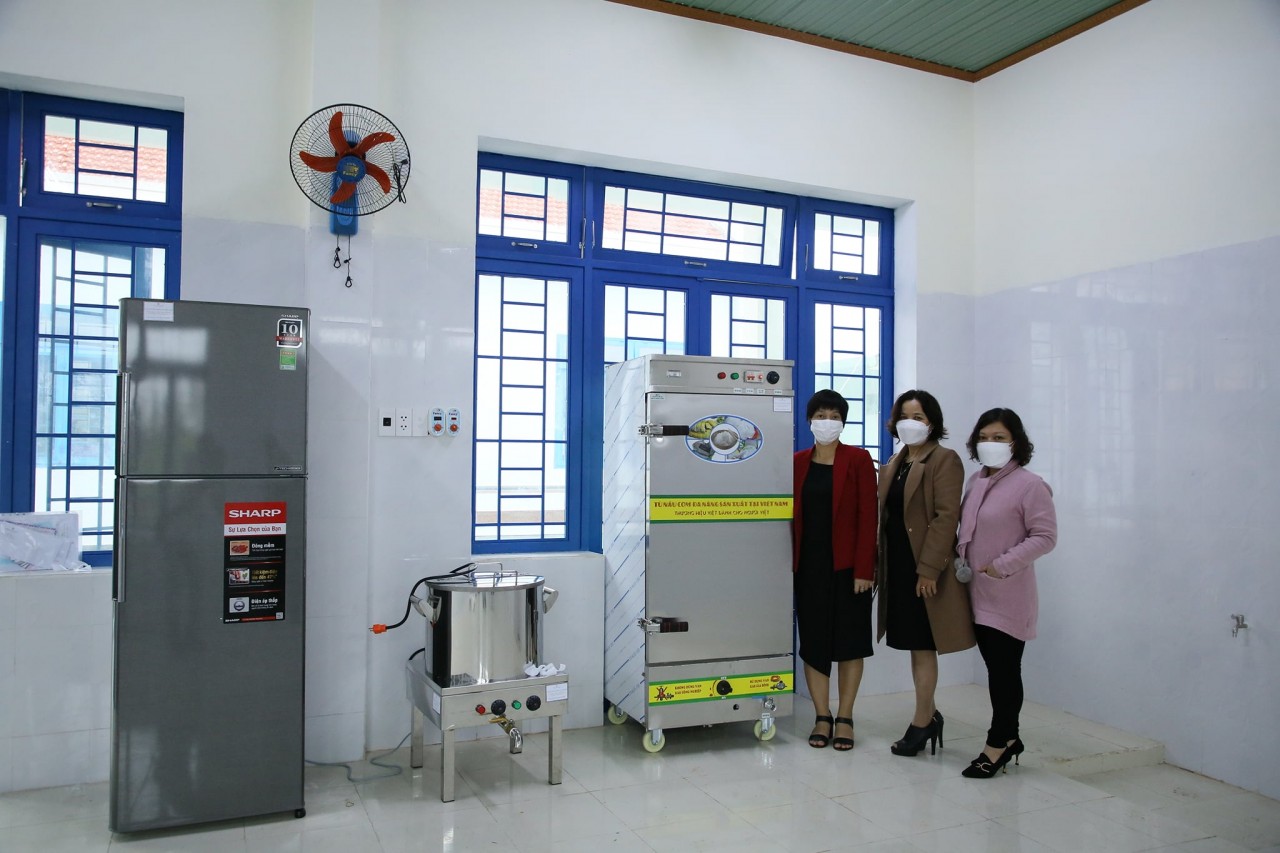 East Meets West Foundation improves school kitchen to help implement a hot meals service for students in Mac Dinh Chi primary school.
On the same day, East Meets West Foundation (EMWF) coordinated with Thang Binh District Study Promotion Association to organize the handover ceremony of facilities for a semi-board kitchen for Mac Dinh Chi primary school in Binh An Commune, Thang Binh District, Quang Nam Province.
These facilities are donated by some members from the Marine Basic Class 6-67. Through EMWF, these members donated for Mac Dinh Chi school nine classrooms in 2005, one administrative area in 2009, one library in 2010 and one water purification system in 2019.
At the ceremony, in addition to being stayed at the boarding school, the students also expressed their gratefulness after receiving more than 150 uniform shirts for first, second grade and 500 face masks with the donation from Uniform Vietnam.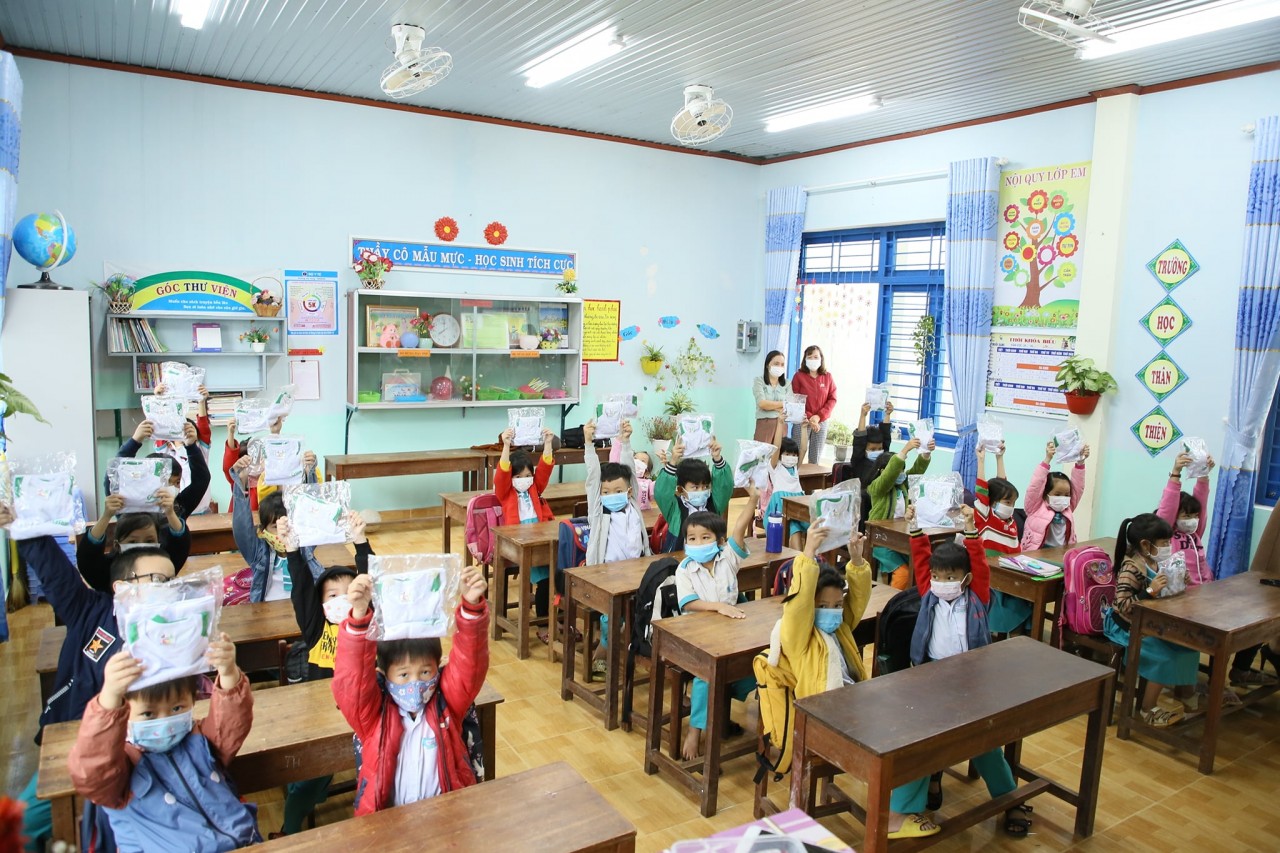 Students grateful for uniform shirts.
Last week, Samsung Vietnam and Korea Food for the Hungry International (KFHI) has held a groundbreaking ceremony for a Samsung Hope School project at Trung Cap Village, Mai Pha Commune, northern border province of Lang Son.
This is the fourth school in the chain of Samsung Hope School in Vietnam, after Bac Ninh, Thai Nguyen, and Bac Giang.
Up to now, about 1,000 students have been studying and developing at Samsung Hope schools. In addition, Samsung also signed a MoU with Dong Nai Province and KFHI to implement the fifth Samsung School in Tam Phuoc Ward, Bien Hoa City.
It is expected that after being completed in 2022, the school will be the place to implement the "Child Development Programme (CDP)" for about 300 disadvantaged students from primary to junior high school in Lang Son. The CDP not only provides students with learning opportunities suitable for the high-tech industrial age such as informatics, programming, and career experiences but also brings opportunities to learn special talents, foreign languages such as English, Korean, music, art, physical education.
In addition, students will be able to participate in sexual health training programs, health checks, and community support activities.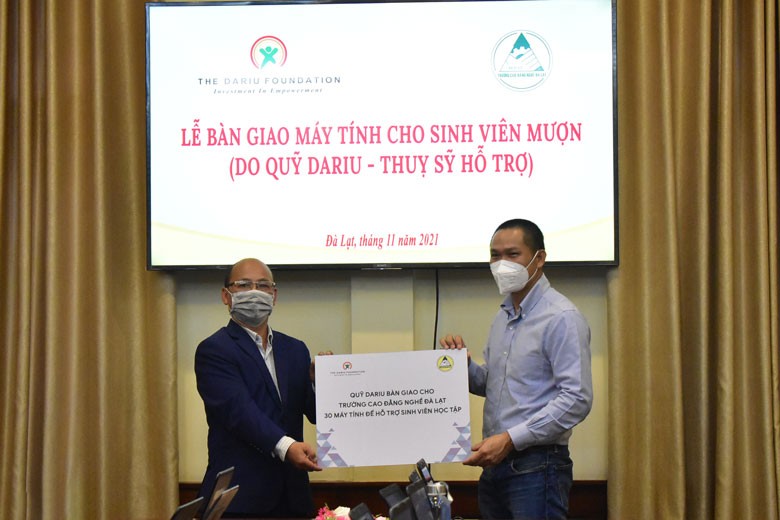 The Dariu Foundation hands over 30 laptops so that disadvantaged students to have devices for online learning.
As the Covid-19 pandemic continues to develop more complicatedly in the country, students in several localities continue to study online, many of them are without the necessary devices for online learning.
With the desire to facilitate and support disadvantaged students to study online, Da Lat Vocational College has cooperated with The Dariu Foundation (Switzerland) to organize the handover ceremony of laptop for students to borrow on Nov. 10.
According to Nguyen Van Hanh, director of the Dariu Foundation, this program is one of the cooperation plans between the Foundation and Da Lat Vocational College to support and create conditions for students to study and have more job opportunities. In the coming time, the Foundation will continue to mobilize more resources to lend 200 more computers to students of the university. In addition, the organization will hand over vocational scholarships for students.
In the school year 2020 - 2021, the Dariu Foundation has supported schools lacking modern facilities in Lam Dong province and lent them more than 600 computers; donated electronic equipment for teaching programming, and awarded many scholarships to poor students with difficult circumstances. In the near future, the Dariu Foundation will coordinate with the Provincial Department of Education and Training to organize a training program for teachers; and support about 800 electronic devices for students of middle school and high school to learn to program.