[Photo] Cherry Blossom Peak Bloom Arrives Worldwide
Breathtaking sights of cherry blossoms all over the world, from Washington D.C (US) to cities of Japan.
Every year, in Tokyo (Japan), there is a series of festivals to celebrate the cherry blossom season, which is considered the national flower of the land of the rising sun, in full bloom.
In Japanese culture, the annual blooming of cherry blossoms - or sakura as the Japanese call them - symbolizes renewal.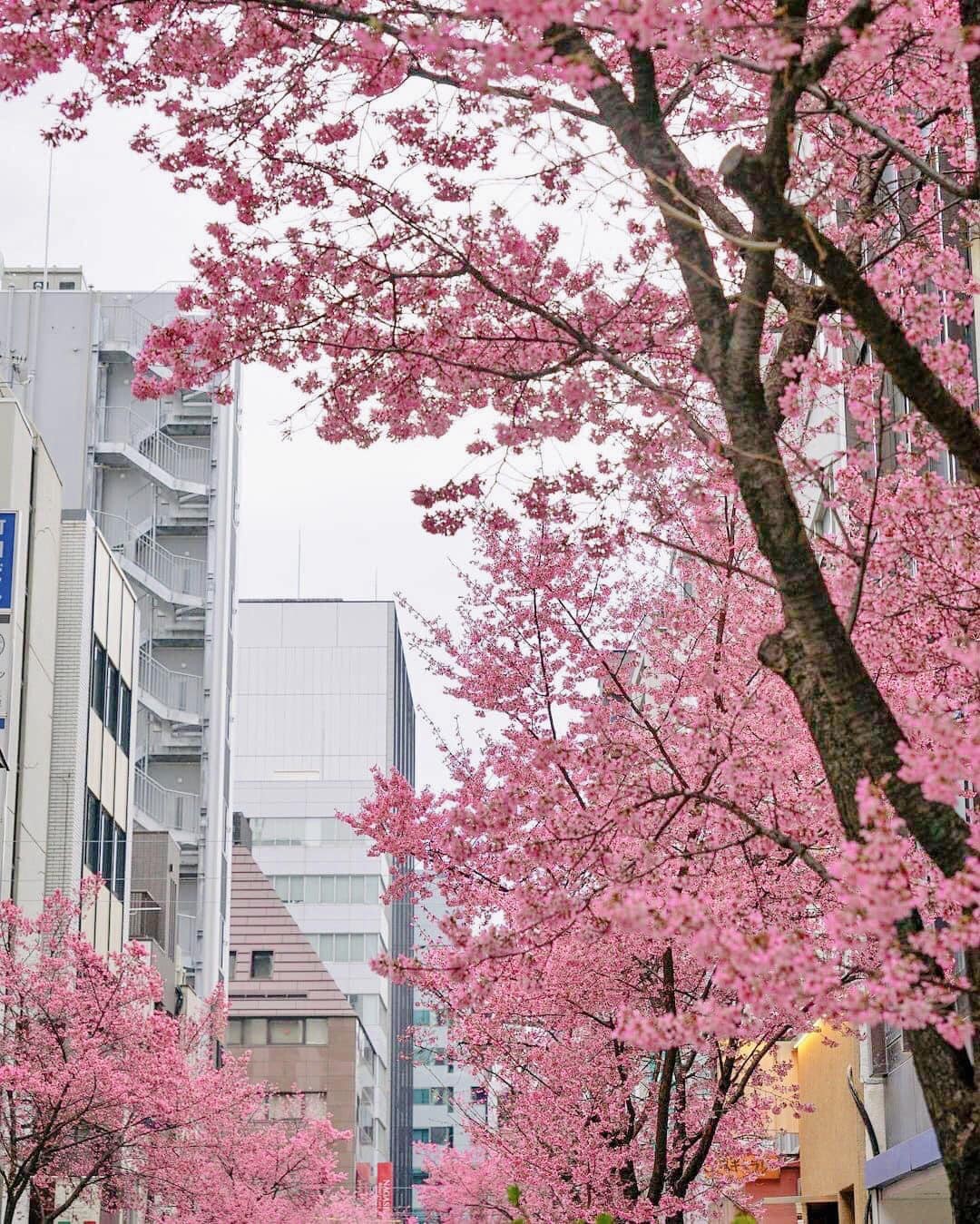 Cherry blossom in Ginza (Tokyo) (Photo: Truong Giang Nguyen)
The "soon to bloom" feature of cherry blossoms is seen as a reminder of the "ephemeral nature of life". The cherry blossom season coincides with the start of the school year in Japan, which adds to the feeling that this is a time of hope and new beginnings. The activity of enjoying cherry blossoms is called "hanami", which means "flower viewing". This tradition has a long history: Cherry blossom viewing parties in Japan can be traced back to the 8th century, during the Nara period.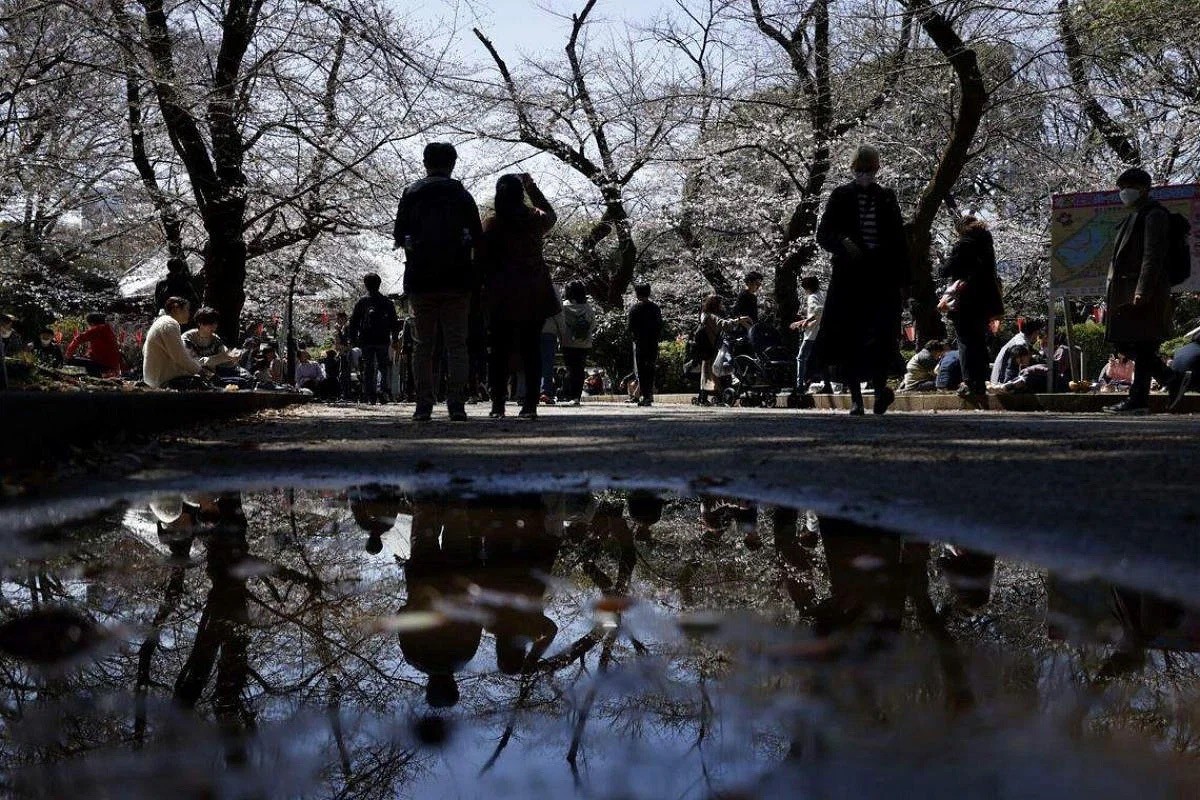 Cherry trees in bloom at Ueno Park in Tokyo, Japan, on March 19, 2023. PHOTO: BLOOMBERG
Each annual festival in Tokyo has its own unique character and various activities. For example, the Ueno Cherry Blossom Festival features dance performances and a flea market, while the Tokyo Cherry Garden Spring Festival hosts a night-long dance party featuring jazz musicians.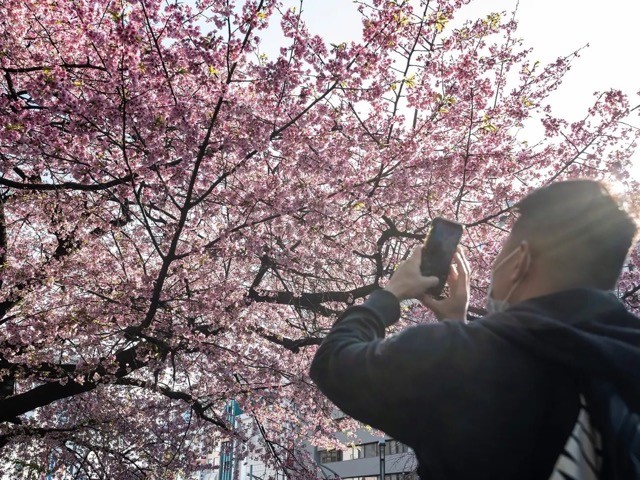 A man in Ueno Park, Tokyo, takes a photo of the early cherry blossoms on March 14, 2023. RICHARD A. BROOKS/AFP via Getty Images
According to the Japan Times, on March 14, the cherry blossom trees in Ueno Park, Tokyo began to bloom, marking the earliest blooming milestone since 1953. This year, other cities in Japan also began to bloom, including Osaka and Nagoya also receive cherry blossoms earlier than in previous years.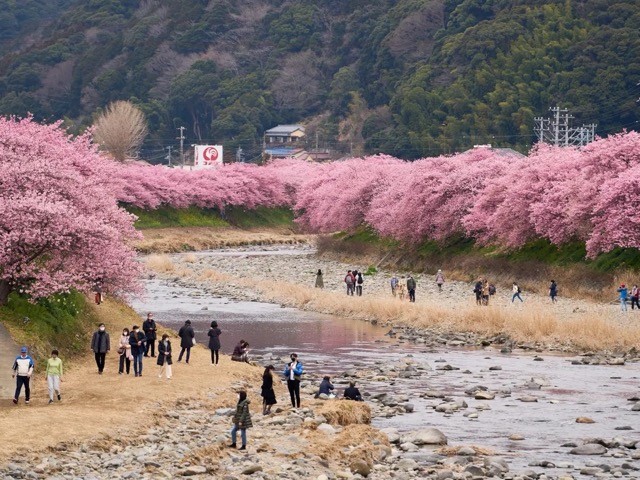 People enjoy early blooming Kawazu cherry blossoms in Kawazu, Japan, on February 24, 2023. Zhang Xiaoyu/Xinhua/Getty Images
Kawazu is home to the earliest cherry blossoms in Eastern Japan. While most cherry blossom festivals take place during March and April, the Kawazu Cherry Blossom Festival begins on February 2. The festival attracts more than 1 million visitors each year, according to the Japan Tourism Organization.
Cherry blossoms watch has become popular spring activities in many countries around the world. As expected as a flower with charming beauty, every March and April every year, the cherry trees show their bright pink color that anyone cannot help but fall in love with.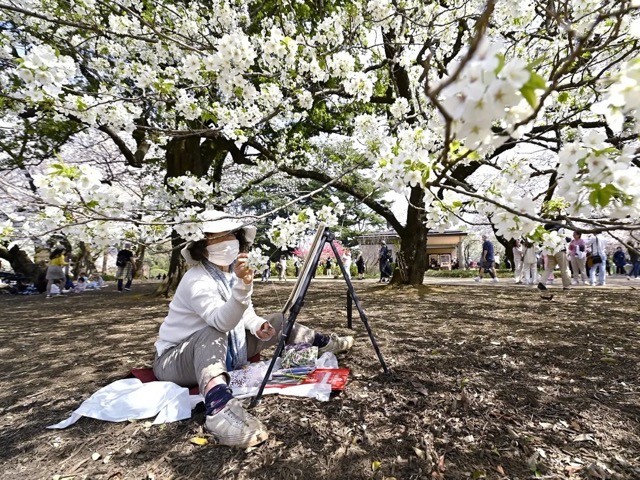 An artist draws cherries blossom. Anadolu Agency/Getty Images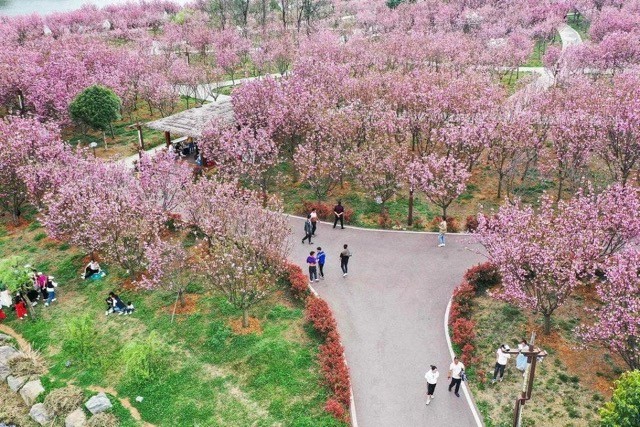 This aerial photo taken on March 22, 2023, shows people watching cherry blossoms at a park in Xingren city, Qianxinan Buyei and Miao Autonomous Prefecture, in China's southwestern Guizhou Province. PHOTO: AFP
Notably, the city of Hangzhou, in Zhejiang province (China) also becomes more special when the cherry blossoms show off their brilliant pink color. According to the city's official website, visitors can view cherry blossoms across Hangzhou at locations including Taiziwan Park, Hangzhou Cherry Blossom Garden, and Hangzhou Botanical Garden.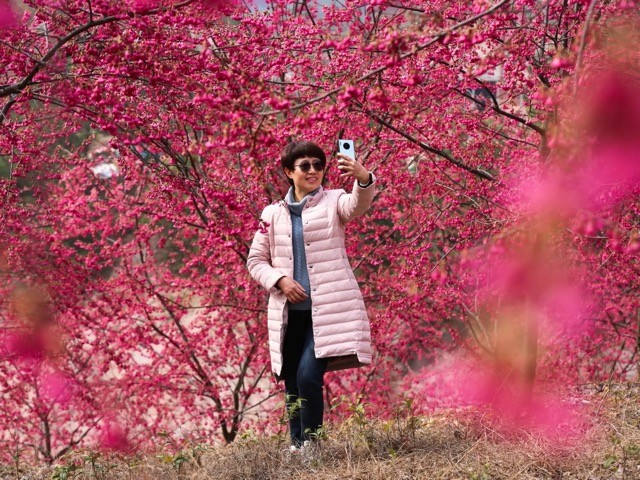 A woman takes a selfie in front of blooming cherry flowers at a modern sightseeing tourism agriculture park of Aoshan Town on March 3, 2023. VCG/Getty Images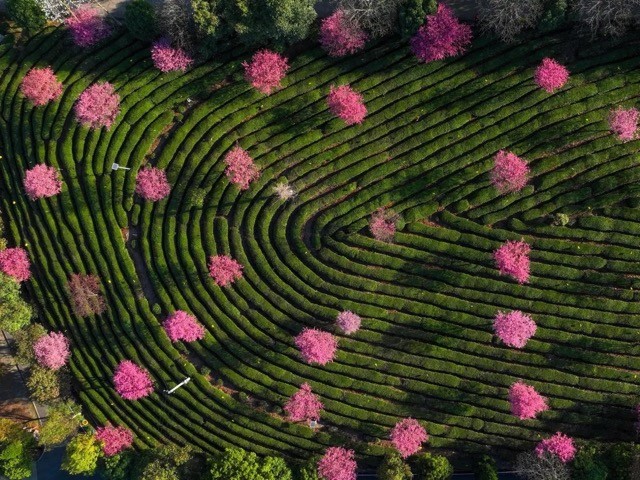 Aerial view of blooming cherry blossoms at a tea garden on March 12, 2023, in Huangshan city, Anhui Province of China. Shi Yalei/VCG/Getty Images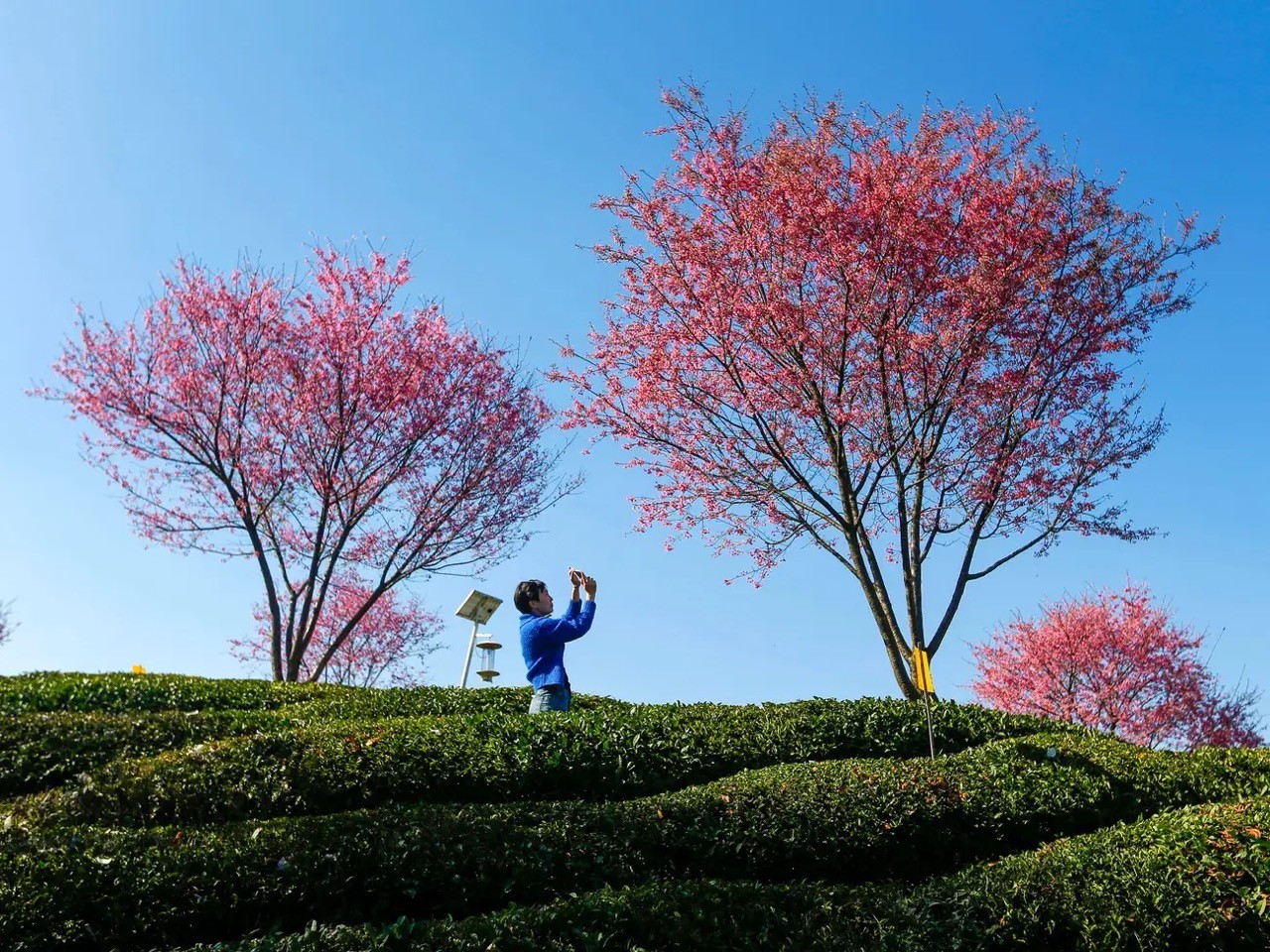 A tourist enjoys blooming cherry blossoms at a tea garden on March 13, 2023, in Huangshan city. Shi Yalei/VCG/Getty Images
Aerial view of cherry blossoms in full bloom on an island at Shadi village on March 9, 2023, in Fuzhou, Fujian province of China. VCG/Getty Images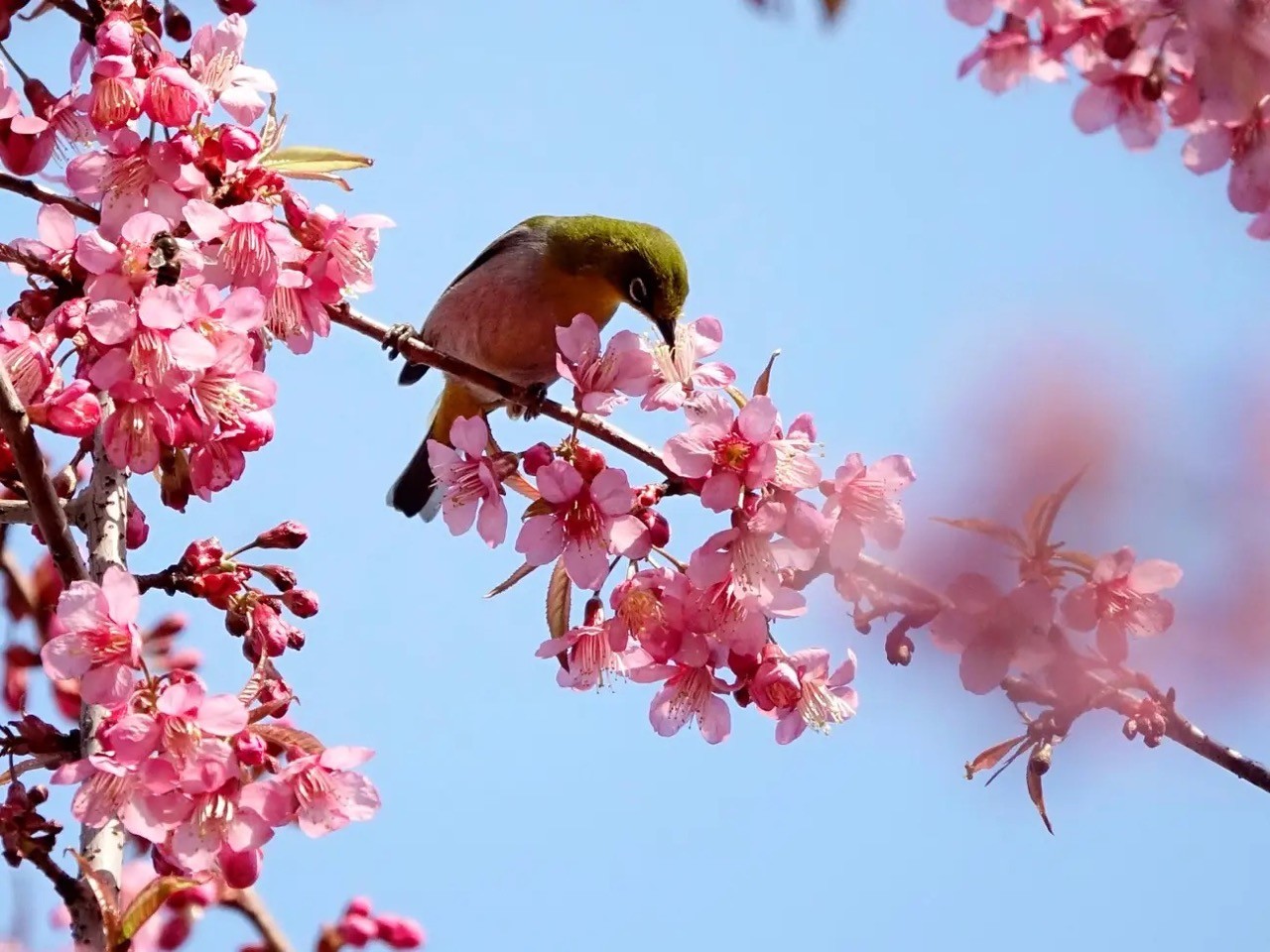 A bird sits on a branch of a cherry tree on February 11, 2023, in Guiyang, Guizhou province of China. Qin Gang/VCG/Getty Images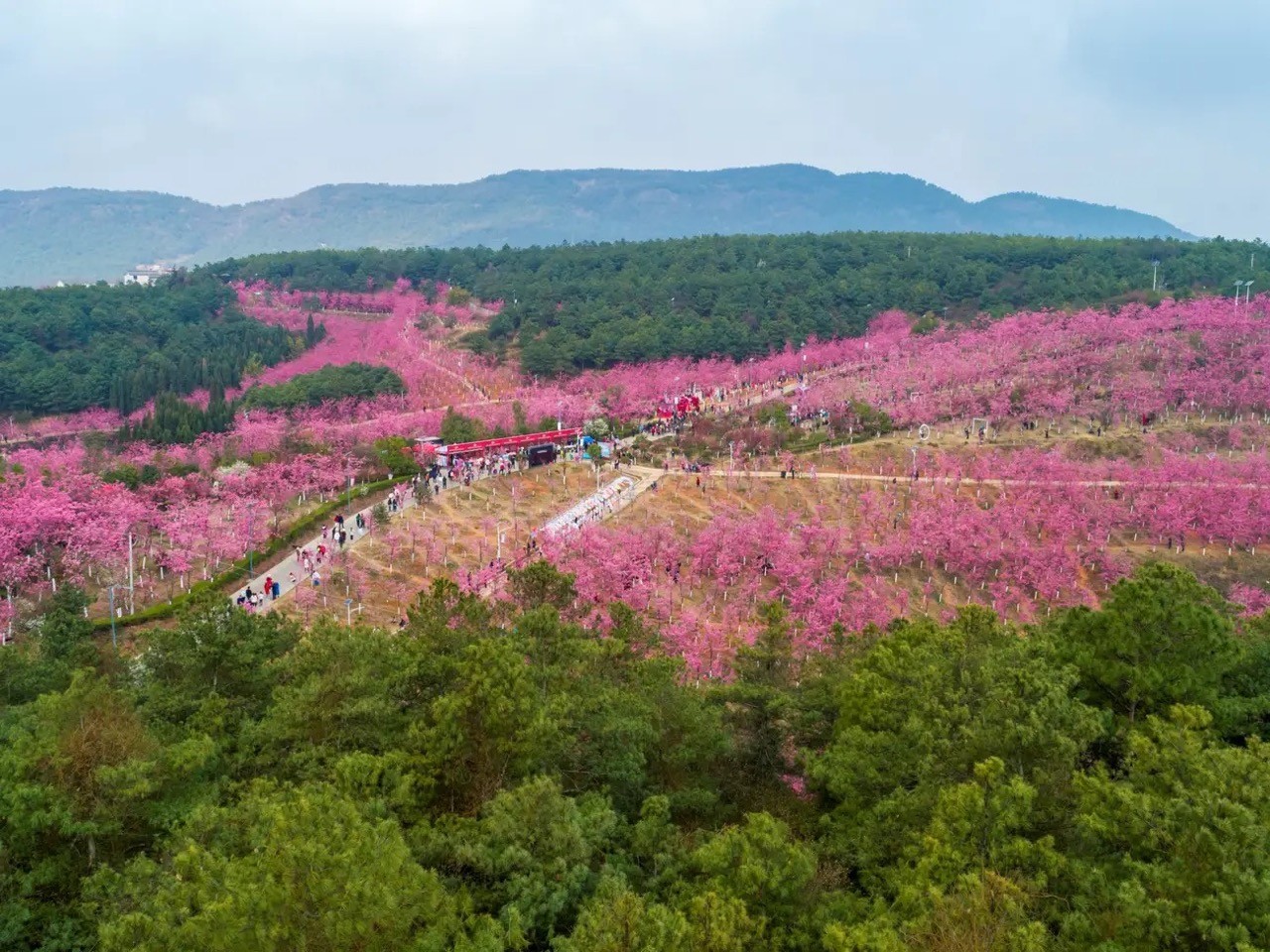 A scenic area that features over 400 mu and about 26.7 hectares of cherry blossoms in Malong District of Qujing City, southwest China's Yunnan Province. Chen Xinbo/Xinhua/Getty Images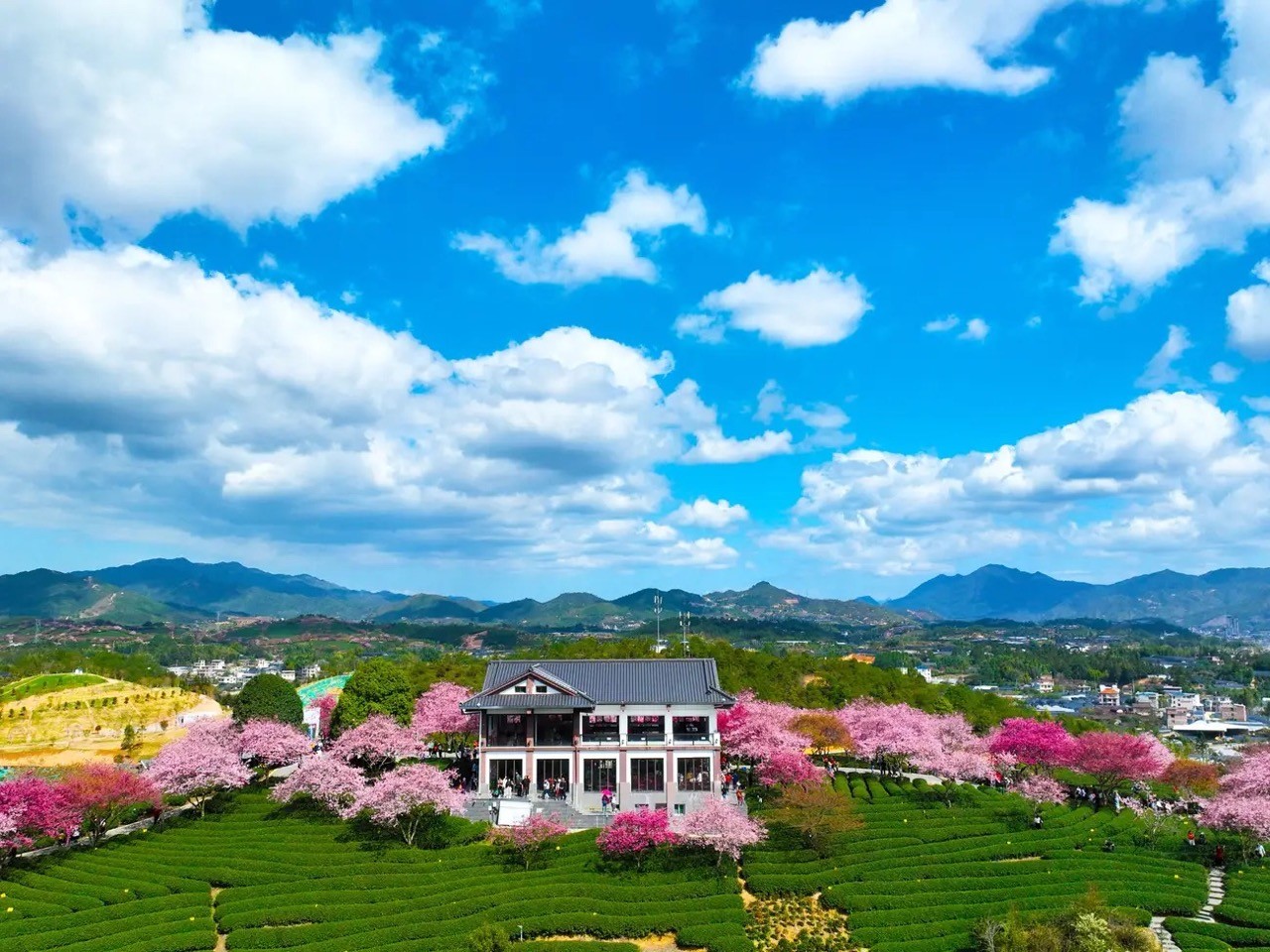 Aerial view of blooming cherry blossoms at a tea garden in Yongfu Town on February 18, 2023 in Zhangping, Fujian province of China. Ai Shimin/VCG/Getty Images
In Washington DC, cherry blossoms usually begin to bloom on April 4, but this year, they started blooming nearly two weeks earlier, on March 23. The cherry blossoms create a beautiful spring scenery for the city of Seattle, in the state of Washington DC. The arrival of vibrant pink flowers marks the end of a dreary winter in the Pacific Northwest.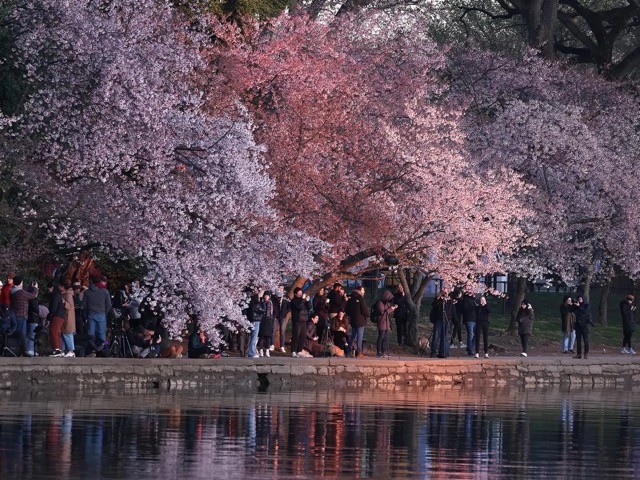 Cherry blossoms near peak bloom around the Tidal Basin on March 21, 2023 in Washington, DC. Paul Morigi/Getty Images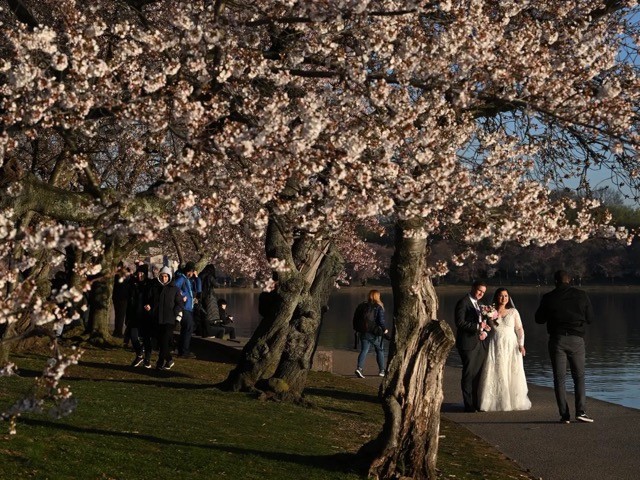 A bride and groom are framed by blooming cherry blossoms along the Tidal Basin on Tuesday, March 21, 2023, in Washington, DC. The Washington Post/Getty Images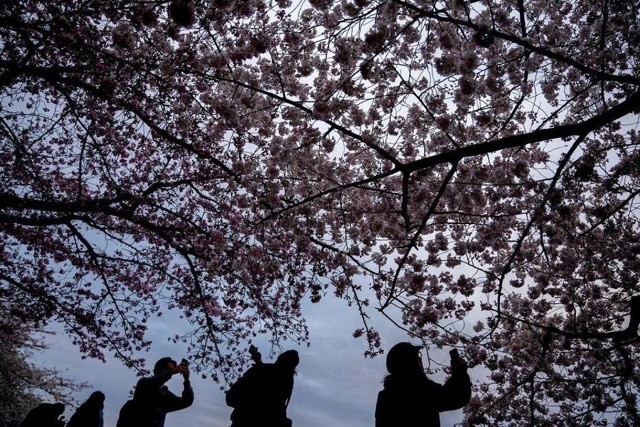 Visitors photograph blooming cherry blossom trees at the Tidal Basin in Washington, DC, during the 2023 National Cherry Blossom Festival, on March 22, 2023. PHOTO: AFP
Cherry blossoms in full bloom can be observed in many countries like UK, German, and South Korea.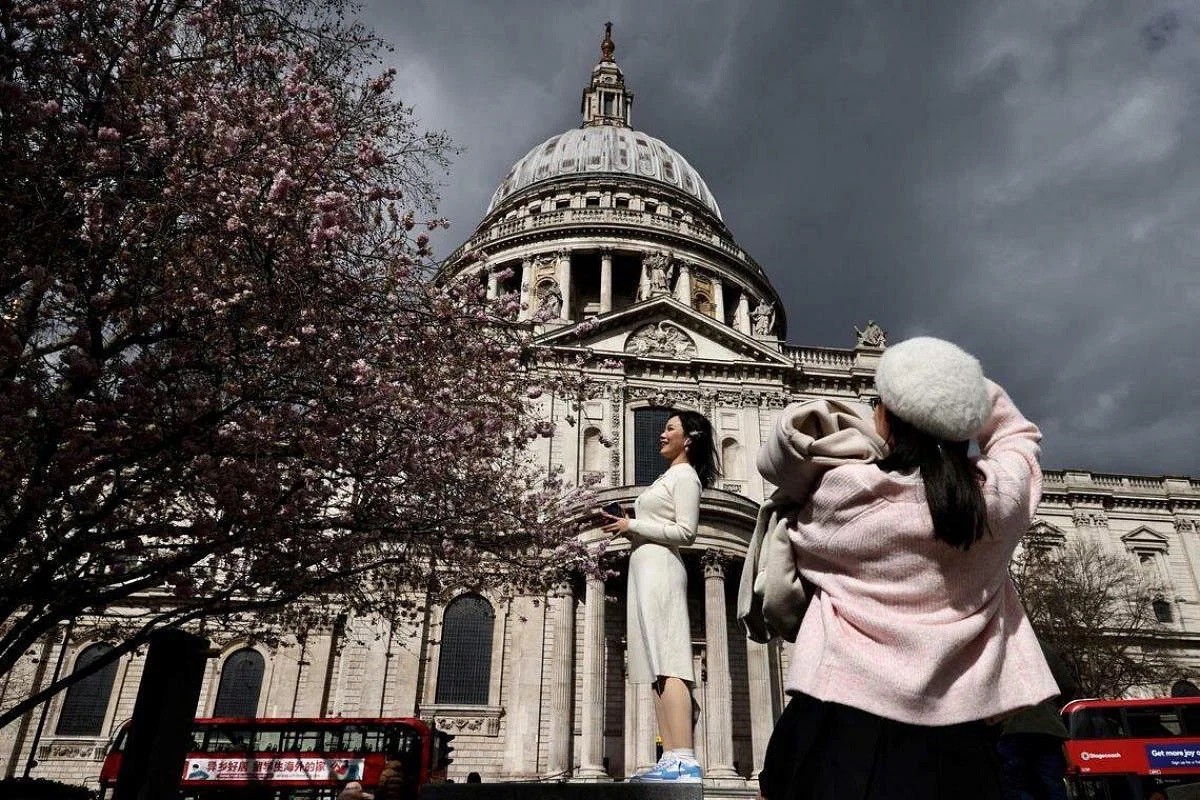 Students taking pictures next to a cherry blossom tree outside St Paul's Cathedral in London, Britain, on March 25, 2023. PHOTO: REUTERS
A woman takes photos of a cherry blossom tree in the Olympic Park in Munich, southern Germany, during sunny spring weather on March 22, 2023. PHOTO: AF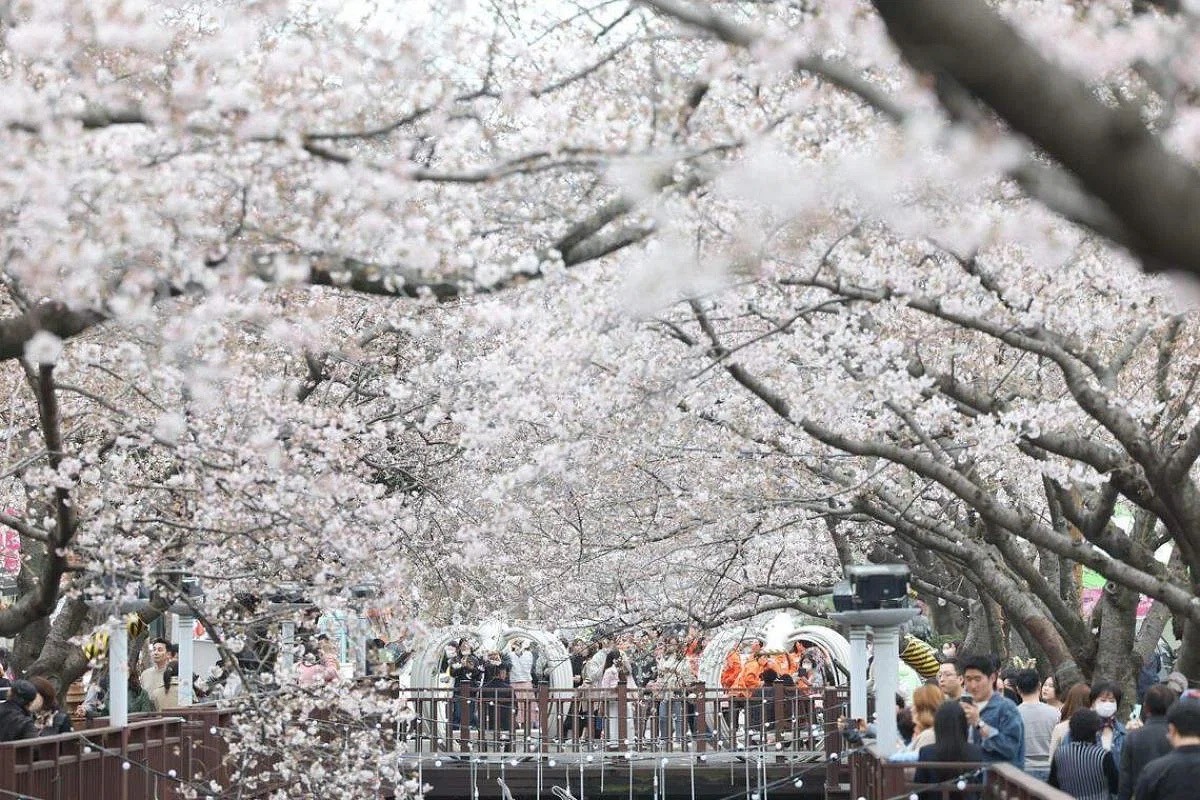 People walking under cherry blossoms in the naval port of Jinhae, South Korea, on March 24, 2023, the day before the Jinhae Cherry Blossom Festival, the biggest of its kind in the country. PHOTO: EPA-EFE