Phu Yen impressive beauty on many international newspapers
Striking pictures of fishing nets by Quoc Huy are introduced by British and German newspapers like Daily Express, The Times, Bild…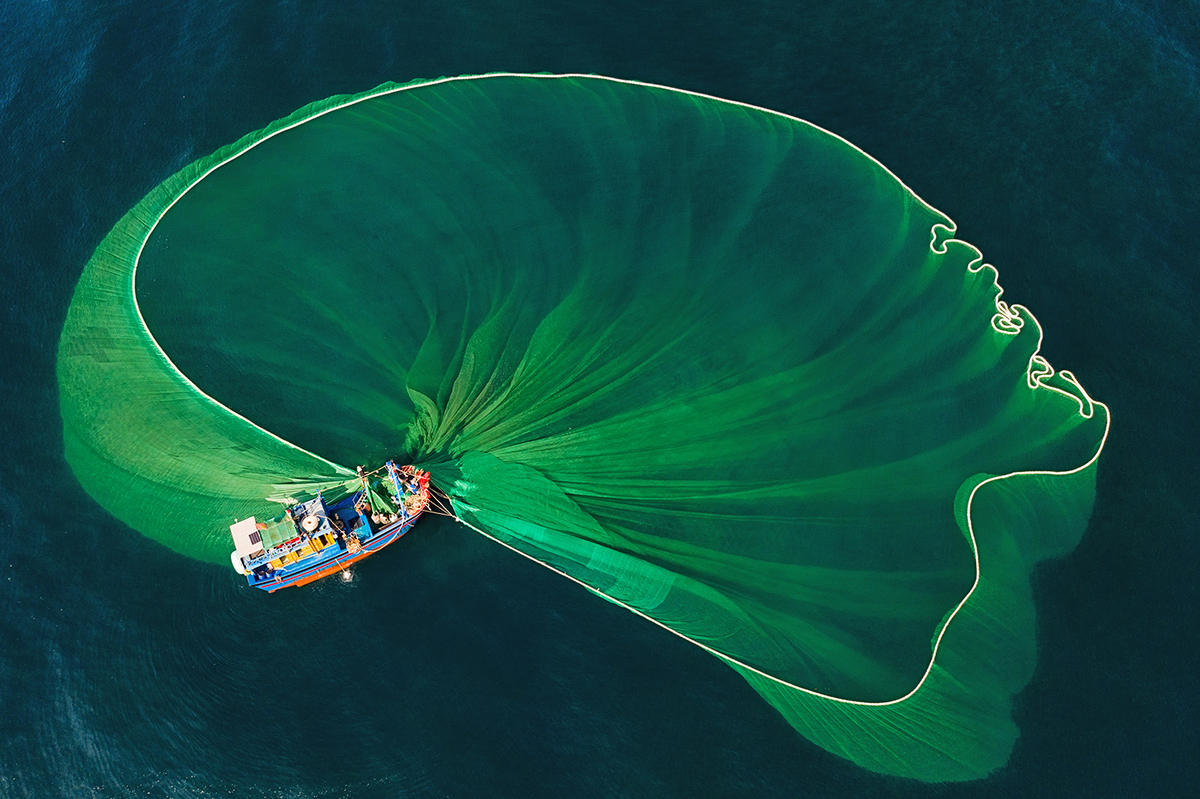 Photo: VNExpress
The photo titled "Lily flower" from a fishing net was published on the British Daily Star on May 14. This stunning photo is taken in Phu Yen coastal province, Vietnam. Phu Yen is well-known for fishing anchovy, one of the main ingredients of fish sauce which are exported all over Asia, presented the newspaper.
The picture belongs to the series "Beauty of fishing net" by Nguyen Sanh Quoc Huy, 40 years old, living and working in Da Nang City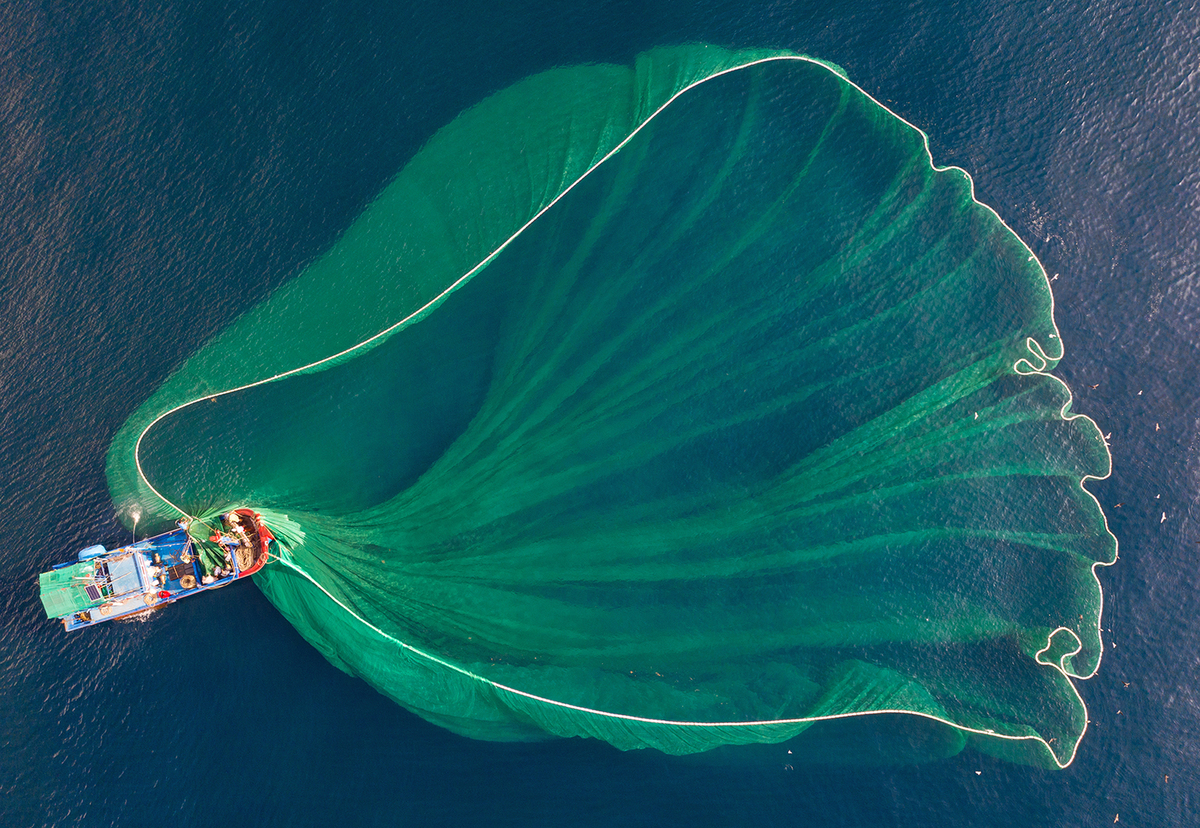 Photo: VNExpress
According to Mr. Huy, the photo series was captured from May 9 to May 11 in An Hai Commune, Tuy An, Phu Yen. After he shared it on an international forum, a British journalist contacted him and would like to publish his photos on British newspapers. On May 14, 4 photos in series emerged on Daily Telegraph, Daily Express, The Times, and Daily Stars.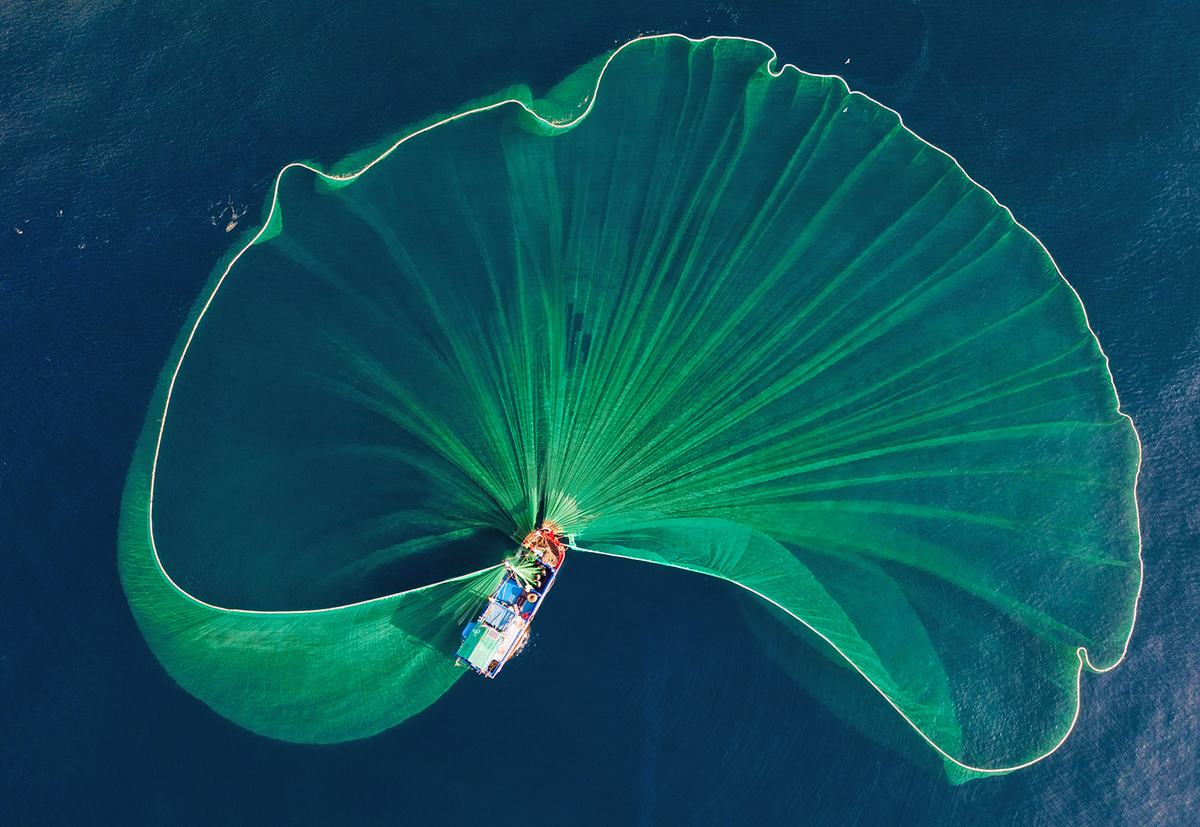 Photo: VNExpress
On May 17, the fishing net pictures also came out on the German Bild newspaper. The author said that he feels extremely happy and proud for partly contributes to promoting local fishing culture of Phu Yen in particular and Vietnam tourism in general to European readers.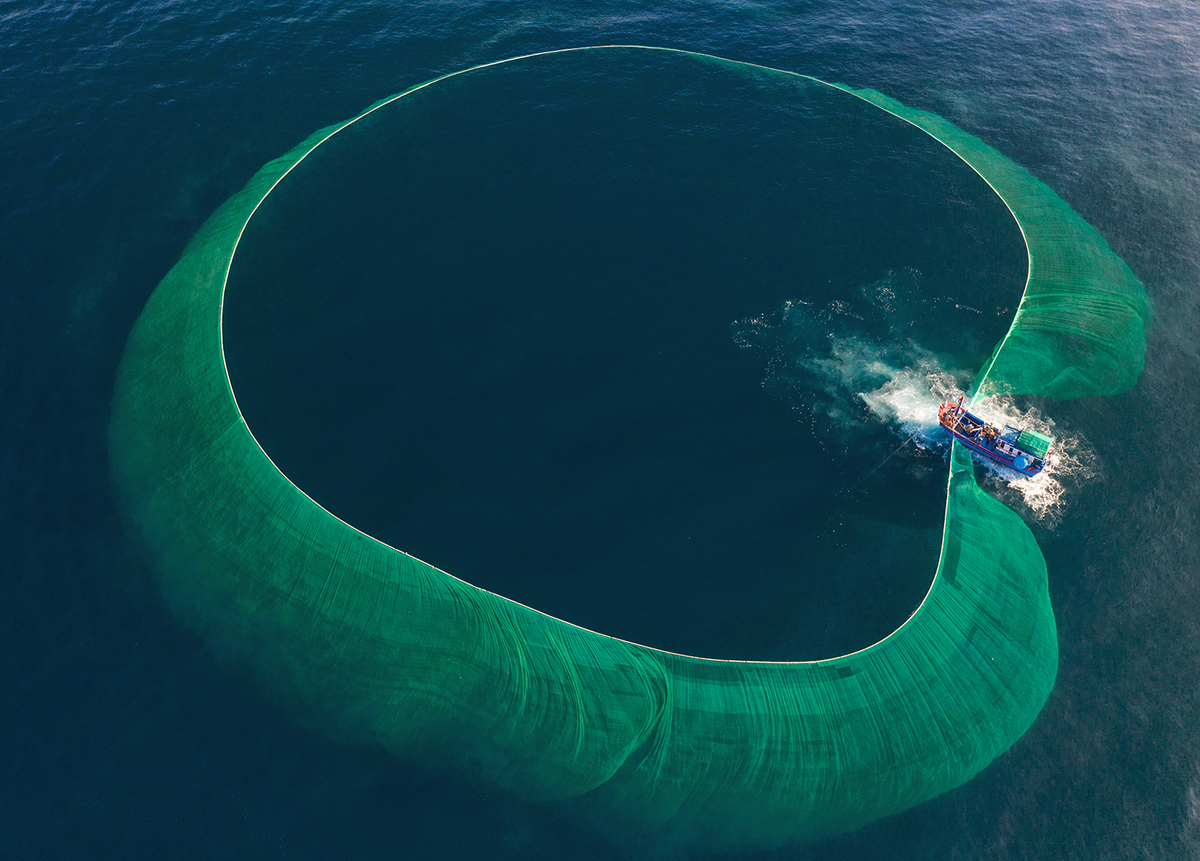 Photo: VNExpress
He said that he is so impressed by the scene that fishermen land anchovies with nets. Before, it was so hard for him to catch these dramatic moments since he did not possess a fly-cam, and fishermen would go offshore, about 600 meters to 2 kilometers. Last year, he also came here to take photographs but failed due to fierce weather. He supposes he is so lucky this year because he has accomplished photo series with various fishing net shapes.
Fishermen often fish in Hon Yen and Phu Thuong. Photographers should flexibly observe, ask fishermen to move to appropriate places.
Fishermen often go offshore early in the morning or late in the afternoon. When detecting batches of fish, they drop the nets around to lure them. Then, the nets are in round shape.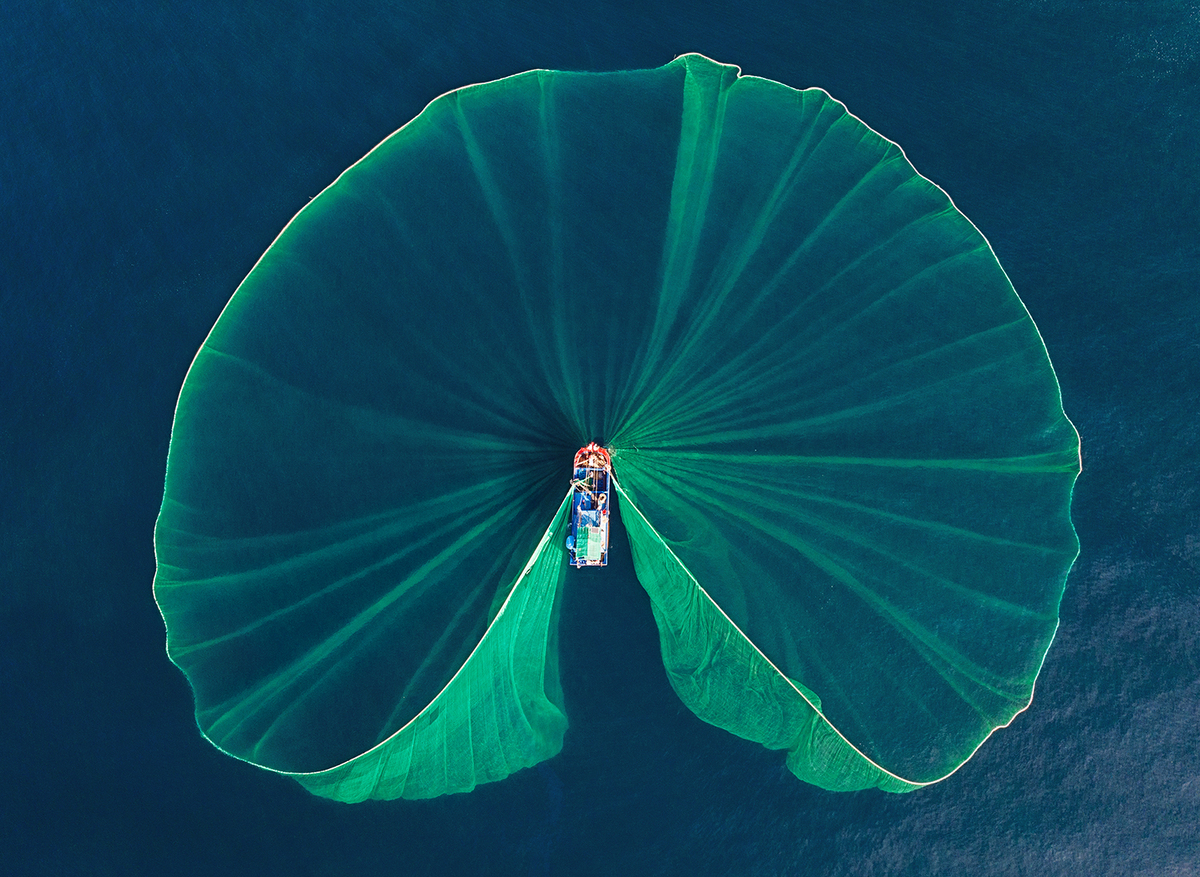 Photo: VNExpress
After that, the nets are gradually pulled back. This is the most stunning moment because the nets create diversified shapes looking like blue flowers on the water surface. The author really likes the above picture as it resembles a lotus flower. He shared that boat crews often fish rather long; therefore, photographers should be patient especially waiting for sea calm.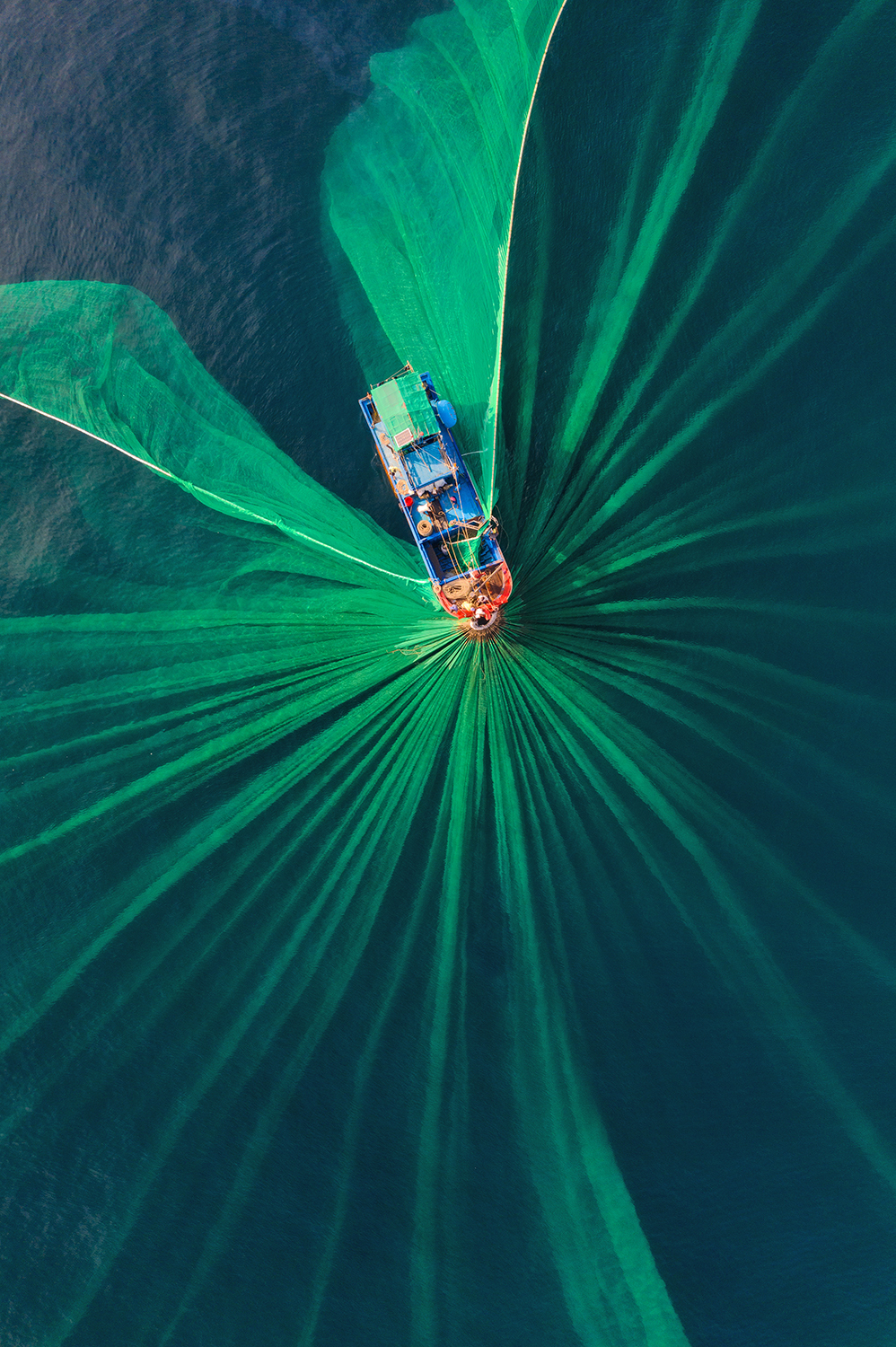 Photo: VNExpress
The nets are gradually pulled back and bring lots of anchovies. This is a small fish with a white body, a specialty in Phu Yen
Anchovy fishing season lasts from May to August annually. Each fishing boat carries crews of 10 to 15 fishermen.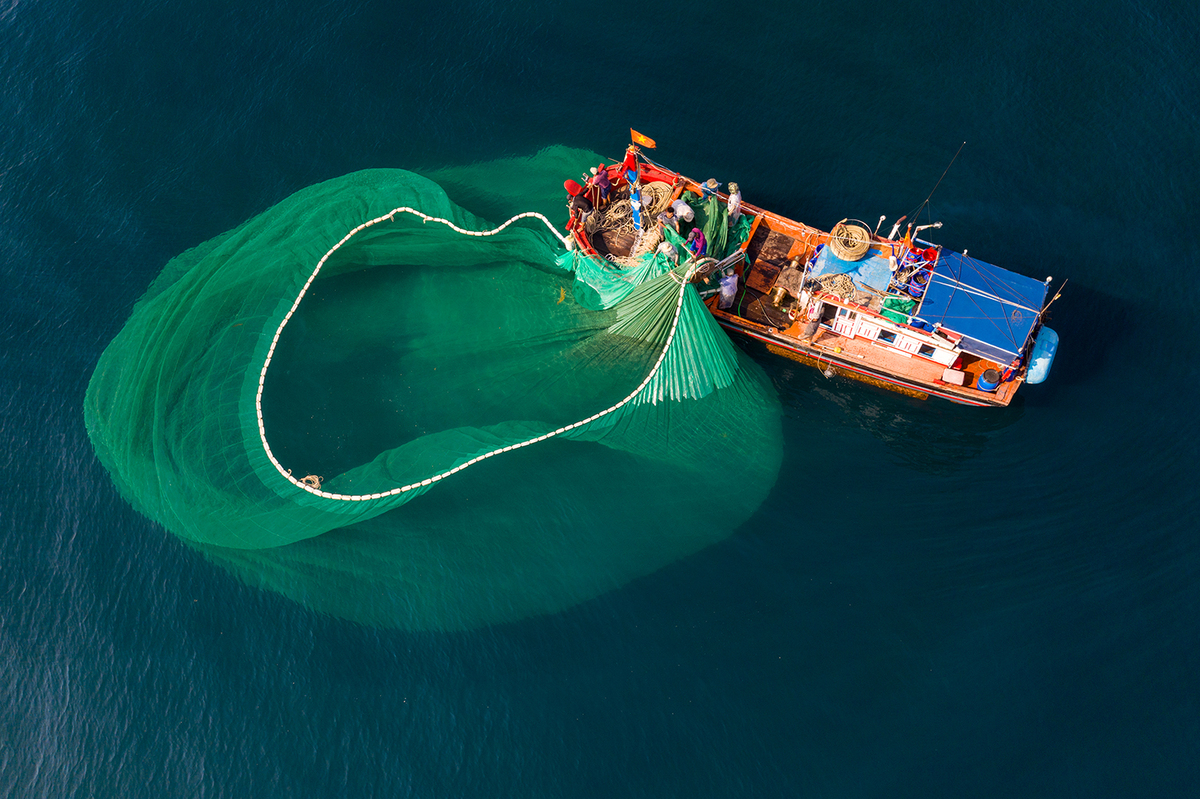 Photo: VNExpress
The fishing journey through a camera is so romantic and breathtaking but in fact, it is hard work. Fishermen firmly cling to the sea, face harsh weather conditions such as fierce sun, storm,… and even must exchange their safety for the livelihood. "They look like warriors on vast sea who are always enthusiastic and proud of their work"
After catching fish, they return home to take a rest and prepare for upcoming journeys.
An Hoa Commune, Tuy An District far away about 20 km northeast of Tuy Hoa City. The most famous tourist attraction here is the Hon Yen landscape cluster including Hon Yen, Hon Dun, Ganh Yen where there were many salanganes nesting. Hon Yen stretches about 200 m and 100 m height, looking like stone mountains amid the blue sea. The beaches here are pristine with casuarina and cacti. At low tide, colorful coral reefs emerge, this is also the time when there are numerous tourists coming.
Besides Hon Yen, tourists can visit Dai Lanh Cape, Tam Giang Dam, Da Dia reef (Ghenh Da Dia), and towers of ancient Cham Pa.
Phu Yen, a hidden gem of Vietnam

Phu Yen encompasses a diverse landscape of rivers, lagoons, mountains and fertile plains with nearly some 125 miles of shoreline along Vietnam's curving south-central coast. The province ...