Promoting Healthy Lifestyles for Vietnam's Youth
A programme has empowered more than 49,300 teenagers to adopt better and safer habits over the past three years.
Plan International Vietnam and AstraZeneca Vietnam on June 13 held an event to review the implementation progress and positive impact of the Young Health Program (YHP) in Vietnam over the past three years.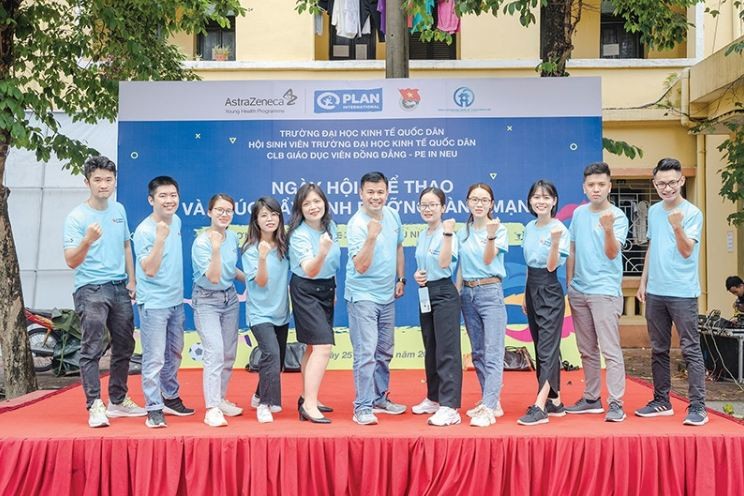 The YHP empowers teenagers in Vietnam to take on healthier lifestyles in order to prevent non-communicable diseases (NCDs) later on in life.
This global community investment program, initiated by AstraZeneca Group, focuses mainly on the promotion of common prevention activities for non-communicable diseases (NCDs) such as cancers, diabetes, chronic lung diseases in the youth.
The project was jointly carried out by Plan International Vietnam, the Central Committee of the Ho Chi Minh Communist Youth Union, and the Hanoi Centre for Disease Control and Prevention.
Like other fast-developing countries, Vietnam has seen a shift in the burden of disease. With the economy and living standards gradually increasing, as well as effective vaccination campaigns for children and adults, infectious diseases have mostly been under control. However, NCDs are on the rise, responsible for over three-quarters of all annual deaths in Vietnam, straining both the health system and patients' lives.
Patients with non-communicable diseases face a higher risk of death, especially when they are infected with coronavirus.
NCDs are often linked to risk factors beginning in adolescence, such as tobacco and alcohol use, physical inactivity, unhealthy diet, and exposure to air pollution – and the problem has grown in the past decade. In 2016, almost a quarter of those aged over 15 in Vietnam smoked tobacco. Alcohol usage has also been rising rapidly with an increase in beer production of over 40% between 2010 and 2016.
Vietnam currently has the second-highest rate of alcohol-use disorders in the whole of Asia, and worrying statistics like these explain why NCD prevention programmes are crucial to preserving the health of younger generations.
In Vietnam today, the 20.4 million young people, aged 10 - 24, account for 21% of the total population. This is an opportunity to develop the country in terms of both economical values and social welfare. In addition, the youth is at a critical age when it comes to effectively intervene, reduce the risks of NCDs and improve the overall health throughout ones' lifespan.
With a total investment of GBP 750,000 (over USD 915.000), YHP Vietnam has been deployed in Hai Ba Trung and Dong Anh districts of Hanoi since 2019 with a focus on addressing the main risk factors of NCDs such as tobacco use, alcohol use, physical inactivity, unhealthy diets and air pollution, as well as supporting youth reproductive health and rights.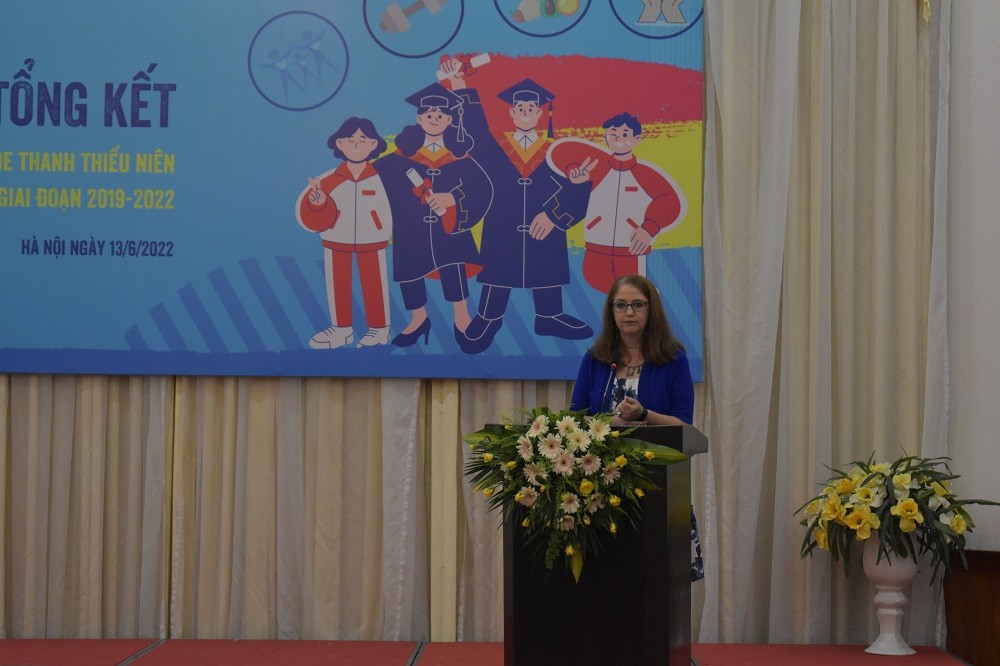 Sharon Kane, country director of Plan International in Vietnam speaks at the event.
"The Vietnam Youth Health Program supports young people to raise awareness and knowledge on how to prevent NCDs such as healthy nutrition, increased physical activity, and reduced alcohol and tobacco use. , contribute to eliminating air pollution to ensure the children have the best start in life in the future," shared Sharon Kane, country director of Plan International in Vietnam.
Nguyen Tuong Lam, secretary of the Ho Chi Minh Communist Youth Union Central Committee appreciated the support and companionship of Plan International Vietnam and AstraZeneca during the past three years of implementation. The coordination between the parties has joined hands to improve the physical and mental health of Vietnamese youth.
After nearly three years of operation, and despite the global interruptions due to Covid-19, the programme has not only met but also exceeded the targets set out at the beginning. Specifically, YHP has trained 538 peer educators and benefited more than 49,300 young people directly in two districts of Hanoi through more than 1,000 creative contests and discussions and group activities.
In addition, the main content on NCDs prevention has been integrated into the Vietnam Youth Development Strategy 2021 - 2030 period and a number of other important policy contents thanks to the program's efforts.
Over the past three years, nearly 100 training courses to improve NCD knowledge and soft skills have been organized for peer educators, including youth groups, their parents and community leaders.
A peer educator of the YHP acknowledged the efforts of the program in equipping young people with the knowledge and ability to not only lead but also help those around them.