Protests in America update: George Floyd's brother calls on Congress to act over police violence
Former Minneapolis police officer Thomas Lane released on bond, George Floyd's brother calls on Congress to act over police violence, more cities ban chokeholds and Christopher Columbus statues toppled in Minnesota, beheaded in Boston, attacked in Richmond are remarkable news updated today.
Former Minneapolis police officer Thomas Lane released on bond
Thomas Lane, one of the four former officers involved in George Floyd's death, has been released from the Hennepin County Jail on bond, according to the jail website. Earl Gray, attorney for Lane, told NBC's Today Show on June 8 that his client "was doing what he thought was right."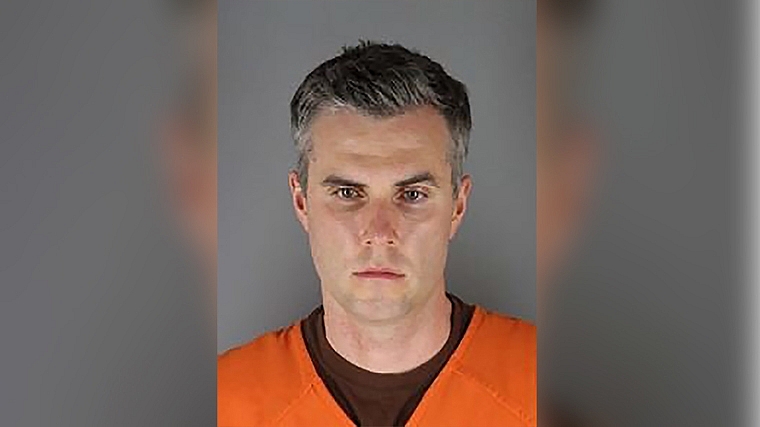 Thomas Lane. Photo: Hennepin County Sheriff's Office
Lane, 37, had only been on the force for four days when he helped to restrain Floyd, according to his lawyer. Asked how his client could stand by and watch for nearly nine minutes, Gray said: "He did not stand by and watch. He was holding the legs because they guy was resisting at first. Now, when he's holding his legs he says to Chauvin, well should we roll him over? Because he says he can't breathe. Chauvin says no."
George Floyd (left)
Chauvin, Lane, J. Alexander Kueng and Tou Thao were responding to a call about a $20 counterfeit bill on May 25 when they detained Floyd, who died while in custody. The four officers were fired and are now facing charges in Floyd's death.
Chauvin, 44, was charged last Wednesday with a new, more serious count of second-degree murder. Kueng, Thao and Lane were charged with aiding and abetting second-degree murder and aiding and abetting second-degree manslaughter.
George Floyd's brother calls on Congress to act over police violence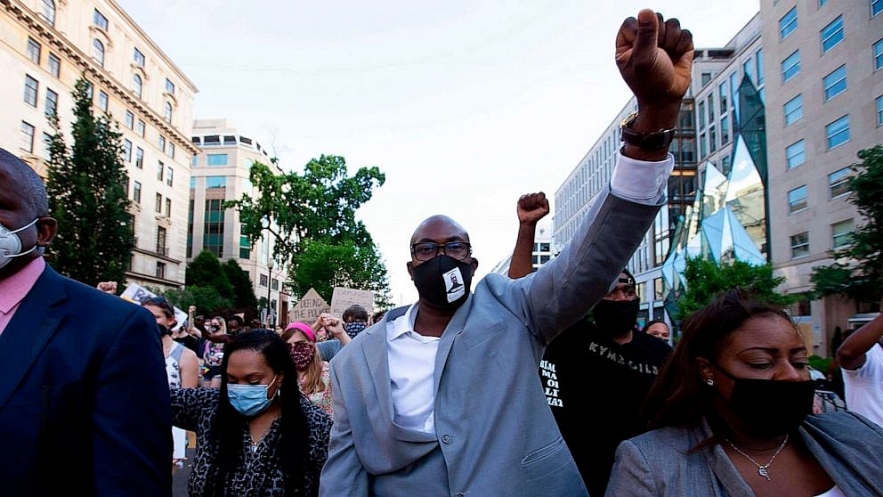 Philonise Floyd, a brother of George Floyd march with others on Black Lives Matter Plaza street near the White House, to protest police brutality and racism, June 10, 2020 in Washington, DC.
Photo: Jose Luis Magana/AFP via Getty Images
Philonise Floyd makes impassioned plea to ensure brother's death 'isn't in vain' and urges US lawmakers to 'do the right thing', The Guardian reported.
Hours after George Floyd was laid to rest in Houston, his younger brother made an impassioned plea to Congress to prevent his death from becoming just "another name" on an ever-growing list of black Americans killed by police. Philonise Floyd testified before a House hearing in Washington on Wednesday amid a national reckoning over race and policing that has drawn millions to the street in protest and cries for action to be taken in every institution of American life, including government, military, media and entertainment, sports, academia, business, science and tech.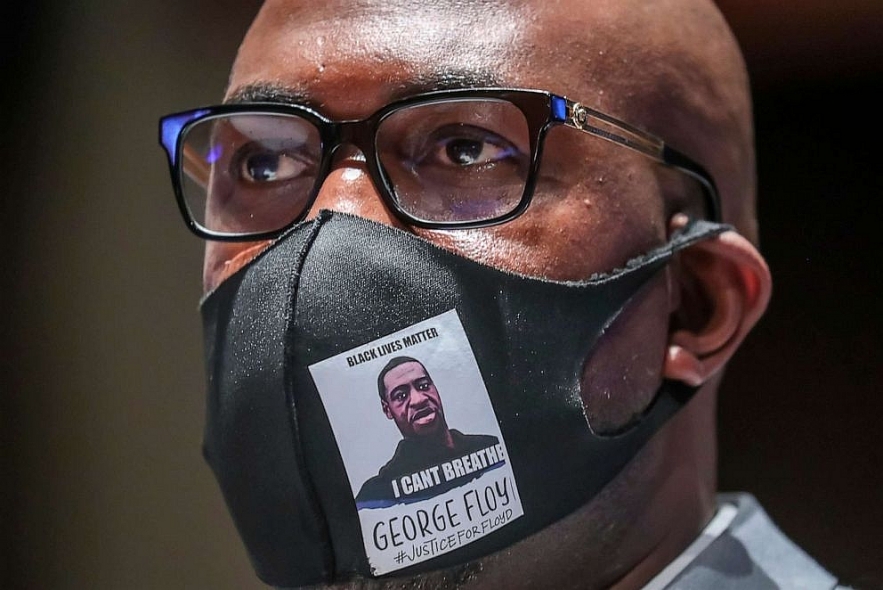 Philonise Floyd, a brother of George Floyd, arrives to testify before a House Judiciary Committee hearing on proposed changes to police practices and accountability on Capitol Hill, June 10, 2020, in Washington, D.C. Michael Reynolds/Pool via AP
"I'm tired. I'm tired of the pain I'm feeling now, and I'm tired of the pain I feel every time another Black person is killed for no reason," he said, his voice rising with emotion as he addressed the committee. "I'm here today to ask you to make it stop. Stop the pain."
The room fell silent as he testified, gripped by the rawness of his grief. Many wore masks while some attended the hearing virtually because of the coronavirus pandemic.
Lawmakers also heard testimony from national civil rights leaders, including the Floyd family lawyer, Benjamin Crump, who advocated for a range of reforms to police practices and accountability. Some witnesses seized on calls by protesters to "defund the police" – an effort to reimagine public safety by cutting budgets for police departments and redirecting the funding toward social services – to warn that lawmakers risked going too far and impeding public safety.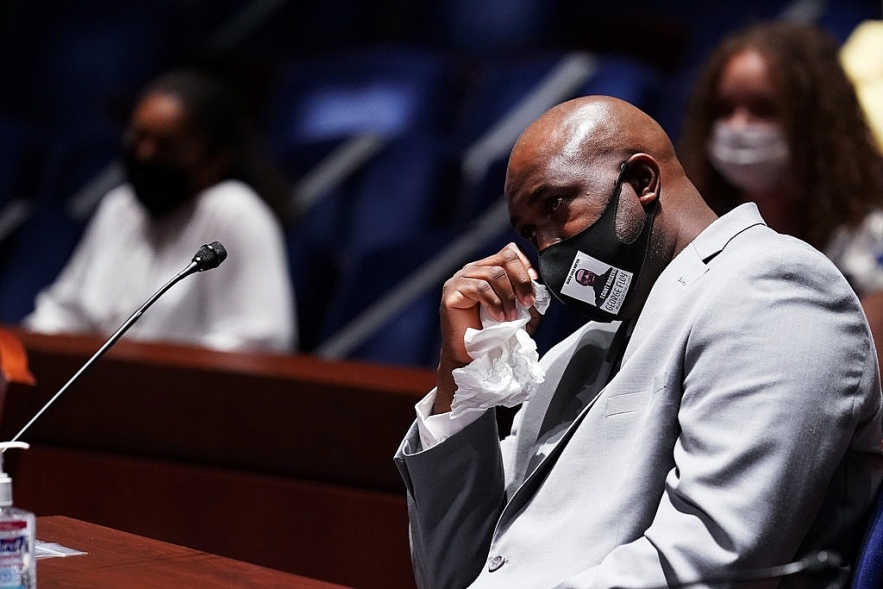 George Floyd's brother. Photo: New York Times
George Floyd died in custody after a Minneapolis police officer knelt on his neck for nearly nine minutes, ignoring his protests of "I can't breathe." The Memorial Day encounter on 25 May, which began with a call about an alleged attempt to use a counterfeit $20 bill at a local market, touched off demonstrations around the world that have already prompted local leaders to act to curb the powers of police as public support for the Black Lives Matter movement surges.
"Is that what a Black man's life is worth? Twenty dollars?" Philonise Floyd said. "This is 2020. Enough is enough." "Be the leaders that this country, this world, needs," he continued. "Do the right thing."
More cities across the US ban chokeholds
At least 12 cities and municipalities in the United States are starting to ban or have banned the use of chokeholds in policing, according to CNN. Those include: Phoenix, Los Angeles, Sacramento, San Diego, Broward County (Florida), Miami, Chicago, Washington, DC, Minneapolis, New York City, Denver, and Houston.Police departments across the US are moving to ban neck restraints in the aftermath of George Floyd's death and the widespread protests that followed.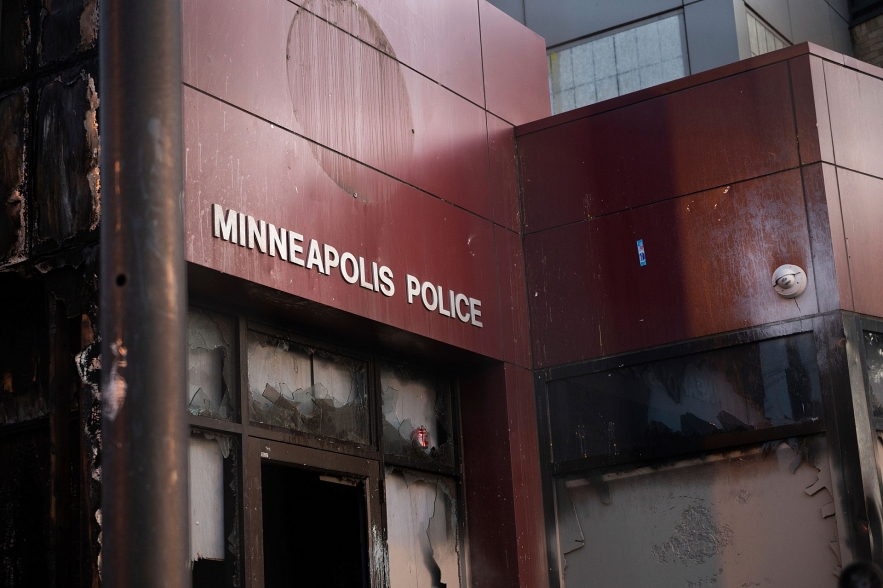 The Minneapolis Police Department 3rd Precinct after being destroyed by protesters n May 29. Zach D Roberts/NurPhoto/AP
Neck restraints, or neck holds, refer to the practice of officers using their arm or leg to restrain someone's neck. The technique has been a subject of controversy for years, particularly following the death of Eric Garner in 2014 after a police officer was accused of choking him.
The term "chokehold" is often used in mainstream discourse to refer to any neck hold, but police generally categorize neck restraints in two ways: the stranglehold and the chokehold. Strangeholds -also called carotid restraints, sleeper holds or blood chokes - temporarily cut off blood flow to the brain and are meant to render a subject unconscious for a time. Chokeholds - also called airway holds - restrict breathing by applying pressure to the windpipe.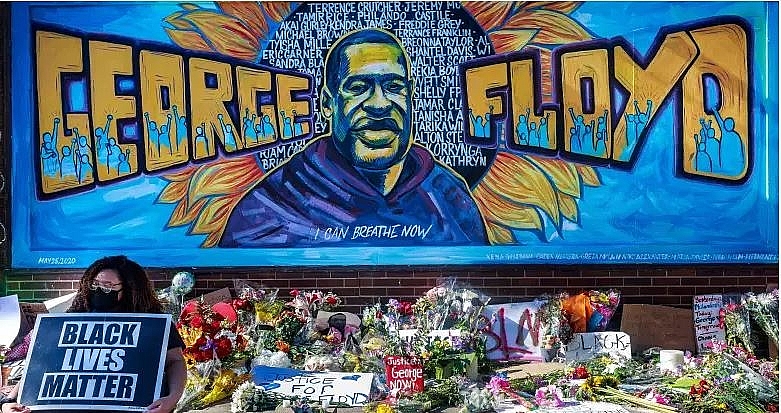 Flowers, signs and balloons are left near a makeshift memorial to George Floyd near the spot where he died while in custody of the Minneapolis police, on May 25, 2020 in Minneapolis, Minnesota. Photo: Getty
Law enforcement officers say the techniques are used to gain control of aggressive or resisting subjects. Some departments state that they should only be employed as a last resort, when the officer believes the subject poses a threat to their or others' lives. But as the cases of Floyd, Garner and others have shown, neck restraints have the potential to go badly wrong - sometimes resulting in death.
Christopher Columbus statues toppled in Minnesota, beheaded in Boston, attacked in Richmond
According to Washington Post, statues honoring Christopher Columbus were toppled, destroyed and disfigured in St. Paul, Boston and Richmond on Wednesday - the latest in a wave of attacks on historic monuments by George Floyd protesters.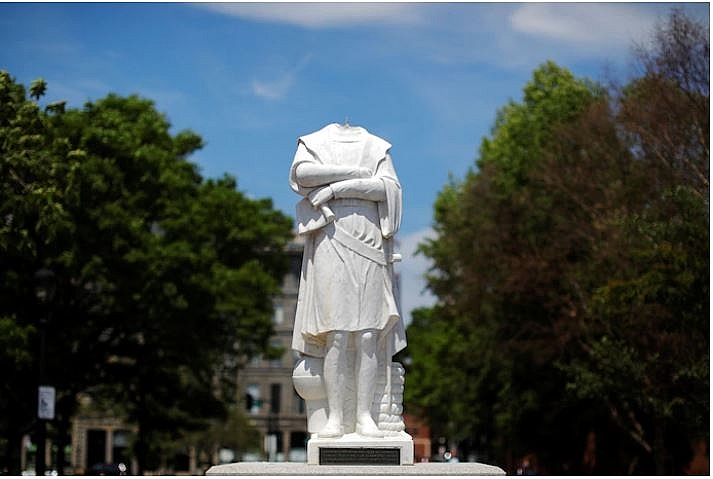 The head of a Christopher Columbus statue was pulled off overnight amid protests against racial inequality in Boston. (Brian Snyder/Reuters)
Most of the violence has been aimed at Confederate memorials in cities across the South, including Richmond, Birmingham, Ala., Charleston, S.C., and Raleigh, N.C. But Columbus, once celebrated for "discovering" the New World, is reviled for brutalizing the indigenous people he found there.
Protesters pulled down the statue of Columbus outside the Minnesota state Capitol in St. Paul on Wednesday. A group of protesters, some of them from a local Native American advocacy group, gathered in front of the towering bronze structure in the afternoon.
According to Minneapolis Star Tribune reporter Jessie Van Berkel, the group told a law enforcement officer on the scene what they planned to do. Around 5 p.m., the protesters tossed a rope around the statue and ripped it from its pedestal, according to Fox 9.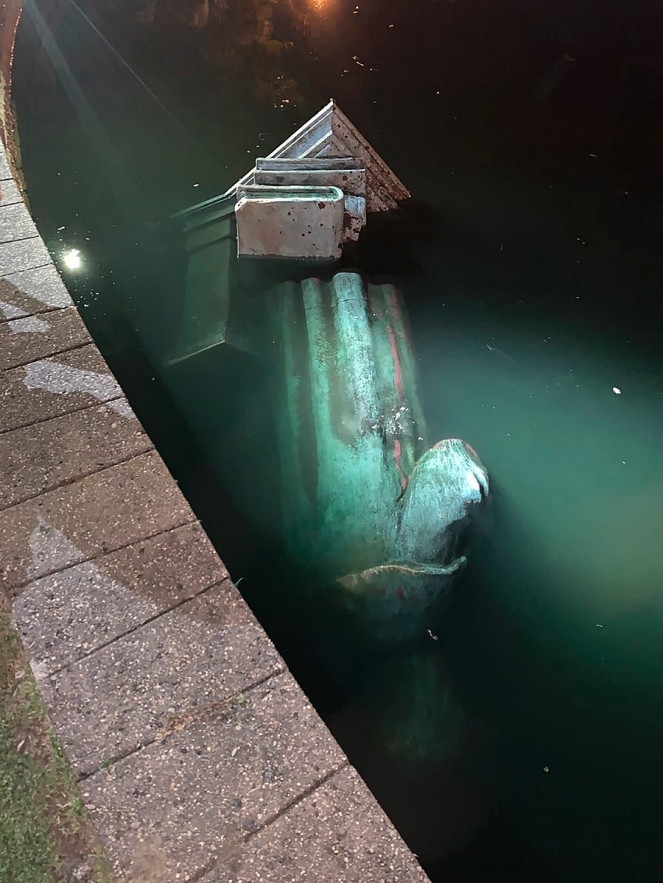 A statue of Christopher Columbus is in the water at Byrd Park in Richmond, Va. Tuesday, June 9, 2020, after it was torn down by protesters. Photo: AP
On Wednesday at 12:30 a.m., Boston Police Department officers responded to a call about vandalism to the city's Columbus statue, Sgt. Detective John Boyle told The Washington Post.
A member of the media went to check on the statue and noticed that it had been beheaded, he said. Fragments and pieces of the structure were found nearby. Area detectives and the civil rights unit of the department are investigating the crime. Boyle encouraged people to come forward with any information and noted that they can remain anonymous if they contact the crime stoppers hotline.
In Virginia, a few dozen people gathered in Richmond's Byrd Park to see a bronze statue of Columbus submerged face down on the edge of Fountain Lake.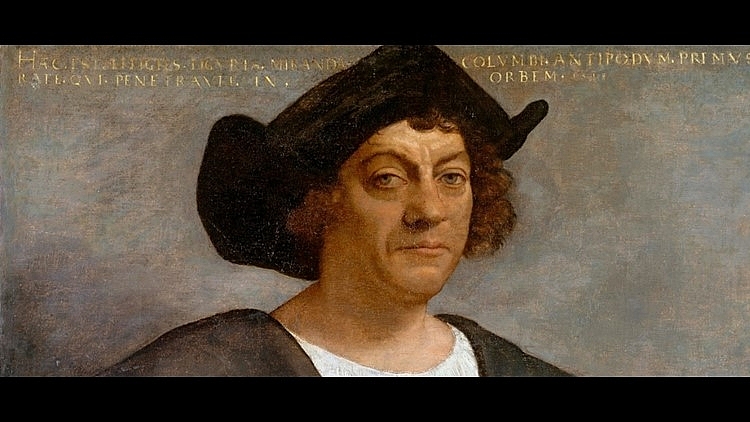 A posthumous portrait of Christopher Columbus painted by Sebastiano del Piombo, 1519. (Public domain)
"I'm not going to say I approve, but I'm not going to say I disapprove, either," said Ronald Johnson, 33, a call center supervisor who has marched five nights in Richmond over the past 12 days.
Johnson was with at least 100 people at the statue of Confederate Gen. Robert E. Lee - which Virginia Gov. Ralph Northam (D) has said he plans to put in storage - when word spread that the Columbus statue had been torn down. A "massive cheer" went up, he said, and he drove over to Byrd Park to see it for himself.
According to the Richmond Times-Dispatch, the idea for the statue came from the city's Italian American community in the early 1920s. It was dedicated in December 1927, the newspaper reported. But Columbus statues and the holiday have become increasingly controversial in recent years. Many cities have junked Columbus Day in favor of Indigenous Peoples' Day.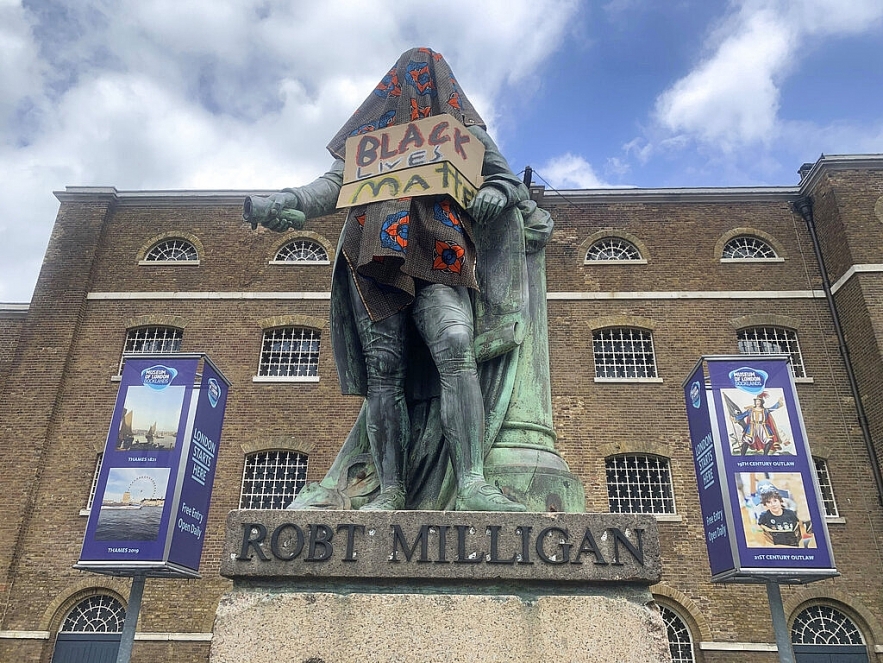 The statue of Robert Milligan, a noted merchant, slaveholder and founder of London's global trade hub, West India Docks, stands covered in a sack-cloth and sign reading Black Lives Matter. Photo: Renee Bailey/PA via AP