Religious freedom in Vietnam requires objective insight and verified information
The US Department of State has recently released the 2019 International Religious Freedom Report, which discussed Vietnam's achievements and progress in ensuring and promoting religious values and various beliefs. However, the report contained plenty of biased, inaccurate, and unverified information regarding the current religious situation in the country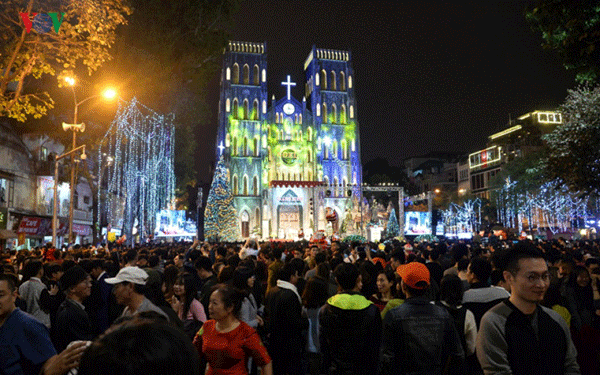 Thousands of religious and non-religious people celebrate Christmas in Hanoi
The report went on to accuse the nation of suppressing freedom in terms of religious beliefs, persecuting followers of the Cao Dai religion, with a number of hostile organisations and inpiduals lacking goodwill as they fabricated information in an attempt to slander the nation on its religious freedoms.
Indeed, the report is contrary to the positive developments that have been occurring in mutual relations with the United States in recent times and can be considered inconsistent with the principles defined in the joint statement issued in 2015 to set out the vision on Vietnam-US relations moving forward.
Religious freedom at unprecedented levels
It should be stated that the negative assessment given of religious freedoms in the nation grossly fails to reflect the true nature of the problem. If an objective attitude had been taken by organisations and inpiduals when conducting the report, they would have recognised the country's consistent views, policies, and achievements in respecting and ensuring the rights and freedoms of all citizens who are religious followers.
Each of these rights are clearly stated within the Vietnamese constitution and law, whilst also featuring in the nation's revamped legal system to ensure that followers of all religions are guaranteed both rights and respect.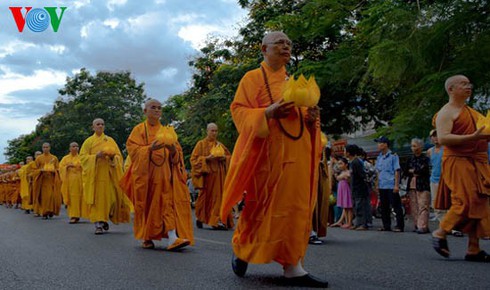 Lord Buddha's Birthday (Vesak) celebration in Hanoi attracts thousands of monks, nuns, and Buddhists at home and abroad
Crucially, people are free to practice their respective religions, whether in their own home or at places of worship. Furthermore, they are allowed to expand religious facilities, renovate places of worship, open schools to train professional religious activists in order to meet the development needs of the Vietnam Buddhist Sangha, in addition to being facilitated by the State in terms of promoting international exchanges.Never before have religions in in the country enjoyed such positive conditions for further development, which can be seen in the consistent growth of followers with the nation being home to approximately 25 million followers of different religions, accounting for 27% of the overall population as of September 2019.
It would be false to claim that there are "no religious freedoms" in Vietnam as the Southeast Asian nation now has 43 organisations from 16 different religions recognised as legal entities. Moreover, there are 60 religious training institutions belonging to various different belief systems located nationwide, such as Buddhism, Catholicism, Protestantism, and Hoa Hao Buddhism.
Since 2018, more than 7,100 religious organisations and establishments have been utilising a total area of 14,850 hectares of land, in addition to using 12 newspapers and magazines to publish articles related to religion, whilst the majority of religious organisations run their own website.
The past five years has seen over 3,000 religious publications launched with more than 10 million copies printed, millions of CDs and DVDs created in many different languages, and many major international religious activities held in Vietnam, such as Lord Buddha's Birthday celebration known as Vesak, along with the 500-year anniversary of Protestant conversion. It is also worth mentioning that the religious freedoms of ethnic minorities have always been guaranteed.
The Vietnam Buddhist Shanga (VBS) began construction on the Khmer Buddhist Academy in the Mekong delta province of Can Tho in 2017, while there are 33 organisations, denominations, and Protestant groups operating in Binh Phuoc province and throughout the Central Highlands. State-recognised religious organisations have built and practised their religion in line with the religious humanity and responsibilities championed by the nation.
However, despite a small minority of dignitaries and religious followers believing that they do not enjoy religious freedoms in Vietnam, these can be seen as misleading perceptions. The incorrect claims that the State violates the religious freedoms of citizens and violently interferes in the internal affairs of the VBS are purely motivated by political purposes rather than religion, with this activity portraying the Socialist Republic of Vietnam in a false light.
Insight into religious freedom must be objective
It is therefore essential to come up with an objective view with verified information when learning about the country's religious freedoms. If international organisations themselves were able to come up with answers in an impartial manner, then perhaps it would have been possible to have made more objective judgments.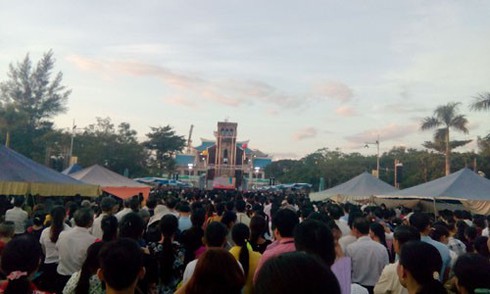 The 31st Our Lady of La Vang pilgrimage congress
Indeed, the report can be considered inconsistent with the actual evidence in terms of the activities that regularly occur throughout the country and are carried out by religious followers, for example, if the nation lacks freedom, why have so many Vietnamese Catholic churches been renovated and rebuilt in recent years? Why has YouTube posted so many video clips showing mass celebrations at churches in both the South and the North? Why are millions of Catholics still able to attend Saturday and Sunday ceremonies? Why do major religious activities held in Ha Nam and Quang Tri provinces always received attention, help, and publicity from the local administration?
Furthermore, during the 50th anniversary of the founding of Vietnam Dominican Provincial held in St. Dominic Parish of Ba Chuong in Ho Chi Minh City, Bishop Nguyen Thai Hop emphasised that after 50 years the number of monks belonging to the Vietnam Dominican Provincial had tripled. This meant that the order is now ranked second in the world in terms of numbers, operating in 17 dioceses nationwide, in addition to in eight other countries.
Other prime examples include Father Le Quoc Thang being able to visit both Australia and the US in order to openly speak about his views on religious freedom in Vietnam.
The freedom of each inpidual must go along with their duties and responsibilities for both the community and the nation as a whole. Freedom of religion must always be practiced within the framework of the Vietnamese Constitution and law, in accordance with international law, cultural traditions, national identity, and in particular socio-economic conditions.
In terms of foreign relations between nations, equal and independent political institutions should not be permitted to set standards on religious freedoms in one country and then impose them on another in an attempt to force other nations to abide by them.
Amid non-objective information with regard to the country's religious freedom situation, Foreign Ministry spokeswoman Le Thi Thu Hang affirmed the nation's willingness to continue maintaining and stepping up co-operation and exchanges with the US on issues of shared concern.
This can be done through openness and mutual respect whilst following bilateral dialogue frameworks, including annual human rights dialogue, thereby contributing to promoting a comprehensive partnership between both sides.
The full implementation and deepening of the comprehensive partnership on the principles of respecting independence, sovereignty, political institutions, and non-interference in each other's internal affairs serve as the basis in which to build trust and take the relationship to new heights./.