Rescue soldiers save suicidal girl from jumping off 18th floor, with video
A young gir ready to take her own life was pulled to safety thanks to the quick work of a rescue team.
(Video: VTV)
At around 11 a.m. on May 2, residents at Duc Khai apartment building in Ho Chi Minh City's District 7 noticed what looked like a potentially suicidal woman sitting on the ledge of the 18th-floor. They immediately called the apartment management and local police.
Camera footage shows rescue soldiers rushing to action; one climbed out of the window right where the distraught girl was sitting while another stepped along the ledge. The team quickly rescued her and took her to safety.
In the meantime, functional forces were reportedly blowing up rescue mats on the ground in case she jumped.
(Photo: Thanh Nien)
Earlier in January, Ho Chi Minh Police were notified of a potential suicide in the Cantavil apartment building in Thu Duc District. As police officers arrived at the scene, they located a young girl standing on the 15th-floor balcony and about to jump.
Fortunately, the rescue was a success, and the girl who was in emotional distress awas brought back safe and sound. Witnesses said the 25-year-old girl had had an argument with her family that morning.
Last May, a Laotian student risked his life to jump into the fash-flowing Rao Cai river in central of Vietnam to save a Vietnamese man from suicide
Vongyasone Miny, 22, was riding on Thach Dong bridge when he spotted a man climbing off the bridge to jump in the river. Without hesitation, Vongyasone jumped into the river to save the man.
Vongyasone started to tire after 20 mins struggling to hold the man in the fast-flowing river, as there was not yet a rescue team to help.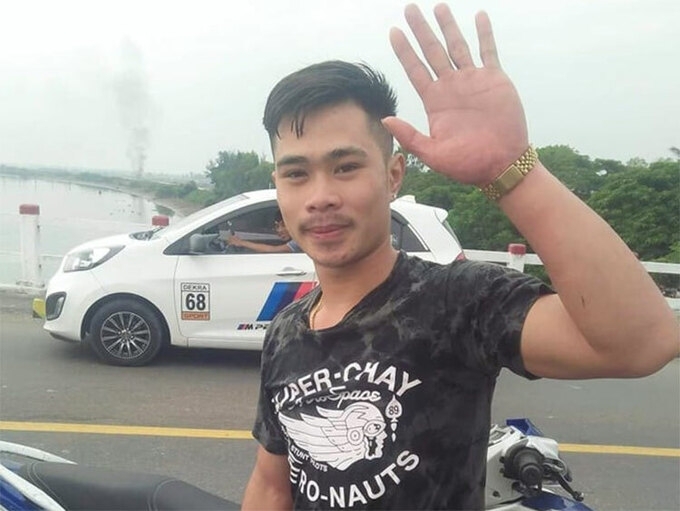 Vongyasone wove hand after being brought ashore safely by the fishermen's boat (Photo: Facebook)
However, they were lucky enough to be saved by a local fishermen boat passing by. Both Vongyasone and the man were safely rushed ashore, according to reports.
Vongyasone Miny is a Laotian student studying at the Department of Science and Environment in Ha Tinh University, central Vietnam.
The suicidal man was later disclosed as a 50-year-old, living in Thach Dong Commune, Ha Tinh Province. His amnesia reportedly influenced his suicide attempts
The story of the Laotian student's good deed was shared widely on social networks, leaving Vongyasone flooded with comments praising about his bravery.