Young volunteers work overnight to rescue homeless children in Hanoi
In the last several years, the young volunteers in Street Outreach head out to the streets of Hanoi every night to rescue homeless children.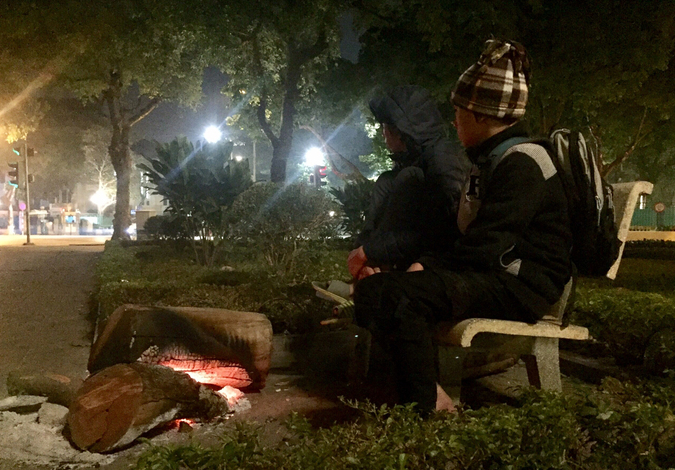 Two boys sitting by a fire near Tay Ho flower garden at midnight, January 12. (Photo: VN Express)
At 12 o'clock at night, Hoang Anh was riding around the flower garden in Tay Ho district, glanced at the three people sitting around a fire, and decided to drive in. Two boys in warm clothes sat next to a middle-aged man. At first glance, the three of them looked like father and sons, but Hoang Anh noticed that the boys seemed tired, so he stopped the car, walked over to say hello.
"Can we sit here and talk a little bit?", Hoang Anh said gently.
The people gave him a look of investigation. Sitting down next to the fire, Hoang Anh looked into the eyes of the two children, said: "It's such a cold night! Do you guys need any help?".
Two children, one skinny, one chubby, sat silently.
Hoang Anh tried to break the ice with the two children. "We work for Blue Dragon Foundation, specializing in helping homeless children," the young man looked at the two children, before continuing.
"I can also help them with accommodation, soccer lessons, and health checks. Late night, there're a lot of bad guys out in the street."
At this time, Hoang Anh began to share details of his current work. He told the story of some children he had met, warned the two boys of dangers lurking on the street; at the same time show some pictures of the street children being supported by the foundation.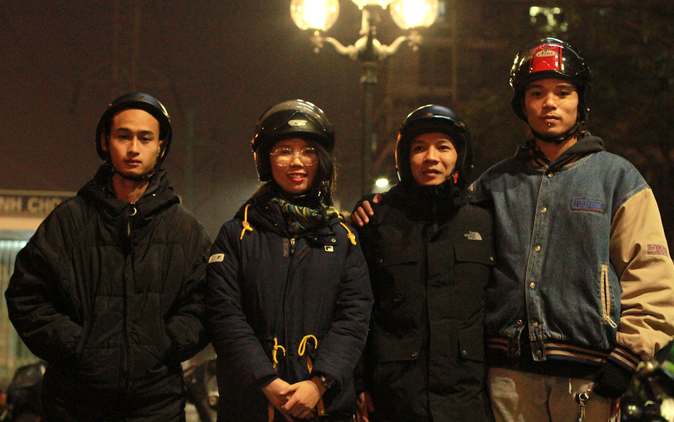 The team has 7 official members and many collaborators. (Photo: VN Express)
The thin boy then began to say that he had been sleeping in the flower garden and lost his papers. He couldn't go to work, but he didn't want to go back to his hometown. The other boy, 14 years old, came from Bac Kan, told that his father went to prison.
"I can help you find a safe place to sleep tonight," Hoang Anh said. The two boys, being cautious for living so long homelessly, immediately refused. Hoang Anh then gave each of them a little money to find a place to sleep. He asked to see them tomorrow morning.
It was a normal working night of Hoang Anh, 27, the captain of the Street Outreach team of Blue Dragon - an organization established in 2003 to support street children in Hanoi.
Every night in the last few years, the Street Outreach team head to the streets of Hanoi to find children in need. The team has 7 official members and many collaborators.
In addition to the main task of helping homeless children, the team also work at boarding houses, visiting families in difficult living conditions, helping children to participate in physical activities, giving them health checks ... with the goal of bringing street children out of the drag of crime, protecting them from the risk of becoming victims of social evils.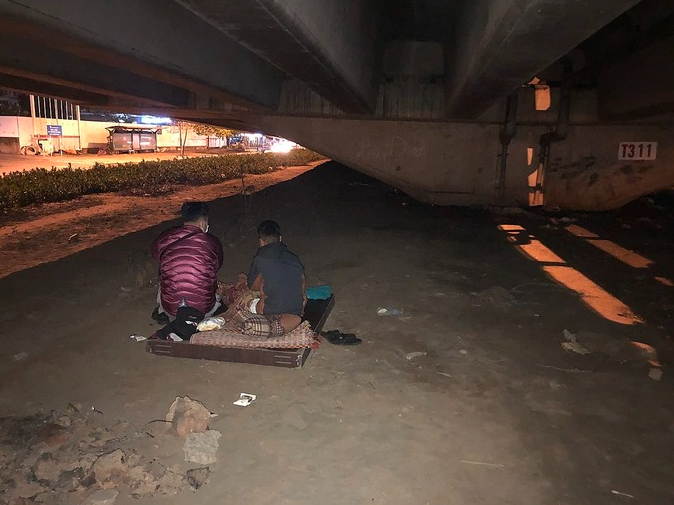 Doan Cong and a boy that he rescued in the My Dinh area of Hanoi. (Photo: VN Express)
"Around the My Dinh area, especially during the summer and near Tet, children often come back from other provinces. They are easy to become prey for the group of pedophiles and job brokers. Some children who have little money choose to spend on game centers. We always try to reach out to the children to prevent them from encountering bad deeds", Hoang Anh said.
Three years as a member of Street Outreach, Doan Cong finds himself doing a "worthful" job. Many times, the team members have faced bad guys to protect children. Doan Cong once successfully saved 2 boys, fifteen and seventeen years old, losing their jobs due to the COVID-19 pandemic, from being sexually harassed.
Minh Hai, who works for Blue Dragon for 2 years, cannot forget a winter night last year when she found a boy who had just fleed away from a debt collector gang. The boy was tired, hungry, and scared of being revenge by the gang for running away.
On average, each year the group helps about 100 street children in Hanoi. Many of these children have returned to their families or have been helped to return to school. Many children find good jobs in the field of restaurants, hotels, tourism ... 10% of Blue Dragon's employees were children who were supported by organizations, who used to lead difficult street lives.
"When the children meet us, they have the ability to rebuild their lives", Hoang Anh shared. On the nights of Hanoi, there are always kids being pushed into the street for so many reasons, surrounded by many traps. That is why the team has been working hard for the past 17 years.
After 17 years of operation, Blue Dragon has helped 607 street children reunite with their families, rescued 1,000 trafficked people, gave 5,259 children chances back to school or vocational training, and helped 13,514 children and families with decent paperwork. Blue Dragon has been recognized by the Ministry of Defense, the Ministry of Public Security, and many state agencies for its contribution to the prevention of human trafficking and helping street children.