Saigon lights up as Vesak festival nears
Long lines of lanterns has brightened up the Nhieu Loc - Thi Nghe Canal to celebrate Vesak festival, marking the birth and enlightenment of the Buddha.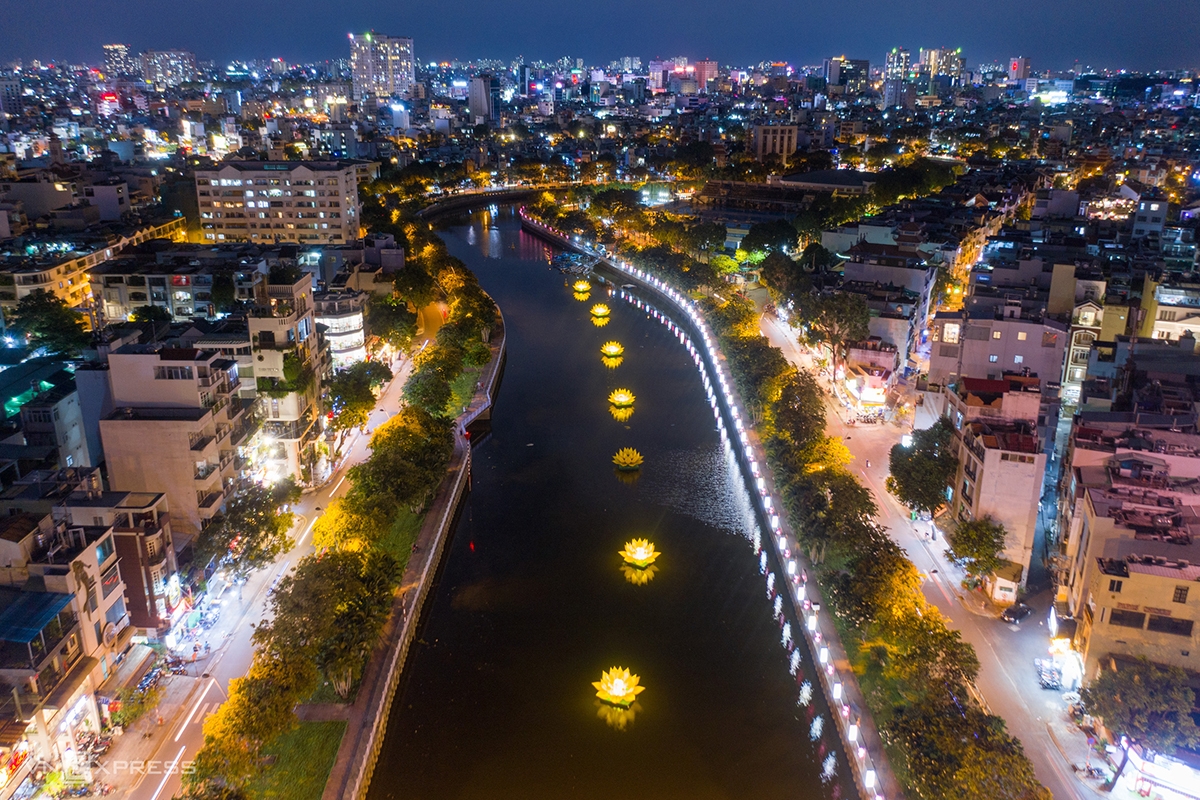 (Photo:VNE)
Quan Am Monastery on Truong Sa Street of Phu Nhuan District has strung seven yellow lanterns in the shape of a lotus flower along the canal, which flows nearly nine kilometers through Districts 1, 3, Phu Nhuan, Tan Binh and Binh Thanh before joining the Saigon River.
With the ongoing Covid-19 pandemic, activities for Vesak Day, which falls on Wednesday, will be scaled down, along with measures to inhibit the spread of the virus, including limitation on the number of prayers, VNE reported.
(Photo: VNE)
Each lantern rises three meters high and spans five meters. Legend has it that when Buddha was born, he walked seven steps forward and at each step, a lotus flower blossomed under his feet.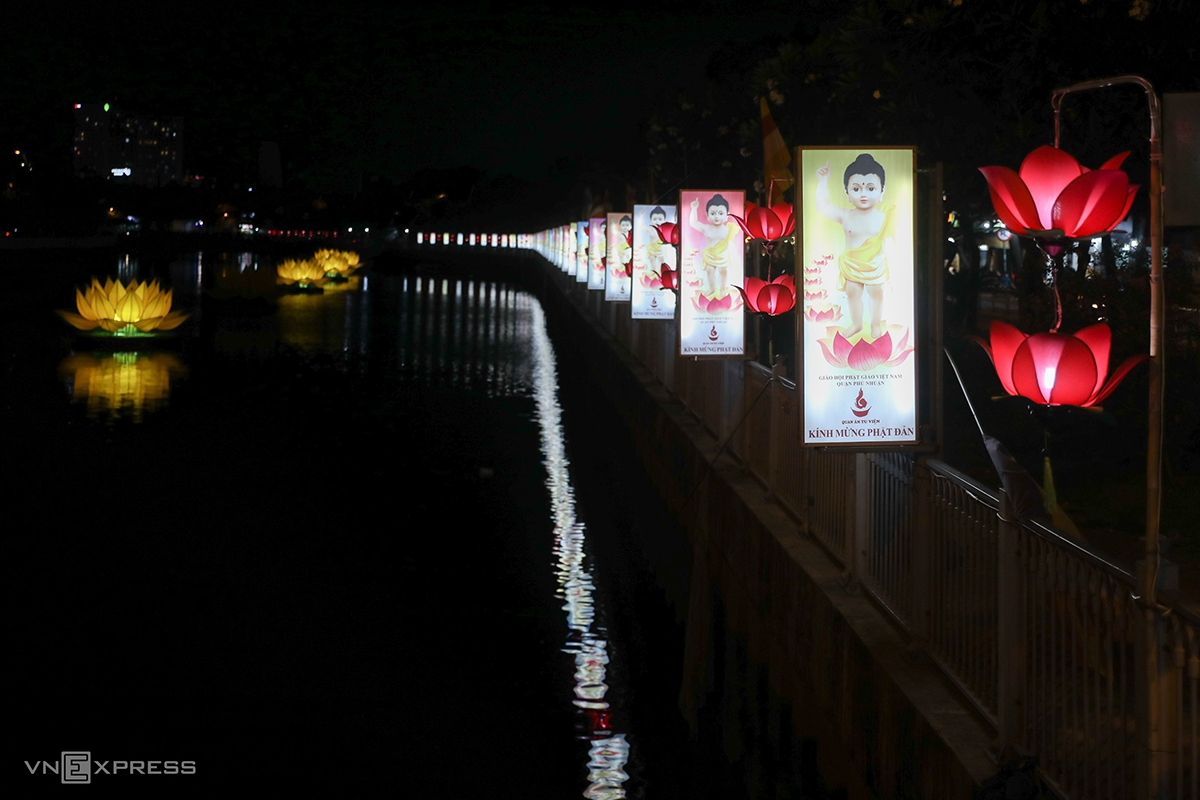 (Photo: VNE)
Paintings of the baby Buddha are hung along the canal.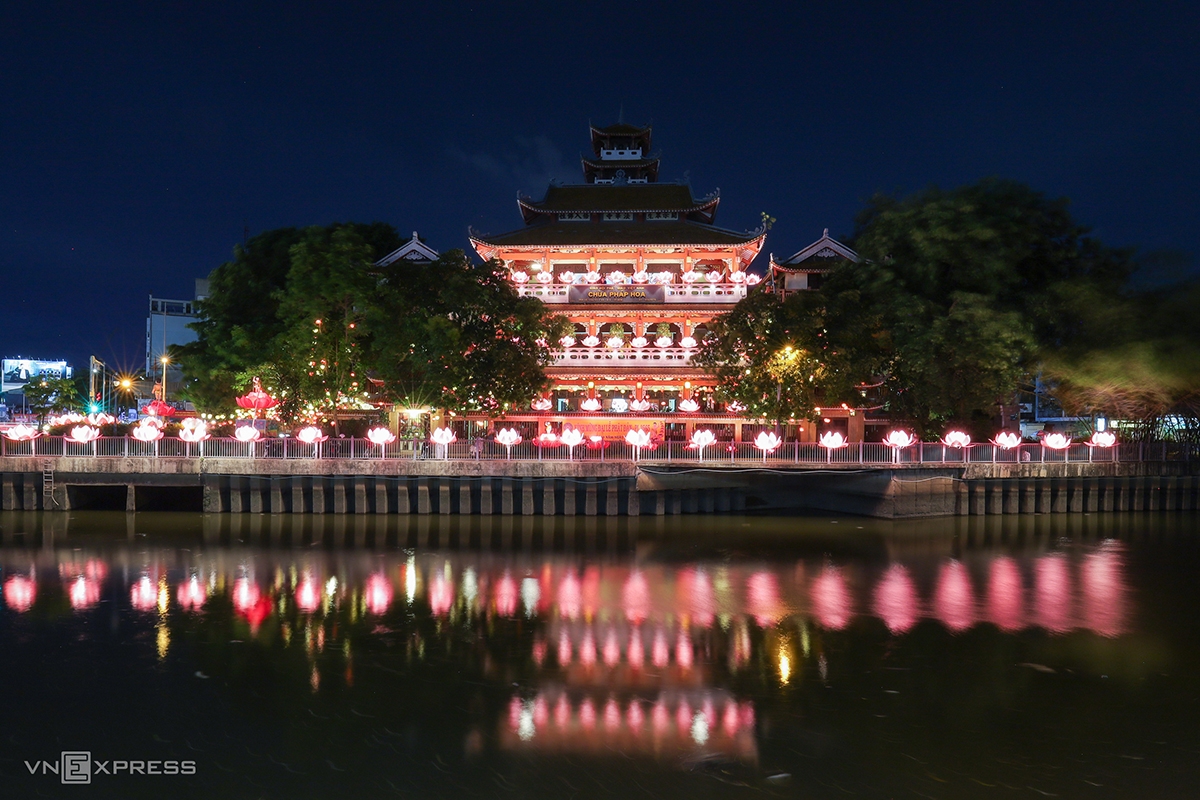 (Photo: VNE)
Three kilometers away, Phap Hoa Pagoda glimmers with lantern light.
In light of Covid-19 prevention measures, floating lanterns along the canal will be skipped to avoid mass gatherings. Other Vesak rituals will only be staged among monks inside the pagoda.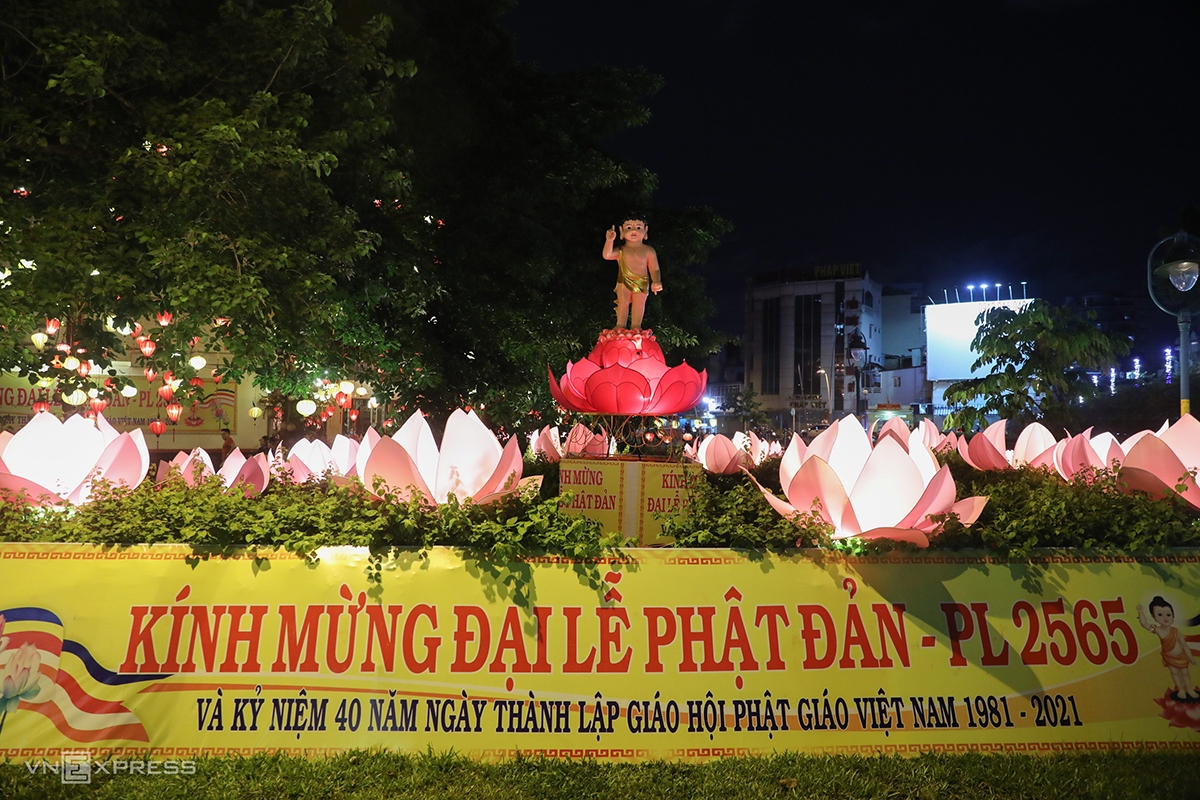 (Photo: VNE)
The statue of the baby Buddha leading up to Phap Hoa Pagoda.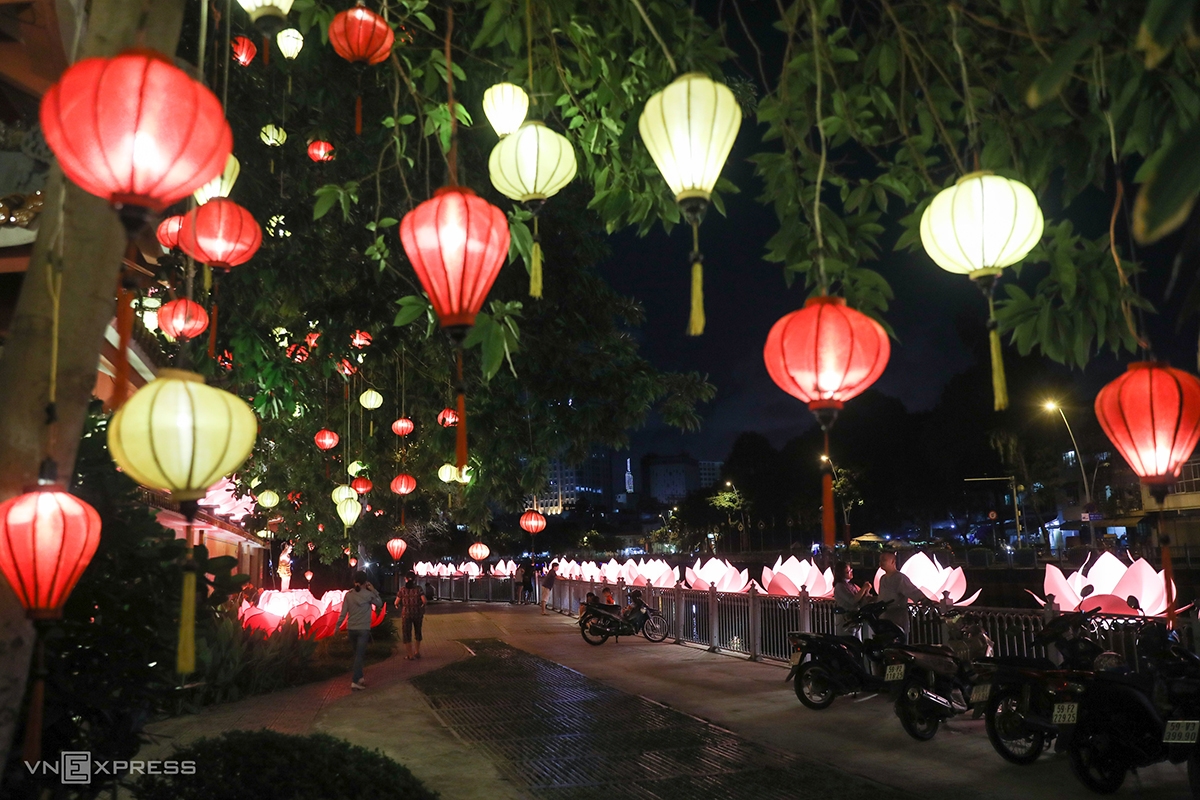 (Photo: VNE)
The number of lanterns decorating the pagoda has been cut by half compared to last year.
(Photo: VNE)
Locals come to the pagoda for sightseeing. The pagoda will be opened for visitors but the number of people gathering at once will be limited and all must wear masks to curb the Covid-19 spread.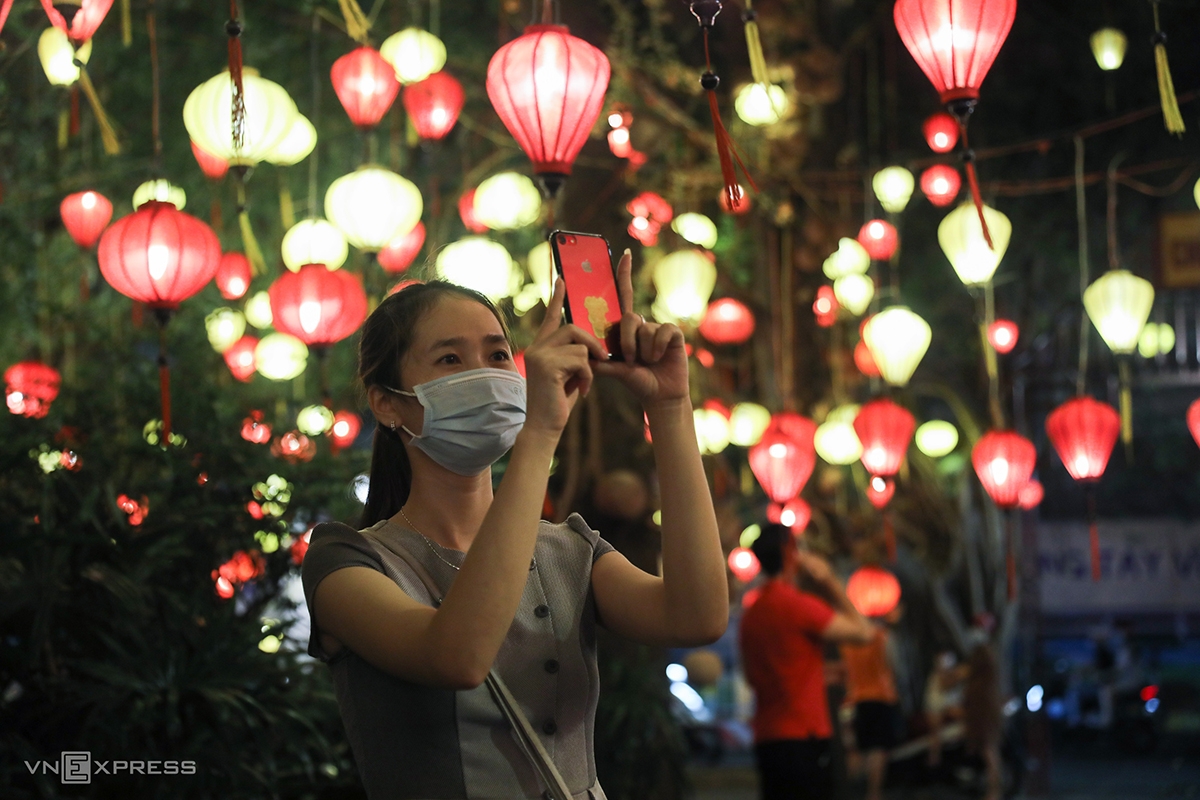 (Photo: VNE)
"I passed by this beautiful area and I stopped for a while to take a few pictures. I didn't dare to stay longer though due to Covid," Phan Huong (pictured) said.
HCMC has recorded six Covid-19 cases so far in the new wave that broke out in Vietnam late last month and has spread to 30 cities and provinces with 2,254 community transmissions.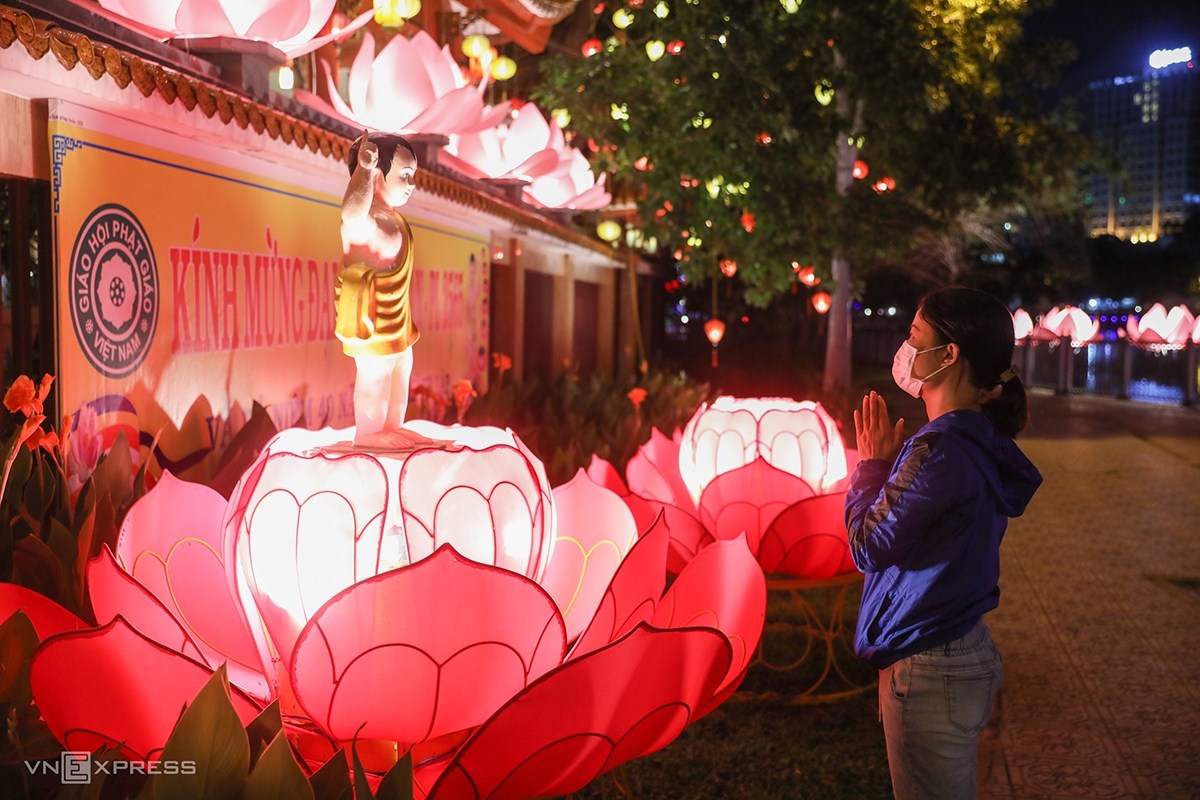 (Photo: VNE)
Le Thi Hai Yen prays outside the pagoda. "This pandemic has been stressful for all of us and therefore I pray for all of us to be safe."
The Vesak festival marks the birth, enlightenment and passing away of the Lord Buddha and includes devotion and alms giving with spectacular displays and entertainment. The week-long celebration gives visitors an opportunity to discover each country's religious and cultural traditions.
In Vietnam, many festivals are held around this day, such as Bathing of the Buddha ritual, requiems, lantern night and photo exhibitions on world heritage Buddhist temples. The celebration also features international workshops, and seminars on Vietnamese Buddhism, Hanoi Times stated.
On these days, Buddhists focus on taking part in charity activities such as giving to the poor, and setting free animals.