Scotland Child Abuse Suspect Arrested after Fleeing to Vietnam
Vietnam police nab Scotland criminal wanted by Interpol
A former youth football coach is being extradited to Scotland from Vietnam to face historic allegations of child sex abuse.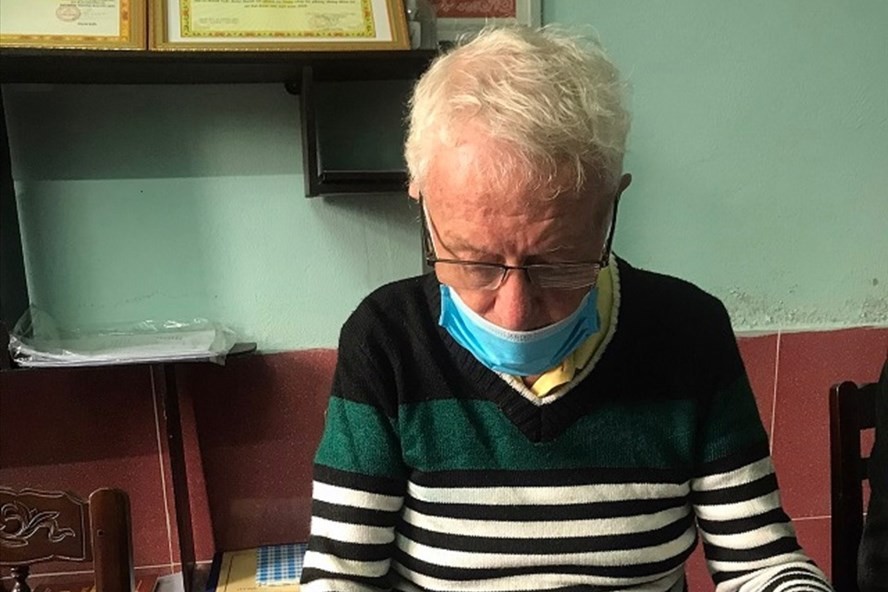 Kenneth Divers was arrested in Hoi An. Photo: Police
Senior Colonel Nguyen Ha Lai, Vice Director of the Quang Nam Provincial Police on Jan. 20 said that the unit had handed over the international wanted man Divers Kenneth to the UK Police for repatriation according to regulations.
The Provincial Police and the Police Investigation Agency has coordinated with the Office of the Police Investigation Agency under the Ministry of Public Security, the British Embassy in Hanoi, ​​and Hoi An city of the central coastal province of Quang Nam to investigate, reported Thanh Nien News.
Divers was arrested in Hoi An's Cam Nam District
According to The Daily Record, Kenneth Divers has been arrested in connection with non-recent sexual offences against children. The man was arrested in Vietnam under an Interpol Red Notice on Jan. 18.
The 77-year-old, a former teacher at a secondary school, is set to appear at Paisley Sheriff Court in the coming days, sources have confirmed.
This was carried out by officers from the Office of Investigation Police Agency, Ministry of Public Security of Vietnam, supported by the National Crime Agency at the request of Police Scotland. Arrangements are under way to transport him back to Scotland.
Scottish and European warrants for his arrest were issued in 2016 after he was accused of carrying out a string of sex attacks on young boys in the 60s and 70s.
Divers, who is understood to be flying into Heathrow Airport in London, will then be transported north of the border by Police Scotland officers.
In a Facebook post on Jan. 19, the British Embassy in Hanoi has thanked Vietnamese authorities for supporting the arrest of Divers.
The post cited Detective Superintendent Alan Henderson, "We are grateful to the authorities in Vietnam and our colleagues at the National Crime Agency for their assistance with this matter."
Interpol is the world's largest international police organization. The idea of Interpol was born in 1914 at the first International Criminal Police Congress, held in Monaco. Officially created in 1923 as the International Criminal Police Commission, the organization became known as Interpol in 1956.
It enables police around the world to work together to make the world a safer place. Its high-tech infrastructure of technical and operational support helps meet the growing challenges of fighting crimes in the 21st century.
Since 2015, Interpol has prioritized the struggles against terrorism, high-tech crimes, organized crimes and emerging crimes like human trafficking and drug trafficking.
Vietnamese police and the Interpol have been collaborated in combating terrorism, transnational and cyber criminals.
Last year, two South Korean men sought by Interpol for fraud and assault and battery had been arrested in the central city of Da Nang by the city police and federal criminal police department.
The number of international tourists to Vietnam in December 2021 rose by 14.2% compared to that of the previous month as the country is piloting the welcome of foreign visitors and international commercial flights are being resumed.
Hoi An city will officially kick off the National Tourism Year 2022 themed "Quang Nam - A green tourism destination" on March 25.
Top 10 Best Cosy Crime Novels

If you are looking for a warm Christmas night alone, sipping a hot cup of cocoa, and enjoying your time reading, these cosy mysteries in ...