Stamp set published to honor Vietnamese diplomat
A stamp set has been produced to honor Nguyen Co Thanh, Vietnam's former minister of foreign affairs, on the 100th anniversary of his birthday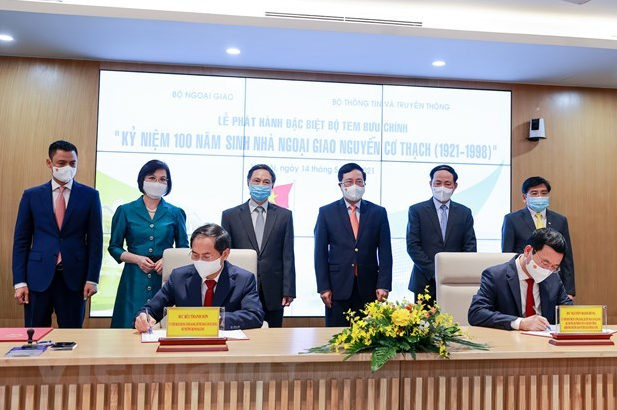 Singing ceremony to establish the stamp set. (Photo: Vietnamnet)
A ceremony to launch the stamp collection "Celebrating diplomat Nguyen Co Thach's 100th birthday (1921-1988)" was held on May 14 by the Ministry of Information and Communications and the Ministry of Foreign Affairs.
The ceremony welcomed Deputy Prime Minister Pham Binh Minh, Minister of Foreign Affairs Bui Thanh Son, Minister of Information and Communications Nguyen Manh Hung, Nguyen Co Thanh's family, and delegates from various agencies.
Communication minister Pham Anh Tuan stressed that the stamp collection was the first postage stamp about a diplomat in Vietnam.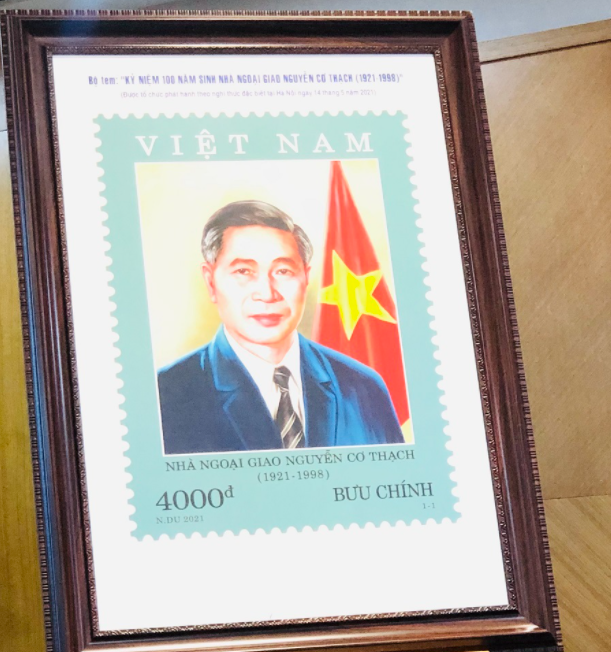 The stamp is priced 4,000 VND. (Photo: Vietnamnet)
Nguyen Co Thach was a Politburo member, the vice chairman of the Council of Ministers and minister of foreign affairs. Thach, whose real name was Pham Van Cuong, was born on May 15, 1921, in Lien Minh commune, Vu Ban District of Nam Dinh Province.
During his life fighting for Vietnam's revolution, he was an excellent politician and diplomat. His breakthrough innovation initiatives left a strong impression, building Vietnam's diplomacy towards modernity, contributing to the development and improvement of the country's position and prestige globally.
During nearly 80 years working, Thach made great achievements in the revolutionary cause. He was awarded the Order of Ho Chi Minh by Vietnam's Party and State, as well as many other noble orders, medals and awards. He was also awarded the Gold Star Medal by the president.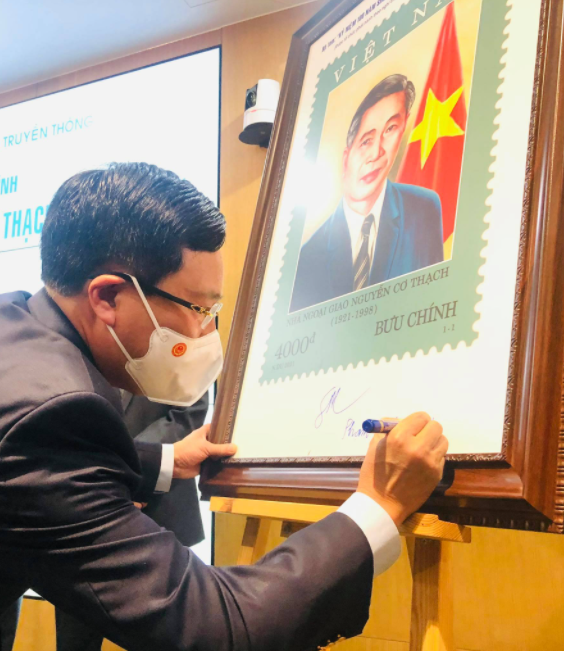 Deputy PM Pham Binh Minh signs the stamp set. (Photo: Vietnamnet)
In order to honor Thach's contributions to the Vietnamese revolutionary cause, the communication ministry decided to release the stamp collection.
"The stamp set is presented in a characteristic painting style and a good color scheme with a vertical frame. With a realistic drawing style, the author presents a portrait of Nguyen Co Thach, a leader who had a great mind but still humble, full of confidence, optimism, and bravery," said Deputy minister Pham Anh Tuan. "His portraits have put on the background of the beloved national flag, symbolizing the noble purpose that he always fought for."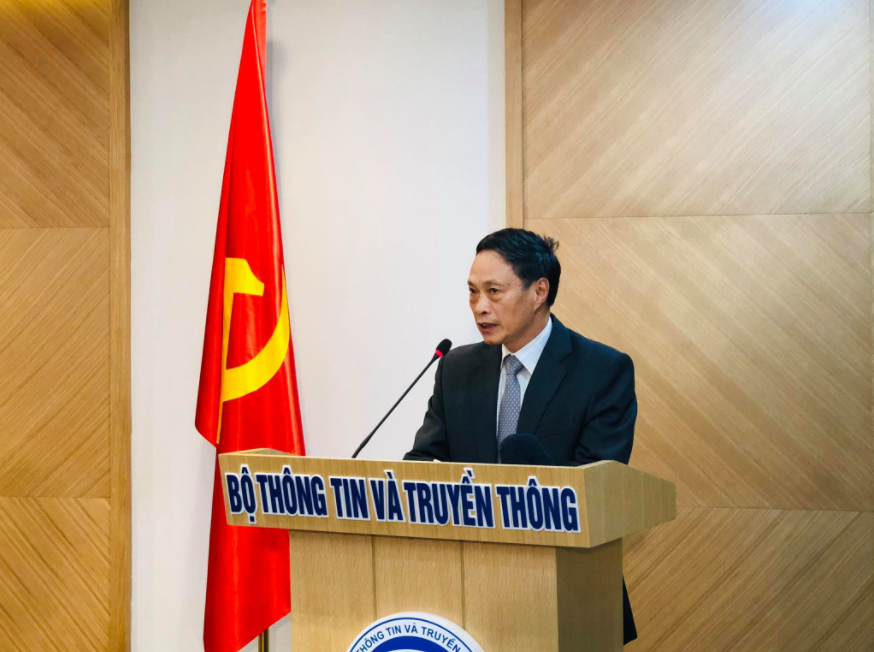 Pham Kien Thiet gave a speech at the ceremony. (Photo: Vietnamnet)
The stamps were designed by painter Nguyen Du (Vietnam Post Corporation). Communication minister Nguyen Manh Hung presented two stamp paintings as souvenirs to representatives of the foreign ministry and Thach's family, at the ceremony.
Expressing his deep gratitude to the Ministry of Information and Communications, Pham Kien Thiet, Thach's son, recalled his father's efforts to innovate the postal sector to apply new digital technology. Thiet also expressed his thanks to artist Nguyen Du, who devoted a great deal of effort and dedication to successfully designing this special stamp set.
In recent days, Vietnam's state and many other units have actively held events to celebrate Nguyen Co Thach's 100th birthday, such as offering incense, making films, publishing photo books and establishing the Nguyen Co Thach Scholarship Fund at the Diplomatic Academy of Vietnam.