The Hunt for the Best Bun Cha
Inspired by his love for his favorite Vietnamese dish, travel writer Jason Law set out on a journey across Hanoi to try and find the 'perfect' Bun Cha, learning about the local speciality along his way.
Whenever I'm asked what my favorite Vietnamese food is (a question that I'm unsurprisingly asked frequently as an English teacher) I respond with no hesitation - Bun Cha. The less common follow-up question, however, "Where is your favorite Bun Cha restaurant?" is always much harder to answer.
Bun Cha is one of the most well-known traditional dishes in Vietnam, but its roots are grounded firmly in Hanoi. In its most basic form, it consists of pork meatballs or patties, pork belly slices, rice noodles, fresh vegetables, and herbs, all served in a vinegary, fish sauce type broth, though you'll find slightly different variations depending on where you decide to dine.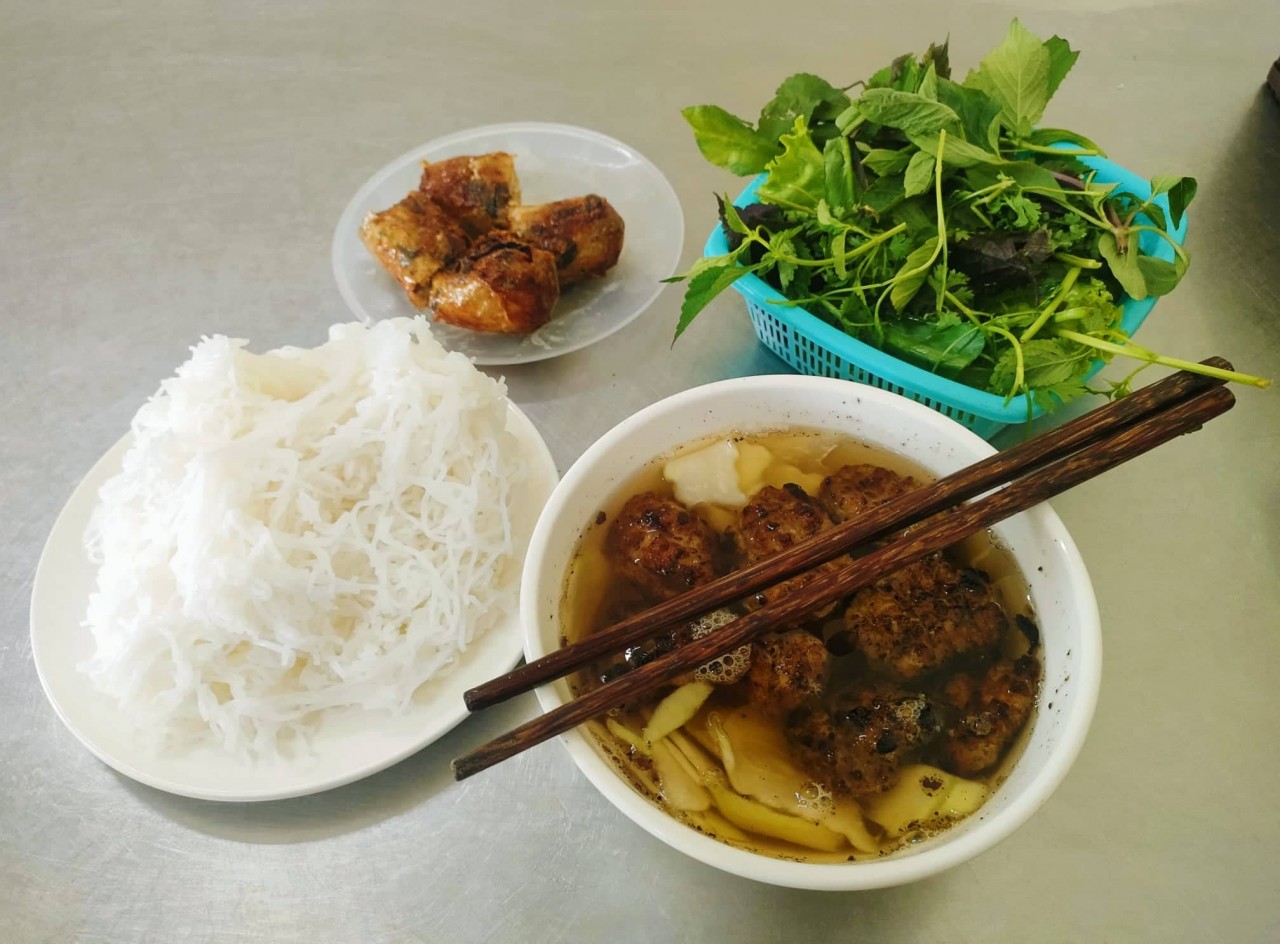 A simple Bun Cha at Mai Anh Bun Cha, 47 Xuan Dieu (Photo: Jason Law)
Having lived here for years, I have eaten countless bowls of Bun Cha, but admittedly never ventured outside of Tay Ho in search of variety. Since trying the dish for the first time three years ago, at Mai Anh Bun Cha 47 Xuan Dieu, I'd been lazy and content with familiarity, much like how in the UK I'd only visit my local 'chippy' and ask for "the usual" battered sausage and chips.
The front of my frequented local restaurant, Mai Anh Bun Cha, 47 Xuan Dieu (Photo: Jason Law)
Outside of my local, the only other Bun Cha I'd tried was the free school lunch at work. Recently, while enjoying the school's basic but tasty take on the classic dish, I wondered if this was considered a 'good' Bun Cha, and realized I didn't actually know what a good Bun Cha was. I decided it was high time I changed that, and set out on an epic city-wide quest to find the perfect Bun Cha.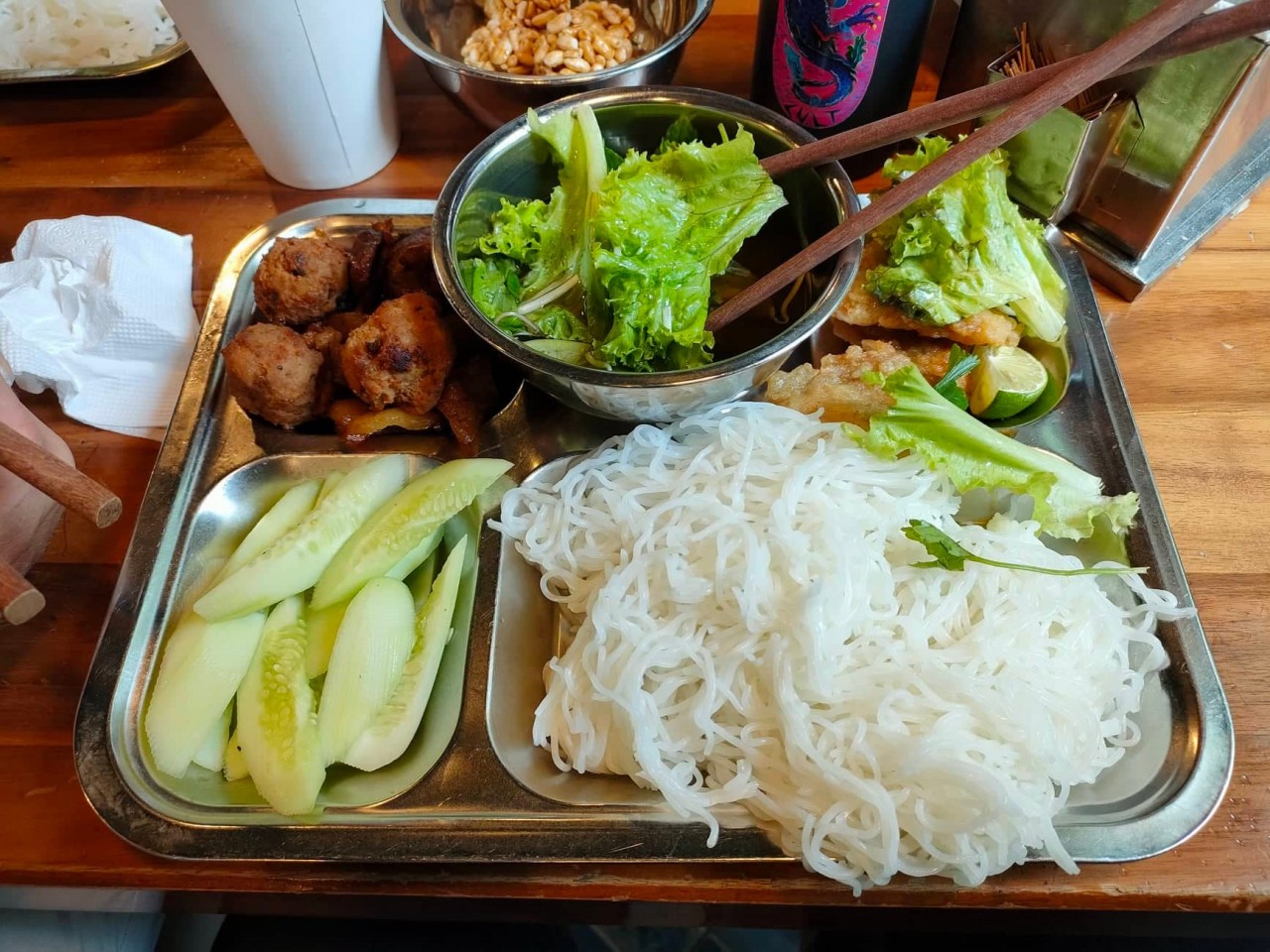 Even the free school Bun Cha is delicious (Photo: Jason Law)
I began my search close to home, by asking my neighbor and friend Tuan Anh (or Adam as he likes to be called) if he could recommend a cool spot where I could get my Bun Cha on. As a Vietnamese person who works for the multinational food and lifestyle brand Taste Life, he was the perfect person to help kick start my journey.
Bun Cha 37 Phan Chu Trinh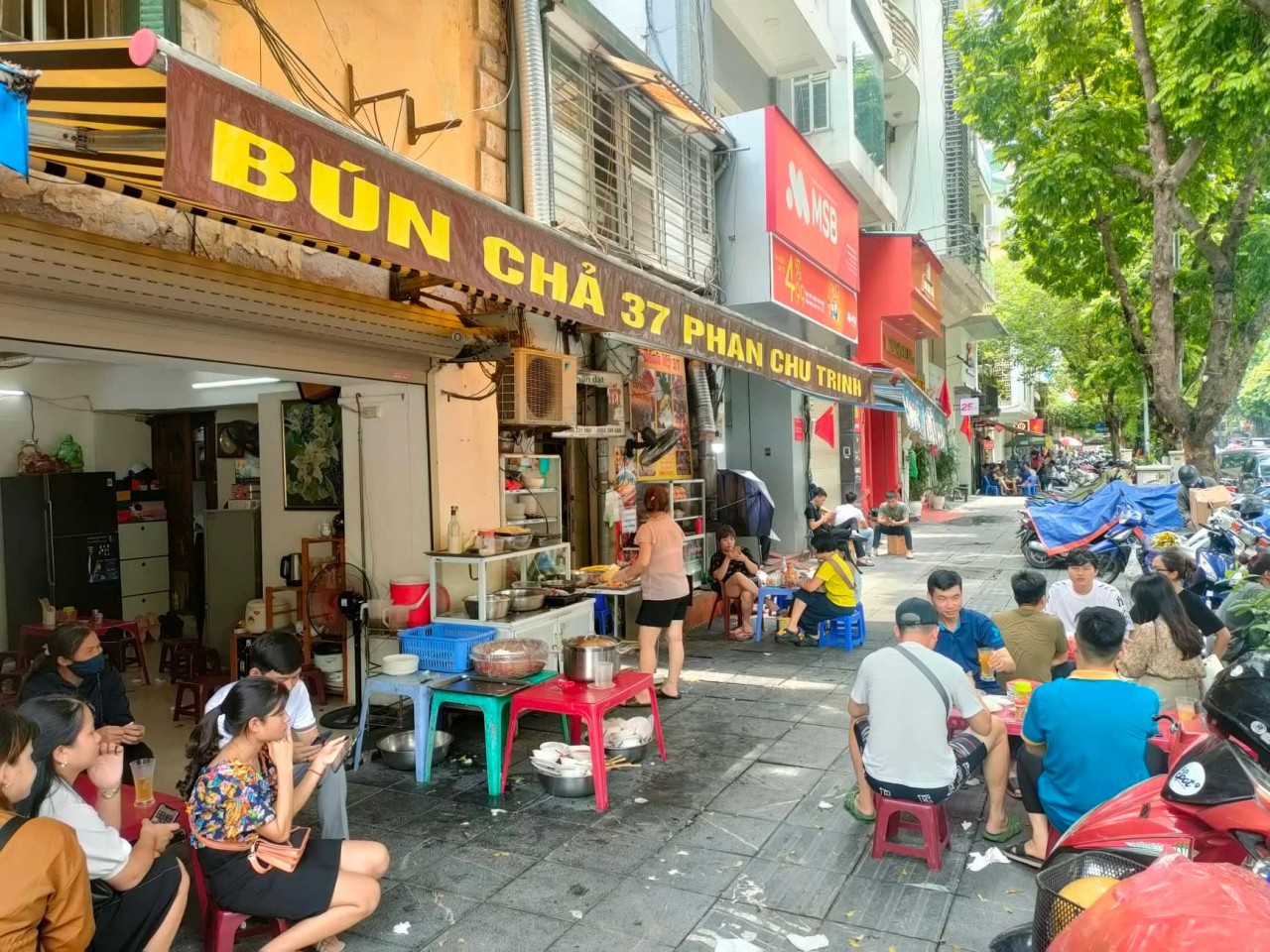 Outside Bun Cha 37, Phan Chu Trinh (Photo: Jason Law)
Adam went above and beyond with his recommendation, inviting me to dine with him, his wife Annie and their friends at Bun Cha 37 in Hoan Kiem, which, according to him, gained popularity after receiving praise from famous culinary artist Anh Tuyet.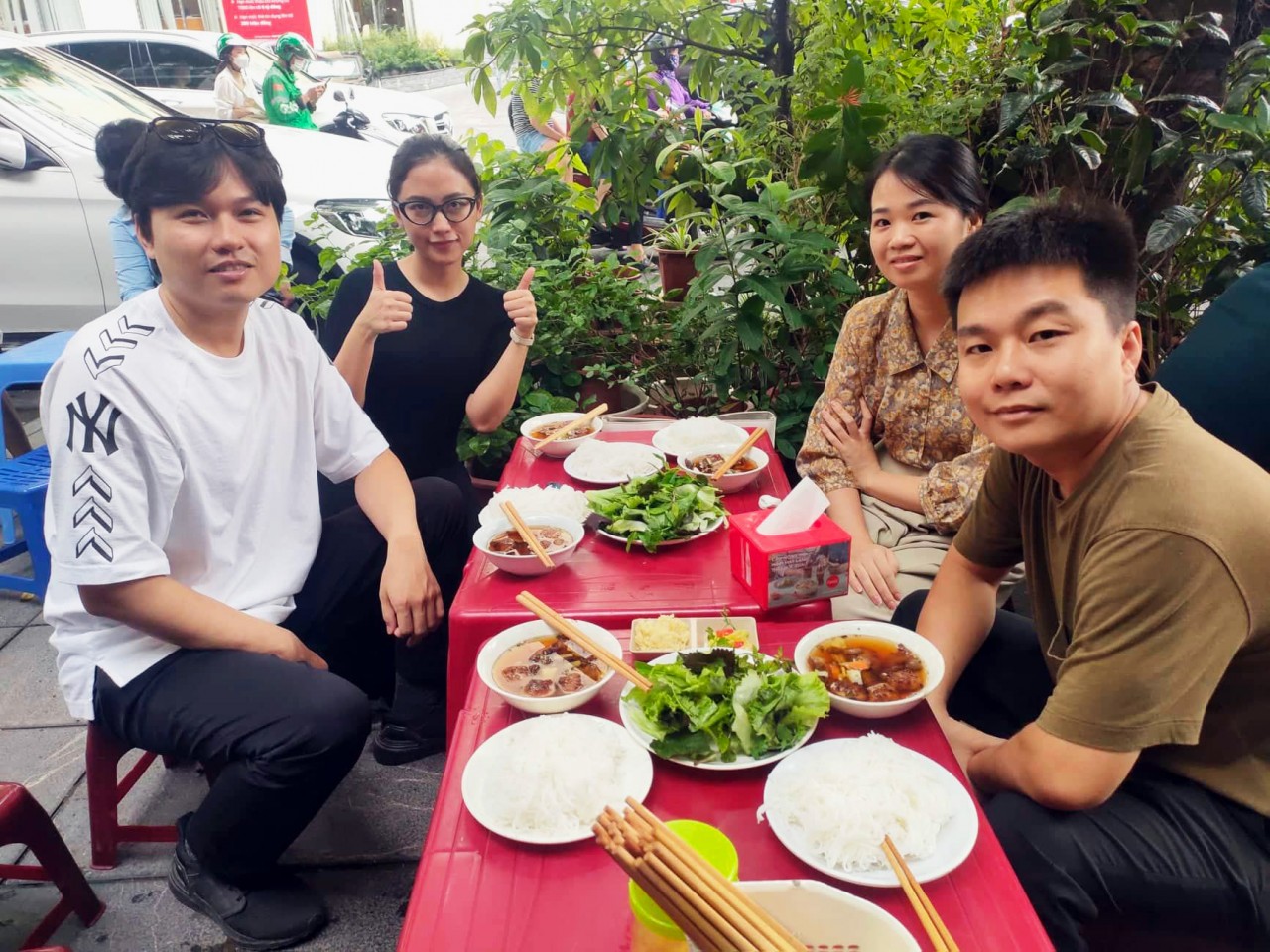 Friends old and new congregate over a Hanoian delicacy (Photo: Jason Law)
The setting was very Hanoian – plastic stools and tables set out between parked motorbikes outside a hole-in-the-wall style restaurant on a busy street. The noodles and fresh vegetables were already waiting for me as I took a seat, and before we'd even had a chance to all become acquainted, the bowls of meat and broth were placed before us.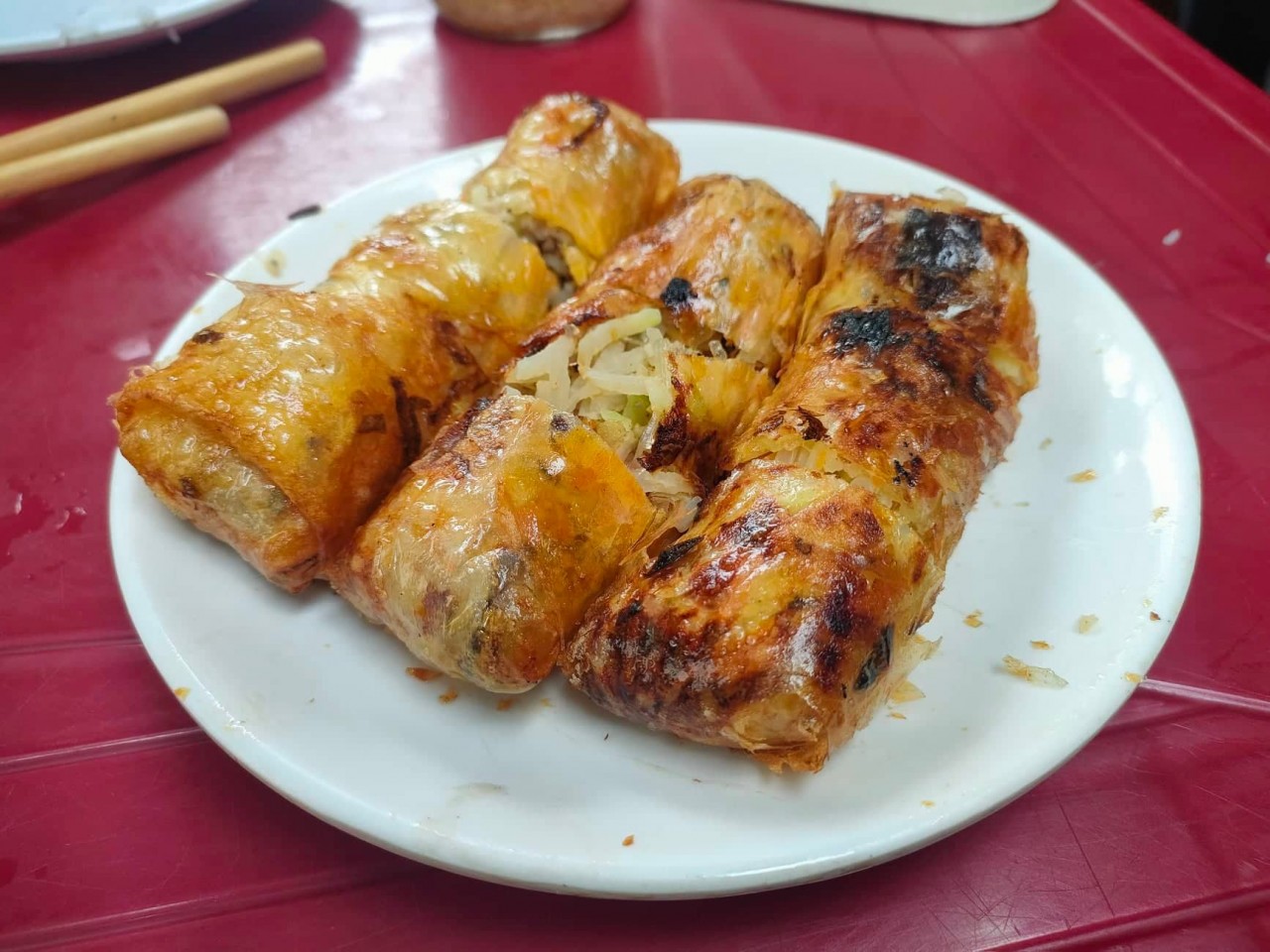 The spring rolls Adam and Annie spoke so highly of (Photo: Jason Law)
The couple said they favored this restaurant because the broth was served piping hot, an important feature of a dish that they say is more commonly eaten during the seasonal transition into winter. Adam said, "This place is one of my favorites because of the distinctive taste of its spring rolls. It's a must try". They were right on both counts – I dipped the crunchy, ground-black-pepper-flavored roll into my broth and thrust it into my mouth with haste, burning my tongue enough to make my eyes water but not so badly that I couldn't taste their unique, smoky flavor.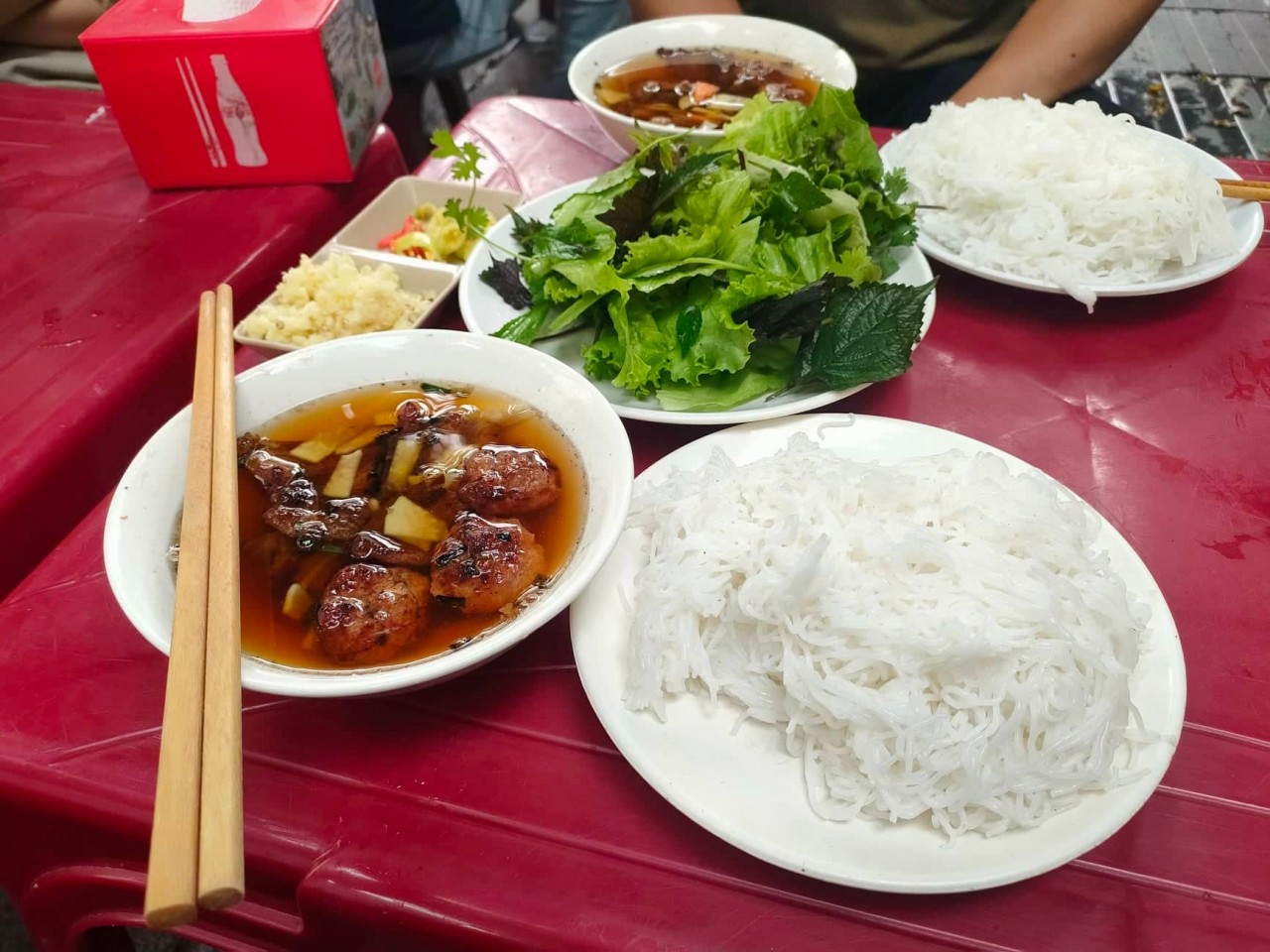 Big isn't always better (Photo: Jason Law)
I slowed things down a bit and took the time to appreciate the dish. What it lacked in quantity it definitely made up for in quality. There were only a few strips of slightly chewy but crispy-edged pork strips and bite-sized, succulent meatballs, but as I would learn later on in my journey, it was the ideally-sized portion. The combination of tastes worked well - the broth was not too sweet or vinegary but complimented the meat and vegetables nicely.
I'd started my search off well, but if I wanted to make this a story rather than just a series of visits to Bun Cha restaurants, I'd need to up the ante.
As I racked my brain for ideas of where to go next in pursuit of the best Bun Cha, I remembered that American President Barack Obama had once eaten the Hanoian specialty here. It seemed like a good place to go next – if the meal was good enough for a president, then it might just be good enough for me.
Bun Cha Huong Lien - The Obama Restaurant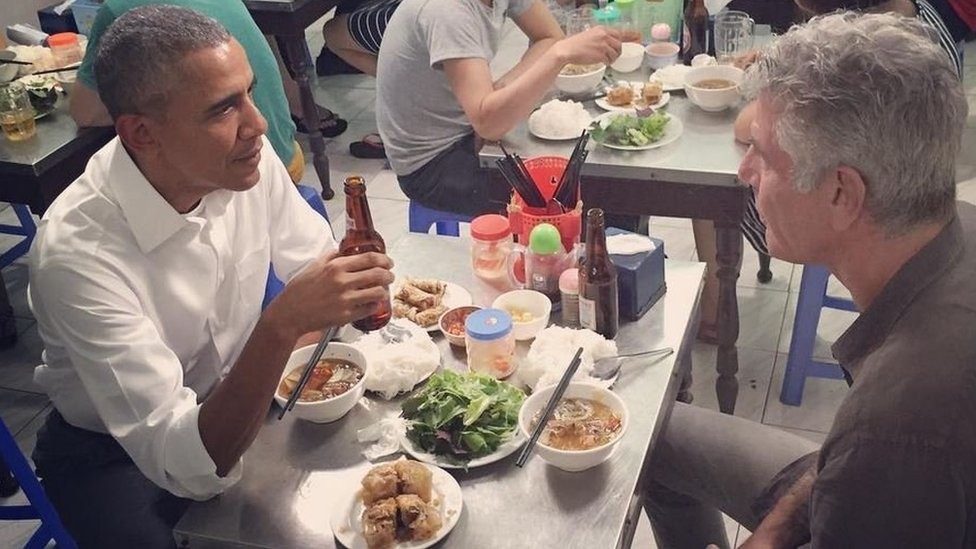 Obama and Bourdain (Source: BBC)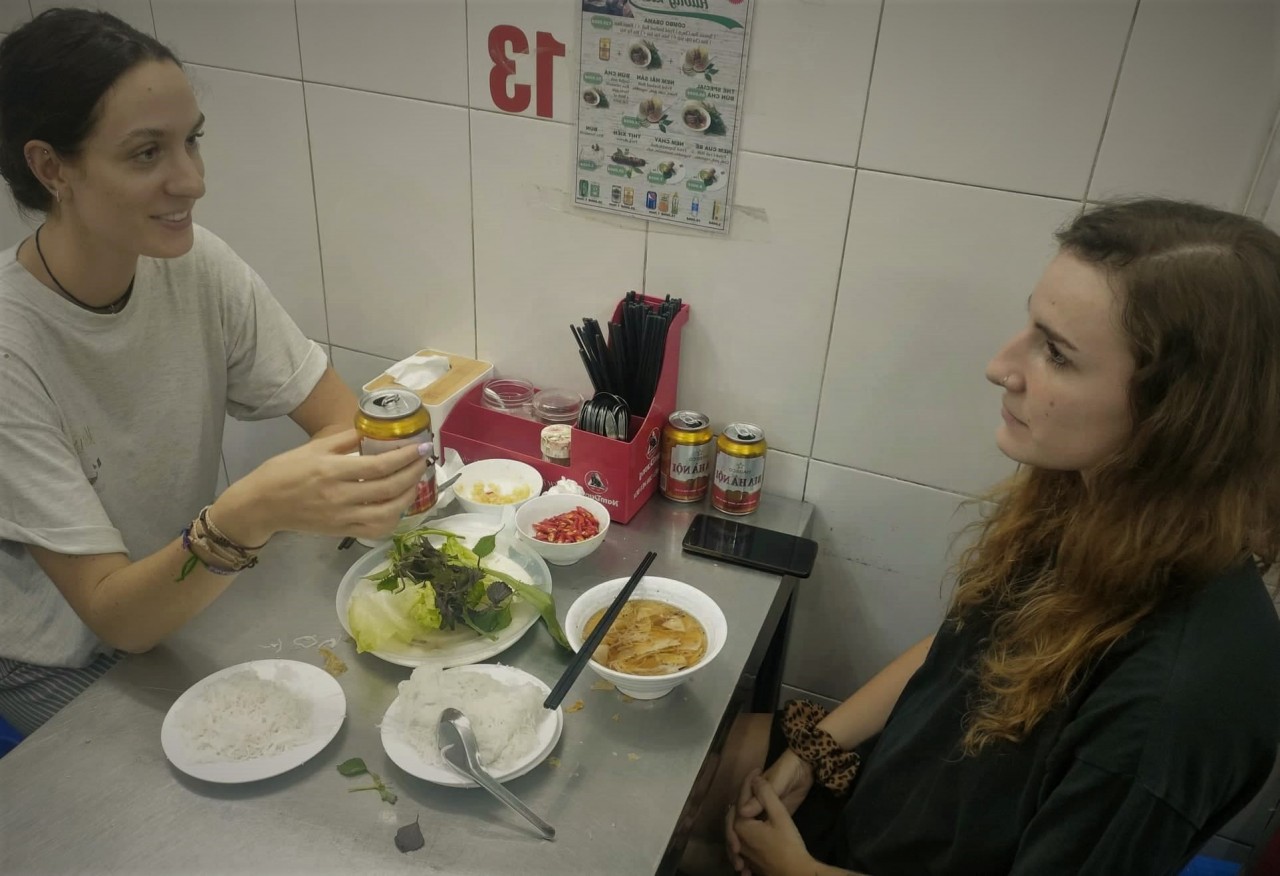 The spitting image of Bourdain and Obama (Photo: Jason Law)
There is a small chance that I may never get to sit at the Oval Office desk, so I was content to settle for sitting on the plastic stool that a former US president had once sat on. Unfortunately, I discovered his table encased in a glass box once I arrived, so I shuffled between the busy tables to sit down like the regular folk at a regular table on a regular, non-presidential stool.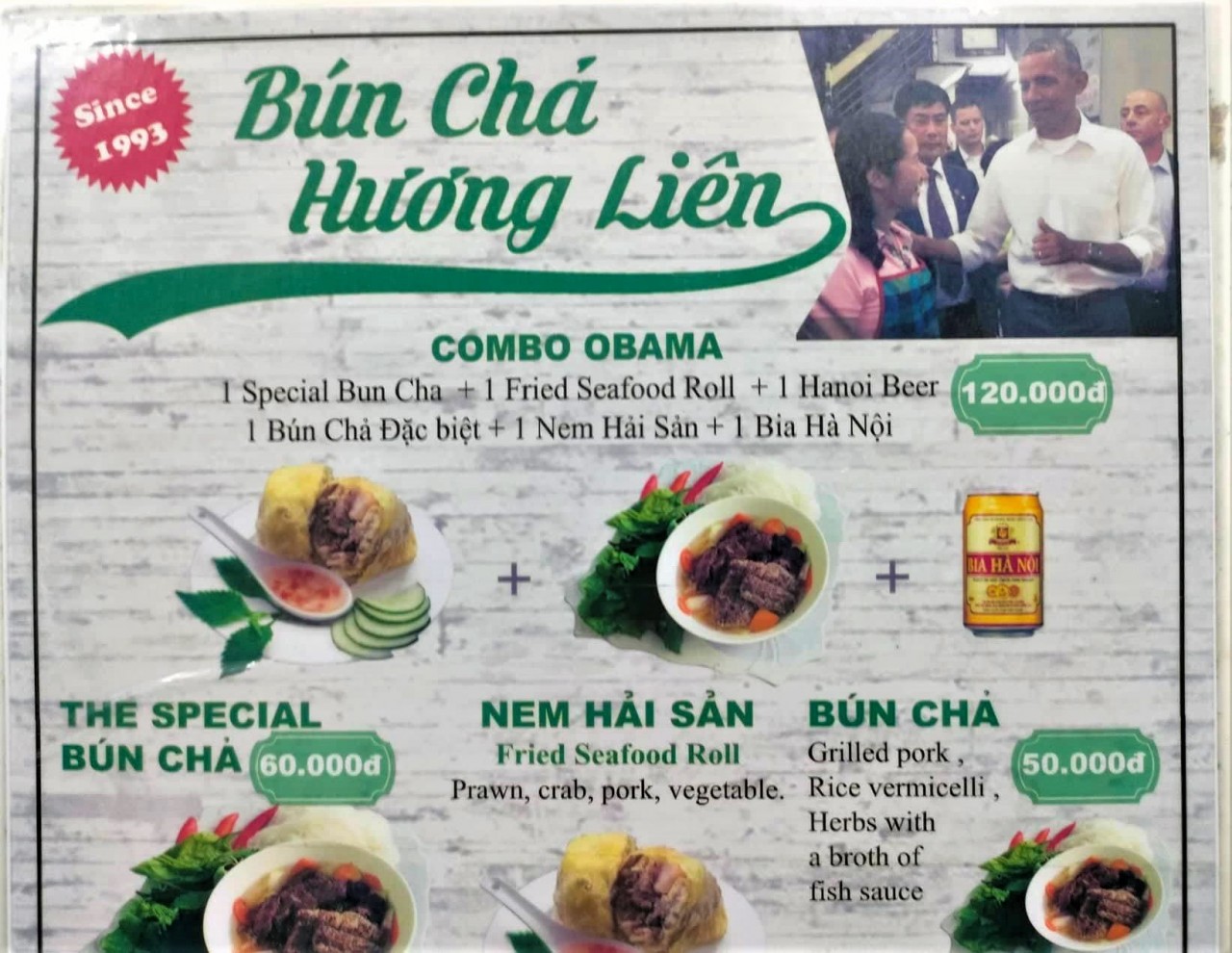 The Obama Combo - like a 'Murican! (Photo: Jason Law)
I ordered the 'The Obama Combo' for myself and the two friends who'd accompanied me in the hopes of re-enacting the now famous photo of Obama and Anthony Bourdain eating Bun Cha together – an image that was pasted onto every wall around us.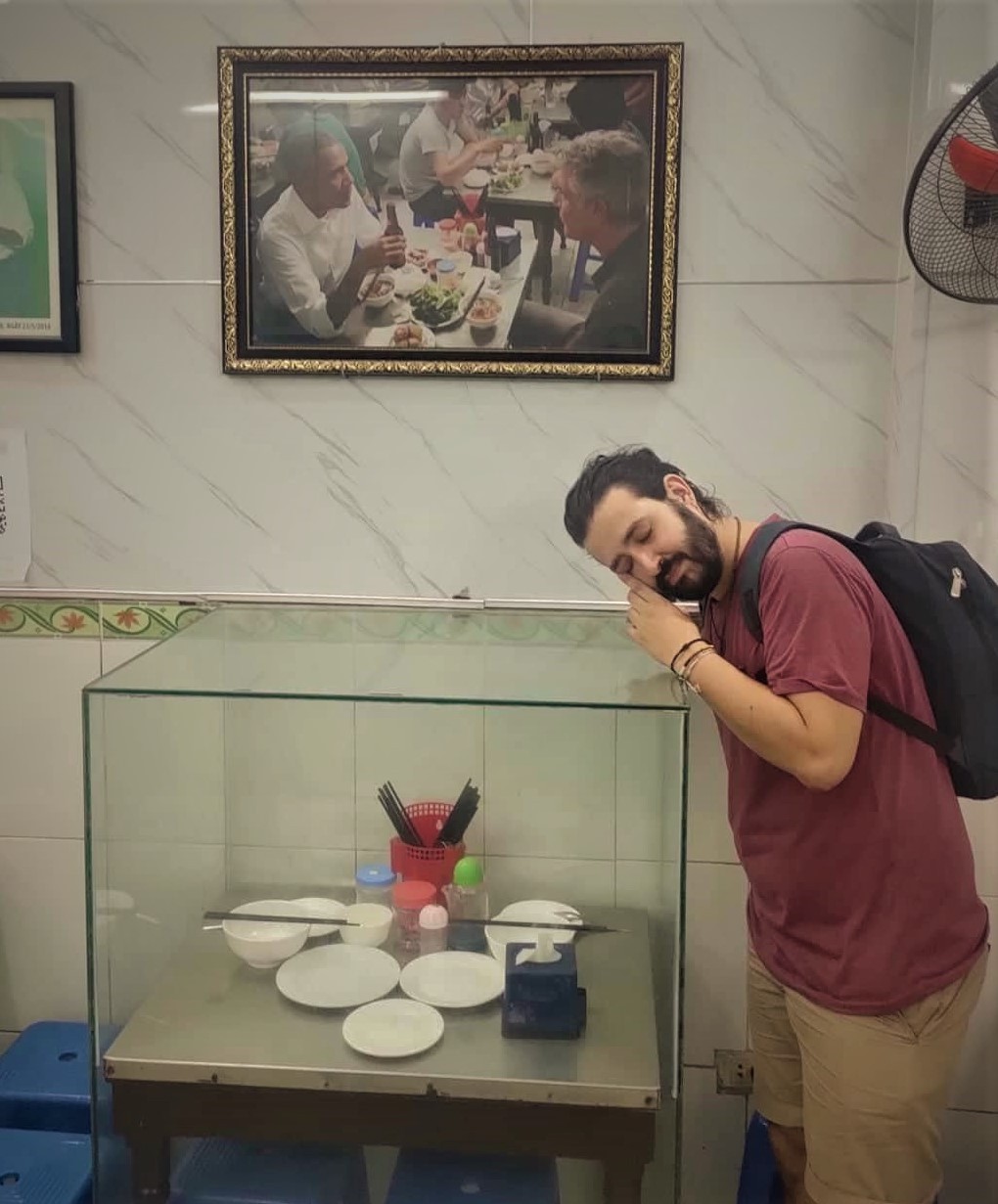 Feeling honored to stand next to this table. Thanks Obama! (Photo: Jason Law)
The multi-storied building felt like a shrine to the former US president and was densely packed with patrons. I didn't have high expectations foodwise – I'd been told that this restaurant was once a highly-esteemed source of Bun Cha but had since been changed by the fame that came with a US presidential visit.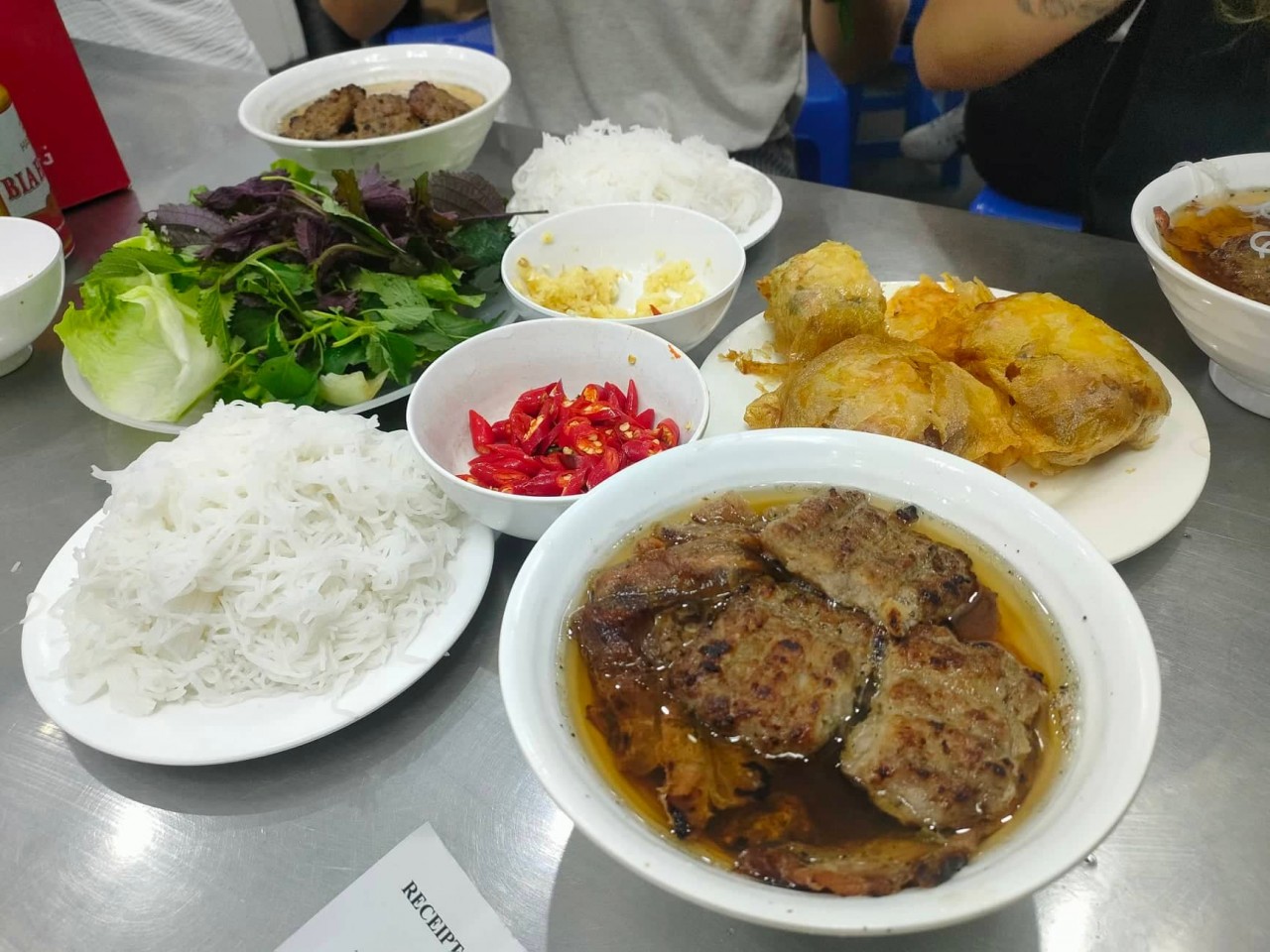 The massive portions of Bun Cha at Huong Lien (Photo: Jason Law)
Perhaps it was me setting the bar low that made the meal resonate with my tastebuds so well. The pork strips were long, tender and soft, the meat patties almost melted in my mouth, and both came in such big quantities I was 'forced' to finish my friends' leftovers. Even the fried seafood spring rolls were huge. I was definitely impressed. However, just because a restaurant was once visited by a VIP, doesn't make it number one. I'd loved the food, but I was sure I could find better.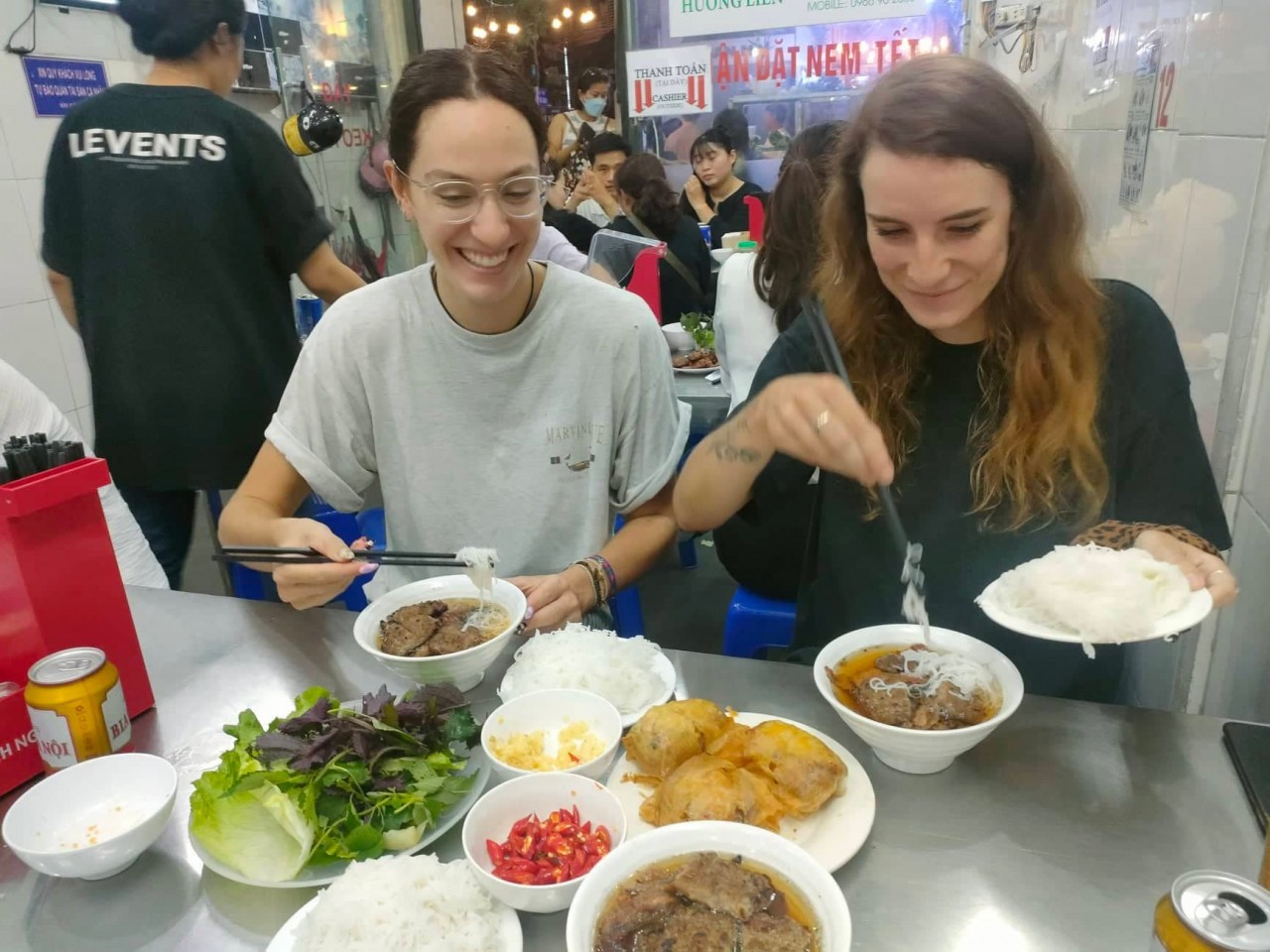 Oceane and Elsa digging in at the packed tourist locale (Photo: Jason Law)
I considered asking my friends for ideas, but if I was to try out every recommendation I got, I'd end up eating thousands of Bun Chas - not that there's anything remotely unappealing about that prospect. I had to narrow down my search, so who better to ask than the Hanoi community?
Fortunately, the Facebook group 'Hanoi Foodies' is an excellent online source for restaurant recommendations. I created a poll asking where the best Bun Cha could be found. Within a few hours, the foodies had come to my aid and after a ton of answers and a whopping 83 votes, I had a decent compilation of places to try out.
Bun Cha 41 Cua Dong
Bonding over food (Photo: Ollie Le Lguyen)
The second most voted item on the list was a small, modest restaurant in Hanoi's Old Quarter, with only outdoor seating available, giving it a real street-food feeling. The chef at 41 directed me to sit at number 35, where I was offered Bun Cha immediately. The host looked baffled as I politely refused and asked for just a beer while I waited until fellow VNT writer and friend Ollie Le Nguyen arrived with a new acquaintance, and then it was only a two-minute wait until we had three delicious Bun Cha dishes placed in front of us.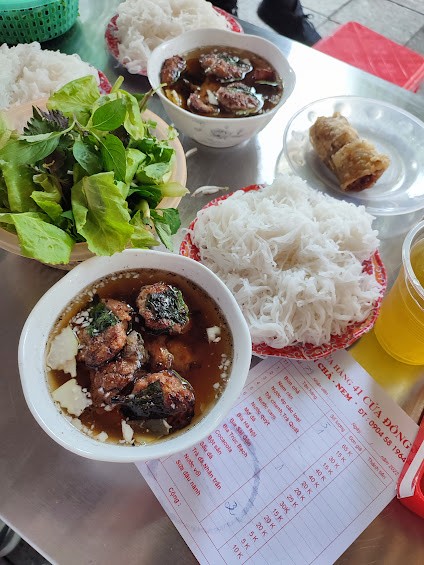 Hanoi Foodies' second favourite dish (Photo: Ollie Le Lguyen)
Ollie explained to me that Bun Cha is typically a lunchtime dish, so I was lucky to have found a place that was open at the late hour of 5 pm. She talked me through the fresh vegetables we'd been served, and I realized just how little I had known about the Hanoian dish.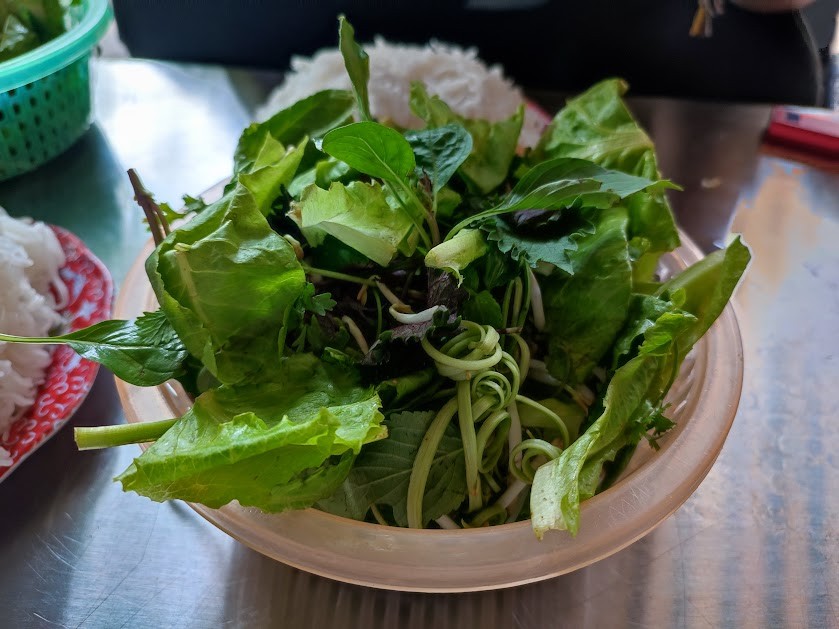 Fresh vegetables with morning glory stems (Photo: Ollie Le Nguyen)
The little green balls of thin-looking vines that I'd thought were spiralized spring onions (which aren't even a thing), turned out to be the stems of morning glory. The leaves that I'd thought were mint for the past two years? That's actually Thai basil. She told me that directly translated, the meat strips and patties were called pork balls and pork pieces, which definitely weren't appealing enough names for the glorious meat that lay before me.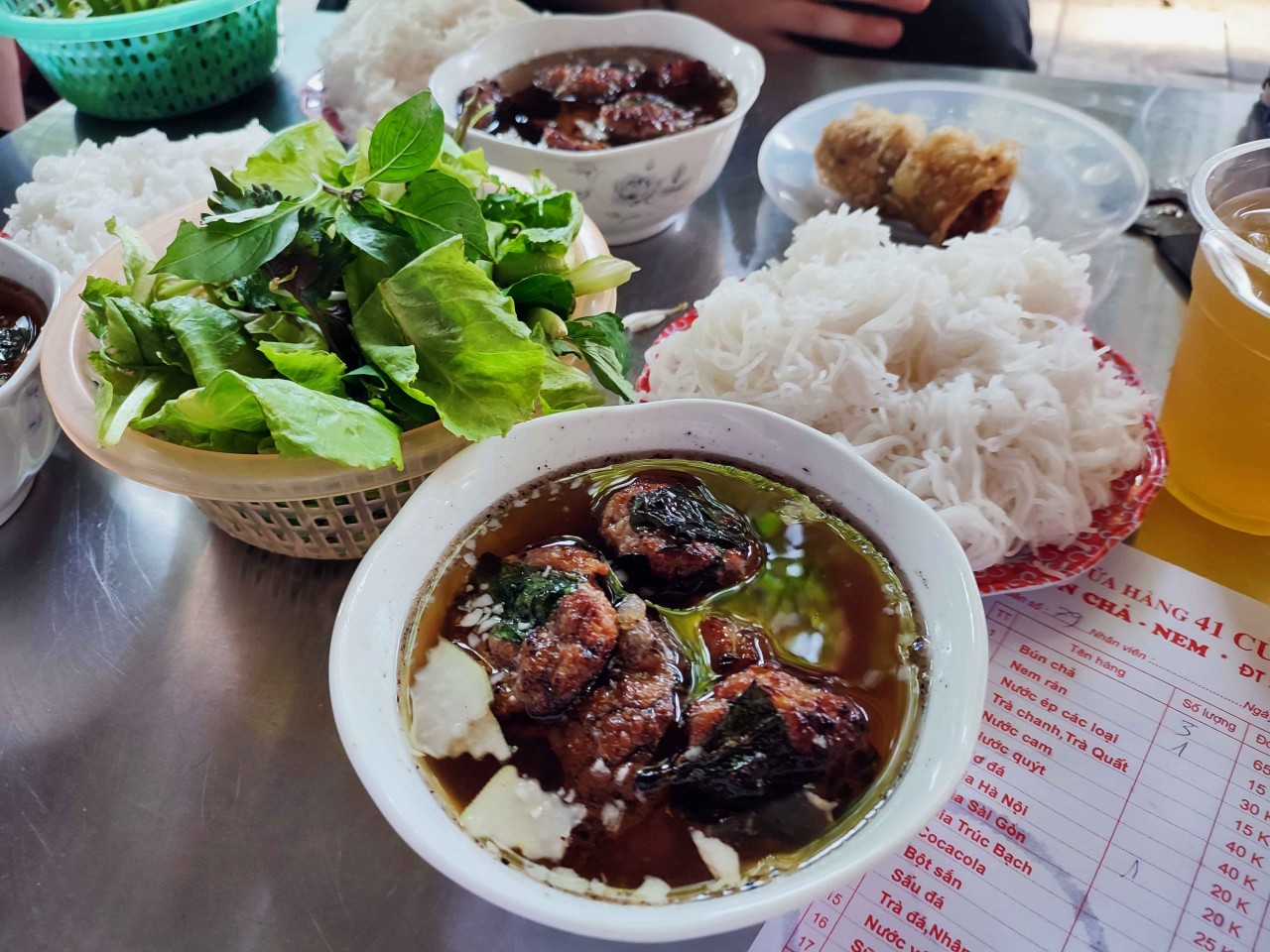 Mouth-wateringly good food (Photo: Ollie Le Nguyen)
The patties were tender and the strips had a frankfurter-like flavor to them, but it was the sauce that really struck me. It had a tangy sweetness to it that I hadn't tasted before, which rounded off the dish nicely and the side of extra crispy shrimp rolls was an unnecessary but much-appreciated indulgence. I left with a full belly, a slightly better understanding of Bun Cha, and a stronger bond with two Vietnamese friends.
74 Hang Quat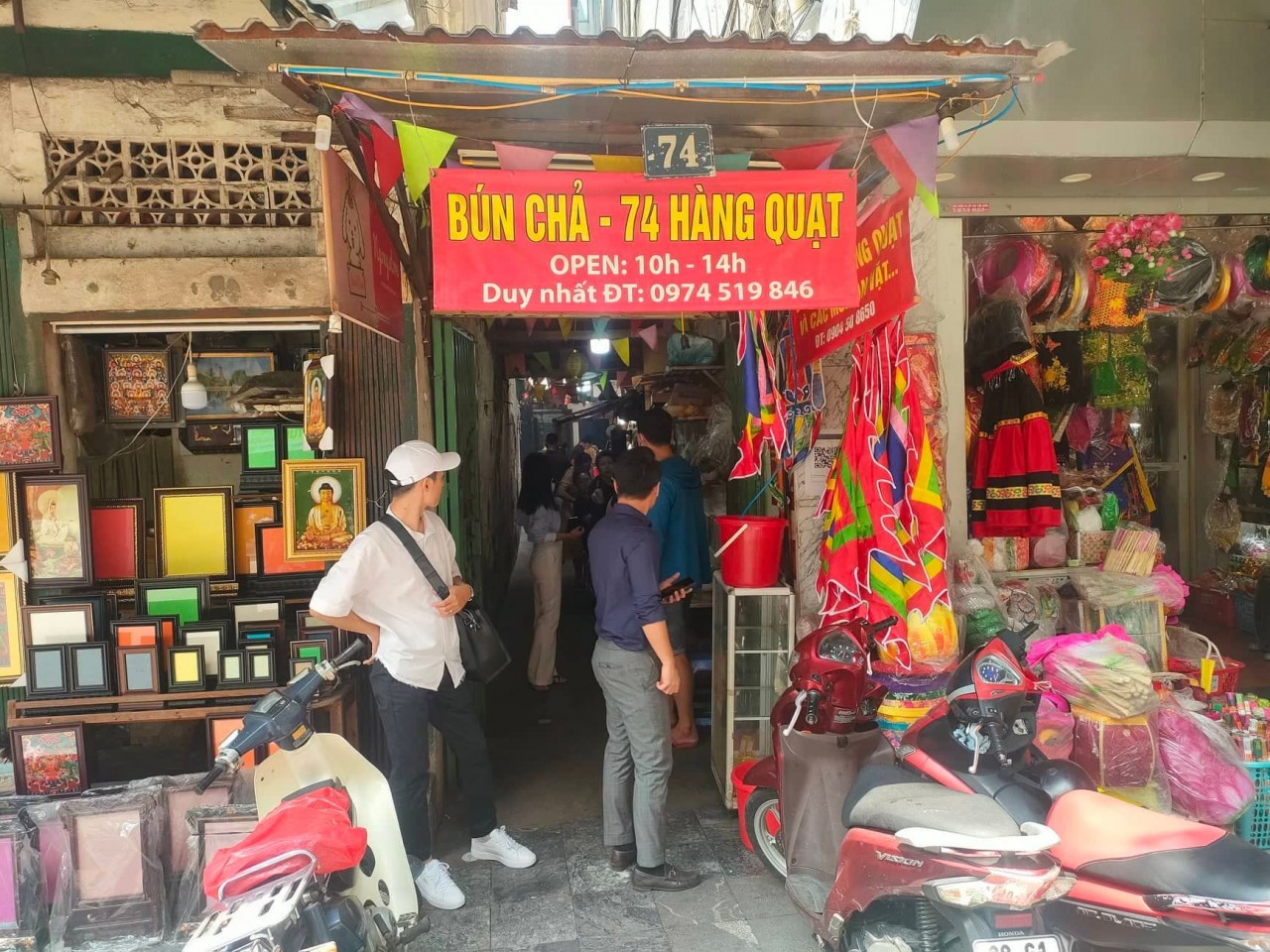 The hard-to-spot entrance to the alleyway (Photo: Jason Law)
Next, I headed for this cozy and vibrant spot that the community had designated number one. As soon as I arrived, I could see the appeal - located in a tight alleyway that barely looked like a restaurant from outside, the place was a bustling lunchtime destination adorned with colorful decorations and filled to the brim with people.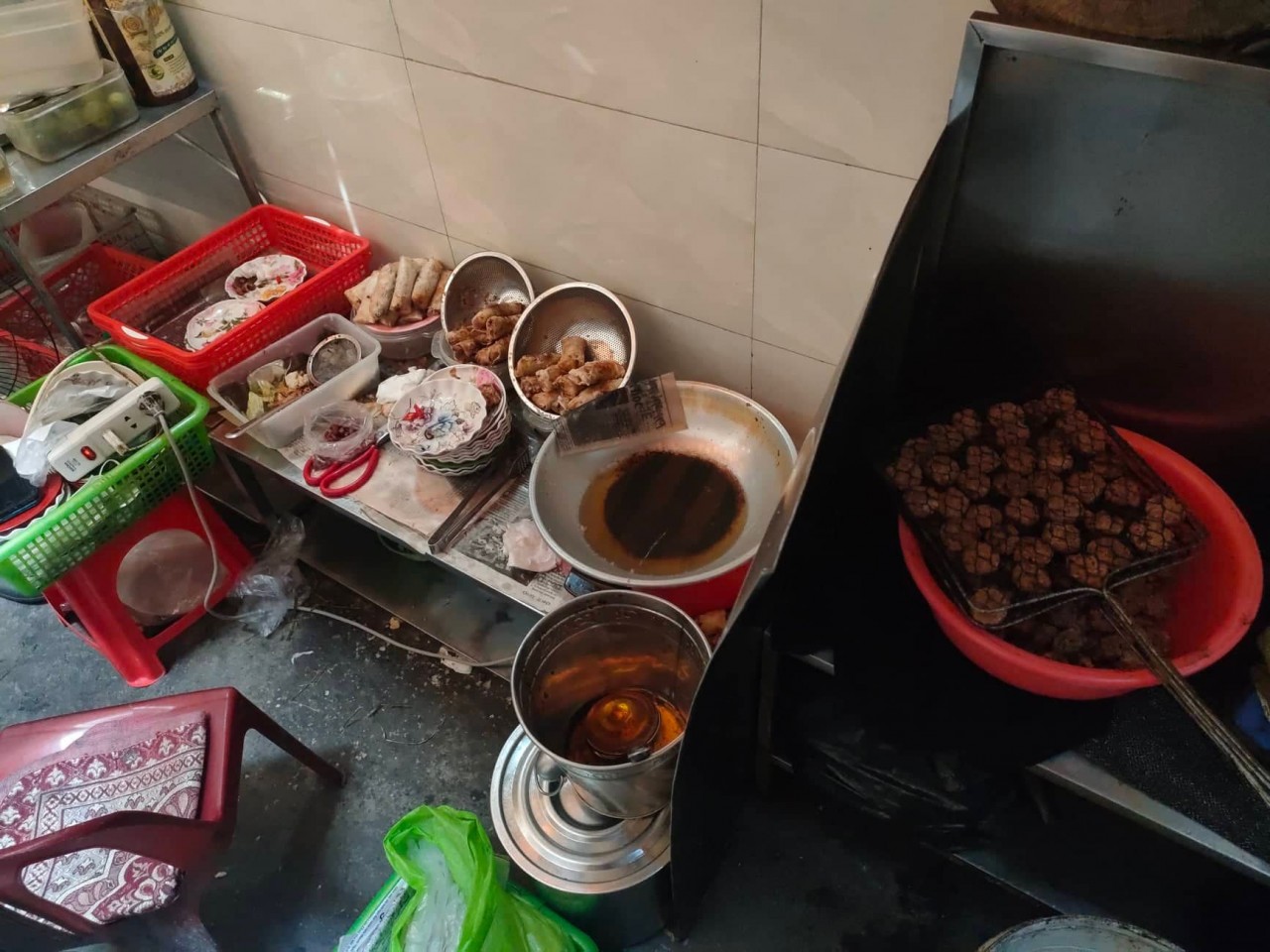 Outdoor cooking in the alley (Photo: Jason Law)
I wandered through the alleyway entrance and past the staff as they cooked meat patties on open grills. My mouth was watering already as I sat down with friends and work colleagues from The Vietnam Times, Zoey and Hang, at the last available table in the packed backstreet.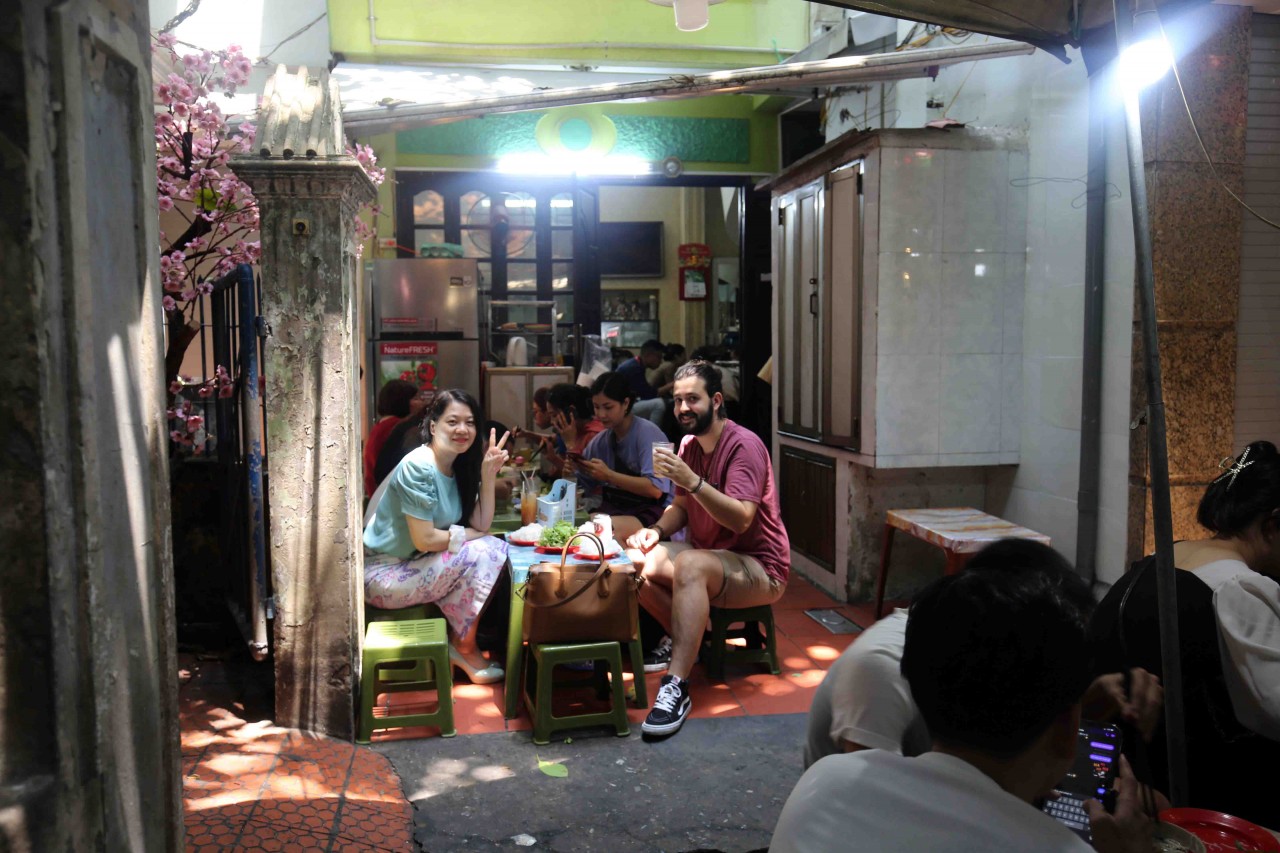 Packed with character (Photo: Zoey Nguyen)
As usual, the food was served and ready to eat almost instantly. The pork patties and strips were flame-grilled to the point of being black on the edges, which gave them a crunchy texture that rivaled anywhere I'd been so far. The noodles were plentiful and the fresh vegetables and herbs were the standard, except for the addition of what Hang said were Oregano leaves.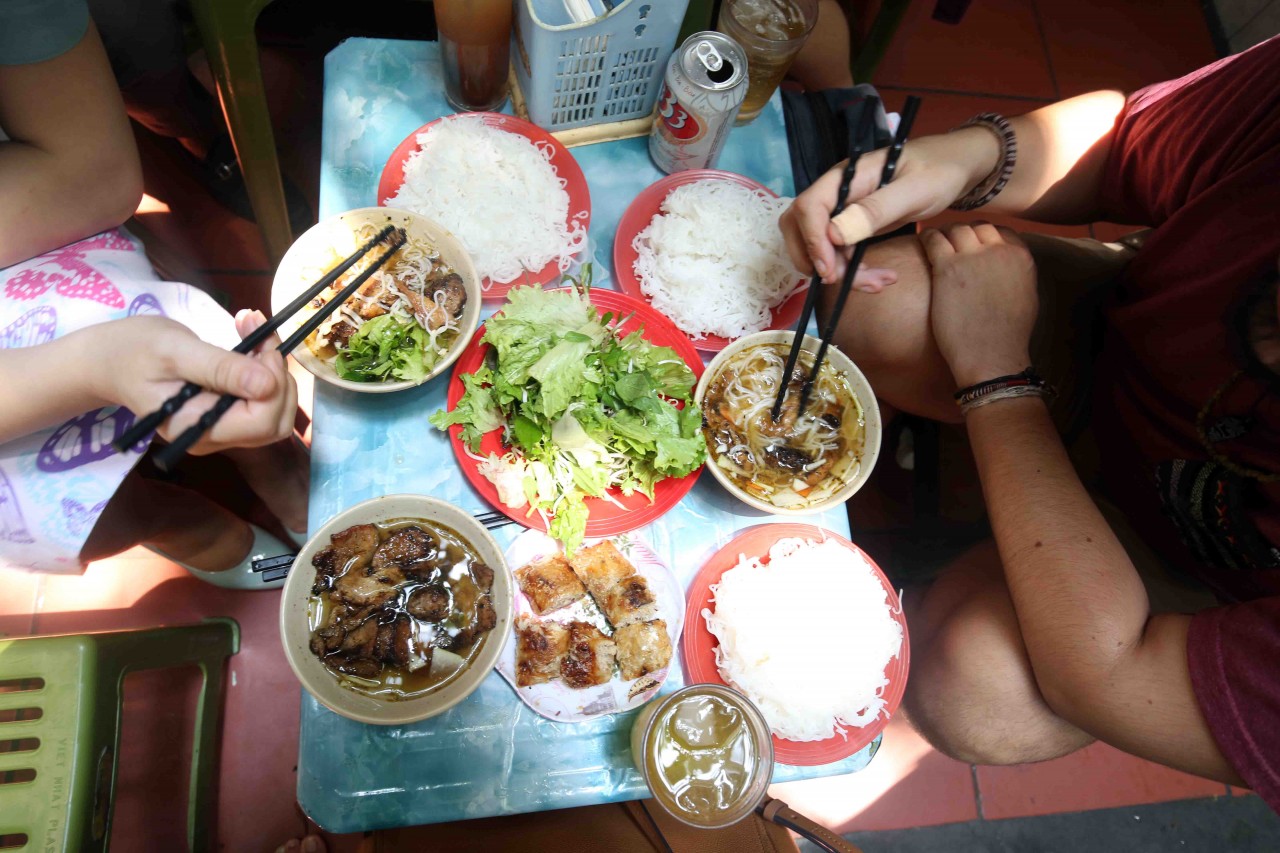 Dining in style (Photo: Zoey Nguyen)
Zoey warned me about the dangers of consuming too much Bun Cha; "It is typically considered an unhealthy dish due to the amount of meat, but the vegetables are there to offset the greasiness."
This whole time I'd been thinking of this Bun Cha hunt as a healthy diet, but now I was filled with an unexpected awareness of my waistline.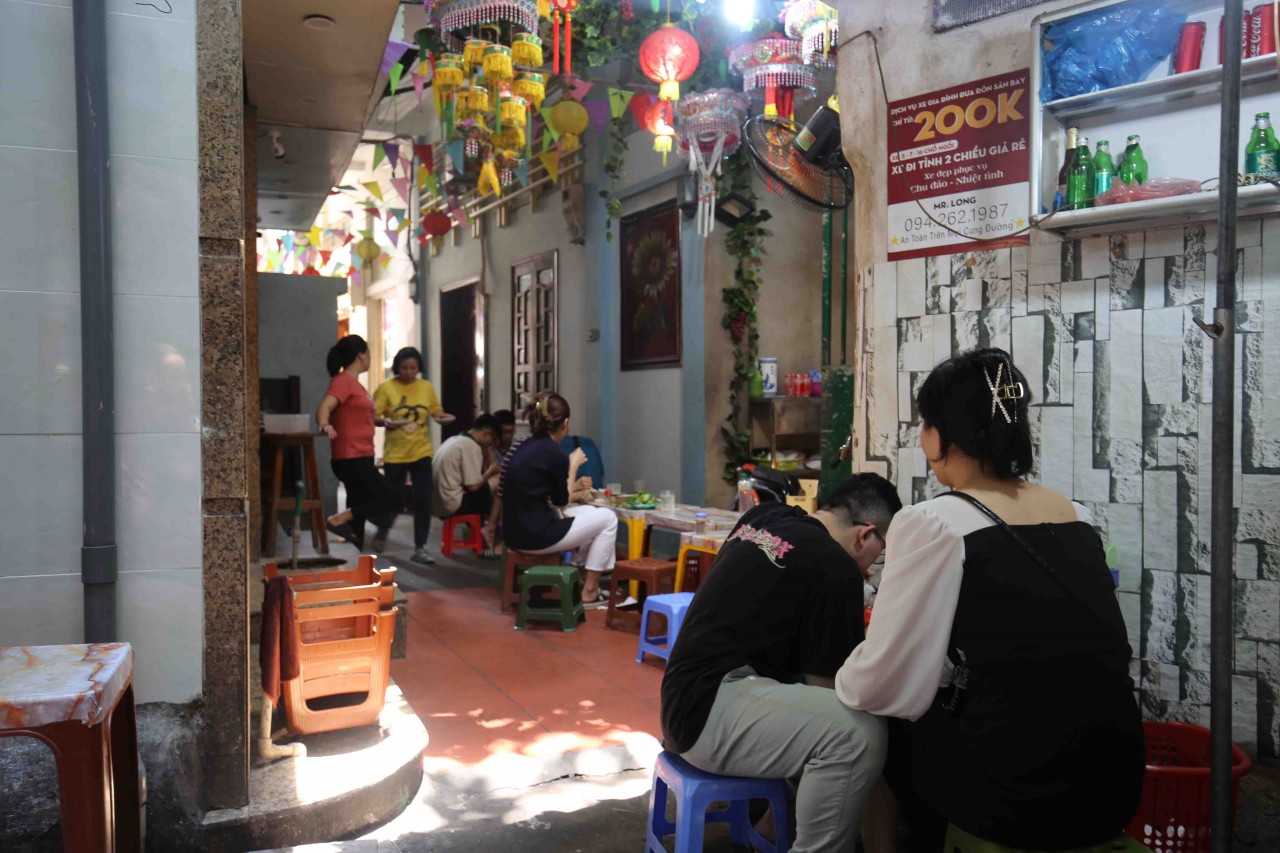 The lively alleyway (Photo: Zoey Nguyen)
Overall, the meal was fantastic but what really stood out was the atmosphere. I felt like a young newcomer to Vietnam seeing the city with fresh and optimistic eyes, as I gazed around in wonder at the filled tables, the French villa walls that encircled us, and the vines and leaves that hung down them. As my belly became full and bloated, however, I was reminded of my actual age but made a strong mental note to recommend this spot to any first-time visitors to Vietnam.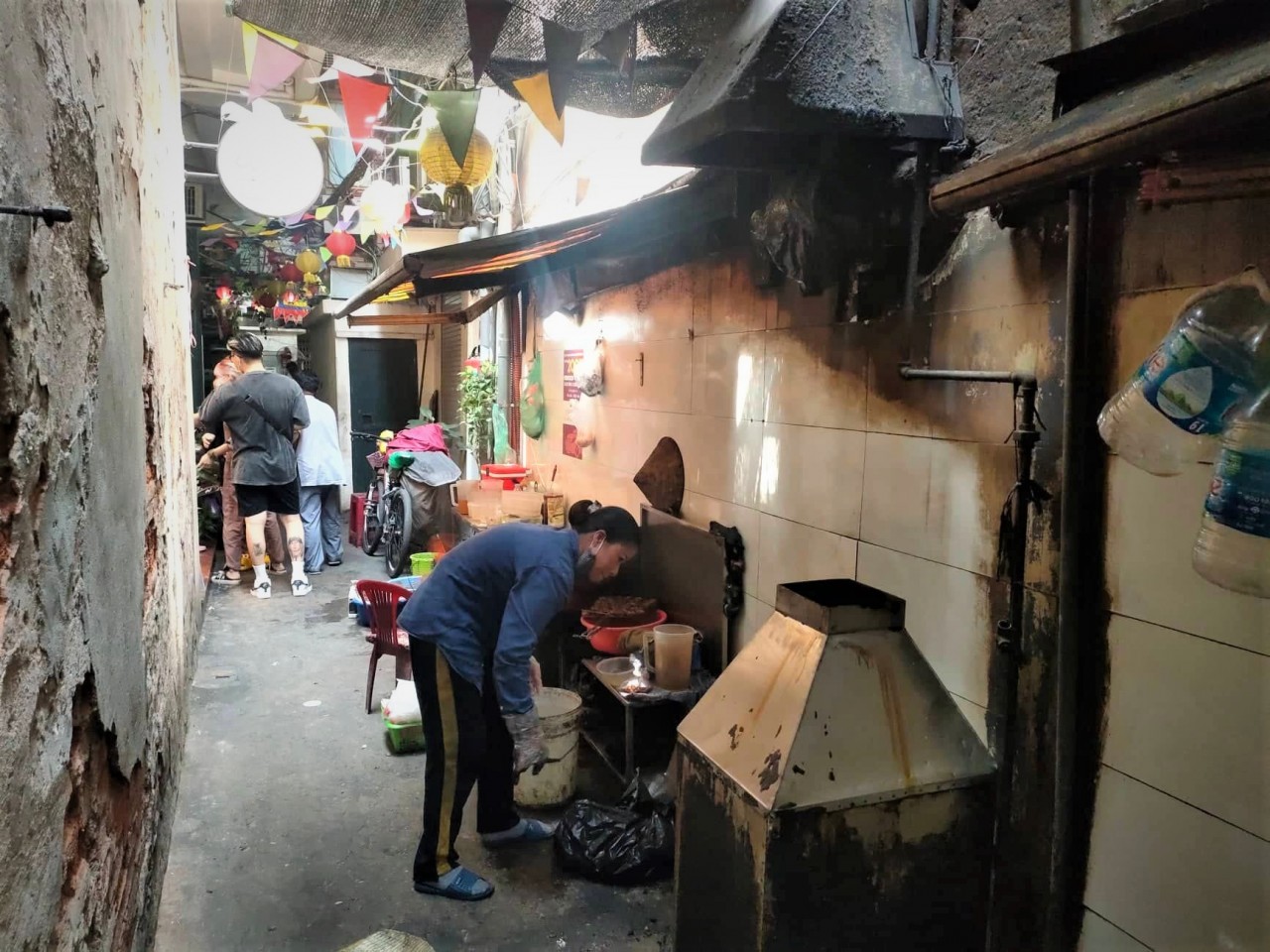 Hard at work (Photo: Jason Law)
I was unsure of where to go next after visiting the community's favorite spots. It occurred to me, however, that the opinions of experts might overrule those of your everyday foodies.
I contacted Ellie Sander, a close friend and focus of April's 'Expat Spotlight' to ask for a liaison with one of her many connections. To little surprise, she had a plethora of contacts with culinary prowess who could guide me towards the ultimate Bun Cha.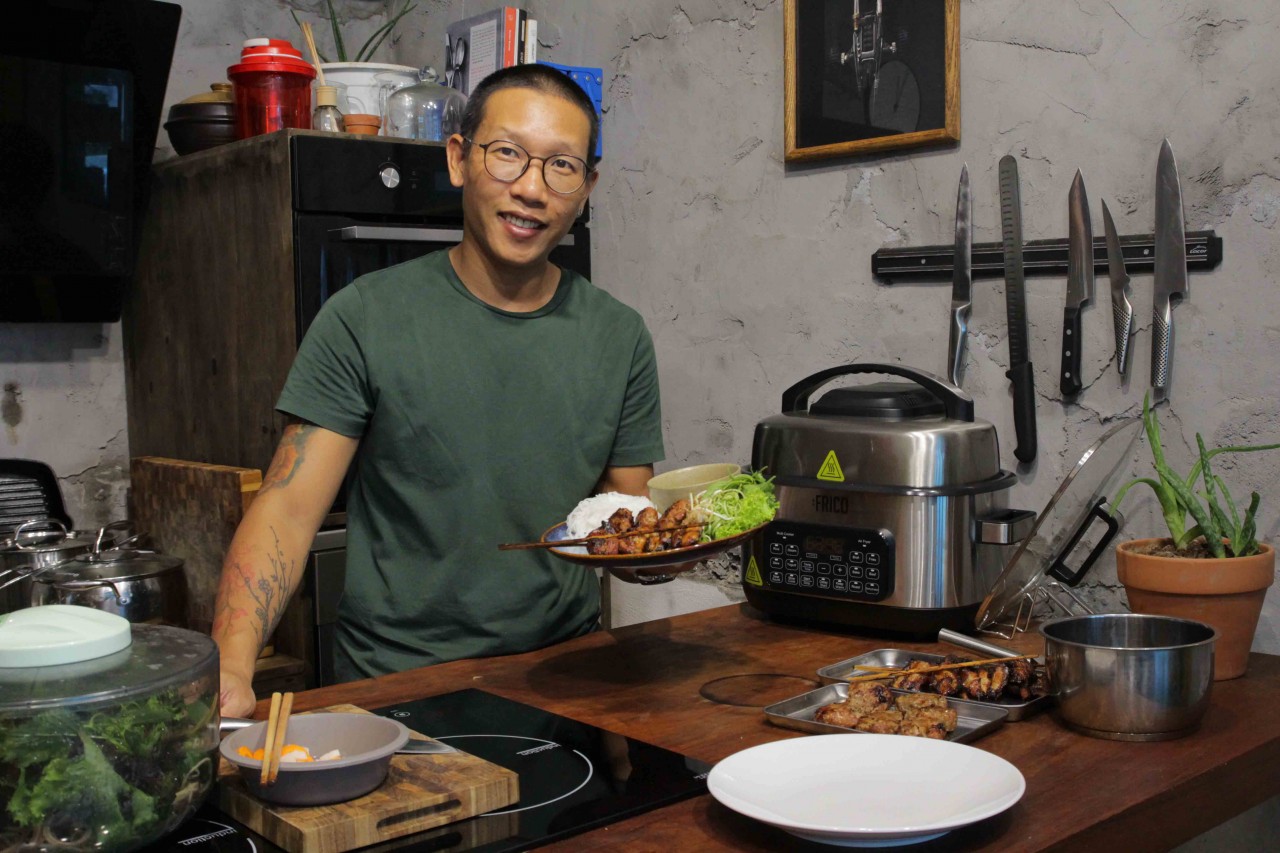 Chef hungazit in his home kitchen (Photo: Hungazit)
The first point of contact was Vietnamese celebrity chef Hungazit, a highly qualified food expert and President of the Hanoi Chef Association, with multiple TV appearances and popular, self-penned cook-books under his belt.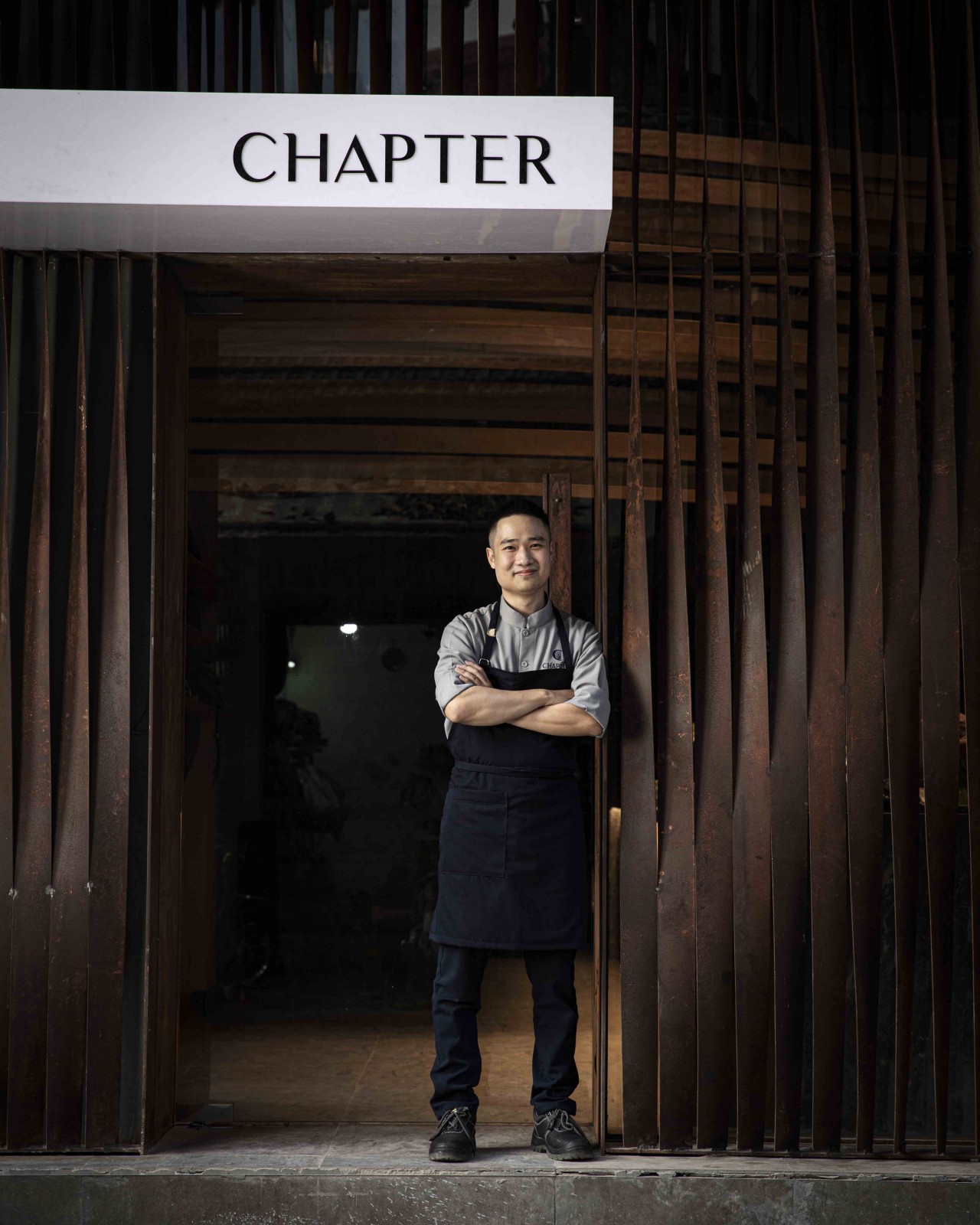 Chef Quang Dung in front of his restaurant (Photo: Quang Dung)
My second connection was with Quang Dung, the head chef and owner of Chapters Dining & Grill, and co-founder of T.U.N.G Dining which is listed in Asia's 100 Best Restaurants of 2021.
I felt like I'd suddenly been thrust into the upper echelons of culinary society, drinking from the overflowing cup of the expertise of master chefs, inching closer to becoming a 'Bun Cha Connoisseur' with each sip.
Chef Hungazit's Recommendation – 102 Thuy Khue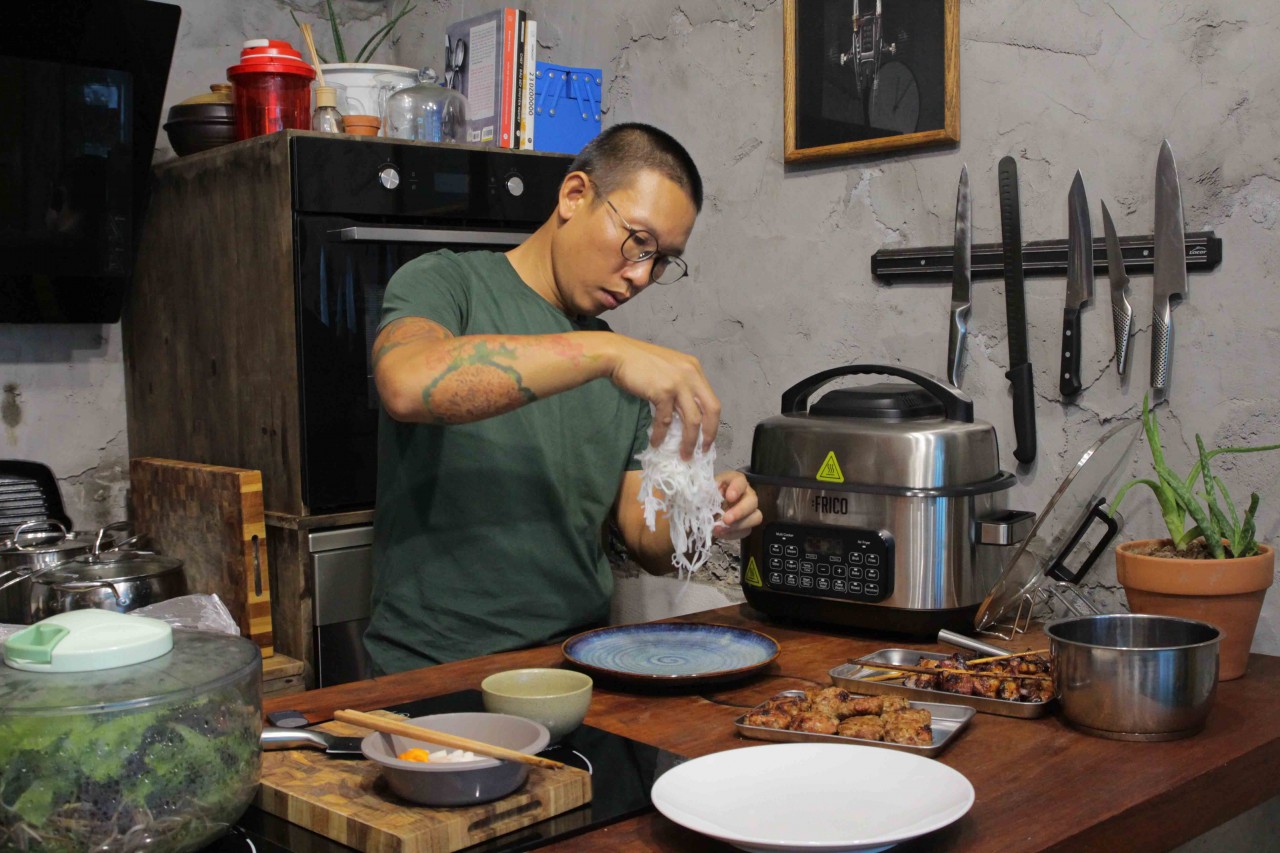 Chef Hungazit carefully preparing Bun Cha with his own special touch (Photo: Chef Hungazit)
Chef Hungazit generously offered to take the time to cook his own recipe and send me photos along with his personal opinion on what makes the perfect Bun Cha. Sadly, I didn't get to try his creation but the food looked impeccable, his insight was invaluable and he showed an in-depth appreciation of the dish that I wouldn't have previously imagined.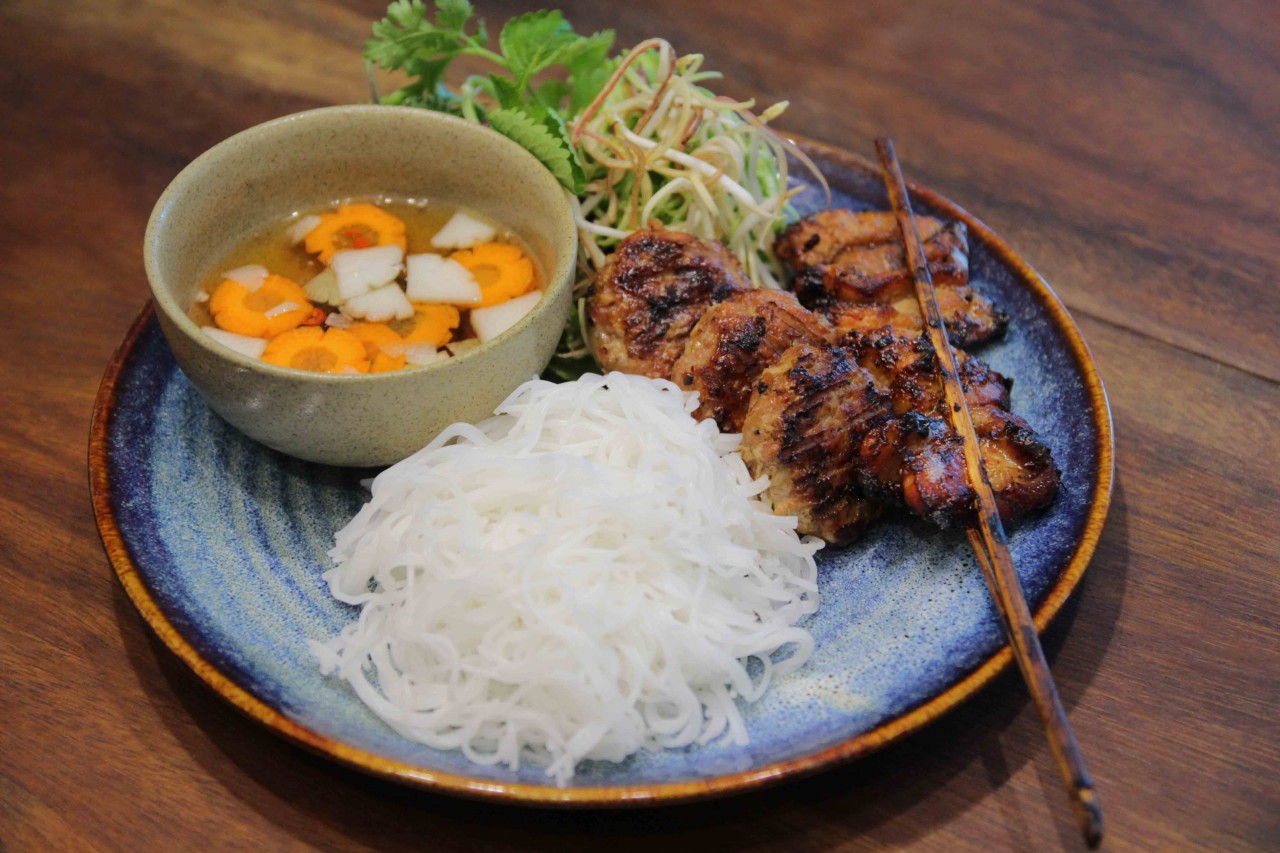 The finished masterpiece (Photo: Chef Hungazit)
"Bun Cha Ha Noi, is how people refer to an inexpensive dish, a friend of all walks of life, and one of the brightest stars of Vietnamese cuisine. Hardly any places make better Bun Cha than Hanoi. The dish cannot express its potential when brought into a luxury restaurant or hotel, because it belongs to the street where it was born to serve ordinary people" he said. He told me that the real joy of a Bun Cha is ordering it with a cold beer in a hidden alleyway on a hot summer afternoon, and that finding a 'perfect' Bun Cha was completely dependent on myself as an individual, on my emotions, childhood memories, and where I eat it.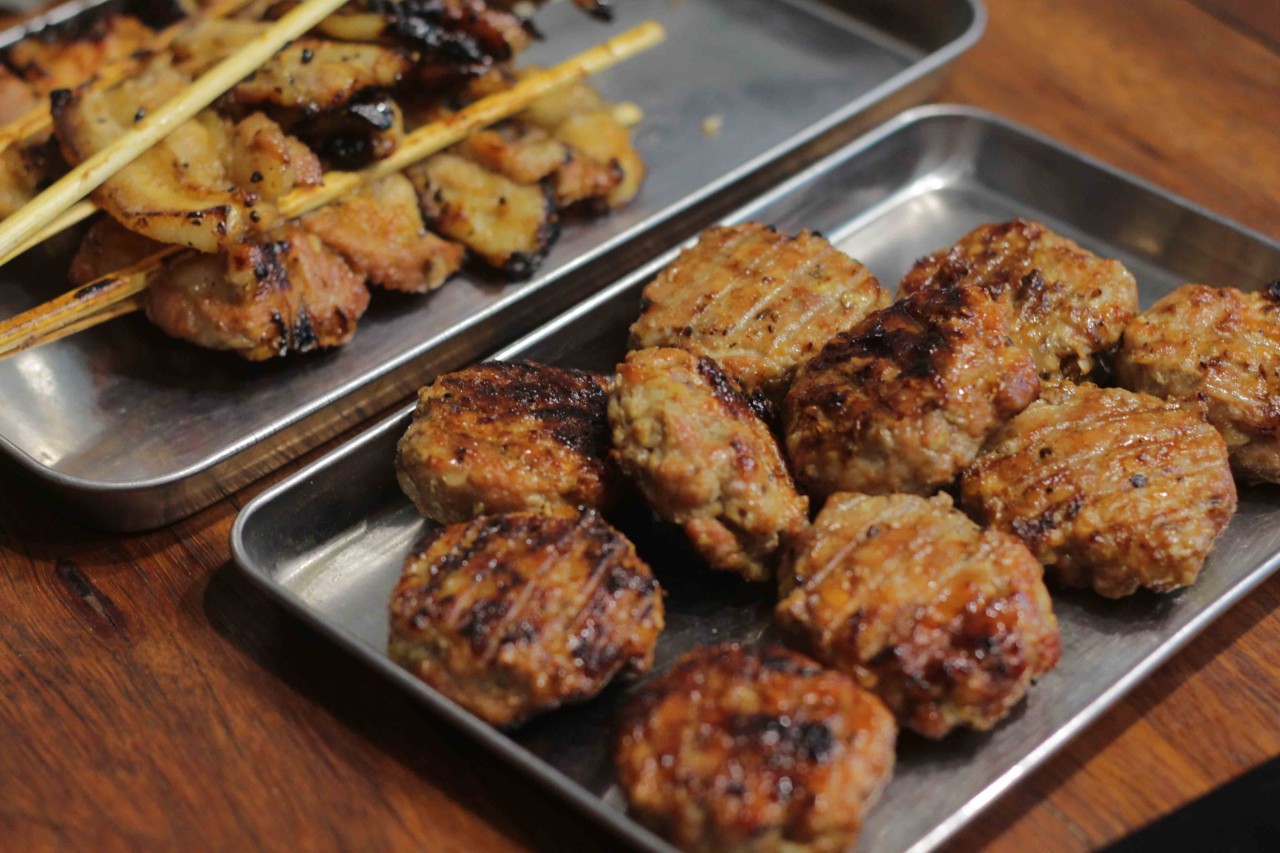 Hungazit's homemade pork patties and strips (Photo: Hungazit)
Be that as it may, he still offered his own criteria for assessing a Bun Cha, and in keeping with the personal nature of the dish, told me that his favorite is the one he cooks himself. He explained in great detail how he rates a Bun Cha, saying "Cha (grilled meat balls and slices) should never be soaked in the dipping sauce and are best served on the side, otherwise they lose their crispiness and aroma. The dipping sauce is a harmony of taste and ingredients that only chefs with years of experience can master. Pickles add a more balanced taste, which is mildly sour and sweet. Before being put into the dipping sauce, vegetables must be salted, and soaked in vinegar and sugar to infuse the spices, to become crispy and savoury. Side fresh vegetables and herbs are no less important. They are indispensable. They bring the dish to its fullness."
Best served on the side, for dipping (Photo: Chef Hungazit)
It occurred to me that having this information would probably have benefited me more at the beginning of my search, but Hungazit had also said "When you are about to give any place a score, you may suddenly catch sight of not-so-good things. Your emotion at different moments affects your decision and assessment, but the taste also depends on the chef's recipe and cooking technique." So perhaps it was a positive thing that I had experienced each place without an influenced judgment. He directed me to Bún Chả Nem Cua Bể 102 Thụy Khuê, saying "it isn't exceptional but it's my go-to place".
The humble front of Bun Cha 102 Thuy Khue (Photo: Jason Law)
The restaurant itself didn't stand out visually - I drove past it twice before realizing I was at the right place. I met Ellie at the front of the building where a man was flipping pork strips and patties over an open, barrel-styled grill. Inside were simple metal tables, plastic stools, and plain white walls with no noticeable decorations. The humble aesthetics seemed to be a mere front, however, as I discovered when our meals quickly arrived.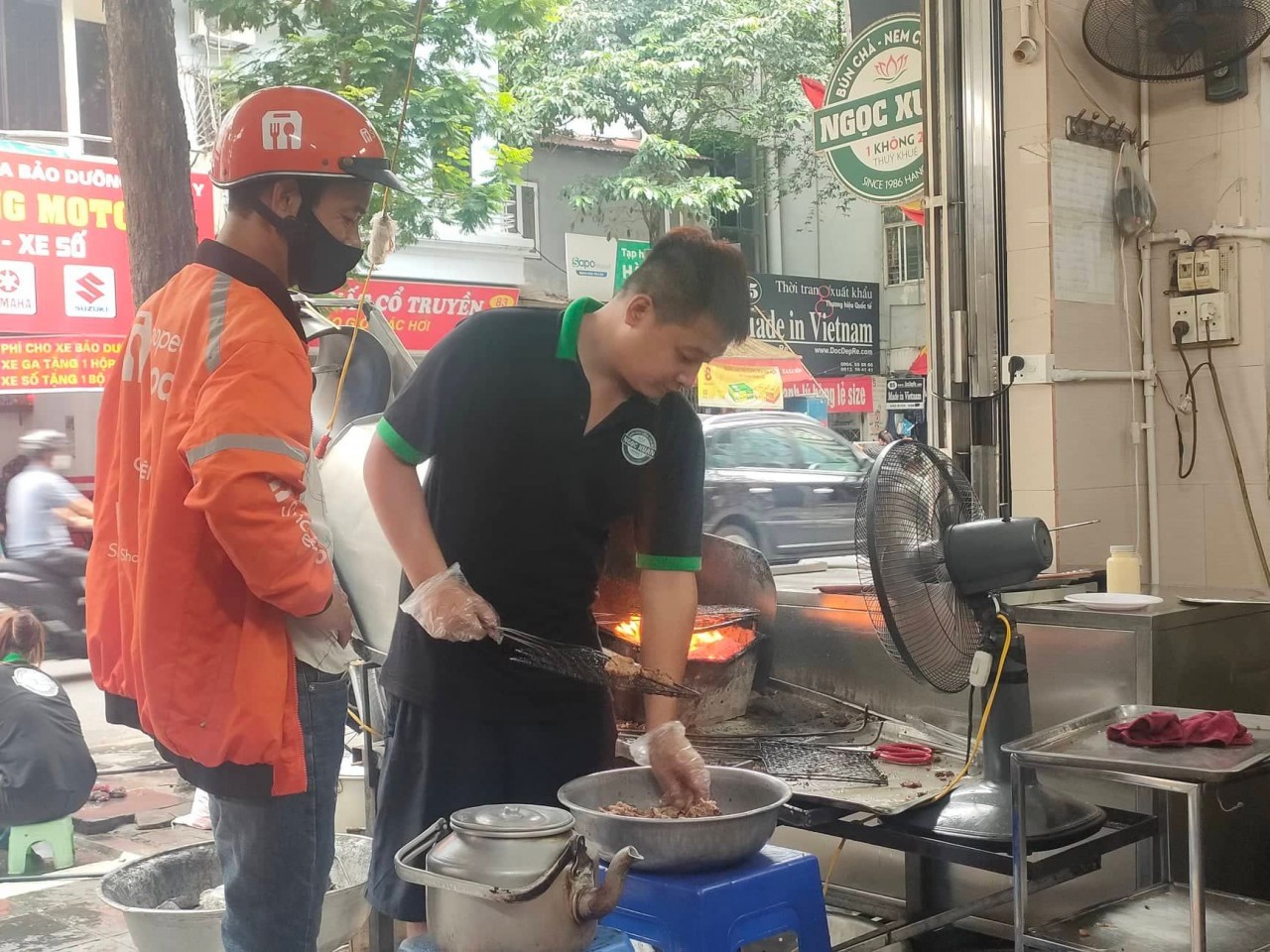 Hard at work (Photo: Jason Law)
The fresh vegetable selection was the usual except for the stems of morning glory, and they provided more noodles than I could ever need. After Hung had expressed that the meat is best served on the side, I was slightly disappointed when the meat arrived pre-soaked in the sauce. My mild disappointment disappeared quicker than the contents of my bowl, however.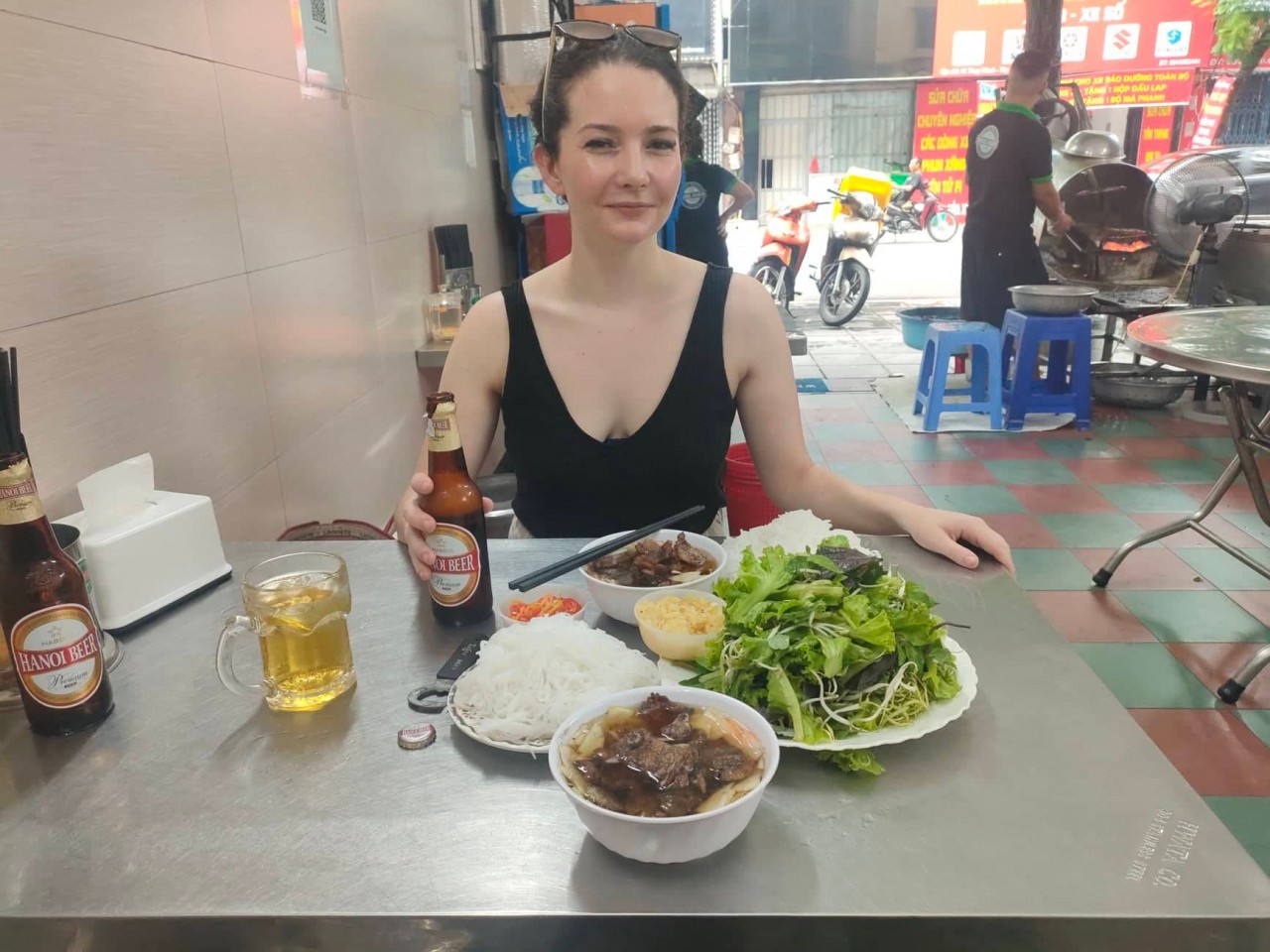 Ellie about to enjoy the recommendation of a masterchef (Photo: Jason Law)
I went straight for the meat patties with Hungazit's opinion in mind, and my teeth cut through the tender pork like a knife through sponge cake. They weren't crumbly or chewy - they were a perfect consistency. The pork strips weren't tough or fatty and provided the ideal crispiness to the dish. I devoured the meal in minutes but struggled to finish the rich portions.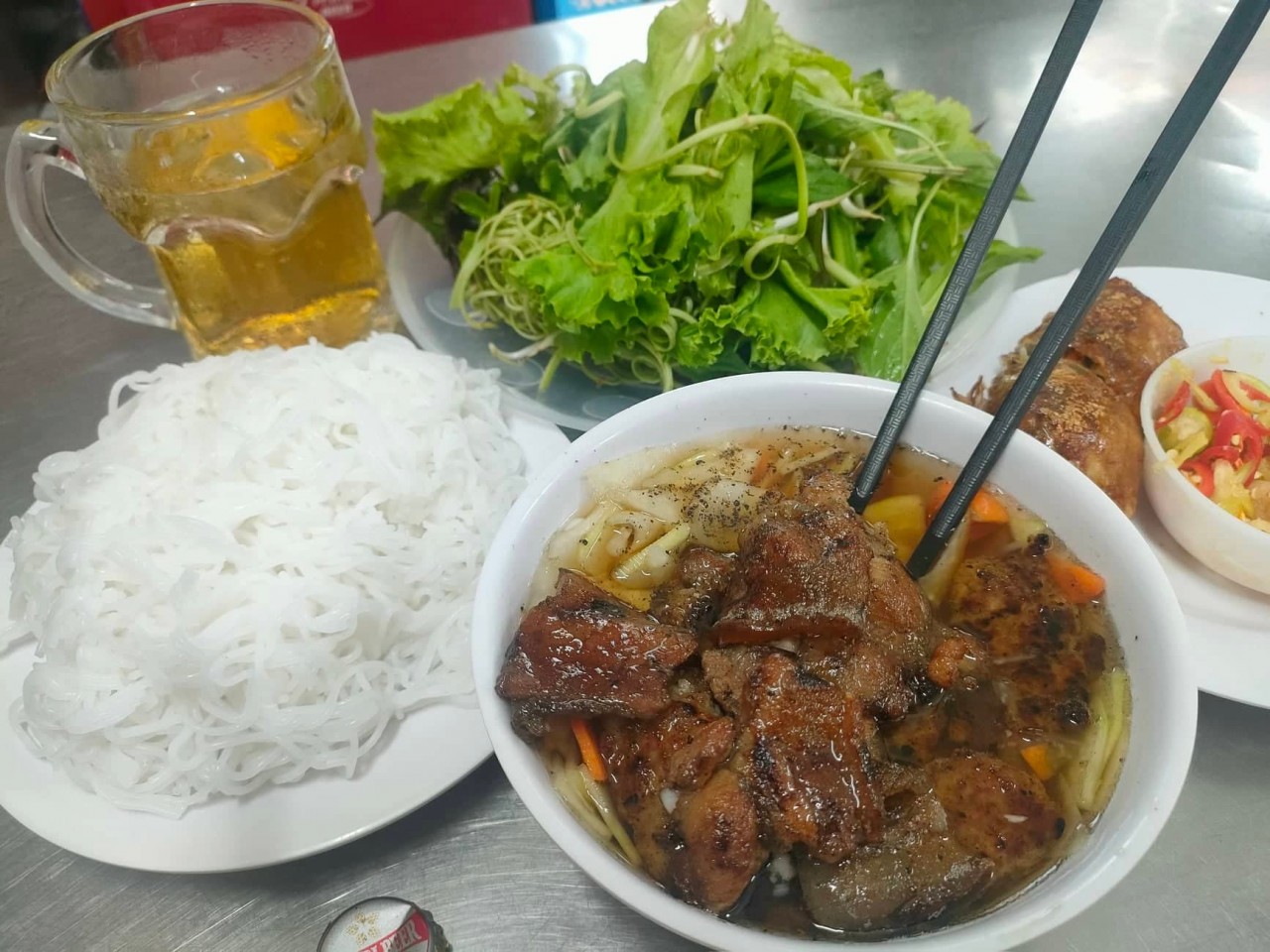 A work of art (Photo: Jason Law)
Out of the many places I'd tried, this one definitely had the best quality meat. I could see why Hungazit had recommended it and although I'm hardly qualified to disagree with an expert chef's opinion, I struggle to call this place "unexceptional"!
Chef Dung's Recommendation - Gam Cau street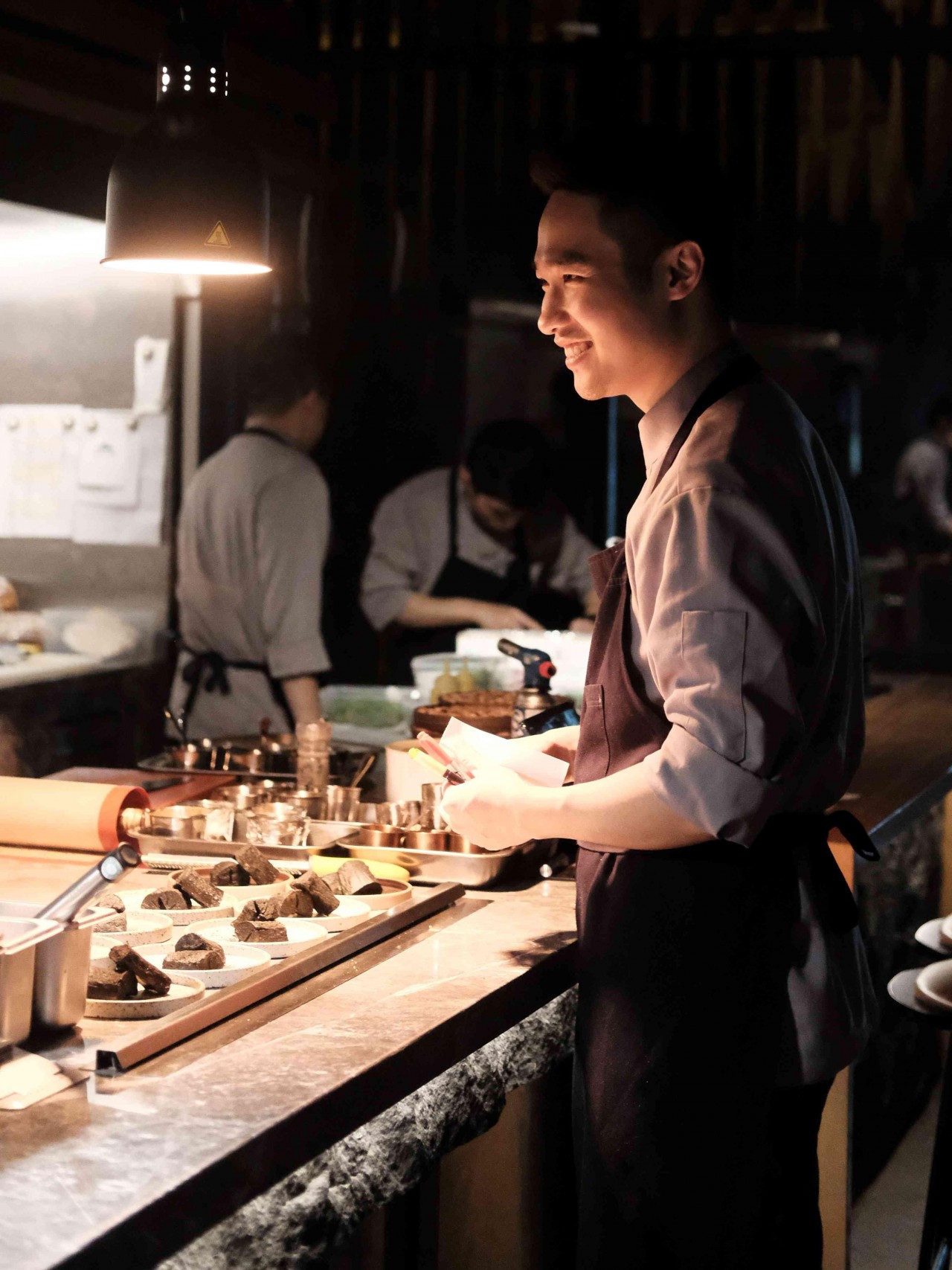 Dung enjoying his work (Photo: Quang Dung)
Dung also took the time to share his culinary knowledge with me, explaining that Bun Cha is an essential part of Vietnamese lunch culture – a meal served up quickly and in individual portions, as opposed to dinners, which are meant to be shared.
"Each shop magically creates their own version of the sauce stock using only fish sauce, vinegar and sugar - many people say this is the heart and soul of Bun Cha," said the talented chef. "However, what I appreciate most about the dish is the two types of perfectly grilled pork, the strips of pork belly and little hand-chopped meat-balls. The smell of the specially-marinated pork being grilled draws the whole salivating street into the Bun Cha shop. The aroma of the grilled meat is infused into the sauce when put together, and completes the whole dish. From a chef's point of view, the Vietnamese have created a gastronomic masterpiece".
Too cool for an address (Photo: Jason Law)
Dung's recommendation for a restaurant was so authentic and non-mainstream that it didn't even have an address; I only knew it was "located under the bridge on Gam Cau street". After repeatedly driving up and down the same small street, I eventually found an easily missed sign that said Bun Cha, attached to the Gam Cau Street sign. I initially thought the place no longer existed as I struggled to see any restaurant until an elderly lady approached me and pointed to a table. Beyond the sign and in the middle of a tiny street were some stools and a table next to a metallic food cart. It looked as though they had already closed for the day but they kindly sat me down and got to prepping.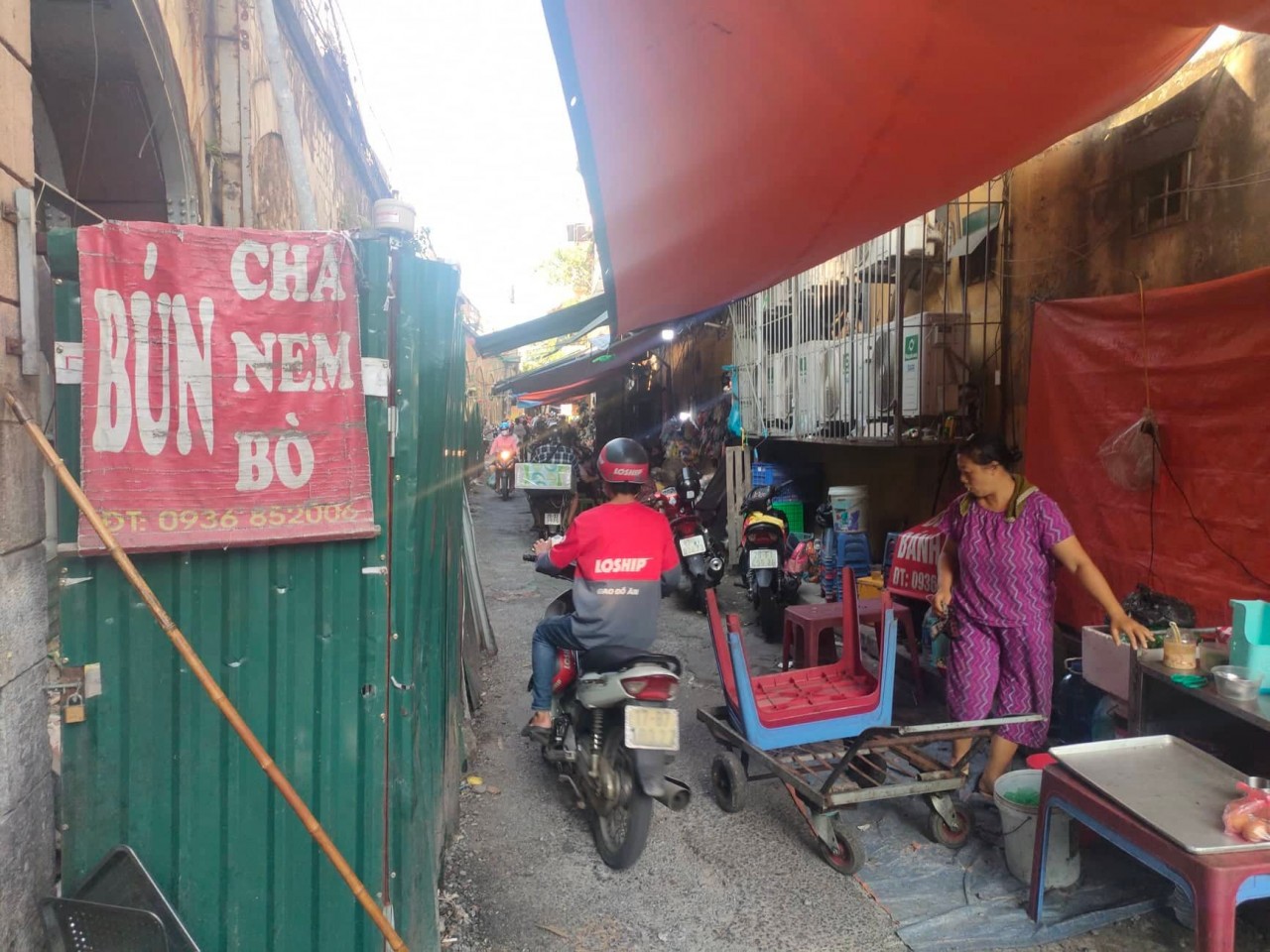 An underrated spot to enjoy a great dish and reflect on life (Photo: Jason Law)
I started to wonder if I was in the wrong place – this little street vendor was the recommendation of a top-100 restaurant owner. The elderly man and woman working there served me a plentiful portion of everything, smiling as they did. The vegetables and herbs were crisp and fresh, the sticky noodles were dense, the broth was the right mix between sweet, sour, and vinegary, the pork strips were crispy and the meat patties were tender and tasty, but I couldn't say it was the absolute best I'd ever had.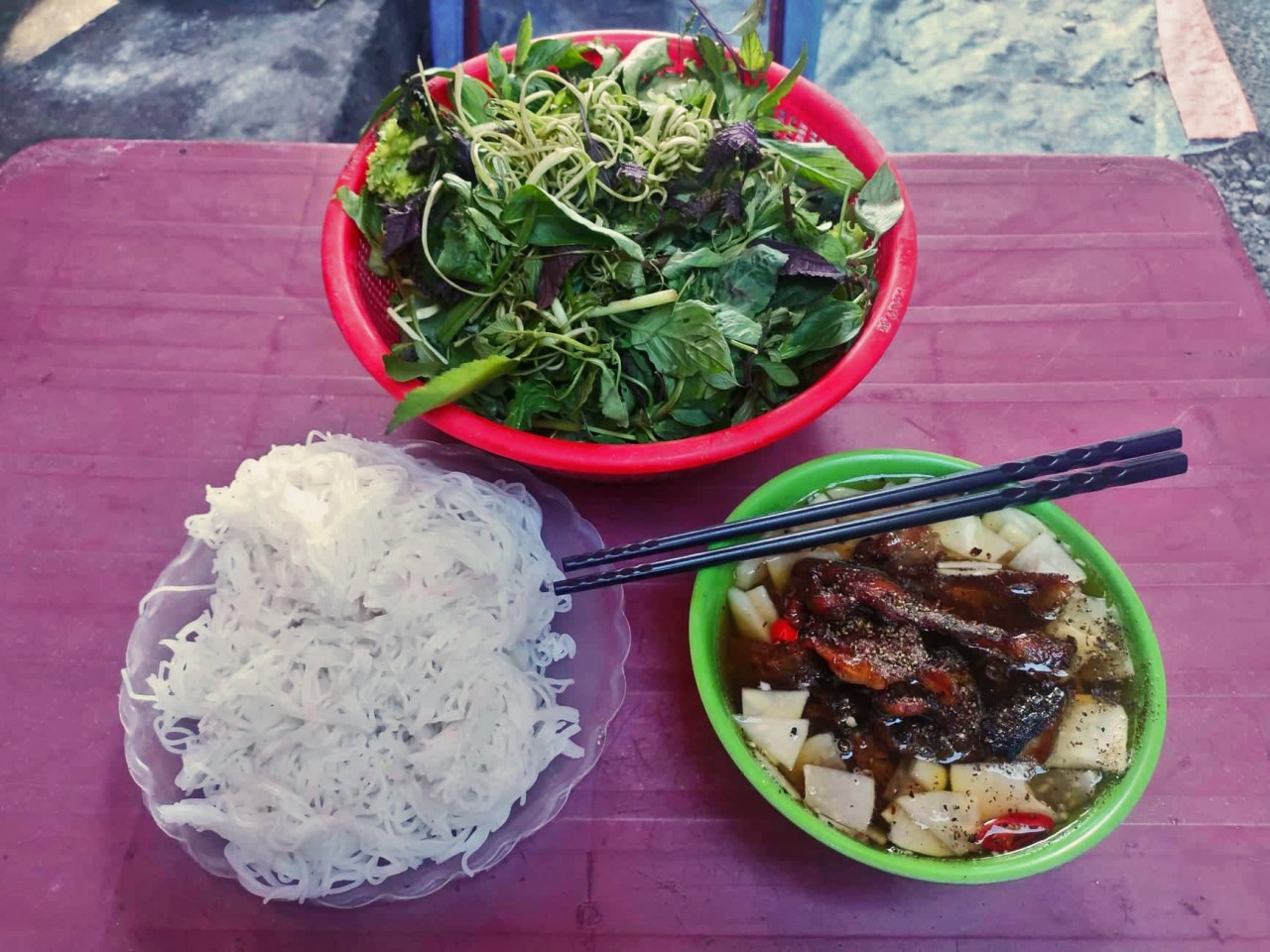 Unexpectedly awesome food (Photo: Jason Law)
I sat there pondering the meal on my own and watched the shop owners packing up their equipment, the people on the streets walking by, and the motorbikes weaving past as the sun shone down on me from above the overhead bridge when I had an epiphany.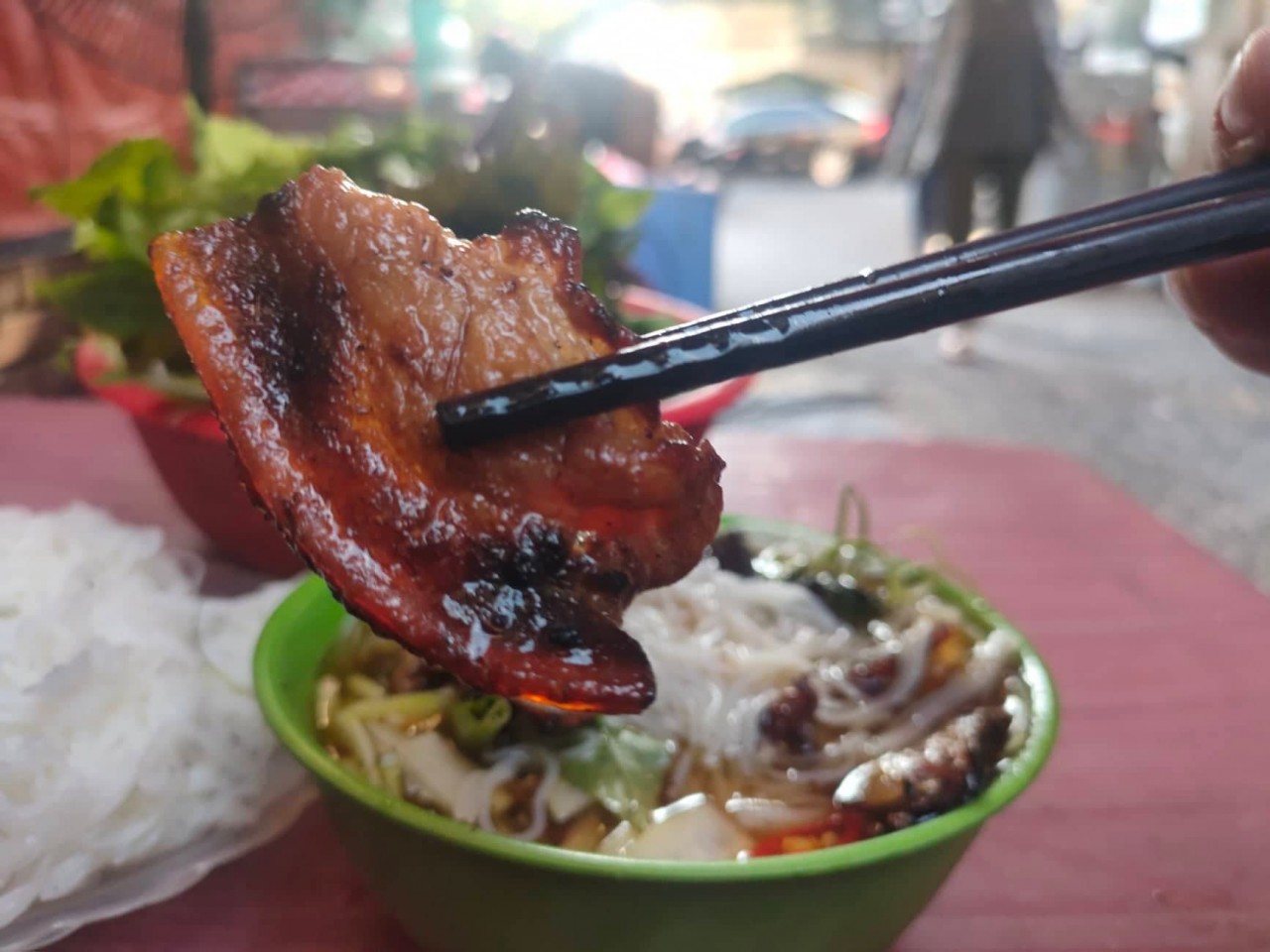 Meat, glorious meat (Photo: Jason Law)
This whole time I had been searching for a 'perfect' Bun Cha, trying to one-up myself with each new place I tried, looking to 'finish the job' as if there was a single best version of the dish out there somewhere. I'd spent my days obsessing over it, looking at any other dish with utter contempt, and my nights dreaming of pork strips slowly raining down on me as I lay on a bed of lettuce and noodles.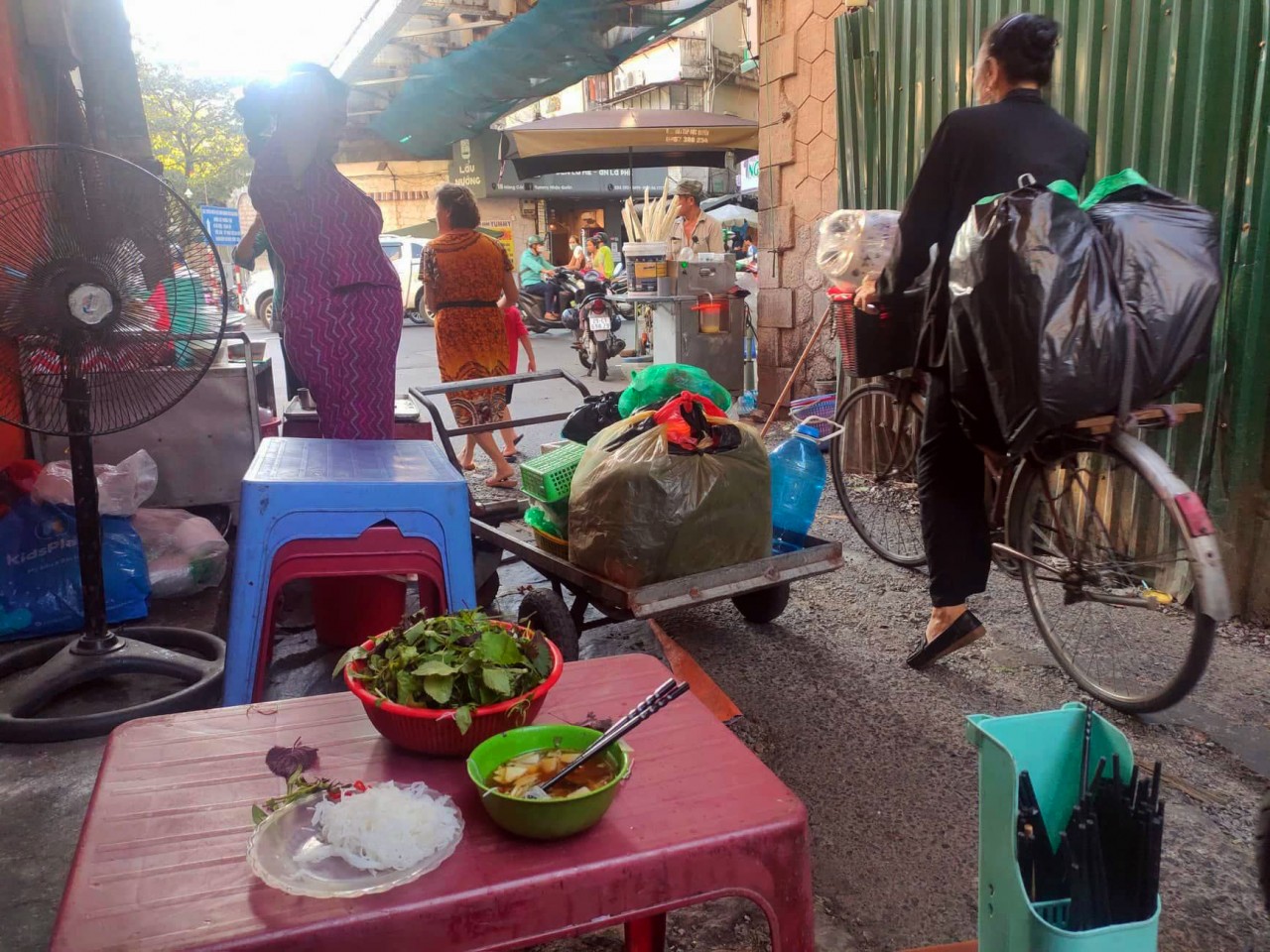 Watching the people of the city go about their lives (Photo: Jason Law)
I'd been so fixated on this imaginary goal that I'd almost completely missed the point of it all. As the famous adage goes "It's about the journey, not the destination". Hungazit's words about the dish belonging to the street came to mind as I sat under the bridge, watching the lives of other people while I ate. I remembered Chef Dung's words about the aroma drawing people into the Bun Cha shop, and realized that there was no better place to achieve this than right in the middle of this back road. I felt like I was a part of the city, at one with the streets, truly experiencing its culture. Finding this relatively unknown spot seemed magical.
I left with the intuitive inkling that my journey was over, but not without coming back full circle to where it all began, at Mai Anh Bun Cha on Xuan Dieu. I visited the next day, and the familiar, smiling faces of the staff there welcomed me as I sat down on my own to enjoy their food with a fresh perspective.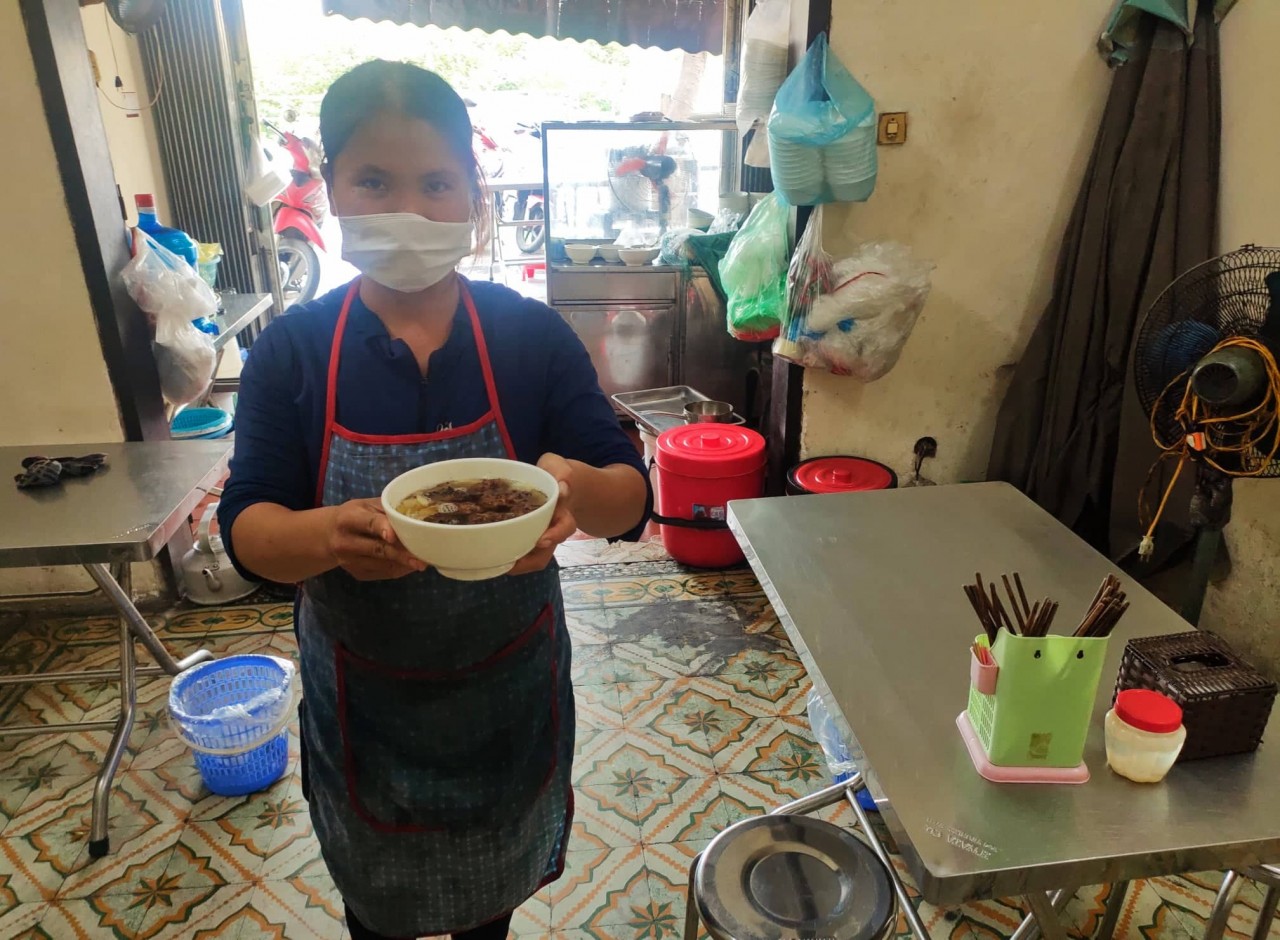 Back to where it all began. There's a smile behind that mask (Photo: Jason Law)
After eating at some amazing Bun Cha restaurants over the weeks, and learning so much, I was a lot more critical of my local restaurant's recipe. The meatballs were gristly and tough, there were no pork belly strips, the fresh vegetable selection was simple, and the sauce was pretty straightforward. In spite of all of this, I still loved it. It was my regular, local restaurant, and there was comfort in that. After everything, I now knew that the dish was whatever I personally made out of it.
I reflected on all that I'd learned about my favorite dish over the past few weeks – I had a newly-found, deep appreciation for Bun Cha, the tasty pride of Hanoi. It was about more than just having the best one; it was about the experience; the enjoyment of variations in each restaurant's recipes; the cultural meaning behind the food and the feelings that came with it. Although I had potentially experienced some of the best Bun Cha spots that Hanoi has to offer, I fully intend to keep trying new places. They say variety is the spice of life, but in the case of Bun Cha, I'll continue to explore new combinations of herbs and other ingredients across Hanoi to keep my life here filled with excitement and variety.
Viet Bites: BAKED and Friends in Hanoi

As the Vietnamese palate prefers sweet fruits over baked goods, expats are craving the cookies and cakes from the Western world. Fortunately, one Singaporean woman...
Travel
With more than 40 countries, it is clear that no one can summarize Asia in a few short lines. Among the best and most beautiful destinations in Asia voted by CNN, Da Lat City and Lan Ha Bay in Vietnam are called the "hidden gems" that are worth discovering.
June 06, 2023 | 07:19
Travel
The Saigon Central Post Office (Ho Chi Minh City) landed second place in the list of 11 most beautiful post offices in the world, announced by American architectural magazine Architectural Digest.
June 05, 2023 | 22:04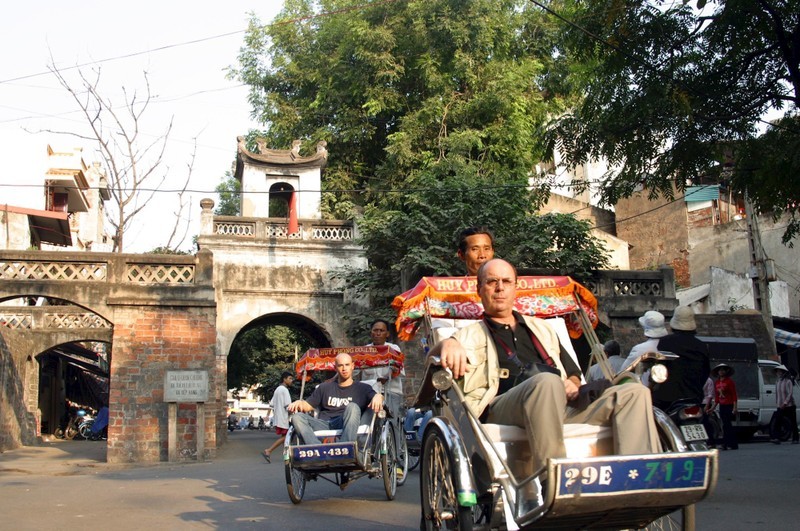 Travel
One of the top choices of British travellers is
Vietnam
with its diverse natural beauty, said The Independent, a British online newspaper.
June 05, 2023 | 09:31
Travel
The US's travel website Travel Off Path has called the Ho Tram beach tourism area "the perfect getaway for those looking to unwind and escape the hustle and bustle of the big city, if only for a long weekend."
June 04, 2023 | 19:53