Top ideal places to admire Tet flowers in Da Lat
Traveling to Da Lat in spring, don't miss out on the opportunity to admire the poetic and glorious beauty of various kinds of flowers here such as cherry blossoms or hydrangeas. Below are the recommended places to take photos with flowers.
Places to admire "Mai anh đào" (Cherry blossoms)
From the downtown to the suburbs of Da Lat, tourists can easily spot cherry blossoms gloriously blooming. Below are famous spots to admire them.
Tran Hung Dao Street: The 800-meter street attracts an influx of youngsters to check-in with two sides covered with cherry blossoms, green pine forests, and ancient villas. The coffee shops on the street serve ideal places to relish the beauty of flowers, Zing News reported.
Photo: Zing News
Xuan Huong Lake, located in the city center, is a romantic spot to admire the cherry blossoms. The route from Thuy Ta restaurant to the flower garden is considered the most beautiful.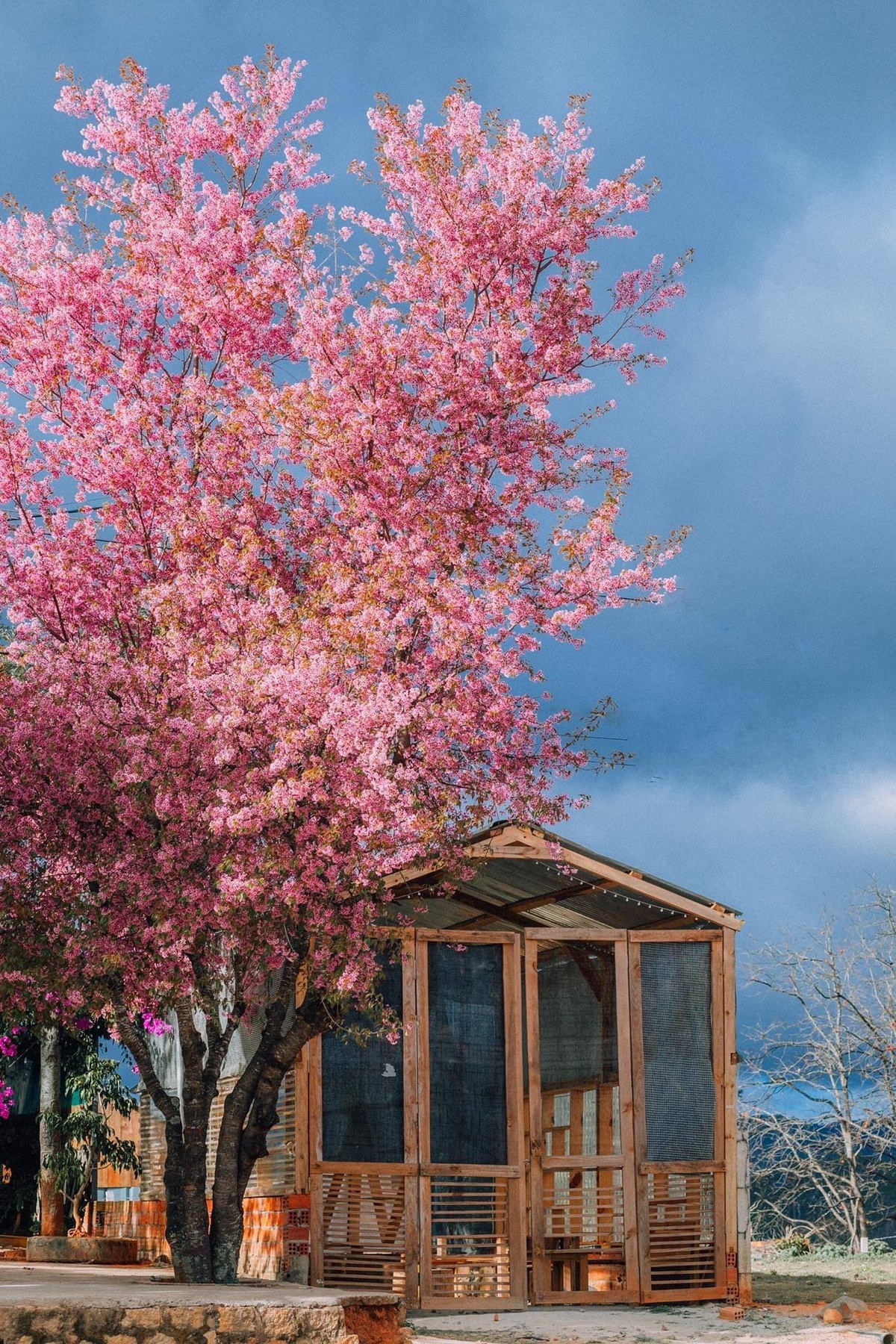 Photo: Zing News
About 6 km from the city center, Tuyen Lam Lake is another recommendation for you to check-in with the cherry blossoms. The large cherry blossom trees entering full bloom will be a perfect background to take artistic pictures.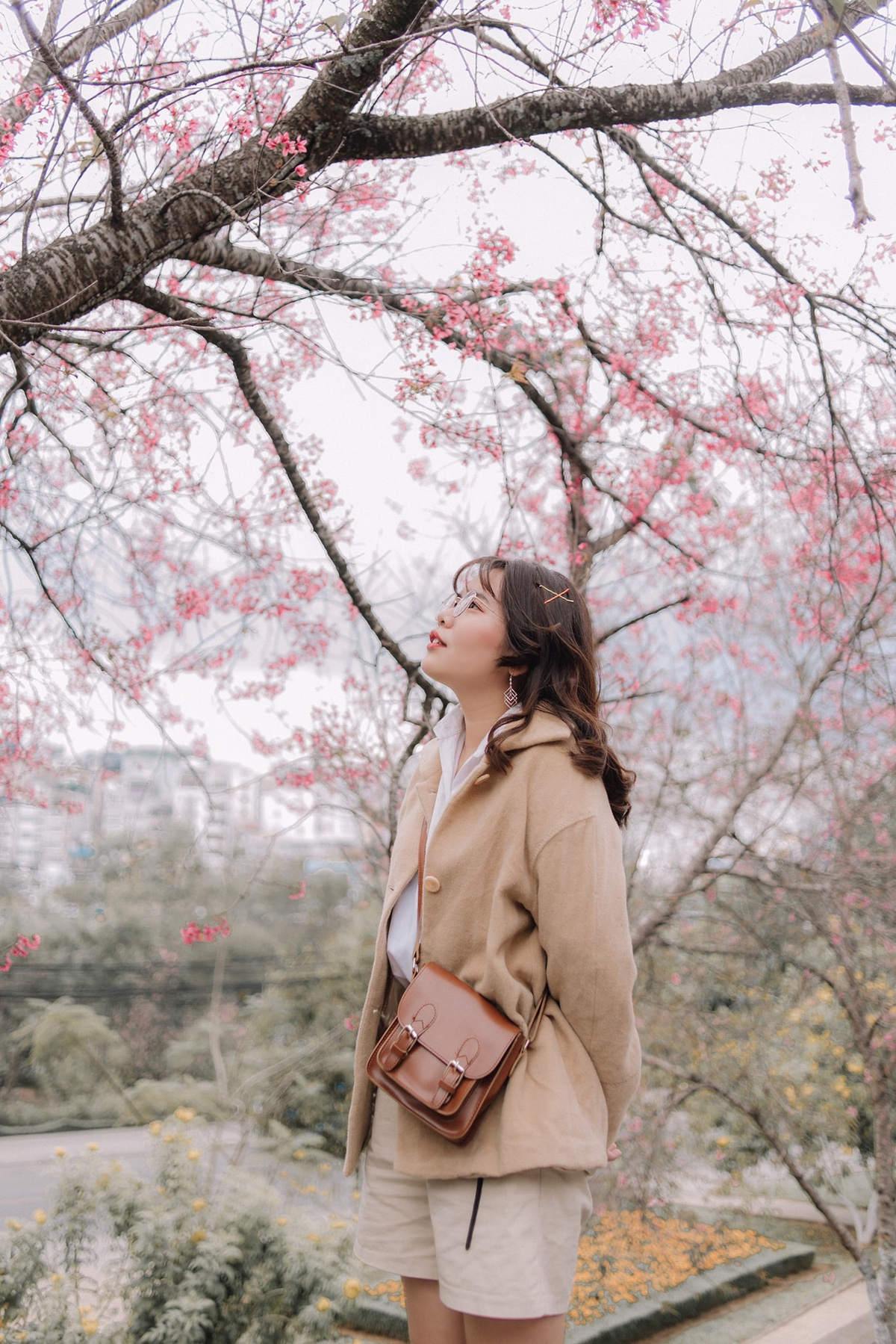 Photo: Zing News
Da Quy slope, Cau Dat tea hill, and many sections on the Trai Mat route are also well-known check-in points for those who love cherry blossoms. Dawn and sunset are awesome times to take in the landscapes and capture photos of flowers.
Photo: Zing News
If you do not want to move much, you can choose to contemplate cherry blossoms at homestays and cafes such as Nup Homestay, Yen's House, Hoa Hong Coffee Shop, Yahe, Kokoro Café, etc.
Immersing in the spectacular beauty at flower gardens and villages
City's flower garden: Located on Tran Quoc Toan Street, the city's flower garden converges more than 300 rare types of flowers. The entrance fee to the flower garden is 40,000 VND/adult (US$ 1.71) and 20,000 VND/ child (US$ 0.86).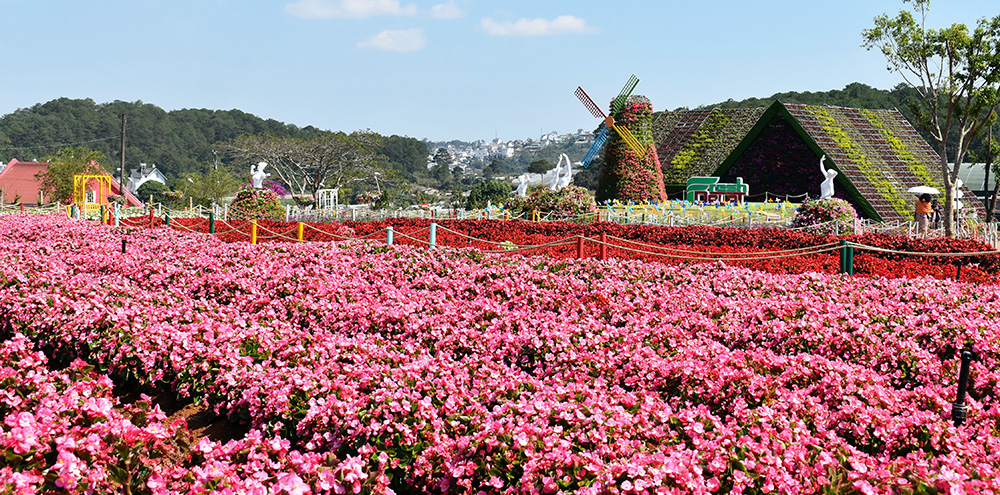 Photo: My tour
Van Thanh flower village: About 3 km from the city center, Van Thanh flower village is one of the oldest of its kind in Dalat. This place allures tourists thanks to its colorful flowers such as hydrangeas, rose, carnations, etc. The entrance fee is 60,000 VND / person (US$ 2.57).
Thai Phien flower village: Visiting Thai Phien flower village, tourists will have the opportunity to admire gorgeous kinds of flowers and valleys with shimmering lights. The ticket is free of charge for all visitors.
Other check-in points in Da Lat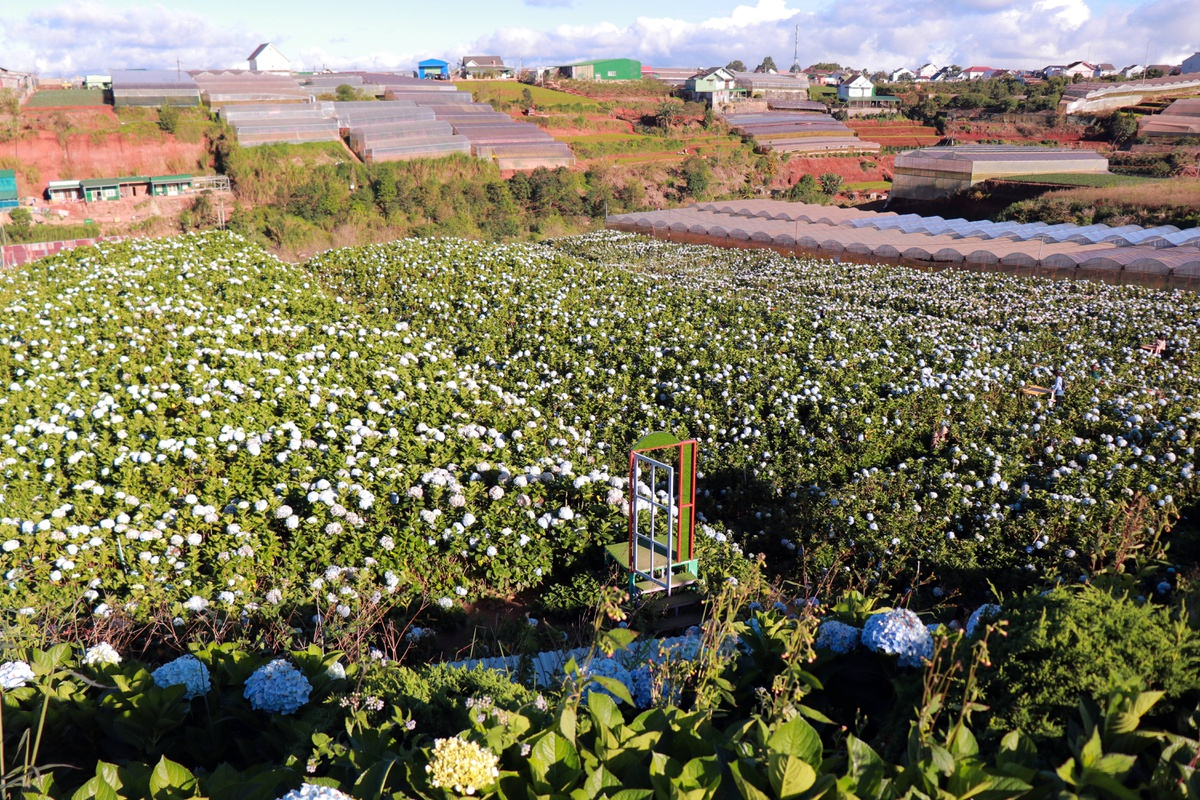 Photo: Zing News
Hydrangeas field (Xuan Tho commune): About 15 km from the city center, the Hydrangeas field is a famous tourist site for both travelers and photography enthusiasts. Golden bridges, swings, infinity stairs, etc are among not-to-be-missed check-in spots here. Those who want to pick flowers need to ask for permission from the garden owner.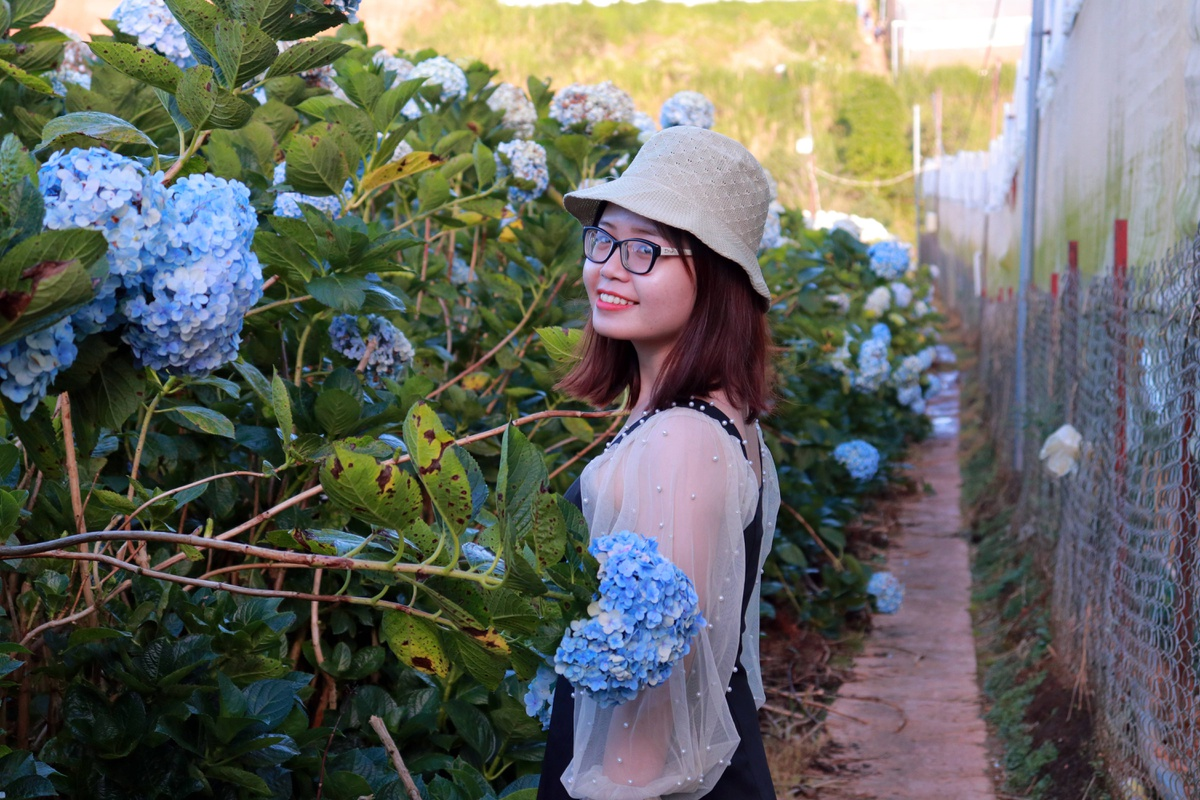 Photo: Zing News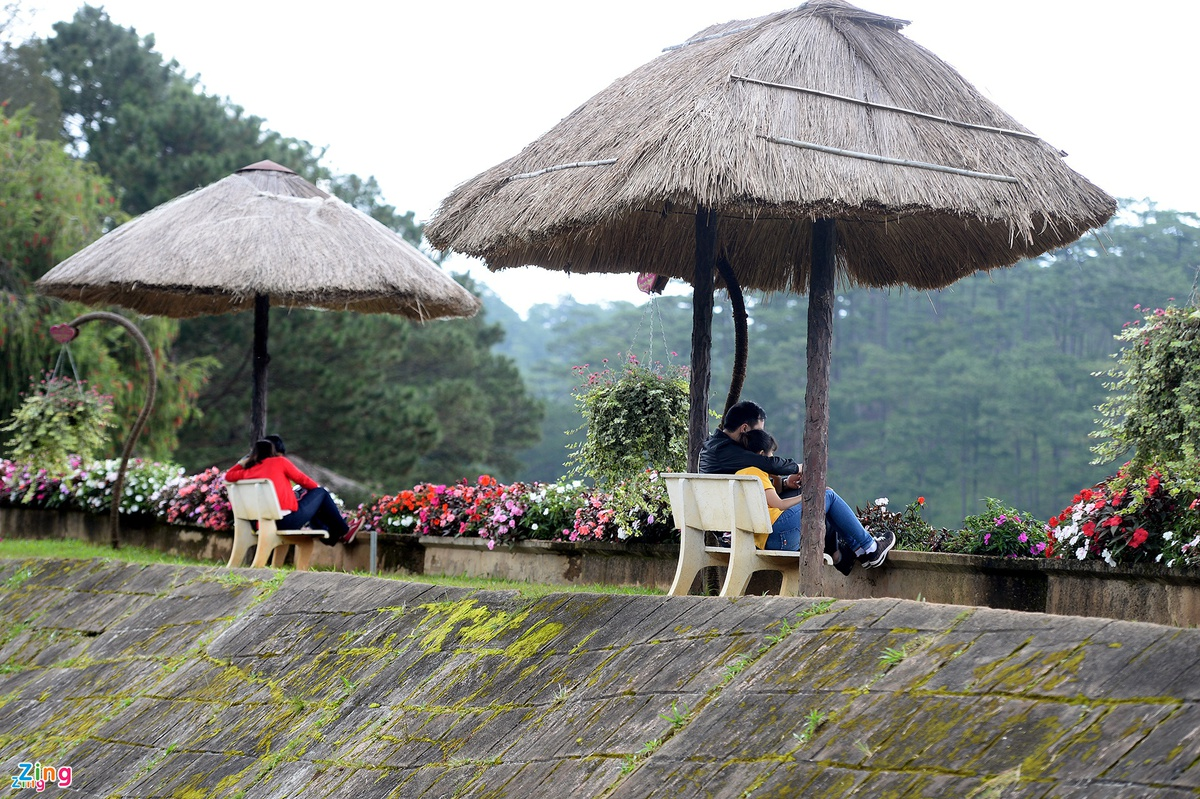 Photo: Zing News
Love Valley: About 5 km from the city center, Love Valley is known as one of the most poetic landscapes of Da Lat. The place boasts a romantic beauty with flower pots decorated with the meaning of love. Couples often choose Love Valley to take their wedding photos. The ticket price is 250,000 VND / person (US$ 10.71).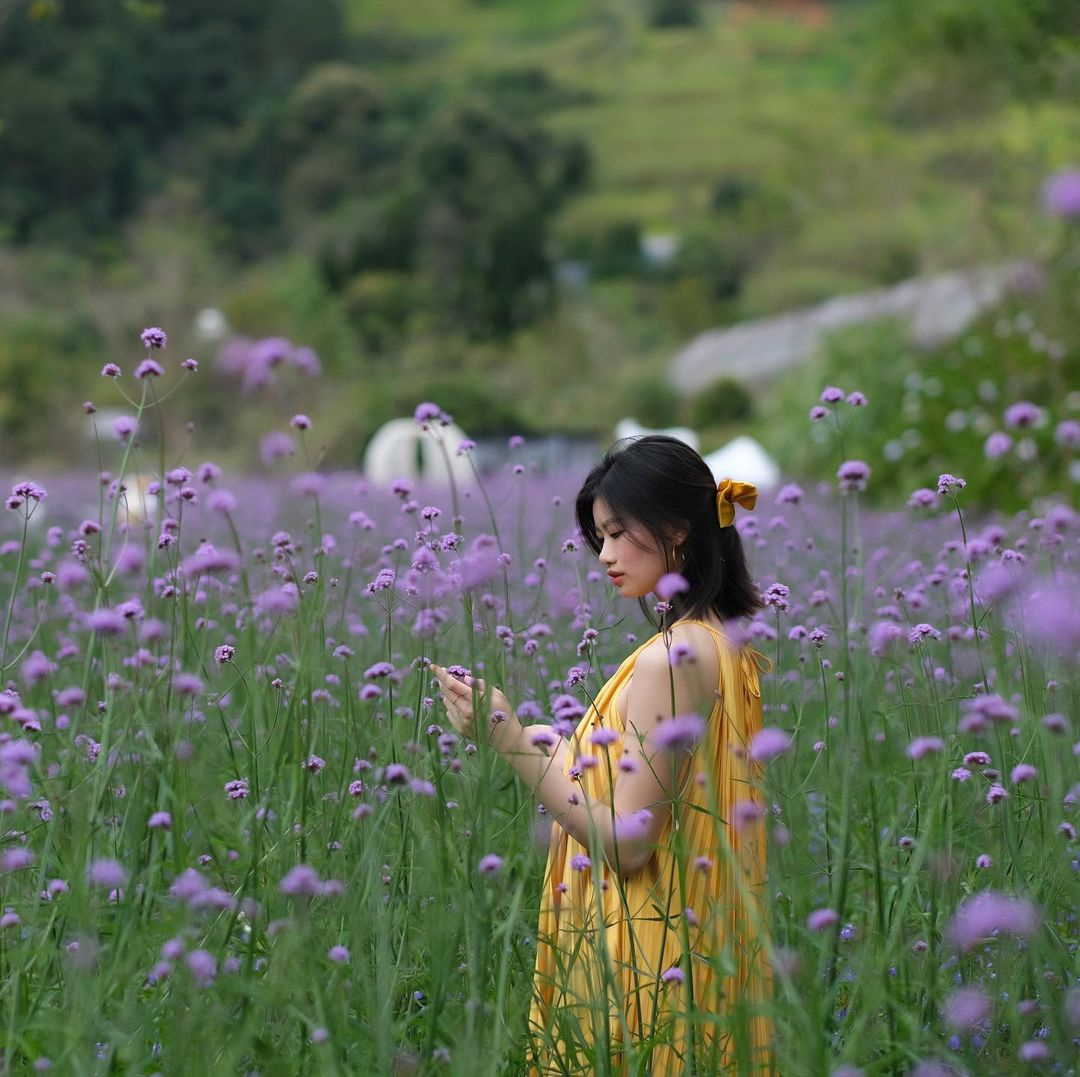 Photo: Zing News
Flower field Café F: Quietly situated on Mimosa Pass, this is a premier "must-visit" destination for many young people. There is nothing more perfect than taking a sip of coffee while admiring the colorful flower gardens.