Tourist Sites Filled with Holidaymakers on New Year
Many famous travel destinations welcome a high influx of tourists on the New Year holiday, as the Covid situation lessens across the country.
Da Lat
On the first day of New Year 2022, Da Lat - the well-known City of Flowers, southern Vietnam - is busy with tourists. They mostly travel in small groups or with family to enjoy the cold fresh air of Da Lat and contemplate apricot cherry blossom at its most gorgeousness. Areas lined with flower such as Tran Hung Dao, Hung Vuong, attract a lot of youngsters and photographers alike.
Traditional sites such as Cable car, Love Valley, City Flower Garden, Langbiang Mountain receive around 1,000 – 2,000 tourists on Jan. 1, 2022.
Lam Dong Department of Culture, Sports and Tourism said the province is opening its door to tourists in a "new normal state", with anti-pandemic protocols fully in place. The province gets 160,000 staying visitors last December alone, three times higher than November. The total number of visitors to Da Lat in the New Year occasion is expected to reach 60,000, twice that of weekend days before the advent of Covid-19. Such increases are positive signs of tourism recovery for Lam Dong after a long stagnation because of the pandemic.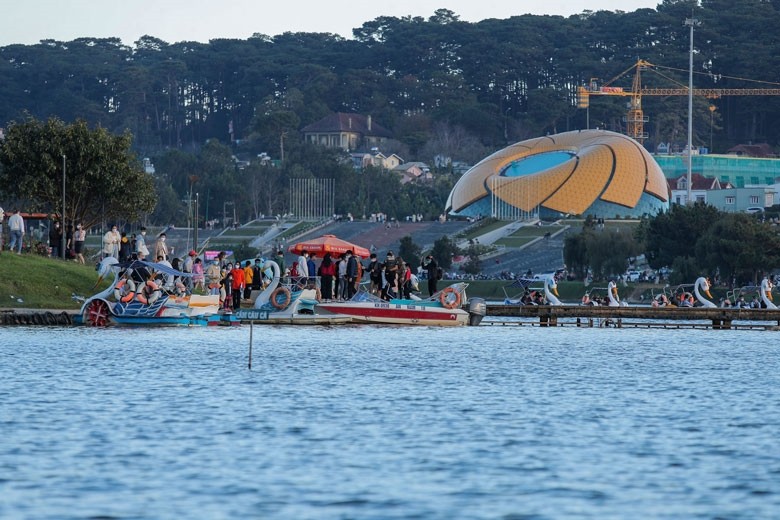 Tourists line up for their turn to play pedalo in Ho Xuan Huong lake, Da Lat. Photo: Bao Dan Toc
Sapa
On Jan.1, Sapa was covered in mist, with temperatures ranging from 9-11 degrees Celcius. The favorable weather pattern makes the northern town an ideal place of visit for holidaymakers on New Year occasions, according to Bao Dan Toc.
Main routes leading to Sapa or other entertainment spots such as Cat Cat village, O Quy Ho pass were reportedly congested.
Lao Cai provincial regulations mandate that only those from green areas (having low risk of Covid-19 infections) and are fully vaccinated can enter the province.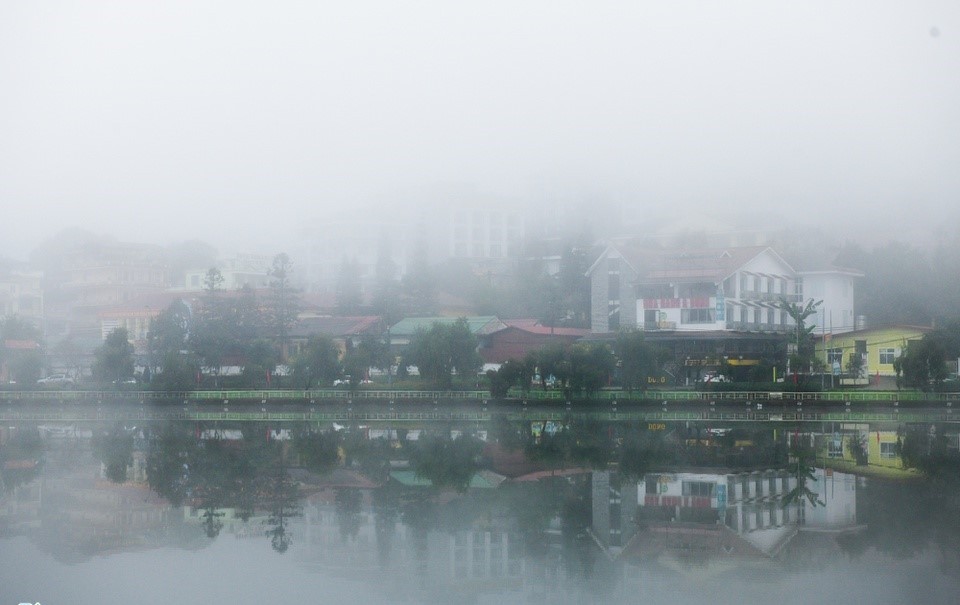 Photo: Bao Dan Toc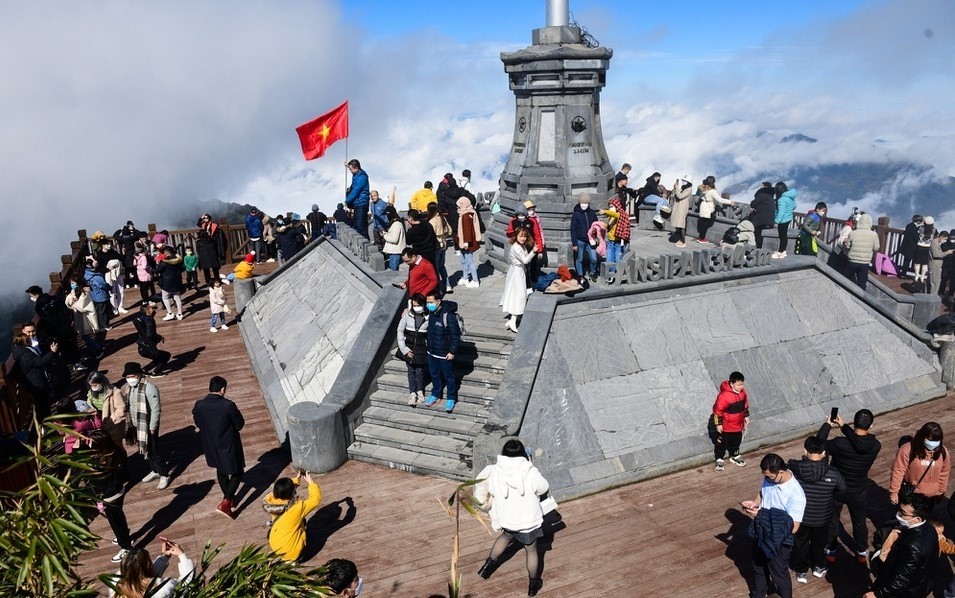 Photo: Bao Dan Toc
Vung Tau
Thousands of visitors from HCMC and nearby localities head to Vung Tau beach to have a dip and enjoy water activities as they celebrate the New Year.
Local functional forces are dispatched to 21 make-shift sites to ensure security and remind beach bums of anti-virus prevention regulations, according to Pham Khac To, director of Vung Tau Municipal Tourist Areas Management Board.
(Video: VNE)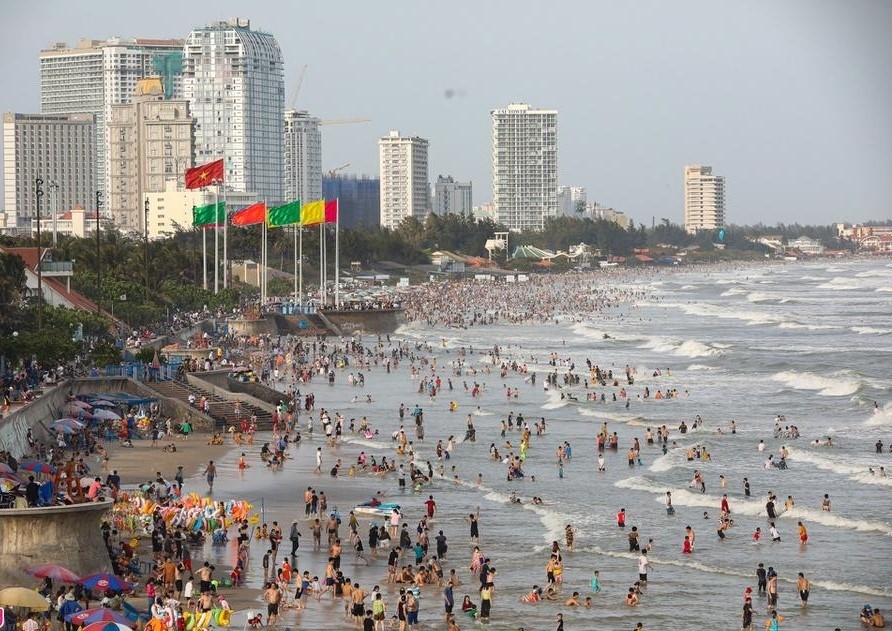 Photo: Bao Dan Toc
Ba Be
On Jan. 1 morning, Ba Be welcomed the first group of tourists which included Japanese and Russians.
"2021 was a turbulent year for the tourism industry and even tourists like us. After carefully researching about Vietnam tourism, we decided to choose Ba Be as our go-to destination," Kate, a Russian tourist told Bao Dan Toc. "May Ba Be – Bac Kan tourism be more prosperous in 2022."
Dinh Cong Tru, a representative of Bac Kan Tourism Association said tourism business units in Bac Kan will build more new and attractive products, as well as upgrade tourist attractions to ensure safety and quality for both tourists and locals in the coming time.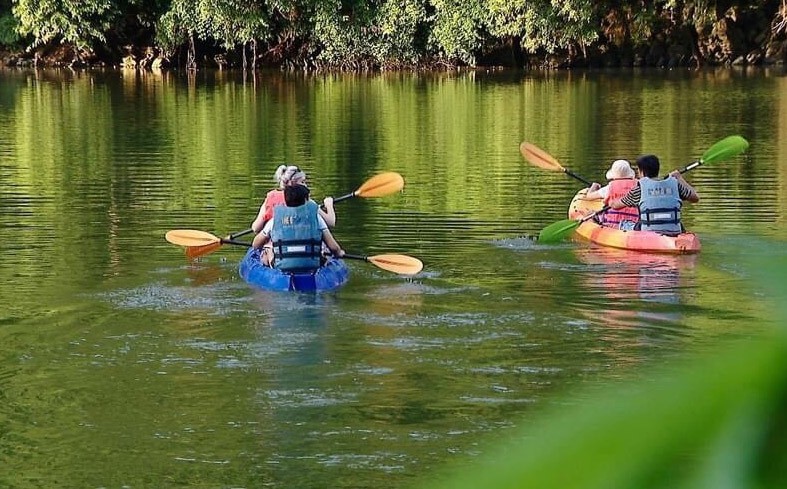 Visitors at Ba Be lake. Photo: Bao Dan Toc
Localities like HCMC, Da Nang city and Thua Thien-Hue on January 1 held ceremonies to welcome the first tourists of 2022.
The ceremonies formed part of a cooperation program between national flag carrier Vietnam Airlines and People's Committees of HCMC, Da Nang, and Thua Thien-Hue.
The first visitors to HCMC and Thua Thien-Hue departed from Hanoi, while those to Da Nang boarded a flight from HCM City, Nhan dan (People) newspaper reported.
HCMC's tourism has begun to experience changes since late September, with the number of tourists increased from zero in the third quarter to nearly 3 million in the last quarter of this year.
The southern metropolis earned more than VND 2.57 trillion (US 112.44 million) from the tourism sector.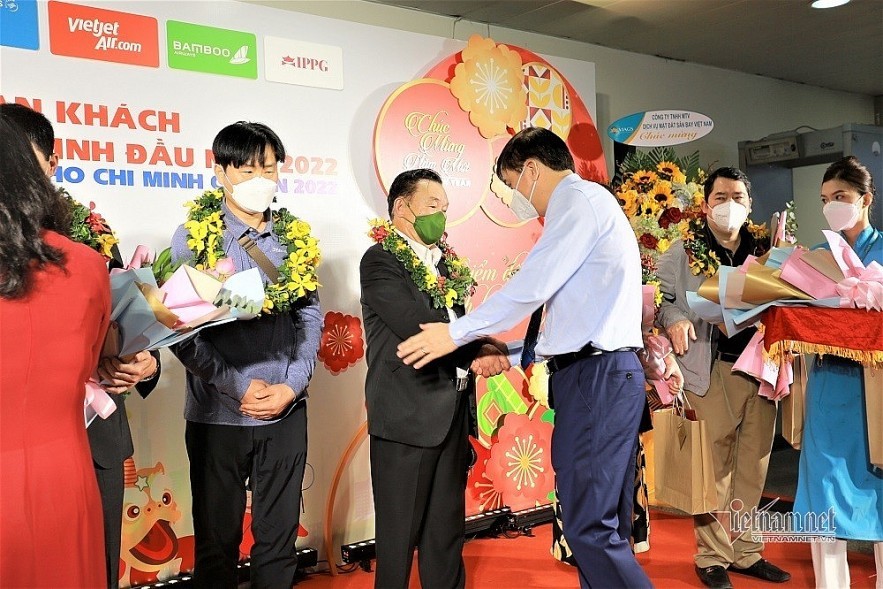 A welcome ceremony is held for first tourists to HCMC. Photo: Vietnamnet
The year 2022 is forecast to present more challenges to the tourism industry. Given this, HCMC has sketched out two scenarios.
Under the first scenario when the Covid-19 pandemic is well controlled at home and tourism activities return to normal, the number of international holidaymakers is expected to reach 3.5 million, and domestic tourists, 25 million, at the end of 2022. Total revenue from the sector is projected at VND 97.7 trillion (over US 4.2 billion).
Under the second scenario when the pandemic has not been completely brought under control, domestic vacationers would stand at 18 million, and the revenue is set at VND 67.6 trillion (over US 2.9 billion).
Other localities like Quang Binh, Ha Giang and Sa Pa on January 1 also organized similar events for their first visitors of the year.