Two more detained for smuggling fake foreign experts into Vietnam
Da Nang police have arrested two more members of a ring that smuggled foreigners into Vietnam under the guise of 'foreign experts.'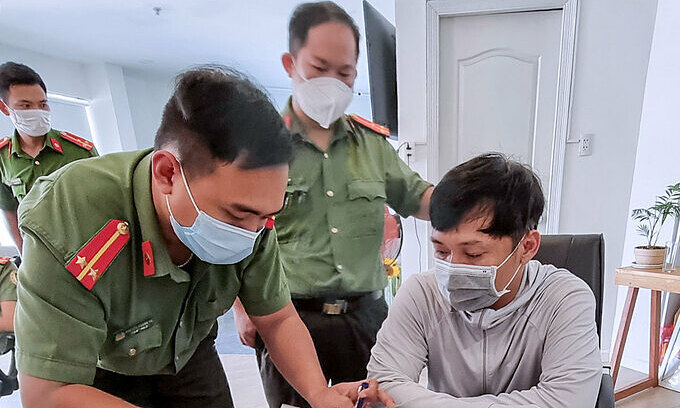 Le Xuan Thanh (R) is held at a police station in Da Nang for smuggling in foreigners in disguise of experts, May 15, 2021. Photo by VnExpress/Khanh Than.
Le Xuan Thanh, 37, and To My Hong Anh, 32, have been placed under criminal investigation for organizing illegal entry into Vietnam in the guise of foreign experts, police said.
Following their arrest, their houses were searched Saturday, VnExpress reported.
Thanh is the director of two companies, Phi Anh Pro Co., Ltd. and Patour Trading and Services Co., Ltd., with offices located in an apartment building in the central city.
From January to March this year, Thanh colluded with the owner of a South Korean company based in Da Nang to use the legal status of his two companies to sponsor seven South Koreans to enter Vietnam as foreign experts or investors.
Initial investigations show that the seven foreigners were neither experts nor investors nor included in the list of priority for entry during the Covid-19 pandemic.
After completing their quarantine periods in Da Nang, they did not work for the companies that had sponsored them. They worked for other firms instead.
Foreigners complete health declaration forms at Tan Son Nhat International Airport in HCMC, March 2020. Photo by VnExpress/Huu Khoa
Thanh and the Korean business owner shared the money that the group of South Koreans gave, investigators said.
Anh, an employee of the South Korean company, acted as a 'bridge' between his company and Thanh and Nguyen Tran Anh Tuan, who was arrested last week to investigate allegations he received $2,400 to bring 14 South Koreans into Vietnam as foreign experts.
The investigation is being expanded, police said.
On May 9, Da Nang authorities launched a criminal investigation into the ring that brought foreigners into Vietnam illegally under the cover of experts. The probe began after local police detected two cases where 20 foreigners entered the country under 'expert visas' but do not know their guarantors' businesses.
Foreigners without work permit to be deported
The Ministry of Labor, Invalids and Social Affairs (MoLISA) has asked localities to tighten the management of foreign workers and consider expelling those without work permit in Vietnam.
Falling into this category are also those who fail to comply with immigration and residence laws in Vietnam, the MoLISA said in a telegram sent to cities and provinces across the country.
The MoLISA proposed that localities strengthen inspection and strictly handle production establishments that illegally receive and employ foreign citizens, as well as those who intentionally violate the law, VOV reported.
The ministry also proposed that cities and provinces tighten the granting of work permit to foreign citizens according to legal documents, including Government Decree 152/2020/ND-CP and the 2019 Labour Code.
Vietnam has been grappling with its latest Covid-19 wave since April 27, under which 1,086 community transmissions were confirmed as of Sunday afternoon.
One of the potential risks, according to experts, comes from foreign citizens attempting to illegally enter Vietnam for employment or other purposes. Ho Chi Minh City recently deported 52 foreigners who had illegally crossed the northern border and travelled to the city for work.
Vietnam closed its borders and canceled all international commercial flights on March 25, 2020 and has since only allowed Vietnamese repatriates and foreign experts, diplomats, investors and highly-skilled workers along with their parents, spouses and children to enter with stringent conditions related to Covid-19 testing and quarantine.