UK and Europe daily weather forecast latest, January 21: Brutal winter Storm Christoph to hit the UK in two phases
The UK is forecasted to cope with a brutal winter storm named Christoph with two main phases. Meanwhile, rain and wind are expected in west, fair and mild conditions set to cover in the east of Europe.
UK's weather forecast
The cyclone named 'Christoph' will make landfall on Wednesday and cause blizzard-like conditions in Scotland, forecasters warn. BBC Weather today tweeted: "Storm Christoph comes in two main phases. PHASE 1 - Tuesday to Thursday.
"Heavy rain brings flooding to Northern England and the Midlands. PHASE 2 - Thursday. Heavy snow and stronger winds, blizzards, in Scotland and parts of Northern England."
Today's five-day forecast from the Met Office will begin with very wet weather, to begin with. As the week progresses the weather will become colder with some snow. The most persistent rain will fall in northern England and north Wales.
Wednesday will see a wet and windy England and Wales but conditions will improve for Northern Ireland. There will be some snow over southern Scotland that will push into eastern Scotland later. The outlook for Thursday to Saturday will see more showers and some breaks in conditions that will see sunny spells.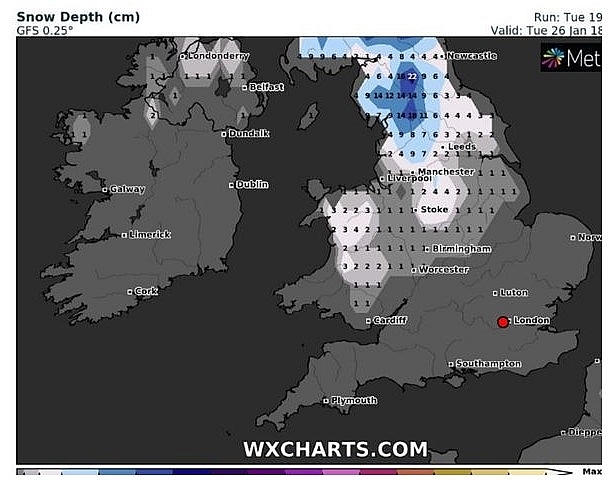 UK snow forecast: Parts of Wales can expect an inch of snow on Tuesday (Image: WXCharts)
On Friday, there will be wintry conditions in the north of England. There could also be some rain in the far south on Saturday. Many UK yellow weather warnings are now active.
There are now two flood warnings in place in Cambridgeshire. This means that flooding is expected. Roads could become submerged close to the River Nene.
Speaking to the BBC James Mason, team leader at the Environment Agency, said it was "really imperative that people take action".
In full there are 22 flood warnings now in place across the country. The highest concentration of these are in the north of England.
Weather forecasters expect another freezing polar blitz to sweep across the UK next week, causing wintry conditions for parts of the country. Thermometers look set to dip significantly from the end of this week, with heavy snowfall, up to 2.5ft, forecast in some parts of the UK. Temperatures look set to plunge from Saturday January 23, according to charts by Netweather.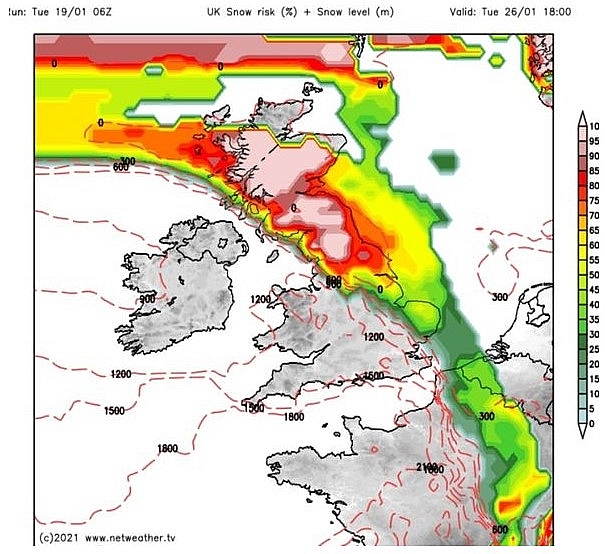 UK snow forecast: A high snow risk covers Scotland and north England on Tuesday (Image: Netweather)
Temperatures in Scotland and the north of England can expect to fall to as low as -10C, while further south the mercury will struggle to rise above 0C.
The freezing temperatures look set to stay throughout the weekend and into the final week of January.
Weather charts show the mercury will fall even further from Monday, January 25, with -11C forecast in northern Scotland.
The south of the UK can also expect to be hit by a cold chill, with temperatures dipping to -2C. The cold snap will coincide with yet more snow, with as much as 2.5ft forecast on Saturday January 23.
Weather maps from WXCharts show large parts of Scotland turn blue and purple at 9am on Saturday, indicating an increased snow depth. The chart shows as much as 77cm (2.5ft) will accumulate in central parts.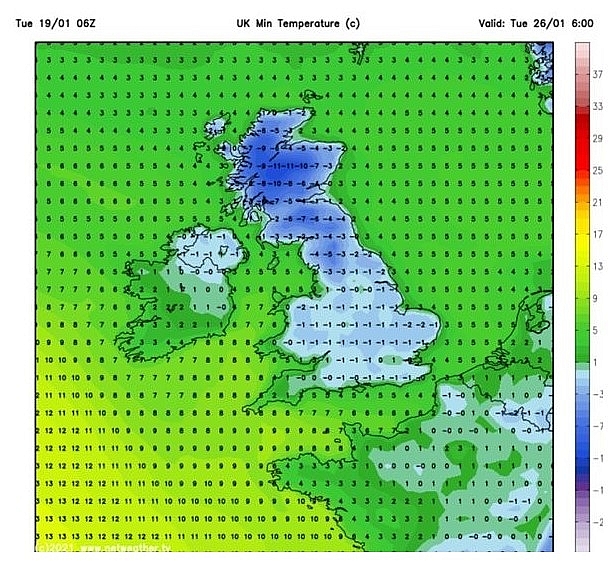 UK cold weather forecast: Temperatures look set to plunge to -11C in Scotland (Image: Netweather )
On January 21
According to Weather Online, severe gales in eastern Scotland and northeast England on Thursday morning as low pressure remains east of the country. There is a risk of some sleet and snow showers in the east of Scotland and perhaps more persistent sleet. Brighter and colder for most areas of the UK and Ireland. Some snow showers could affect western Scotland and Northern Ireland as wellas northwest England. A few wintry showers in western Wales too. best of the sunshine and driest weather in the east. Windy for all. Highs at 4 to 8C.
Most areas brighter than today, but also a few showers. Northern, eastern and central Scotland cloudy with coastal rain and inland snow. Colder than today and windy, Met Office reported.
Outlook for Friday to Sunday
Sunshine and showers, wintry in the north. Some some rain and snow in the far south and southwest Saturday and Sunday. Cold with a widespread frost overnight.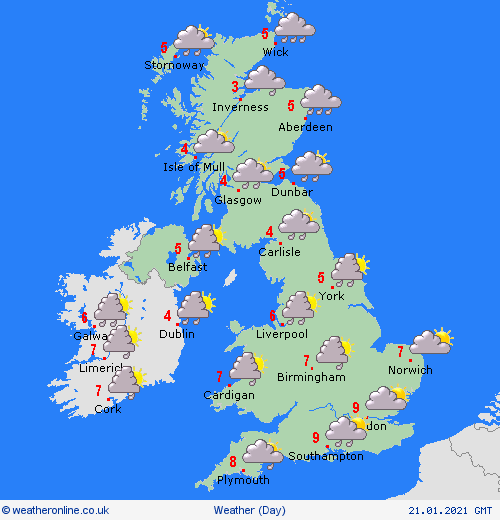 Photo: Weather Online
Europe's weather forecast
An unsettled Portugal and western Spain. East in Spain will be dry with sunny spells. The Balearics will be dry with some sunshine to, fair weather extends into Corsica and Sardinia. Italy will be mostly dry with some sunny spells although rain affects the north. Greece should be fine with lots of sunshine and it will stay dry across turkey too.
A windy day across France with showers in central areas and rain in the west. Staying windy through the Low Countries and Germany a few spots of drizzle on the coast but mostly dry. Poland will be wet in the north but dry for most areas with a fair amount of cloud. Hungary, Austria and Switzerland should be dry with some bright or sunny spells.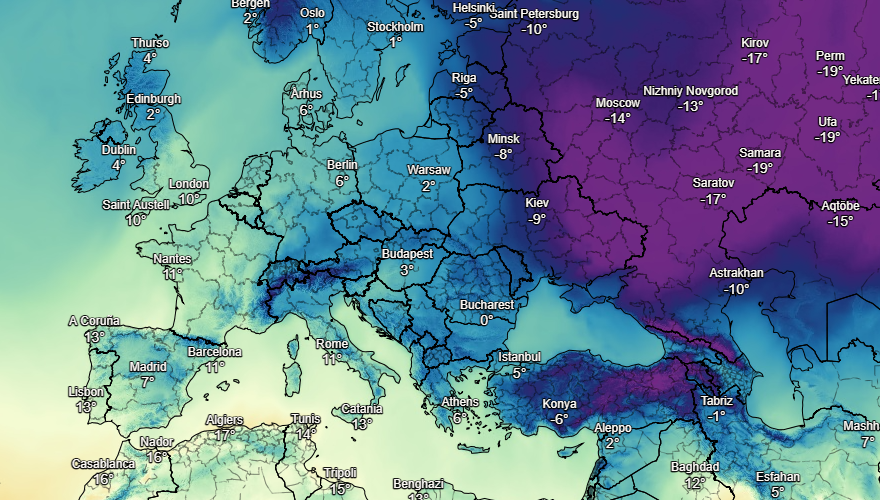 Photo: Stirimeteo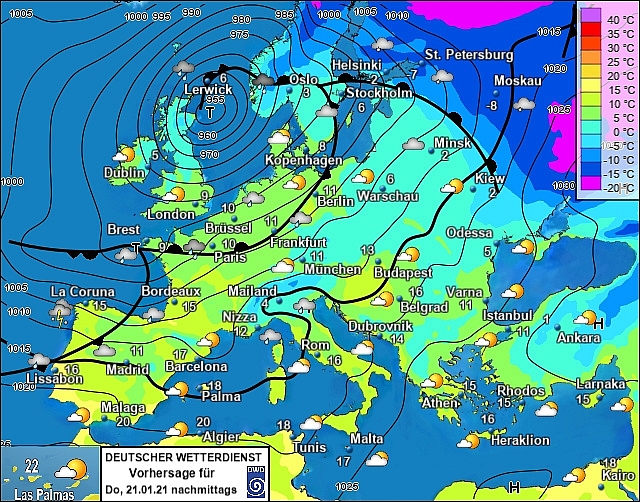 Photo: Stirimeteo
Windy weather and cloud and drizzle will affect Denmark. Rain and strong winds for the Baltic states. Dry and cold for Finland and northern Sweden. Central Sweden will be wet. Rain and snow in southern Norway, colder and dryer to the north.
On January 21
According to Weather Online, heavy periods of rain in Portugal and northern parts of Spain. Drier and brighter for eastern Spain, sunshine here. Heavy showers in Corsica and Sardinia. Some showers for western Italy too. Further showers in western Greece but dry in the east. Fair for Turkey, some of sunshine here.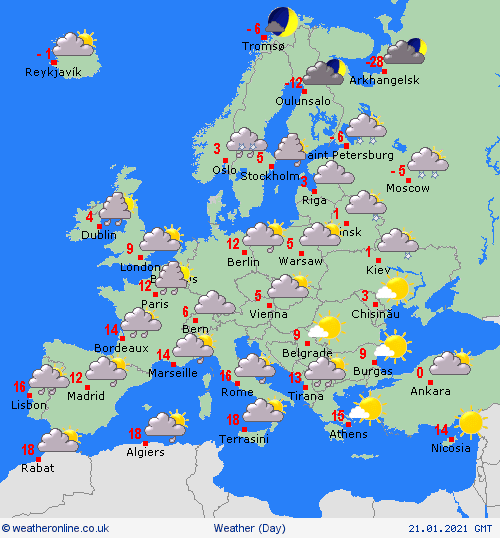 Photo: Weather Online
Windy and unsettled in France, heavy rain in central and western areas. Breezy with broken cloud in the Netherlands. Some rain followed by showers and strong winds in Germany. Poland will be dry with sunny spells. Fair weather in Hungary and Austria, lots of sunshine here. Some heavy showers for the west of Switzerland.
Fair and bright in Denmark. Rain through the Baltic States but some snow and strong winds i Finland. More snow in central nd northern Sweden but brighter and dry in the south. Sleet and snow with rain to in southern Norway with a risk of gales. Further sleet and snow in northern Norway.