UK and Europe daily weather forecast latest, January 22: Wintry showers in the north and west parts, Storm Christoph sparks dangerous alerts
The UK is forecasted to cope with wintry showers mainly in the north and west parts, while Storm hits the country and sparks "danger to life" alerts to people. In Europe, windy and wet conditions set to cover the western and central areas of Europe while drier weather is expected in the east.
UK's weather forecast
Storm Christoph caused chaos in Greater Manchester on Wednesday evening as thousands of people were forced to flee their homes due to danger to life warnings., Express reported.
Manchester City Council issued severe flood warnings covering parts of Didsbury, Chorlton and Northenden. More than 2,000 homes in the areas of Manchester were evacuated overnight due to flooding caused by Storm Christoph.
It came after a major incident was declared for Greater Manchester with fears that up to 3,000 properties could be at risk.
Police and firefighters worked with Manchester City Council to help evacuate people from their homes. The Environment Agency (EA) issued two severe flood warnings for the Didsbury and Northenden areas.
Severe flood warnings mean there is a risk of danger to life. The EA said "intense rainfall" from Storm Christoph had caused river levels to rise on the River Mersey. It added: "There may be a risk of overtopping at Didsbury flood basin in the early hours of Thursday morning."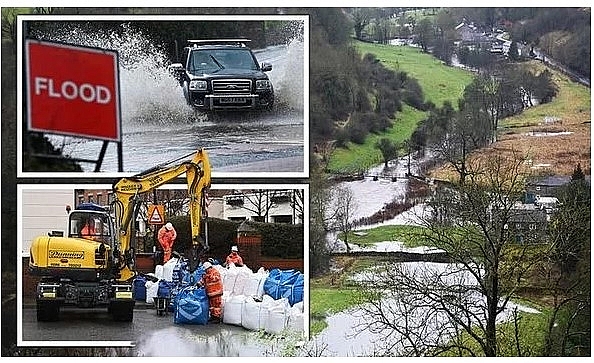 Storm Christoph has sparked 100 flood warnings across the UK (Image: MEN)
Despite the coronavirus national lockdown, people affected are allowed to leave their homes to escape harm.
The EA added: "If you are asked to leave your home and need to stay with family or friends due to flooding, you will not be in breach of coronavirus laws and no legal action will be taken."
Manchester Piccadilly train station confirmed on Wednesday evening that trains were "cancelled across the North West". They urged people not to attempt to travel by train unless absolutely necessary.
On Wednesday evening, Assistant Chief Constable Nick Bailey, Chair of the Greater Manchester Strategic Coordination Group for Storm Christoph, said: "We are now at the stage where evacuations are necessary in areas of Didsbury.
"We will be directly in touch with residents in those properties that have been identified as potentially being at risk and we have an evacuation plan in place to set up those who have been displaced in temporary accommodation.
"I think it's important to stress that if you are contacted and advised to evacuate then we would strongly urge you to do so."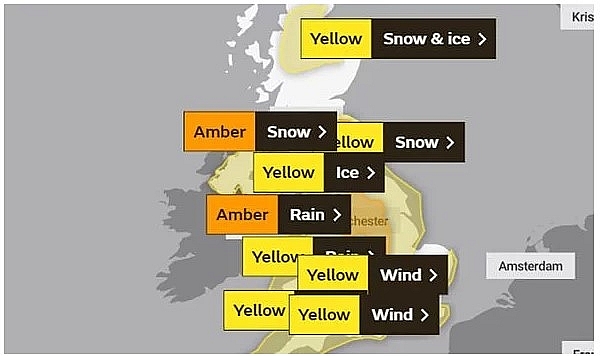 The Met Office has issued several weather warnings (Image: Met Office)
Mr Bailey added: "The heavy rainfall is expected to continue so we will continue to monitor the situation very closely and provide updates as often as we can."
According to the Met Office, parts of the UK could see two months' worth of average rainfall in just two-and-a-half days.
In Liverpool, hundreds of people were told to evacuate their homes due to "unprecedented" floods. Sefton Council in Liverpool advised some living in the Maghull area to evacuate for safety of their families.
Prime Minister Boris Johnson urged people to follow the evacuation advice. He said: "If you are told to leave your home then you should do so. People may think this is a minor issue at the moment, still relevantly minor by standards of previous floods, but never underestimate the suffering, the misery, that floods can cause people."
In Liverpool, those who have to evacuate their homes can take emergency shelter at Meadows Leisure Centre. People who have had to leave their homes can also join an established Covid bubble or stay with family and friends.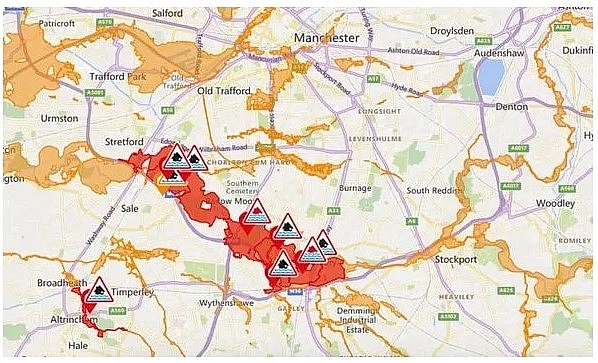 The Environment Agency issued two severe flood warnings for the Didsbury and Northenden (Image: The Environment Agency)
On January 22
According to Weather Online, a chilly day on Friday with the winds being lighter for most. There will be snow showers affecting northern and western Scotland as well as much of northern and western Ireland. A further area of wintry showers will pass through the Isle of Man and into northwest England and north Wales through the afternoon. A few showers in the far southwest of England. For other areas it will be brighter and dry with sunny spells. Temperatures at 3 to 7C.
Sunny spells but also some wintry showers, mainly in the north and west. Many eastern parts staying dry. Less windy than today but still breezy and feeling cold, Met Office reported.
Outlook for Saturday to Monday
Cold with further wintry showers in the north, perhaps some more organised rain, sleet and snow across the south at times. Widespread overnight frost but sunshine for many by day.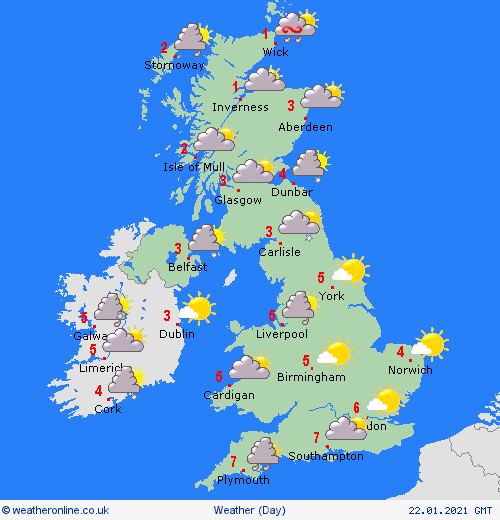 Photo: Weather Online
Europe's weather forecast
Heavy periods of rain in Portugal and northern parts of Spain. Drier and brighter for eastern Spain, sunshine here. Heavy showers in Corsica and Sardinia. Some showers for western Italy too. Further showers in western Greece but dry in the east. Fair for Turkey, some of sunshine here.
Windy and unsettled in France, heavy rain in central and western areas. Breezy with broken cloud in the Netherlands. Some rain followed by showers and strong winds in Germany. Poland will be dry with sunny spells. Fair weather in Hungary and Austria, lots of sunshine here. Some heavy showers for the west of Switzerland.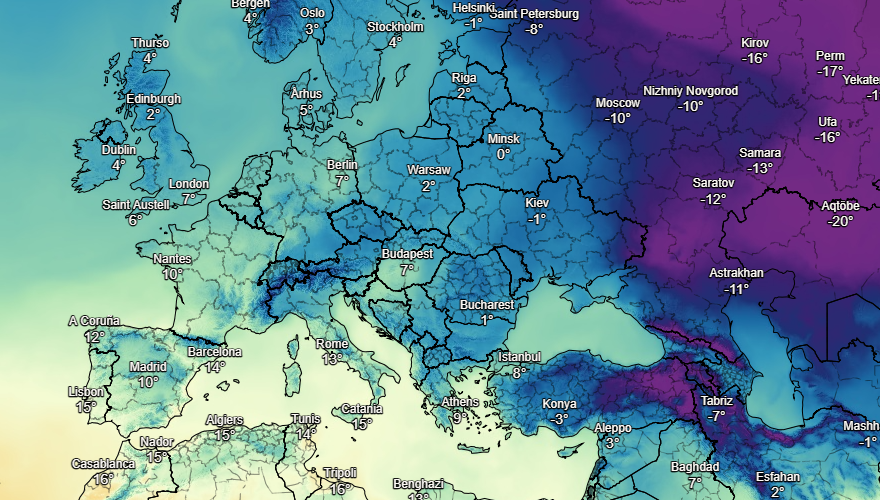 Photo: Stirimeteo
Photo: Stirimeteo
Fair and bright in Denmark. Rain through the Baltic States but some snow and strong winds i Finland. More snow in central nd northern Sweden but brighter and dry in the south. Sleet and snow with rain to in southern Norway with a risk of gales. Further sleet and snow in northern Norway.
On January 22
According to Weather Online, heavy periods of rain afecting northwest Spain and Portugal. A few showers in the east and south of Spain too. Rain in Corsica and Sardinia. Heavy periods of rain and strong winds for Italy. Greece and Turkey should be fair with sunny spells.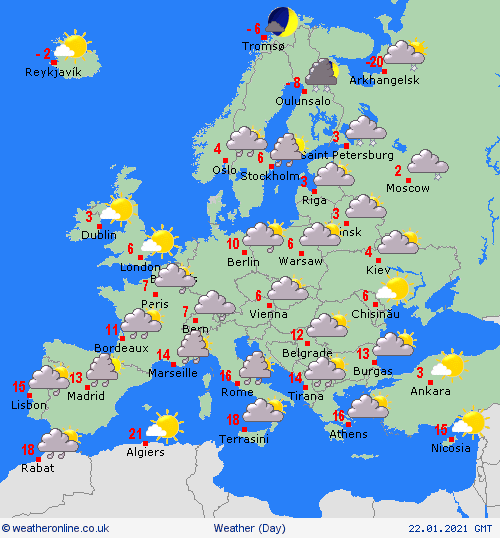 Photo: Weather Online
France should see some bright or sunny spells, although rain and showers in the west later. Fair across the Low Countries. Much of northern Germany and Poland should be fair. Rain affects central and southern Germany. Eastern Hungary will be dry but western Hungary. Austria and Switzerland could see some heavy rain and a risk of snow.
Denmark will be bright and dry with sunny spells. Fair in southern Sweden and through the Baltic States but breezy here. Cloud and snow in Finland and northern Sweden with a risk of gales here. Further snow showers across Norway.