UK and Europe weather forecast latest, December 8: A new low pressure system sets to bring rain and wet hill snow
Freezing fog is forecasted to cause chaos for traveling in the UK. Besides, a new low pressure system is likely to bring rain and wet hill snow.
UK's weather forecast
BBC Weather's Carol Kirkwood warned freezing fog will be slow to clear Monday morning as the Met Office has a yellow weather warning in place for it across southeast England. The Met Office confirmed "disruption to transport is possible" as visibility is low. It comes after the UK was hit by snow on the weekend.
"The Met Office has a yellow weather warning out for fog for parts of the south of England but there are mist and fog patches in other parts of the country as well. Some of it across East Anglia will be slow to lift and that will hold back the temperatures."
"The best of any sunshine will be out in the west and you can see we've got showers dotted in the west, south and also the north east - these are our maximum temperatures."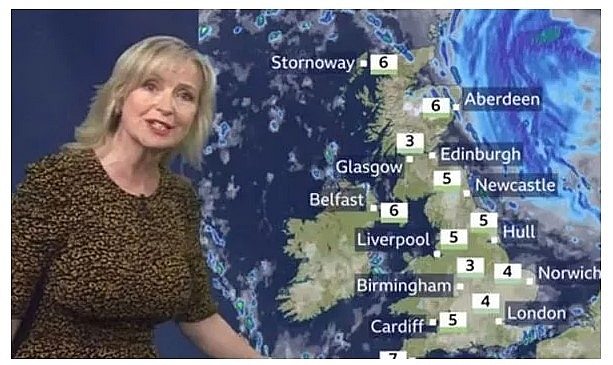 BBC Weather has sparked travel chaos fears as thick fog has blanketed the UK with temperatures as lo (Image: BBC)
Cold conditions continued over the weekend after parts of the South West and Scotland were hit by heavy rain, forecasters have said.
While Friday brought dramatic "thundersnow" to some parts of Scotland, and other parts of the UK woke up to wintry scenes, Saturday's forecast featured more rain. Heavy rain hit parts of South West and South Wales on Monday.
National Rail reported flooding on some Scottish routes on Saturday morning, including trains through Livingston North, west of Edinburgh. Trams in Edinburgh were also affected by heavy rain, with services reduced to one route on Saturday morning.
The BBC's weather forecast for Monday, December 7 until Sunday, December 13 added snow is most likely to fall across the Pennines, Peak District and southern Scotland.
The forecast said: "Monday will see a new area of low pressure moving in from the east, introducing extensive cloud cover to northern, central and eastern areas with showers or longer spells of rain, sleet and hill snow moving west."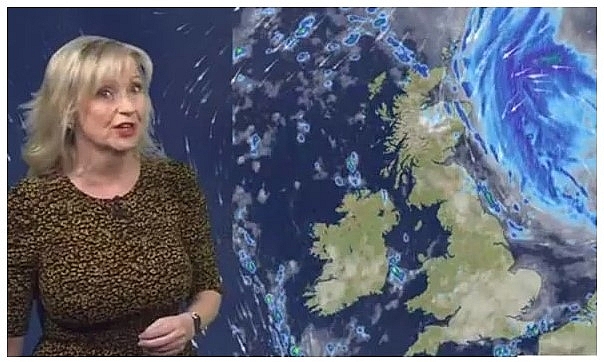 The Met Office confirmed
"Most snow of any consequence will be over the Pennines, Peak District and eventually southern Scotland. There will be a lot of dry and bright weather across the south-west of the country thanks to a weak high pressure ridge here. It will stay rather cold with a frost early and late in the day in some western areas."
The BBC added snow may linger later in the week due to frost settling. The forecast said: "Tuesday has low confidence on the behaviour of a new low pressure system expected to approach from the west. It looks like this will bring rain and wet hill snow or sleet to Wales and England, even possibly in the south of England (more likely sleet than snow here)."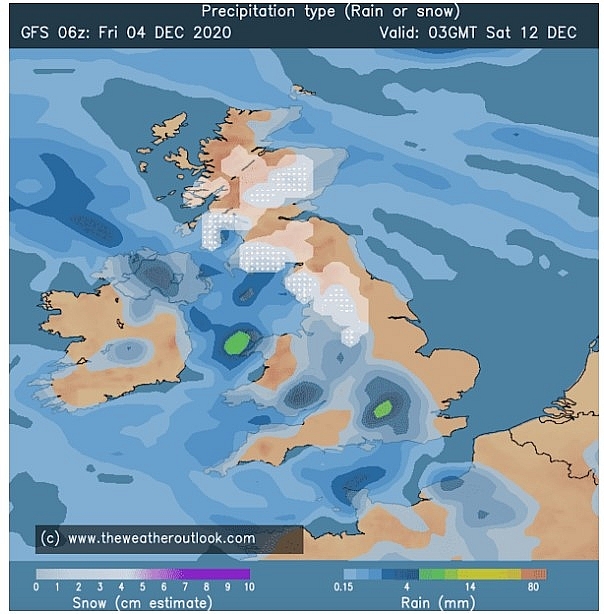 UK weather forecast: Up to 5cm (2inches) of snow is forecast in Scotland on Saturday 12 (Image: The Weather Outlook)
"Scotland will more likely miss most of the precipitation thanks to a high pressure ridge building to the north, which should push the low pressure system south-eastwards. Just a few scattered showers are possible. There is a slight chance that the low will track farther north, bringing rain and hill snow to Scotland, and milder but rainy conditions to the south."
On December 8
According to Weather Online, a low pressure system moves eastwards across Scotland on Tuesday seeing a wet and cloudy start across Scotland, northern England and Northern Ireland. There will be a mix of rain, sleet and snow to these areas.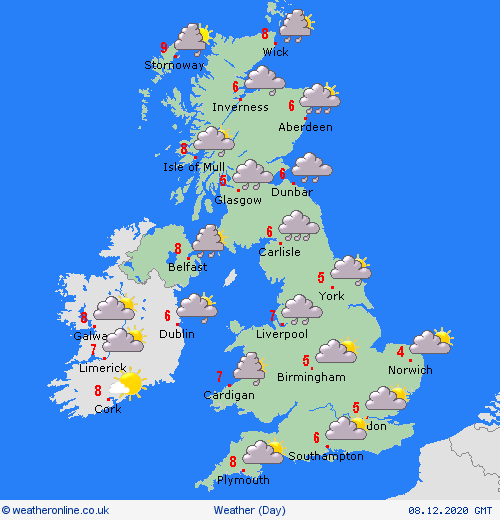 Photo: Weather Online
Windy day in the north too. Precipitation should clear eastern areas of Scotland through the morning with sunny spells developing here. Expect sunny spells and showers across southwest England and southern areas of Wales. After a misty/foggy start, it should be largely dry with sunny spells elsewhere. High temperatures at 3 to 7C.
Europe's weather forecast
Turning increasingly unsettled across Iberia on Monday with spells of rain pushing right across Spain and Portugal, heaviest to the north. Brisk westerly winds too. Breezy and generally unsettled across the Balearics as well as across much of western and central parts of Italy and the surrounding islands with outbreaks of rain here. East Italy will see best of any sunny spells and driest of conditions. Thundery downpours have now pushed on and across Greece and into western Turkey, Romania and Ukraine, Weather Online reported.
Staying rather cloudy across much of France with rain pushing into western areas mainly. Elsewhere should stay largely dry. Wet and cloudy across the Low Countries with some rain across western parts of Germany but largely dry elsewhere here. Rain still affecting the Alpine Countries with snow over the mountains here. Heavy rain initially over the Balkan States but this will quickly ease yet stay cloudy with patchy rain about. Largely dry across Poland.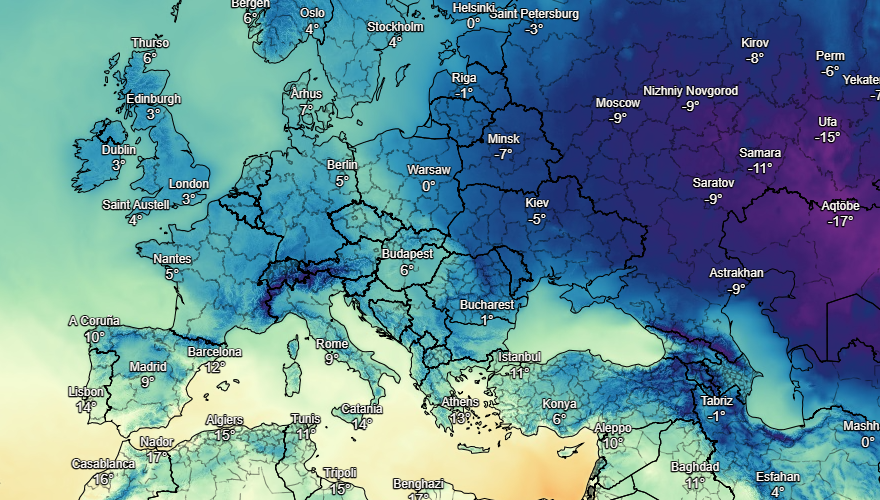 Photo: Stirimeteo
Rain moves away from any far western areas of Denmark to leave a dry and sunny day here but rather breezy still. Rain for much of Norway and northern parts of Sweden and Finland but dry elsewhere, Dry yet windy through the Baltic States.
On December 8
Staying unsettled with outbreaks of rain across Spain and Portugal through much of the day, although higher pressure does try to build in across western areas improving conditions here later. There will be brisk winds along southern coasts as well as eastern areas of Spain.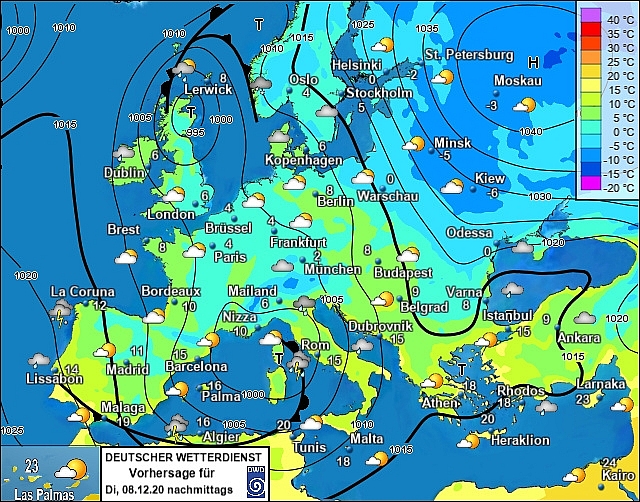 Photo: Stirimeteo
Brisk winds continue across the Balearics Islands where it will be wet with rain, particularly across easternmost islands. Italy and it's surrounding islands seeing plenty of rain too, heavy and thundery for many areas, as well as brisk winds. Rain edging into western Greece while Turkey staying largely dry.
A rather cloudy day across central and southern areas of France. Northern and eastern areas seeing drier conditions. Largely dry across the Low Countries and Germany but with some rain edging into northern areas. Snow for the Alpine regions with heavy and thundery downpours across northern Italy. Heavy rain and thunderstorms heading into the Balkan States later on in the day. Poland will stay dry and fine.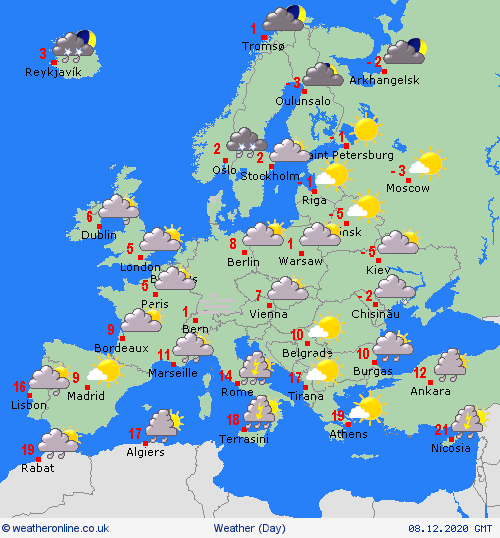 Photo: Weather Online
Some rain across southern Norway but generally dry here. Patchy light rain across western areas of Sweden too but drier further east. Some rain over northern areas of Finland but staying dry elsewhere. Some showers across western areas of the Baltics. Drier further east here.