UK and Europe weather forecast latest, October 9: Heavy rain to drench Britain with thunder and hail
Britain is forecasted to face up with heavy rain with thunder and hail warning. Meanwhile, areas of low pressure continue to bring unsettled conditions into northern and western Europe.
UK's weather forecast
According to Express, Britain will be drenched by two weeks' worth of rain over 12 hours before skies are set to clear this weekend.
The Met Office has issued a yellow weather warning for rain with fears of flooding to homes and businesses. Rain is expected to sweep across much of the UK on Thursday before the weekend brings more pleasant conditions.
The regions affected by the weather warnings are east Midlands, north west England, Wales west midlands, Yorkshire and Humber. Transport disruptions are expected in these areas as the Met Office warns that journey times for bus and train services will probably be affected.
The Met Office also said that spray and flooding on roads may make journey times longer in areas where the yellow warning is in place.
The Met Office said: "As much as 40-60 mm of rain is likely to fall over some hills and mountains in Wales, with 20-30 mm quite widely elsewhere in Wales and also over some other parts of the warning area."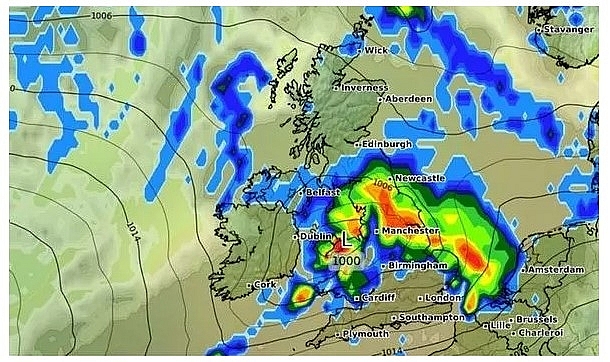 Britain will be drenched by two weeks' worth of rain over 12 hours (Image: WXCHARTS)
"Following recent very wet weather some travel disruption and flooding is likely."
The yellow weather warning is in place until 9am on Thursday morning. The Environment Agency has three flood warnings in place and 33 flood alerts for areas across the UK.
While Natural Resources Wales has 16 flood alerts in place for areas covering the north south west and south east.
The flood warnings cover areas in Greater London and Oxfordshire where flooding of properties, roads and farmland is possible.
Clare Nasir, Met Office Meteorologist, said: "A touch of air frost first thing across central and northern areas of Scotland as the rain slides down towards the southeast.
"But before that we will see some moderate perhaps even heavier burst just arriving and clearing Wales as well as west country."
On Thursday, heavy rain could bring risks of thunder, hail and lightning.
The Met Office has issued a yellow weather warning for rain with fears of flooding (Image: MET OFFICE)
Ms Nasir said: "Brighter skies to follow but another batch of showery rain has moved in through the first part of the day for North Ireland, northern England, western parts of Scotland."
"And then we will see some showers here which could turn heavy with the risk of thunder, hail and lightning."
Friday will have some more showers as the band of rain moves from north west to south east of the country. But as the UK heads into the weekend, the heavy rain will start to clear bring some sunny spells.
Ms Nasir added: "Now on Friday this showery burst of rain will slowly move down towards the south east."
"A rash of showers towards the north with a blustery breeze, in between we will see some brighter skies either side of that rain band."
"Some sunshine as well and temperatures typically 10 to 12, 15 degrees Celsius."
Although the rain will be staring to clear, temperatures will see a significant drop with frosty nights expected.
Ms Nasir said: "Turning a lot cooler through the weekend as the winds shift round to a northerly. And with that always the chance of showers particularly exposed to the north as well as the north west and northeast inland some brighter weather by day, the risk of frost by night."
On October 9
According to Weather Online, low pressure to the northeast of Scotland on Friday. This brings outbreaks of rain across Ireland, Northern Ireland, Wales and England as well as across the southern half of Scotland.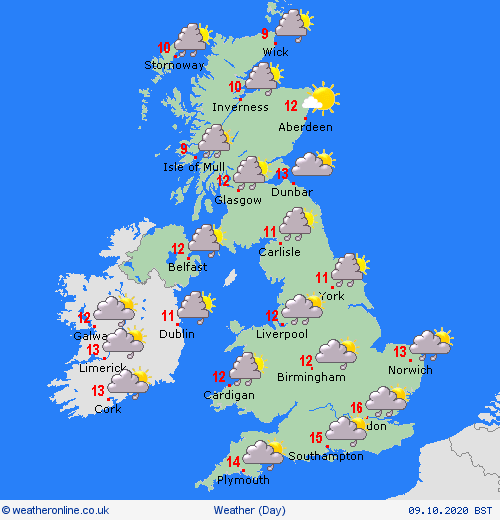 Photo; Weather online
Rain clears western and northern areas through the morning to give some good spells of sunshine though scattered showers also follow, especially over northwest-facing coasts and hills. Rain takes a little longer to clear eastern England but should do so by the evening. Highs at 9 to 12C in the north and west, 13 to 15C in the south and east.
Europe's weather forecast
BBC WEATHER warned that temperatures this week are set to "fall away below the seasonal average" as "much colder air" sinks southwards into Europe and big thundery downpours are forecast for many.
A couple of low pressure systems are set to make some changes across the European continent, according to BBC meteorologist Stav Danaos. The weather presenter noted that one is moving through the Mediterranean, bringing some wet weather to much of Italy, Sicily and around the Adriatic and the Balkans. It's been spreading its way southeastwards into parts of Greece as well.
Mr Danaos told viewers: "It's certainly brought a drop in temperatures with it."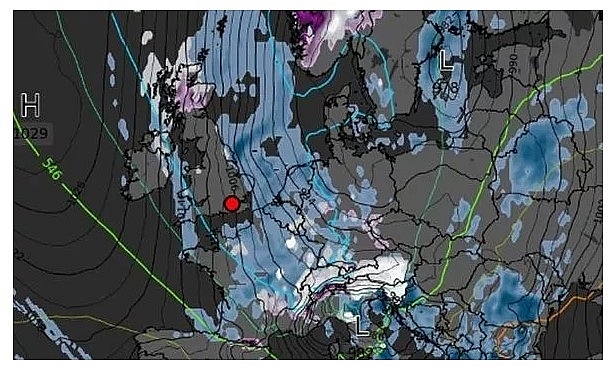 BBC Weather: Freezing cold air blasts into Europe as temperatures forced below average (Image: WXCHARTS)
"Some heavy thundery downpours continue to push their way eastwards. Although the eastern Mediterranean will stay dry and sunny. In fact, it will be pretty hot down in Cyrpus."
He continued: "Then we've got another area of low pressure bringing some unsettled weather to the British isles, the low countries and into Scandinavia."
"It will be about 36 to 37 degrees in Nicosia on Thursday. Some heat will be around with plenty of sunshine."
"That rain will be reaching the Bosphorus there, affecting parts of Bulgaria into Romania up in towards the northeast of Europe as well."
The BBC presenter added: "It will be quite unsettled into Scandinavia, Denmark and northern Germany. Some heavy rain and colder winds will also be moving in from the north west as we head on into Friday."
"Another pulse of rain will spread across the British isles on Friday, not quite as wet and windy as what we'll see from Wednesday into Thursday."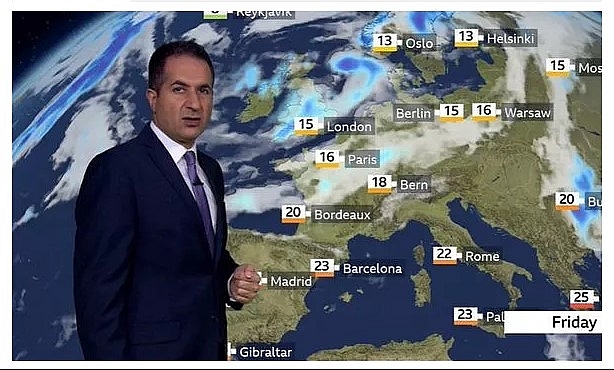 'Some heavy thundery downpours continue to push their way eastwards.' (Image: BBC)
Mr Danaos said: "But then much colder air will begin to sink southwards across the northwest of Europe."
"Those temperatures will fall away below the seasonal average for London and for Paris as we head on into the weekend.
"For Madrid and Rome, there'll be some sunshine around. But there will be more rain for central Italy into next week."
"For Athens it will feel a little bit fresher than of late but with some sunshine, it will be pleasant."
On October 9
According to Weather Online, a scattering of showers affects the far north of Spain later, otherwise it is a dry and fair day across the country and for Portugal, the Balearic Islands, Corsica, Sardinia, Sicily and Italy. Dry and fine conditions extend to much of Greece though isolated showers may develop over the southern and eastern Aegeaen Sea. Heavy thundery showers continue to affect western Turkey.
A band of rain, this locally heavy, edges south over the northern half of France and southern Germany. Bright with isolated showers behind this for the Low Countries and northern coasts of France and Germany.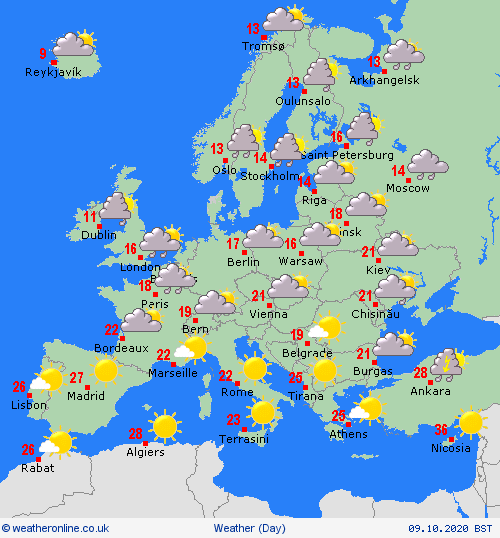 Photo: Weather Online
Patchy outbreaks of rain affect northwestern parts of Poland and the far northwest of the Czech Republic. Dry and fine conditions extend though southeastern areas and across Switzerland, Austria, Hungary and Slovakia.
Bright and breezy with scattered showers for Denmark on Friday. Heavier rain may arrive from the west later. An area of heavy rain spreads northward over Sweden and Norway - this turns to snow over higher ground in central regions. Brighter conditions follow later. Patchy rain spreads from the Baltic Sea across the Baltic States and Finland. Again, brighter conditions follow with a scattering of showers.