UK Prime Minister Boris Johnson Self-Isolates, Pleading People To "Stick With The Rules"
Three of the Britain's most senior cabinet ministers — including prime minister Boris Johnson — will be self-isolating on England's "Freedom Day", as the surge in Covid-19 cases send anxiety and fear accross the country.
Prime Minister Boris Johnson of Britain and his top finance official, Rishi Sunak, will go into self-isolation on Sunday, only hours after Downing Street said that they would avoid a quarantine, following contact with a cabinet minister who tested positive for the coronavirus.
The abrupt reversal by Mr. Johnson and Mr. Sunak, Britain's top two government officials, came after their plans to enter a special program that would have allowed them to keep working at the office set off a swift and ferocious backlash from critics, who accused them of a double standard.
Prime Minister Boris Johnson and his finance chief, Rishi Sunak, the chancellor of the Exchequer, in London in October. They both said on Sunday that they would enter quarantine.Credit...Dan Kitwood/Getty Images
Mr. Johnson and Mr. Sunak were notified, or "pinged," by the National Health Service after face-to-face meetings with the health secretary, Sajid Javid, who said on Saturday that he had mild symptoms of Covid-19. They had initially planned to avoid the normal requirement to isolate themselves by taking part in an N.H.S. pilot program that would have subjected them to daily tests.
Critics pointed out that hundreds of thousands of ordinary Britons similarly pinged by the health service had been forced to quarantine for 10 days, suggesting that the program was a way for the elite to avoid that burden.
"Boris Johnson and Rishi Sunak have been busted yet again for thinking the rules that we are all following don't apply to them," the leader of the opposition Labour Party, Keir Starmer, said in a statement.
"The public have done so much to stick to the rules," Mr. Starmer added. "At a time when we need to maintain confidence in self-isolation, parents, workers and businesses will be wondering what on earth is going on in Downing Street."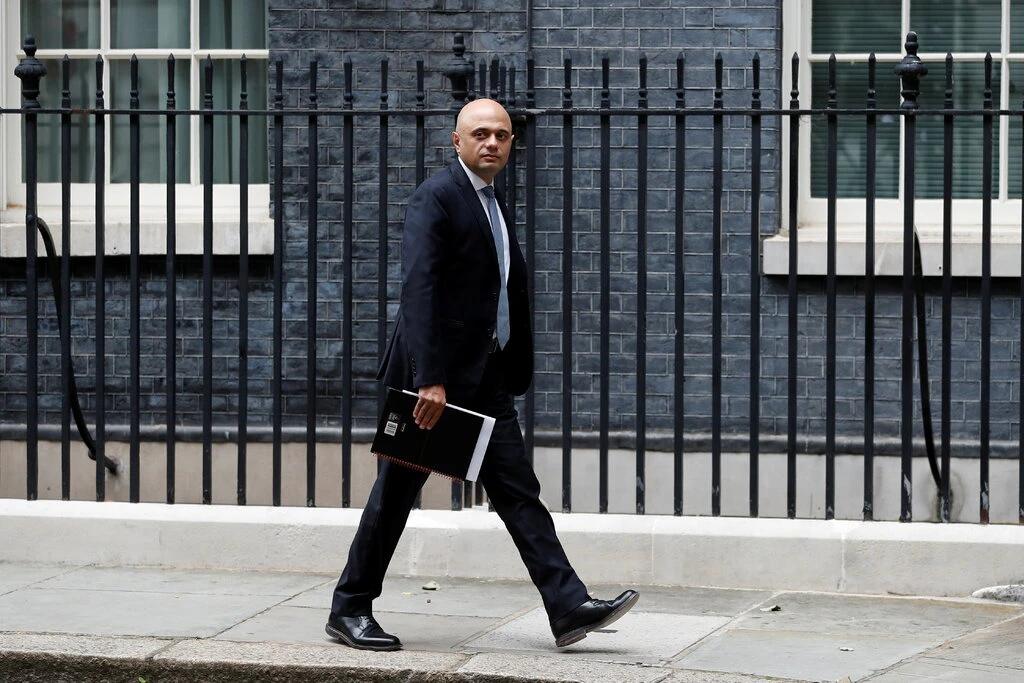 Sajid Javid, Britain's health secretary, this week in London. He said on Saturday that he had tested positive for the coronavirus.Credit...Peter Nicholls/Reuters
After Mr. Javid's announcement, the notification of Mr. Johnson and Mr. Sunak did not come as a surprise, and neither has reported having any Covid symptoms. But their chaotic response, on the eve of the government's plans to lift almost all virus-related restrictions, was the latest in a skein of U-turns and reversals dating to the beginning of the pandemic.
The episode illustrates the widening ripple effects of the health service's highly sensitive test-and-trace app, which has notified more than 500,000 people in the past week that they should isolate themselves because they had come into contact with someone who tested positive, according to NY Times.
The cascade of isolations has begun to cause staff shortages in pubs, restaurants and other workplaces. A major line of the London Underground, the Metropolitan, was closed Saturday evening because multiple staff members were pinged by the app. The Piccadilly and District lines were also affected.
The situation has raised further questions about the government's plan to lift restrictions on Monday, even as cases have surged to more than 50,000 a day, largely because of the highly transmissible Delta variant. British news media have called July 19 "Freedom Day," but for thousands of people who are either infected or have been in contact with an infected person, that phrase will ring hollow.
Under the health service's pilot program, Mr. Johnson and Mr. Sunak would have continued to work at Downing Street, which has been equipped with facilities to conduct daily tests. They would also still have been required to self-isolate when not at work. Mr. Johnson and his wife, Carrie, live in an apartment on the upper floors of 11 Downing Street, adjacent to his office. That building also houses Mr. Sunak's office.
The news of the testing arrangement brought immediate criticism, with some pointing out that it was only the latest example of senior officials playing by different rules. By 11 a.m. in London, three hours after the original statement, both men backed off.
The N.H.S. pilot program is being tested at 20 sites, including Heathrow Airport, Network Rail, Transport for London and U.K. Border Force, with a goal of avoiding staff shortages in critical operations. It requires installing testing equipment that will detect even asymptomatic cases of Covid.
PM Johnson pleads for caution as 'Freedom Day' arrives in England
On what local media have dubbed "Freedom Day", Johnson's decision to lift regulations in favour of restarting an economy damaged by a series of on-off lockdowns since March 2020 marks a new chapter in the global response to the coronavirus.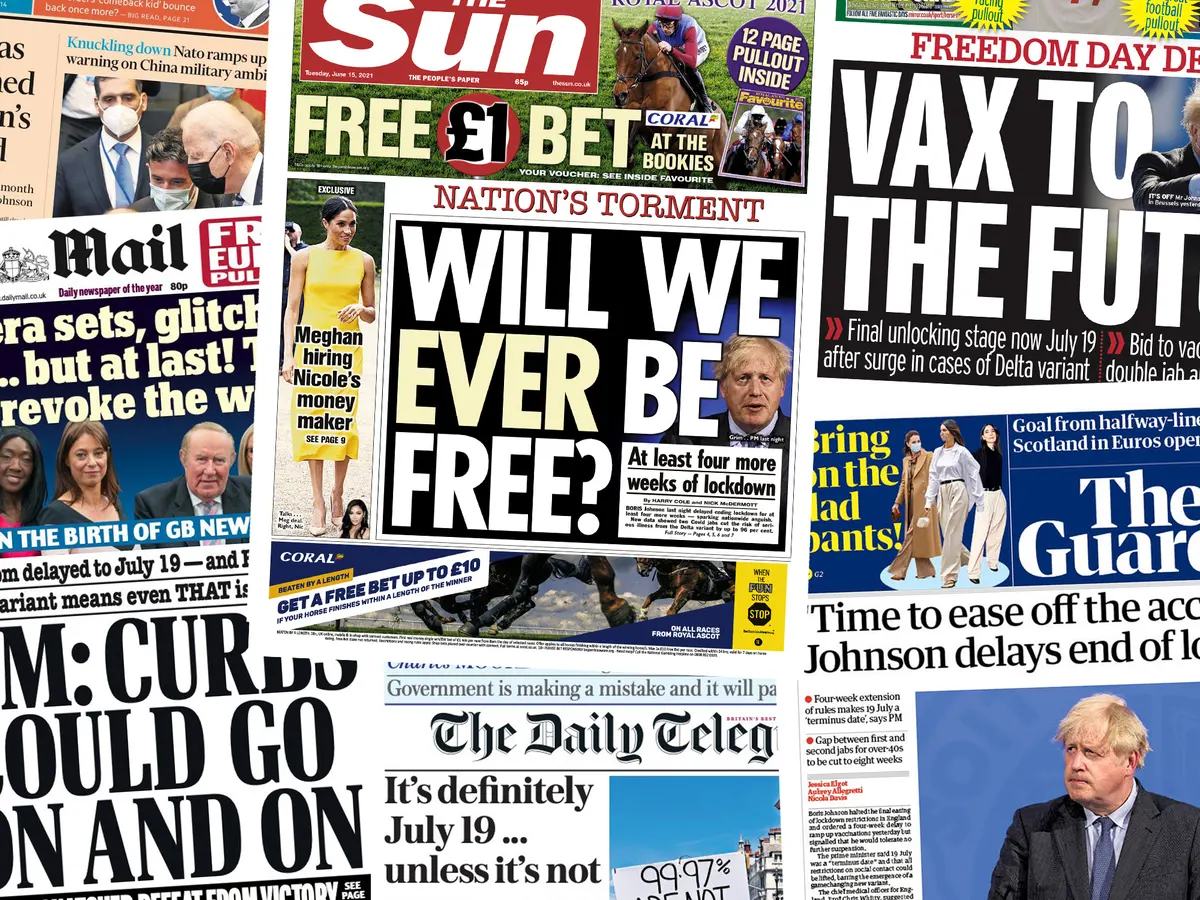 Pages from UK papers after lifting of the lockdown is delayed after a surge in cases of the Delta variant of Covid-19 Composite: Various
If the vaccines continue to prove effective in reducing severe illness and deaths even while infections reach record levels, Johnson's decision could inform other highly vaccinated countries' approach to returning to normal.
But the strategy comes with risks - most notably that a variant capable of resisting vaccines could emerge, or that the caseload could grow so severe that the economy grinds to a halt. Given that, Johnson has urged the public to take a cautious approach to the reopening.
"If we don't do it now we've got to ask ourselves, when will we ever do it?" he said in a video message filmed on Sunday.
"This is the right moment but we've got to do it cautiously. We've got to remember that this virus is sadly still out there."
Britain has the seventh highest death toll in the world, 128,708, and is forecast to soon have more new infections each day than it did at the height of a second wave of the virus earlier this year. On Sunday there were 48,161 new cases.
But, outstripping European peers, 87% of Britain's adult population has had one vaccination dose, and more than 68% have had the two doses which provide even more protection. Daily deaths, currently at around 40 per day, are just a fraction of a peak of above 1,800 seen in January.
From midnight, laws in England requiring facemasks to be worn in shops and other indoor settings will lapse, as will capacity limits in bars and restaurants, and rules limiting the number of people who can socialise together.
"When you're asked to get that second jab ... please come forward and do it"
The issue hit close to home this weekend: Johnson and finance minister Rishi Sunak are among those self-isolating after health minister Sajid Javid tested positive for the virus on Saturday. A plan for Johnson and Sunak to dodge the 10-day quarantine requirement was abandoned on Sunday after a public outcry.
That was the latest in a series of episodes that have damaged public trust in the government's handling of the pandemic.
But the success of the vaccine rollout has helped keep the Conservative prime minister afloat politically.
Nevertheless, the government's own chief medical adviser has warned the crisis could return again surprisingly quickly if case numbers spiral. Johnson himself has highlighted the risk of new variants and urged citizens to complete the vaccine programme.
"Above all, please, please, please, when you're asked to get that second jab ... please come forward and do it," Johnson said.