Unexpected creation of Hai Phong's iconic grilled meat with squid dish
The idea to make Hai Phong's famous dish was inspired by people grilling sugar cane
Hai Phong City has long been known for its unique cuisine, attracting food fanatics from across Vietnam. Like other renowned Hai Phong dishes such as banh đa cua (banh da noodles with crab), cha chia is an indispensable part of Hai Phong's cooking culture.
Le Khac Hoat, 57, from Ha Lung village in Hai An district of Hai Phong City, is believed to be the creator of cha chia. Hoat said what separates cha chia of Ha Lung from the rest is the use of squid dried under the sun only once.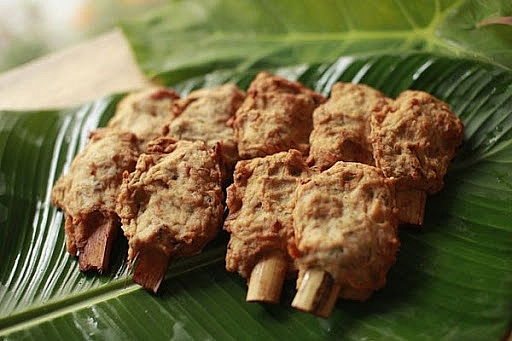 Cha chia of Ha Lung, a delicacy of Hai Phong City / Vietnamnet
"Our family specializes in pork paste (gio and cha). One night, when I was delivering food to customers, I saw people grilling sugar cane. I was so captured by the idea that I immediately thought of cooking pork paste with sugar cane,"Hoat said. "I tried to mix other ingredients into the pork paste like beef or prawns, but I realized only dried squid coulf combine perfectly with pork paste."
According to Hoat, Hai Phong is not as abundant in fresh squid supplies as Ha Long city, therefore squid paste dishes from Hai Phong are not as delicious. On the other hand, dried squid is readily available on Cat Ba Island of Hai Phong at a low cost, and its quality is excellent.
Thirty years have passed since Hoat first created cha chia. This dish has become a part of Hoat's eventful life and a beloved food for Hai Phong locals. They call Hoat's creation "cha chia of Ha Lung."
Pork paste, one of cha chia's main ingredients / BeptruongAAu.edu.vn
The main ingredients for Ha Lung cha chia are squid, pork, and sugar cane. The chef must go to the market early in the morning to select the freshest and cleanest pork. The chef then takes out the fat and minces the lean meat finely to make pork paste.
The Squid must be of excellent quality, ordered from Cat Ba, not too big but with a thick body. It must be sliced into small pieces, minced with lean pork, then mixed well with fish sauce, shiitake mushroom, wood-ear mushroom, pepper and other seasonings.
The hard bark of the sugarcane must be removed before the cane is cut lengthwise into small pieces. When pasted onto the sugar cane, the pork mixture is still warm to the touch, fresh, and sticky.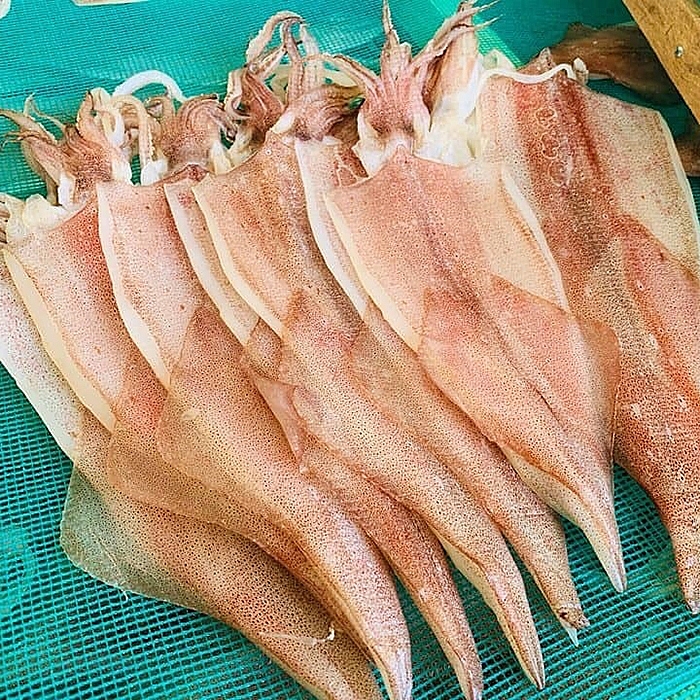 Squid dried once under the sun / HaisanphuongNam.com
After preparing the ingredients, the chef the steams cha chia. The temperature must be consistent throughout so the cha chia can be cooked evenly. It is then grilled until golden brown.
The dish is so popular that most tourists in Ha Lung village buy it as a present for their families and friends.
Ha Lung cha chia is currently sold at about VND 300,000/kg.