US businesses keen to ramp up imports from Vietnam
Supply chain news website Material Handling & Logistics of the United States has recently published an article which reveals that 43% of US-based respondents at the start of the year consider Vietnam to be among their top three buying geographies, double that of 2019.
Vietnam has become an alternative sourcing region along with India and Turkey, which have experienced sustained levels of growth despite Covid-19 pandemic, the article says.
Statistics released by the Ministry of Industry and Trade indicate that during the opening four months of the year, US enterprises imported goods worth US$30.26 billion from the Vietnamese market.
A container ship is unloaded at a port in the southern province of Ba Ria–Vung Tau. Photo by VnExpress
Meanwhile, the General Department of Vietnam Customs states that the US has increased its import of Vietnamese goods, with the group of computers, electronic products, and components recording a turnover of US$3.92 billion. Elsewhere, the group made up of mobile phones and components saw a turnover of US$3.17 billion, up 6%, whilst the category of machinery, equipment, tools and spare parts was at US$5.71 billion.
The US continues to represent the largest consumer of Vietnamese garment and textiles, importing US$4.7 billion worth of the products in the reviewed period, an increase of 18.7% against the same period from last year, or accounting for 48.7% of Vietnam's total export value of the products.
In contrast, Vietnam imported goods worth US$5.1 billion from the US, an annual rise of 8%. Major imports were computers, electronics and components, cotton, machinery and equipment, plastic materials, and animal feed.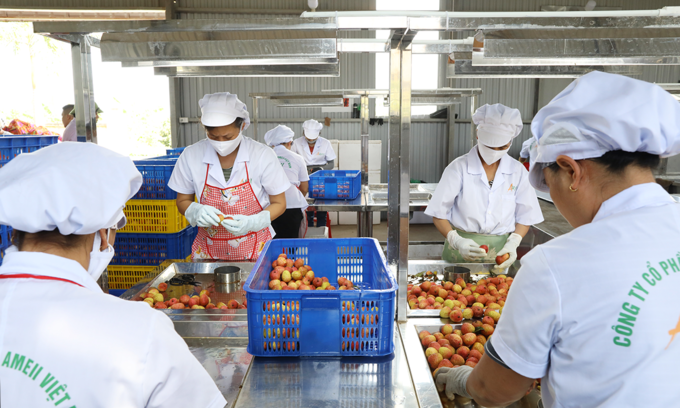 Workers prepare lychees for exports in the northern province of Bac Giang. Photo by VnExpress/Ngoc Thanh.
The article also provides details of a barometer report which was informed by internal QIMA data and the findings of a survey of over 700 firms with international supply chains. This looked into the supply chain highlights of Q1 of this year, along with emerging trends that may influence the global sourcing landscape in the months ahead.
Data indicate a 16% year-over-year increase in demand for inspections and audits in the country during Q1, marking a third consecutive quarter of growth that had initially begun as part of a post-lockdown rebound starting during the middle of last year.
At present, the appetite for Vietnamese sourcing is far from satisfied and is anticipated to redefine the sourcing landscape in the year ahead. Indeed, around one-third of buyers globally and 38% of U.S-based buyers name Vietnam among the countries where they plan to buy more items this year.
The report also reveals that Vietnam is not the only place in the region to benefit from expanded business volumes, as data on inspection and audits demand in Southeast Asia records double-digit growth across the board. This growing trend is largely fueled by the renewed interest from both US and European brands.
Doors open wider for Vietnam exports to the US
A large demand for agricultural produce and electronics products as well as rising e-commerce potential give Vietnamese exporters greater opportunities in the U.S. market, experts say.
The U.S. is a market with much potential for Vietnamese companies, especially as Vietnam has been able to keep the Covid-19 pandemic under control, said Nguyen Huu Tien, director of the HCMC Investment and Trade Promotion Center.
The U.S. was Vietnam's largest export market in the first four months with the value of shipments surging 50 percent year-on-year to $30.3 billion, according to VnExpress.
Last year, Vietnamese exports to the U.S. ranked third in Asia after China and Japan.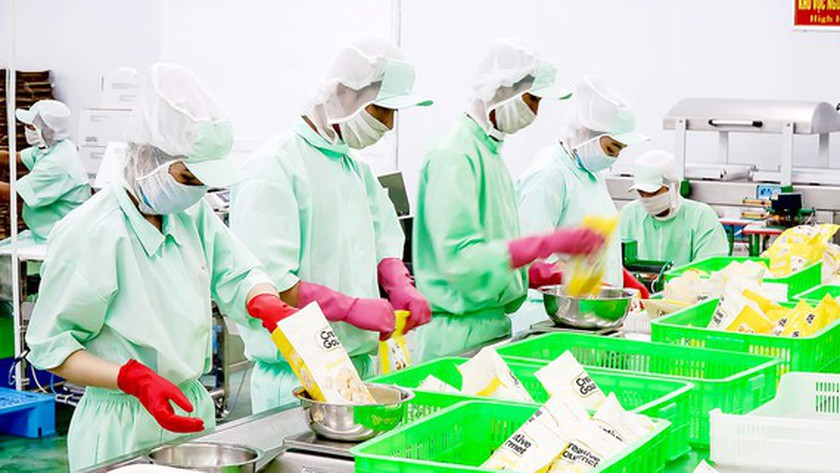 Processing fruits and vegetables for exports. Photo: SGGP
Ken D. Duong, director of international law firm TDL, said that traditional categories such as agriculture produce and fisheries were posting strong figures despite the pandemic.
U.S. companies have stopped purchasing some hardwood products from China and are looking for alternative markets, he said, adding that last year, many Vietnamese companies were able to take advantage of this and got large orders.
Many Vietnamese-Americans are looking for suppliers in Vietnam to export products to the U.S., he added.
There are a lot of opportunities for electronics export because a number of American and Taiwanese firms have established factories in Vietnam to research and develop internet of things products.
"There are signals that indicate that Vietnam could become a hub for researching and manufacturing advanced tech products," Duong said.
Amazon Global Selling Wednesday announced a new campaign in partnership with the Vietnam e-Commerce and Digital Economy Agency (iDEA) that would help Vietnamese sellers sell more products on Amazon.