Vietnam Can Gain Advantages By Fulfilling Commitments at COP26
The Prime Minister said that the implementation of commitments at COP26 had many difficulties. However, Vietnam had great benefits from fulfilling such commitments.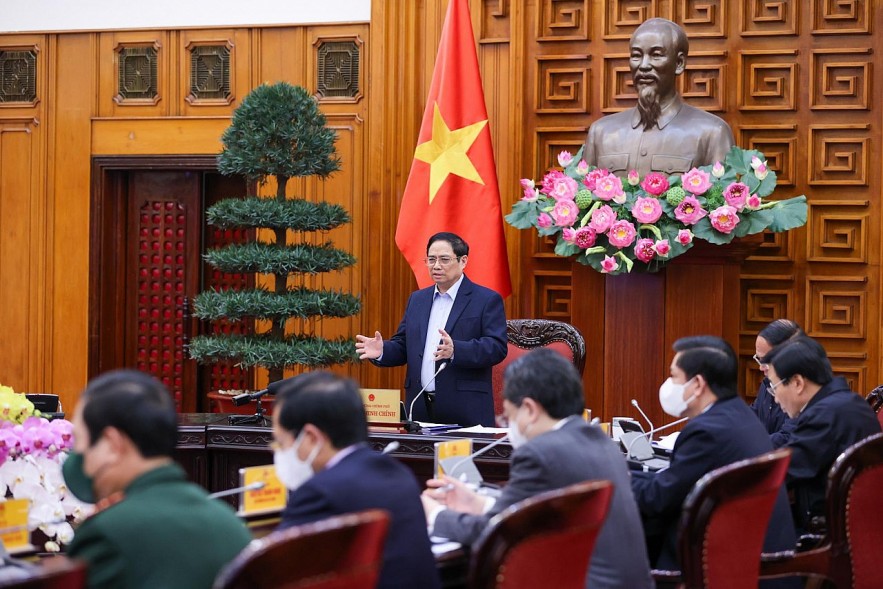 The Prime Minister requested to make the best use of this opportunity to mobilize and effectively use domestic and foreign resources for green development. Photo: Thanh Nien
The Prime Minister said that Vietnam had great benefits if it could fulfill the commitments at COP26.
This message was emphasized by Prime Minister Pham Minh Chinh when chairing the first meeting of the National Steering Committee to implement Vietnam's commitments at the 2021 United Nations Climate Change Conference (COP26), on January 13.
Concluding the meeting, the Prime Minister, head of the Steering Committee, said that responding to climate change, reducing carbon emissions and sustainable development was a trend needing high determination and goals of the international community.
This is also an important issue for Vietnam, a developing country and one of the countries most affected by climate change, receiving great attention from leaders, scientists and the community.
This is a big and important program to contribute to the implementation and concretization of the Resolution of the 13th Party Congress, the 5-year plan, and the 10-year strategy on rapid and sustainable development, the Prime Minister said.
This program is also consistent with the approved economic restructuring program for the period 2021-2025; in line with the world trend of green economy development, circular economy and digital economy.
Vietnam determined despite difficulties
The Prime Minister said that the the program had many difficulties, but commitments must be fulfilled effectively.
Vietnam will have great benefits if it can fulfill these commitments.
He emphasized that this was a global issue, and Vietnam needed to have a global approach, the participation of all countries, and international support.
As an issue affecting people, it is necessary to have a people-to-people approach, to take people and businesses as the goal and center, as the subject of the plan.
This is an issue affecting all ministries, branches and localities, so a comprehensive approach is required.
Vietnam also needs to combine effective green transformation with digital transformation and other transformations, as well as mobilize domestic and foreign resources, state and private resources.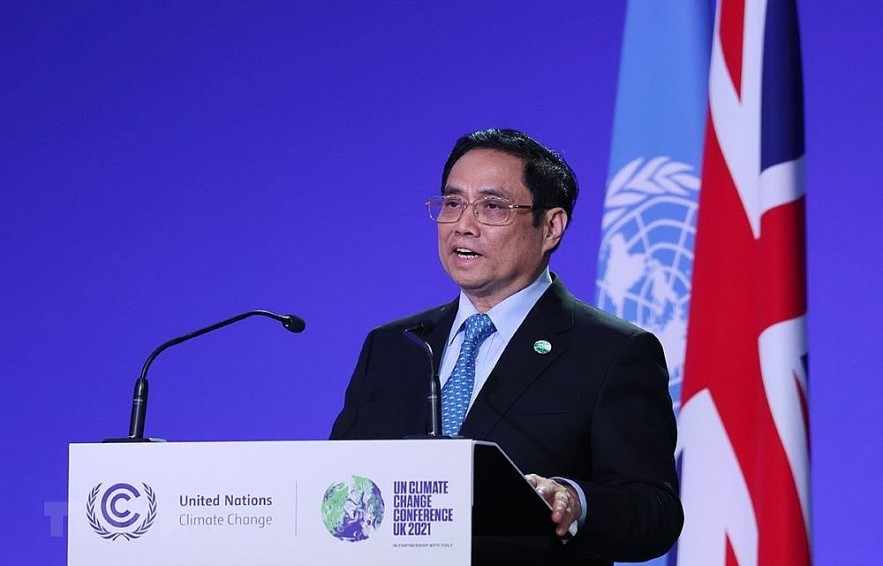 Vietnam's Prime Minister Pham Minh Chinh at COP26. Photo: VNA
According to the Prime Minister, many countries, partners and international financial institutions are supportive of Vietnam.
For Vietnam to become a model in responding to climate change in developing countries, it must make the best use of this opportunity, mobilize and effectively use domestic and foreign resources, and communicate the spirit of green transformation to ministries, sectors, localities and people.
The Prime Minister said that research agencies needed to come up with proposals for cooperation on climate chang, in line with the country's development strategy, capabilities and the partners' ability.
Regarding the roadmap, he said the program had both addressed strategic issues, long-term issues, and immediate issues. Therefore, it will quickly complete the development of the Steering Committee's 2022 plan.
In the first quarter of 2022, ministries and sectors need to develop programs and plans in management of climate change response, focusing on eight issues.
The issues are green energy transformation, clean energy; reducing greenhouse gas emissions; reducing methane emissions; developing electric cars; planting forests to absorb CO2; construction materials and urban development suitable for green and sustainable development; communication for the people and business community to participate; and accelerating digital transformation.
The Prime Minister said that the formulation of Power Development Planning VIII should also aim at climate change response, green transition and sustainable development goals.
In the second quarter of 2022, the Steering Committee will review and submit to authorities a master program for Vietnam's commitments at COP26, and organize the goals methodically, and effectively.
At COP26, in early November 2021 in Glasgow, Scotland, Vietnam and nearly 150 countries pledged to bring net emissions to "zero" by the middle of the century; together with more than 100 countries participating to reduce global methane emissions by 2030; join 140 countries in the Glasgow Leaders' Declaration on Forests and Land Use; join 48 countries in the global declaration on converting coal power to clean energy; and join 150 countries in the Adaptation Action Coalition.
Vietnam Makes Positive Impact at COP26

Prime Minister Pham Minh Chinh's trip to Europe has left a deep and strong impression on friends and international partners about a confident and responsible ...