Vietnam Commits to Building A Sustainable Food System
The Vietnamese Government issued the National Action Plan to transform a transparent, responsible and sustainable food system in Vietnam by 2030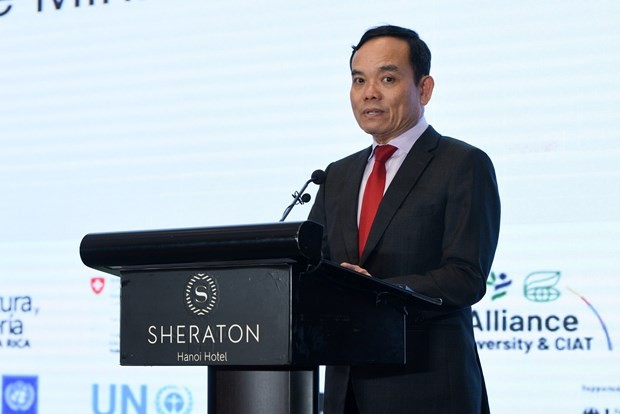 Deputy Prime Minister Tran Luu Quang speaks at the conference. Photo: VNA
The fourth Global Conference of the One Planet Network's Sustainable Food System Programme (SFS Programme) opened in Hanoi on April 24, bringing together more than 300 domestic and foreign delegates, VNA reported.
In his remarks at the ministerial-level conference, Deputy Prime Minister Tran Luu Quang briefed the participants on the national action plan on building a transparent, responsible and sustainable food and food stuff system by 2030, which is aimed at turning Vietnam into a transparent, responsible and sustainable food producer and supplier.
Vietnam stands ready to share its experience and cooperate with other countries in agriculture and rural development, and wishes to receive more support from them in the time ahead, he said.
The Deputy PM cited a report by the Food and Agriculture Organisation of the United Nations (FAO) showing that the number of people affected by hunger globally rose to as many as 828 million in 2021. The Asia-Pacific region is so off track, it would need an additional 35 years to achieve the Sustainable Development Goals – in 2065.
"It's high time to take actions to protect the planet – our common house," Quang stressed.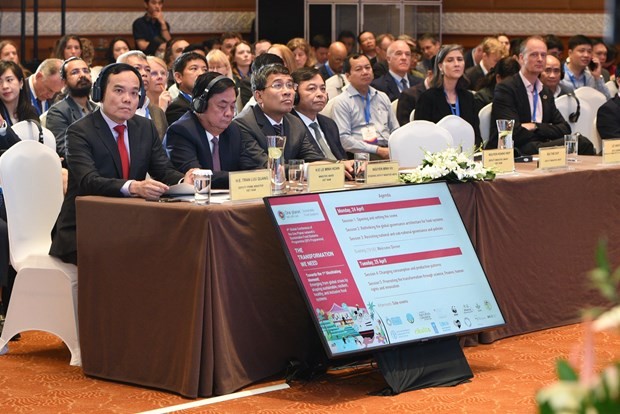 Delegates at the conference. Photo: VNA
Estrella Esther Penunia, Secretary General of the Asian Farmers' Association, also pointed out that natural disasters, climate change, epidemics and political conflicts have worsened and seriously impacted lives of households, causing food prices to double or triple, which makes it difficult for people, especially those in remote areas, to access nutritious food.
She suggested countries integrate sustainable development into policy making, and work to ensure seeds, technology and technical assistance.
FAO Director General Qu Dongyu stressed the urgent need to transform the food system in a more effective, comprehensive, flexible and sustainable fashion, saying this requires efforts by all countries.
The conference, to last until April 27, will look into barriers and problems related to the transformation of the food system, and proposed solutions, focusing on models and global architecture of the food system; national and local policies and administration of the food system; production and consumption models; food system transformation methods.
The One Planet Network is an open partnership chaired by the United Nations Environment Programme, aiming to promote sustainable consumption and production.
SFS is a global programme led by the UN, intending to accelerate the transition of food systems towards a more sustainable one through capacity building, synergies and strengthening cooperation between partners at all levels.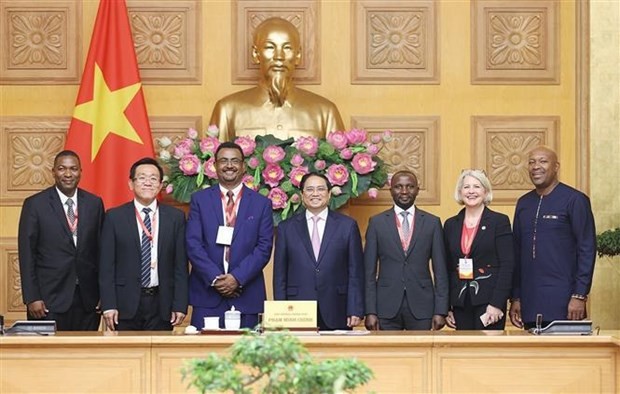 At the reception between Prime Minister Pham Minh Chinh and a delegation of leaders of agriculture ministries attending the fourth Global Conference of the One Planet Network's Sustainable Food System Programme. Photo: VNA
The same day, Prime Minister Pham Minh Chinh hosted a reception in Hanoi for a delegation of leaders of agriculture ministries attending the fourth Global Conference of the One Planet Network's SFS Programme.
Amid uncertain developments in the world, Vietnam prioritises and continues to maintain macroeconomic stability, control inflation, promote growth, ensure the major balances of the economy and social welfare, including ensuring a balance of food and food exports, he said, adding that Vietnam is restructuring its agriculture sector towards increasing added value and sustainable development, shifting the focus from agricultural production to agricultural economic development.
According to the PM, agriculture is providing livelihoods for over 60% of the rural population, accounting for 30% of the country's workforce and nearly 12% of the gross domestic product.
From a country that used to be dependent on food imports and underdeveloped in agriculture, Vietnam has become one of the world's leading exporters of agro-forestry-fisheries, with a total export turnover of over USD 53 billion last year.
He proposed that developing countries enhance the effectiveness of the South-South cooperation, in which Vietnam is willing to share experience and work with other countries to develop agriculture and rural areas, eradicate hunger and reduce poverty, and food security with the support of bilateral and multilateral international partners.
The host suggested that relevant parties build mechanisms to attract investment, conduct research and technological application, especially post-harvest technology, pay attention to high-quality human resources training and the establishment of stable global supply chains based on the principle of mutual respect and sharing, and assist developing countries in agricultural development and transition of the food system towards green, clean, organic, and circular manner.
Leaders of agriculture ministries and Executive Director of Grow Asia Beverley Postma hailed Vietnam for holding the conference amid the risk of a global food crisis due to the disruption of the global supply chain.
They spoke highly of Vietnam's commitments and goals in transforming its food system to be healthy, sustainable, adaptable to climate change, and inclusive.
Agreeing with the Vietnamese PM's proposals, they pledged to report to their leaders to boost cooperation and wished that Vietnam would send experts to their countries to share experience in ensuring food security and agriculture development, especially in rice, coffee, and seafood.