Vietnam Covid-19 Updates (Jan. 27): Nearly 16,000 New Infections, 166 Omicron Cases
The fourth wave which hit the nation in late April has now seen over two million Covid-19 cases and more than 21.8 million recoveries from the disease.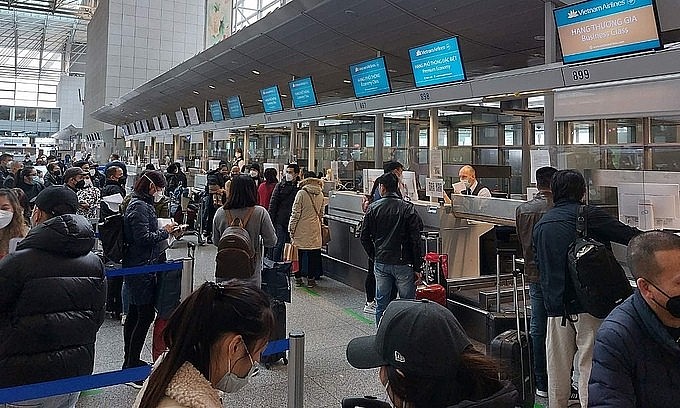 Photo: VNE
Vietnam confirms nearly 16,000 new Covid-19 infections, 166 Omicron cases
A further 15,954 people across 61 localities nationwide were found to have tested positive for the SARS-CoV-2 virus, a rise of 186 from figures on the previous day, the Ministry of Health reported on January 26.
Hanoi continued to be the leading locality on the list with new infections with 2,884 cases, trailed by the southern provinces of Da Nang with 991 and Bac Ninh with 865 cases. The capital has recorded roughly 3,000 new daily Covid-19 cases over the past two weeks and has consistently topped the country in the daily tally. It has now confirmed more than 120,000 cases so far in the fourth pandemic wave.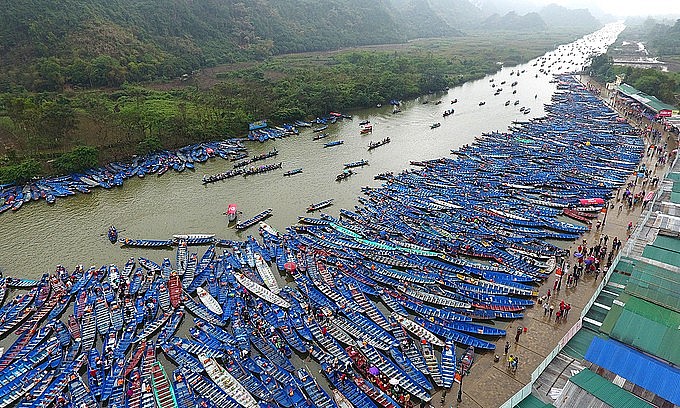 Photo: VNE
Hanoi cancels biggest spring festival over Covid fear
Authorities in My Duc District will suspend Huong (Perfume) Pagoda Festival, a large spring celebration, as the Covid pandemic grows increasingly complex. Local authorities started preparations for this year's festival are complete but the pandemic situation in Hanoi remains complicated, prompting its cancelation for the second consecutive year.
The decision came a week after the municipal People's Committee ordered to suspend all unnecessary large gatherings and not to organize any celebratory activity with large crowds during Tet, the most important Vietnamese festival, which begins on Feb. 1. In addition, the pagoda will not receive visitors until further notice.
The Huong Pagoda festival usually lasts from the sixth day of the first lunar month to the last day of the third lunar month, that is, from Feb. 6 to April 30 this year, with a series of activities like dragon dancing, boat racing, and folk singing. Around 80,000 pilgrims had flocked to the pagoda on the festival's opening day in previous years. Huong Pagoda, in Huong Son Commune, Hanoi's rural district of My Duc, is a collection of many temples and pagodas built amidst mountains and forests.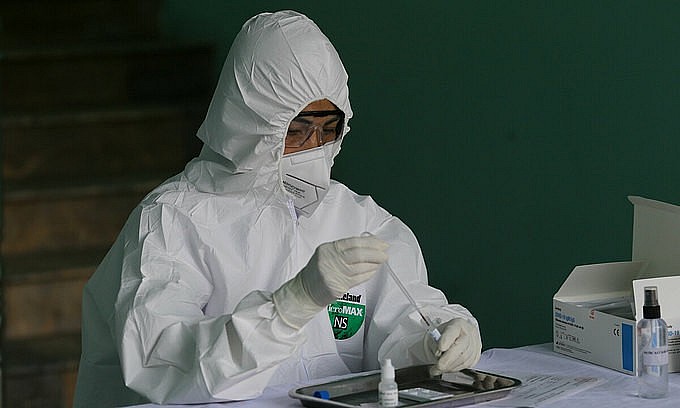 Photo: VNE
First community Omicron case recorded in Hanoi
A person who came in contact with 13 imported cases of Covid-19 Omicron variant was the first recorded case of Omicron in the community in the capital city of Hanoi, according to information announced at the municipal Steering Committee for Covid-19 Prevention and Control's meeting on January 26.
In the meeting, the Deputy Director of the Hanoi Department of Health Vu Cao Cuong said that there was a risk of community transmission of Omicron in Hanoi. The capital city has now seen 118,111 cases and is still on alert level 2 (medium-risk).
"In the coming weeks we could see a slight drop in daily cases," said Cuong. "The drop will be caused by people traveling back home for Tet, and daily cases will return to 3,000 cases per day after the holiday if people do not adhere to prevention methods," he added. To curb the rise of the pandemic, Hanoi will raise awareness among citizens, as well as reduce large gatherings.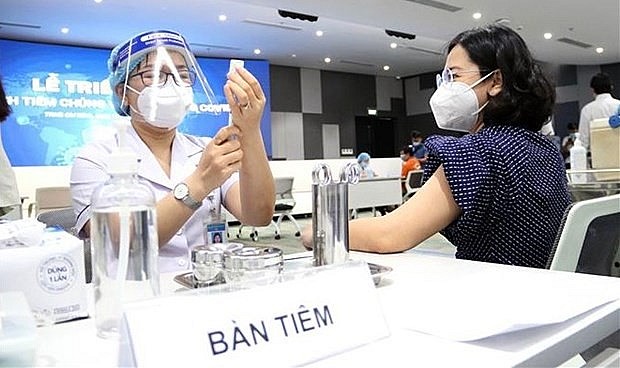 Photo: VNA
HCM City continues with vaccination during Lunar New Year festival
Ho Chi Minh City will continue offering additional and booster Covid-19 vaccine shots in 22 districts, wards, and Thu Duc city during the Lunar New Year festival, reported the municipal Centre for Disease Control. It is meant to achieve vaccine coverage by the end of February as directed by the Prime Minister.
Accordingly, all residents in the city could come to any vaccination site without prior registration. Almost all death cases from Covid-19 in the city have been the elderly, those with underlying diseases, unvaccinated or partially vaccinated people.
From December 10, 2021, to January 23, 2022, 4,420,960 shots, including 623,696 additional and 3,797,264 booster ones, were administered to people in the city.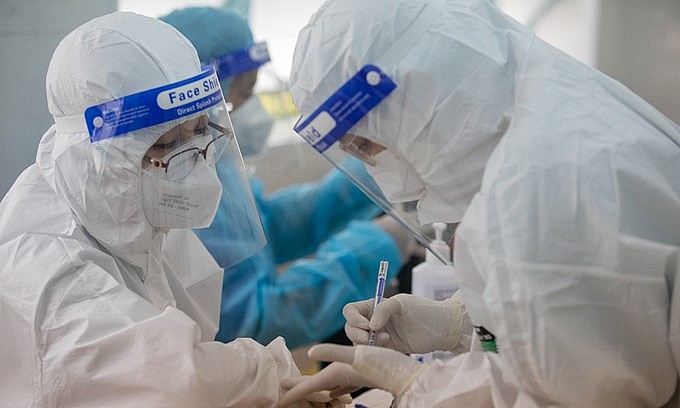 Photo: VNE
Universities plan to receive students for in-person learning after Tet
Following directions from Prime Minister Pham Minh Chinh on preparing conditions to reopen schools, many universities in Hanoi plans to welcome students back for in-person learning after the Lunar New Year (Tet) Festival.
Vietnam National University-Hanoi is taking steps to ensure safety against Covid-19 for students, so that they can return to school from the second semester of the 2021-2022 academic year. Along with designing suitable training programs, the university has prepared to teach plans for students undertaking quarantine or living in high-risk pandemic areas. It will support students to get at least two doses of Covid-19 vaccines and take Covid-19 tests.
Meanwhile, the Hanoi University of Science and Technology is to open for about 35,000 students to attend face-to-face classes from February 15. The university will give four weeks for students to complete their tasks for the first semester before entering the second semester.
Pham Hong Chuong, Principal of the National University of Economy said that the university plans to welcome students from February 14. At the same time, all students having a negative test result for SARS-CoV-2 can return to the Hanoi University of Culture from February 14. Those who are under Covid-19 treatment will be supported with online learning.
The fourth wave which hit the nation in late April has now seen over two million Covid-19 cases and more than 21.8 million recoveries from the disease. Over 73.9 million people out of the national population of 96 million have been vaccinated with two doses, whilst more than 25.9 million have received their third dose.
The Covid-19 death toll in Vietnam rose to 37,165 following the confirmation of 155 deaths on January 26. The Health Ministry also confirmed 36,331 recoveries on the same day, bringing the total number of recovered cases up to 1,841,180.
The average number of new cases in the country over the past seven days has been 15,574, while the national death rate has been 150 a day on average.