Vietnam Covid-19 Updates (July 8): 1,044 New Cases, HCMC Continues Social Distancing
As many as 19,924 community cases have been detected to date in the ongoing wave of Covid-19 that recurred in the country more than two months ago. Ho Chi Minh City now leads the country with the highest numbers of cases, at 8,385.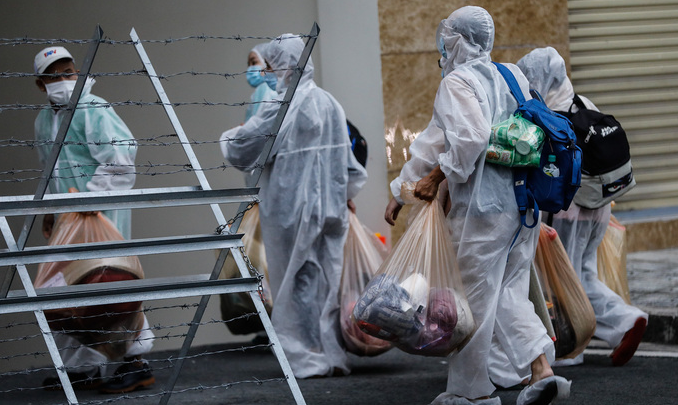 Photo: VN Express
1,044 new cases over the last 24 hours
Vietnam recorded 400 new Covid-19 cases from 6 am to 12 pm on July 7, of which 277 were found in quarantine sites or sealed-off areas. Among the infections, there were 347 in Ho Chi Minh City, 19 in Long An, 13 in Quang Ngai, six in Bac Ninh, four in Phu Yen, three each in Tra Vinh and Bac Giang, two in Nghe An, and one each in Ca Mau, Ba Ria-Vung Tau and Dak Lak.
330 new Covid-19 cases, including nine imported, from 12 pm to 7h30 pm on July 7. Among the new infections, there were 149 in Ho Chi Minh City, 60 in Binh Duong, 41 in Khanh Hoa, 24 in Vinh Long, 18 in Tien Giang, eight in Phu Yen, five each in Vinh Phuc, Hung Yen, and Dong Thap, three in Hanoi, two in Bac Giang and one in Thanh Hoa.
A total of 314 new cases were detected in Ho Chi Minh City, the current biggest coronavirus epicenter, and the southern province of Binh Duong on July 8 morning, according to the Health Ministry.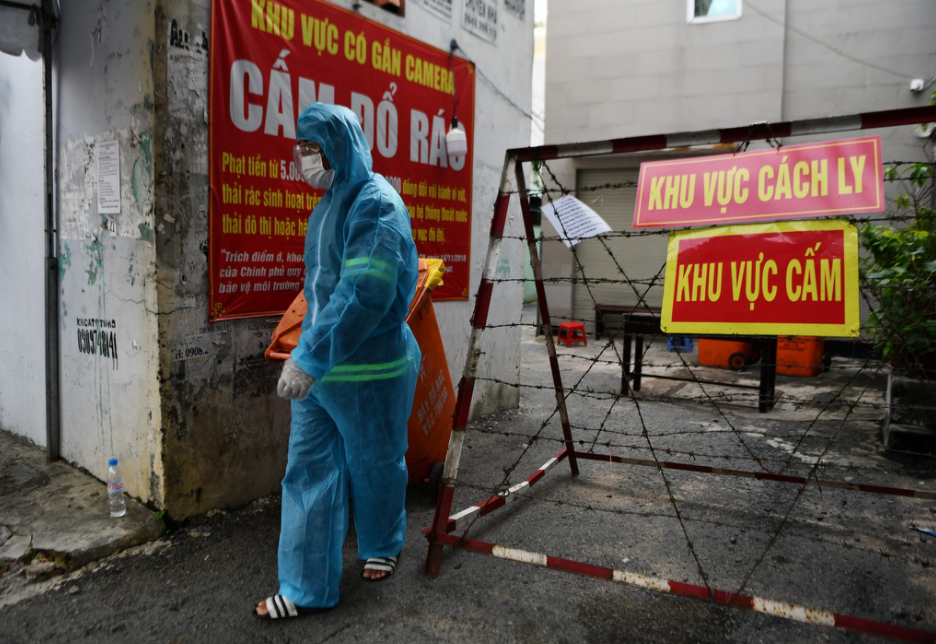 Photo: Zing News
Vietnam strives to successfully realize vaccine diplomacy strategy
Vietnam will continue to embark on its vaccine diplomacy strategy to secure an adequate supply of Covid-19 vaccines for domestic use, said Deputy Foreign Minister Nguyen Minh Vu in an exclusive interview granted to VOV on July 7.
Top Vietnamese leaders, while phoning their foreign counterparts or attending international meetings, have voiced Vietnam's commitment to join the global fight against Covid-19 and at the same time lobbied for vaccine assistance from the United States, Australia, the United Kingdom, Singapore, Japan, the Republic of Korea, Germany, Cuba, Israel, and Switzerland. Through negotiations, Vietnam has so far reached agreements with partners and vaccine manufacturers to secure 130 million doses from COVAX, Pfizer/BioNTech, and Sputnik V among others to inoculate at least 70% of its population.
Moving forward, Deputy Foreign Minister Vu said Vietnam will continue to carry out its vaccine diplomacy strategy, aiming to get multiple sources of vaccine for domestic use.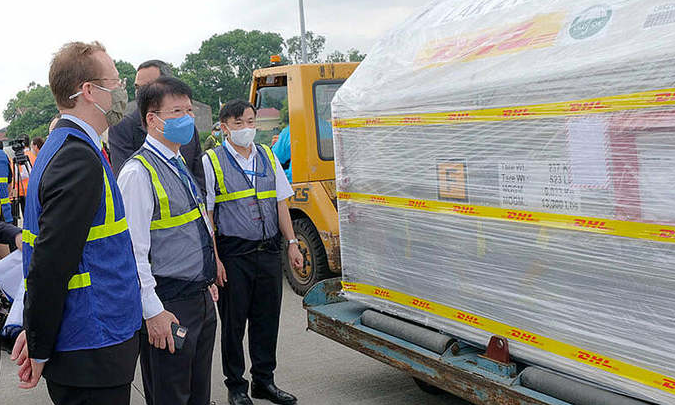 Photo: VN Express
More than 97,000 Pfizer vaccine doses land in Vietnam
A batch of 97,111 Pfizer Covid-19 vaccine doses arrived at Hanoi's Noi Bai International Airport on Wednesday morning. The batch forms part of a contract for 31 million vaccine doses developed by American firm Pfizer and German BioNTech Inc.
Since Sept. 9 last year, as the vaccine entered its final phase of trials, Vietnam's Ministry of Health has sought to obtain a batch for domestic distribution. After 20 meetings and discussions in over 10 months, the ministry had signed a contract with the developer on June 7 to buy 31 million doses, Deputy Minister Truong Quoc Cuong said. The vaccine purchase is funded by the state at an undisclosed price.
The ministry said earlier it expects three million doses of Pfizer Covid-19 vaccines to be delivered in the third quarter and 27-28 million doses in the fourth. On June 12, Vietnam had approved the vaccine for emergency use.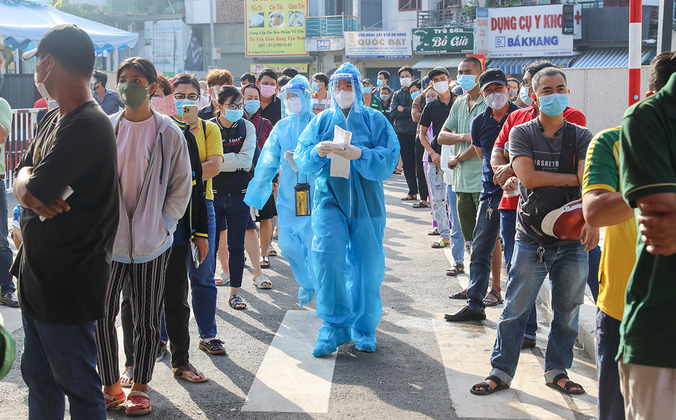 Photo: VN Express
Ho Chi Minh City continues social distancing from July 9
Ho Chi Minh City will apply social distancing measures under the Prime Minister's Directive 16 for 15 days starting 0 am on July 9, said Nguyen Thanh Phong, Chairman of the municipal People's Committee, at a meeting with the city's Committee for Covid-19 Prevention and Control on July 7.
In accordance with the directive, people must strictly follow strict social distancing rules. They are asked to stay at home and only go outside for essential trips such as buying food and medicines, or emergency care. Essential good delivery services are allowed. Phong affirmed that the city has enough supply of goods and measures to distribute goods, ensuring stability and meeting the needs of the people.
The city authorities have requested the suspension of public transport, technology ride-hailing services, and traditional motorbike taxis. The Department of Health was asked to deploy a treatment plan for 10,000 -20,000 Covid-19 infected cases. According to a report by the department, from April 27 to 6 pm on July 7, the city recorded 8,151 coronavirus infections in the community, including 45 deaths. The city is currently treating 7,118 patients.
As many as 19,924 community cases have been detected to date in the ongoing wave of Covid-19 that recurred in the country more than two months ago. Ho Chi Minh City now leads the country with the highest numbers of cases, at 8,385.
Over 3.9 million people have been vaccinated against Covid-19 to date, of which more than 241,910 have received two shots. Nearly 33,740 people were inoculated against Covid-19 on July 7 alone.