Vietnam News Today (Apr. 2): HCM City Enjoys Impressive Growth in Import-export Turnover
Vietnam News Today (Apr. 2): Daily Covid-19 infections fall sharply to 72,000 in Vietnam; HCM City enjoys impressive growth in import-export turnover; WB to help Vietnam realize high-income economy goal; Vietnam needs to amend Bidding Law to join int'l playing ground.
Vietnam News Today (Apr. 2) notable headlines
Daily Covid-19 infections fall sharply to 72,000 in Vietnam
HCM City enjoys impressive growth in import-export turnover
WB to help Vietnam realize high-income economy goal
Vietnam needs to amend Bidding Law to join int'l playing ground
Cooperation enhanced to boost coverage of 31st SEA Games
Friendship, cooperation conducive to Vietnam-Germany energy collaboration: official
Vietnam offers rice aid to help Philippines address typhoon aftermath
Foreign arrivals to Vietnam in March surge
Aquatic exports enjoy 25 percent growth last month

The column chart shows the number of imported cases, and the line chart shows the number of locally acquired infections. Photo: MoH
Daily Covid-19 infections fall sharply to 72,000 in Vietnam
Continuing the declining trend in Covid-19 cases, the Ministry of Health announced 72,556 new infections in Vietnam on April 1, a fall of more than 8,000 cases compared to the previous day.
Of the total, 51,351 cases were documented in the community, only one case tested positive upon returning from overseas, and the remainder were diagnosed in the quarantine areas.
Hanoi capital took the lead with 7,734 positive cases, followed by Nghe An, Dak Lak, and Phu Tho that recorded more than 3,000 cases each.
The same day, the northern province of Vinh Phuc registered to add more than 13,000 cases to the national coronavirus database, cited VOV.
The Ministry of Health also announced an additional 87,463 patients recovering from the disease, and 33 more deaths of the virus and other underlying illnesses.
As of April 1, Vietnam has detected 9,650,663 Covid-19 cases since the start of the outbreak, ranking 12th out of 225 countries and territories worldwide.
Of the infected patients, 7,606,476 have been discharged from hospital after making a full recovery from the disease, and 42,526 patients have died of the virus.
Nearly 206 million vaccine doses have been administered nationwide.
HCM City enjoys impressive growth in import-export turnover
Despite suffering the negative impact of the Covid-19 pandemic and the Russia-Ukraine conflict which affects international trade, import and export activities of Ho Chi Minh city still achieved impressive growth in the first quarter of this year.
Statistics from the municipal Statistics Department showed that the city's foreign trade was valued at nearly US$17.4 billion between January and March, up 18.4 percent year on year.
The city's export value hit nearly US$11.9 billion in the period, an increase of 3.5 percent compared to the same period last year.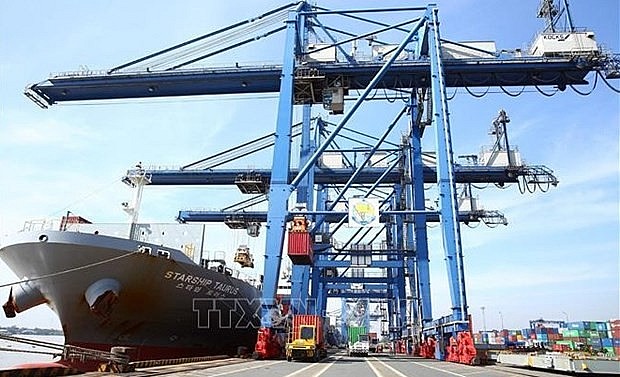 HCM City's foreign trade rises 18.4 percent year on year in Q1 to nearly US$17.4 billion. Photo: VNA
Of the figure, the FDI sector accounted for the highest proportion of more than US$6.5 billion, followed by the non-State and State sectors with more than US$3.2 billion and US$564.4 million, respectively.
In terms of export structure, the group of industrial products saw the highest export value, reaching US$7.4 billion, up 19.1 percent over the same period and making up 75.3 percent of the combined export turnover. They included such items as computers, electronic products and components, textiles and garments, machinery, and other types of equipment.
Notably, the group of agricultural products recorded a turnover of over US$1.1 billion, up 54 percent year on year and accounting for 11.7 percent of the city's total export value while the group of aquatic products had export earnings of US$270 million, up 70 percent, according to VNA.
During the three-month period, China was the biggest buyer of HCM city's enterprises with over US$2.5 billion in revenue. It was followed by the United States and Japan with US$1.6 billion and US$701.8 billion, respectively.
In March alone, export earnings were estimated at nearly US$4.6 billion, a year-on-year increase of 42.7 percent.
Meanwhile, the city's import turnover was up 30.6 percent, hitting nearly US$6.8 billion.
WB to help Vietnam realize high-income economy goal
A senior official of the World Bank has reaffirmed the institution's commitment to supporting Vietnam in realizing its goals of becoming a high-income economy by 2045 and reaching net zero emissions by 2050, reported fibre2fashion.com.
"We are committed to work with Vietnam as it charts a renewed course towards ambitious development goals," said WB VP for East Asia and Pacific Manuela V Ferro who recently concluded a five-day visit to Vietnam.
"Our partnership will focus on strategic areas that promote productivity-led, climate-resilient, inclusive growth, contributing the World Bank's global and local expertise, embedded in evidence-based analysis and financing," she said.
According to fibre2fashion.com, the World Bank and Vietnam are jointly producing a report that will offer pathways and solutions for Vietnam to realize its aspiration, VOV reported.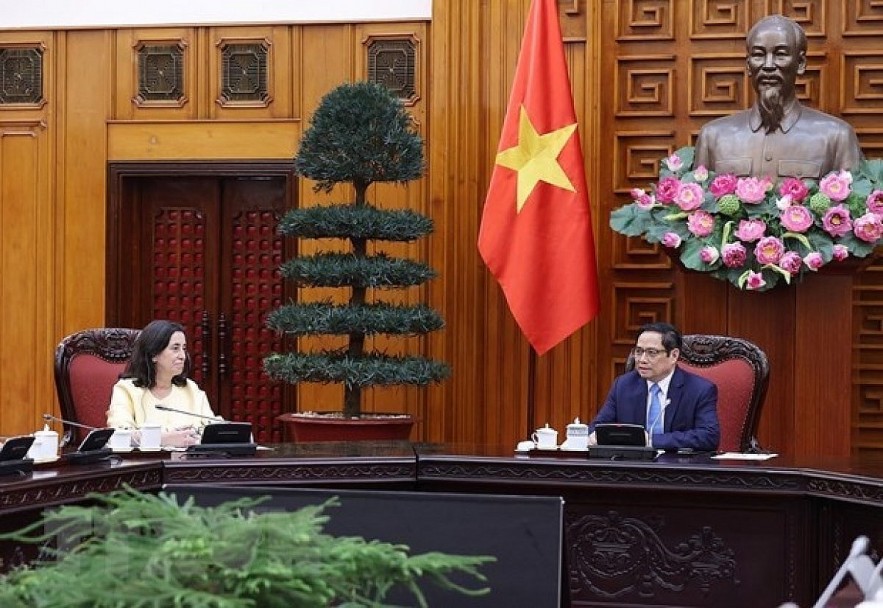 Prime Minister Pham Minh Chinh (R) meets with WB Regional Vice President for East Asia and Pacific Manuela V. Ferro in Hanoi on March 21. Photo: VNA
The world garment & fashion website cited a World Bank media release, saying the Vietnam 2045 report will take stock of the pace of reforms laid out in 2016's Vietnam 2035 roadmap, analyze how Vietnam's economic trajectory has been affected by the Covid-19 pandemic and other global mega-trends, and provide recommendations to inform policy reform discussions leading up to the fourteenth Party Congress, scheduled for early 2026.
The World Bank's current portfolio in Vietnam consists of 33 operations, worth a total of US$5.72 billion focused on transforming livelihoods and increasing infrastructure's resilience to climate risks, education, health care, transport, energy, water resource management, and urban resilience. Since its re-engagement in Vietnam in 1994, the bank has committed a total of more than US$25.3 billion towards financing Vietnam's development.
Vietnam needs to amend Bidding Law to join int'l playing ground
The amendment of the Law on Bidding aims to update regulations in line with the free trade agreements (FTAs) that Vietnam has joined, to create a favorable business environment, and promote innovation.
The promulgation and implementation of the Law on Bidding 2013 together with relevant laws has created an important legal basis for regulating procurement activities, and management and use of capital and assets of the State, contributing to improving investment efficiency and procurement with the state budget.
In addition, the Law on Bidding has created a legal basis for promoting online bidding activities, creating a comprehensive change in bidding work, ensuring the requirements of publicity, transparency, competition and efficiency in bidding activities.
However, Tran Hao Hung, Director of the Procurement Management Department (Ministry of Planning and Investment), said that the actual situation poses an urgent requirement for a comprehensive revision of the Law on Bidding, cited VNN.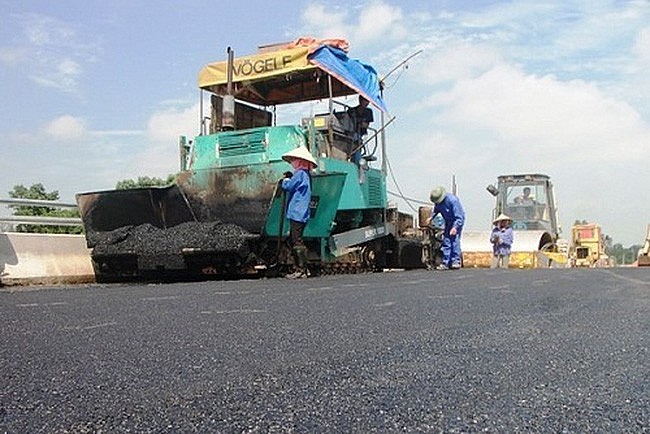 Photo: VNN
Hung said the goal of amending the Law on Bidding this time is to create a complete and unified legal framework on bidding, procurement using state capital, and prompt removal of difficulties and obstacles in the implementation of the Law, simplifying bidding procedures, cutting costs for businesses through bidding activities, promoting the procurement of innovative products, and green procurement in order to improve the quality of socio-economic efficiency, environmental protection, sustainable development.
A representative of the Electricity of Vietnam (EVN) said the current Law on Bidding is not updated with international practices according to new agreements signed between Vietnam and international organizations, such as the EU-Vietnam Free Trade Agreement (EVFTA), leading to many difficulties in the implementation of terms on bidding and procurement.
For example, the EVFTA allows the application of the form of appointment of contractors for the protection of patents, copyrights or other exclusive rights. Therefore, the Bidding Law may consider adding cases where the form of "designation of contractor" or "direct contract negotiation" can be applied to innovative products, high-tech products, green procurement, domestic products replacing imported goods, and products appearing on the domestic market for the first time if they fall under the provisions of the EVFTA to support domestic manufacturers and contractors.
A representative of Viettel Group stated that in fact, Viettel's special feature is that it conducts military research activities. This firm sometimes needs to purchase equipment that only 1-2 corporations in the world can manufacture. These firms only negotiate directly, and do not organize bidding.
"We propose removing research projects using enterprise's scientific development funds from the law to increase innovation," the representative said.
Tran Hao Hung affirmed that the point of view of the agency developing the revised Law on Bidding is to create a favorable, healthy and fair investment and business environment for all economic sectors, promote innovation, accelerate national digital transformation, and develop digital economy on the basis of science - technology.
Cooperation enhanced to boost coverage of 31st SEA Games
The Vietnam News Agency (VNA) and the sub-committee for information and communications of the 31st Southeast Asian Games (SEA Games) met in Hanoi on April 1 to discuss cooperation in covering the coming regional sports event.
VNA Deputy General Director Nguyen Tuan Hung and Deputy General Director of the National Sports Administration under the Ministry of Culture, Sports and Tourism Le Thi Hoang Yen attended the meeting.
Earlier, the two sides signed a cooperation agreement on spreading information about the Games on March 29.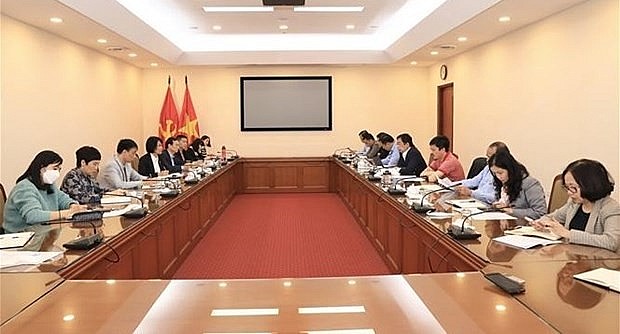 The meeting between the VNA and the sub-committee for the 31st SEA Games information and communications in Hanoi on April 1. Photo: VNA
Accordingly, the VNA, as the key press agency for foreign service of Vietnam, will coordinate with the sub-committee to increase the coverage of the 31st SEA Games, including organization preparations as well as the determination and results of national teams. It will also boost popularizing the Vietnamese people's hospitality among international friends.
As the host news agency, the VNA will provide and edit content for the Games' official website, open a bilingual sub-web in Vietnamese and English about the event, publish related news on all of its print publications and e-newspapers, and supply information for domestic and foreign media agencies, VNA reported.
The two sides will also hold a photo competition and exhibition at the Games' press centre, expected to be based at the National Convention Centre in Hanoi.
The 31st SEA Games, themed "For a stronger South East Asia", is scheduled to run in Hanoi and 11 neighboring localities from May 12 to 23. It will feature 40 sports with 526 events and expect to attract around 10,000 participants. The biennial event was initially slated for late 2021 but delayed due to the pandemic's impact.
At the 30th SEA Games in 2019, Vietnam finished second in the overall medal standings, with 98 golds, 85 silvers and 105 bronzes, following the hosts the Philippines.