Vietnam News Today (August 18): Hanoi Students to Begin School Year on September 1
Vietnam News Today (August 18): Hanoi remains at high risk of Covid-19 community infection Hanoi students begin their school year on September 1; HCM City receives more assistance for Covid-19 fight; Isolation deepens as pandemic kills peak season tourism on Ly Son Island
Vietnam News Today (August 18) notable headlines
Hanoi remains at high risk of Covid-19 community infection
Hanoi students to begin school year on September 1
HCM City receives more assistance for Covid-19 fight
Isolation deepens as pandemic kills peak season tourism on Ly Son Island
Over 10,000 Australian consumers to taste Vietnamese rice
Vietnam strives to keep CPI growth low by end of 2021
Vietnam films selected for Asian Project Market at Busan festival
Vietnam records additional 9,605 Covid-19 cases
'Green lane' proposed for waterway transport of rice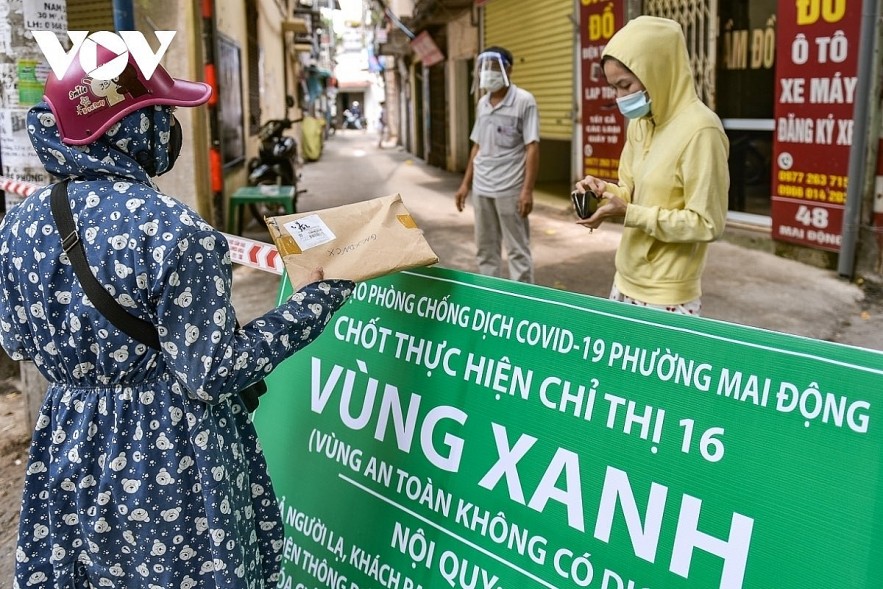 Pandemic-free green zones are considered safe areas, with no cases or risk of infection. Photo: VOV
Hanoi remains at high risk of Covid-19 community infection
The capital is still facing a high risk of further Covid-19 community outbreaks due to a number of F0 cases being detected among the locals following the deployment of a recent mass testing campaign.
Assoc. Prof. Dr. Tran Dac Phu, deputy director of Hanoi Centre for Disease Control, revealed that 300,000 test samples have been taken for screening over the past week, with a number of fever cases being discovered in several high-risk areas.
Hanoi capital has been implementing a range of drastic measures in recent times in an effort to contain the spread of the Covid-19 pandemic as soon as possible, Phu said.
He therefore urged local residents to make medical declarations when showing symptoms of cough, fever, and difficulty breathing in order for samples to be taken for testing as a means of swiftly detecting Covid-19 cases, cited VOV.
Furthermore, there must be strict controls put on people at quarantine checkpoints on roads and streets.
The capital has also effectively been deploying "Green Zones", with the aim of separating F0 cases from the wider community. These pandemic-free green zones are considered safe areas, with no cases or risk of infection.
He went on to emphasise the importance of implementing social distancing measures whilst following the Ministry of Health's 5K message. This includes khau trang (face masks), khu khuan (disinfection), khoang cach (distancing), khong tu tap (no gatherings), and khai bao y te (health declarations) to eradicate the source of infection.
Moreover, drastic measures should also be taken to avoid the risk of cluster infections emerging at banks and post offices, along with among shippers and suppliers of goods to supermarkets.
It is essential to continue deploying large-scale testing, with a primary focus on high-risk areas and speeding up vaccination, Phu stated.
Hanoi' students to begin school year on September 1
Around two million students in Hanoi are expected to resume school on September 1.
The 2021-22 year is expected to finish before May 31 next year.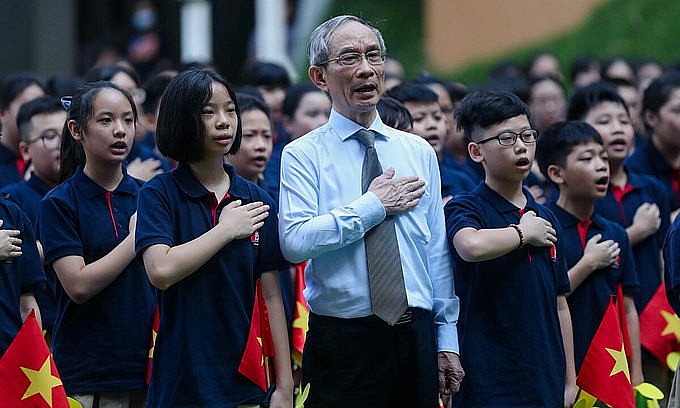 Nguyen Xuan Khang, principal of the Marie Curie school in Hanoi, stands with his students in the opening ceremony of a new school year on September 5, 2020. Photo: VnExpress
While the city People's Committee has yet to make an official announcement, it is expected that the students will continue to study online amid the ongoing Covid-19 social distancing mandate, which is expected to last until August 23, according to VnExpress.
More than 30 provinces and cities have announced dates for the new year.
Ho Chi Minh City planned to reopen schools in mid-September and have students study online in the first weeks. The city People's Committee is expected to make a final decision on the dates this week.
Hanoi has had 2,484 Covid cases since the fourth wave hit Vietnam in late April.
HCM City receives more assistance for Covid-19 fight
Ho Chi Minh City, the country's current largest Covid-19 hotspot, has received vehicles and medical devices to help it contain the spread of the pandemic.
The Covid-19 prevention and control fund of the city on August 17 received ten 29-seater buses totalling VND10 billion donated by the BRG Group and the Southeast Asia Commercial Joint Stock Bank (SeABank).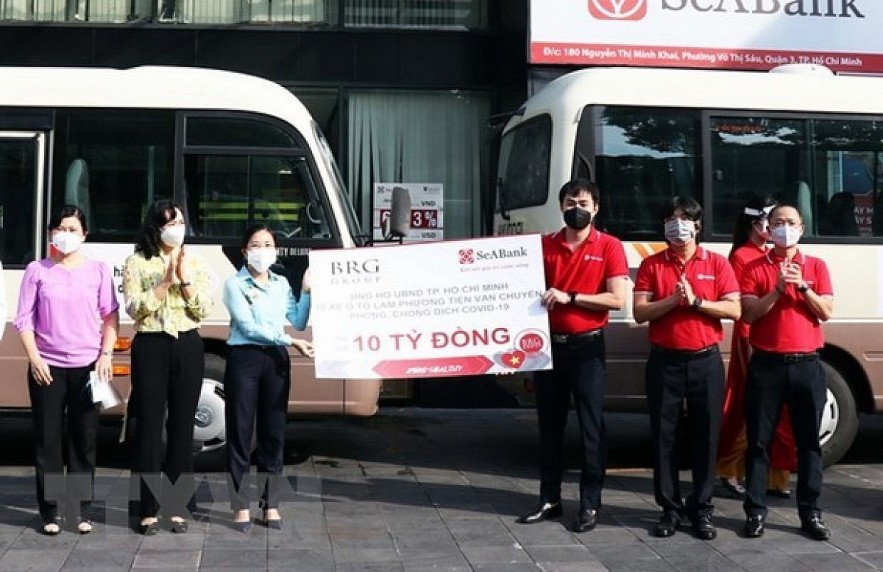 The Covid-19 prevention and control fund of HCM City receives the token of ten 29-seater buses from donors. Photo: VNA
Five of them were presented to the municipal Department of Health and the rest to relevant agencies which are working to bring Covid-19 under control in the southern hub.
Earlier, the Ho Chi Minh City Power Corporation (EVN HCMC) presented 2,000 personal protective clothing sets, 500 3M face masks, 500 face shields, and 1,920 N95 masks to the Covid-19 treatment hospital No.12 in Thu Duc city.
It was part of a program to hand over essential medical equipment worth more than VND2.6 billion (US$113,872) to Covid-19 treatment hospitals from donations by the EVN HCMC staff.
Isolation deepens as pandemic kills peak season tourism on Ly Son Island
The latest Covid-19 outbreak has dashed the hopes of tourism-dependent workers and business owners on Ly Son Island for a summer season revival.
The owners of hotels and homestay facilities are in deep financial waters and some are leaving the business for good.
Ly Son, 30 kilometers off the coast of the central Quang Ngai Province, is one of a handful of volcanic islands in Vietnam. The island had gained popularity in recent years after remaining relatively unknown for decades.
Today, the beaches are deserted and the hotels closed amid the ongoing Covid-19 wave that hit the country late April.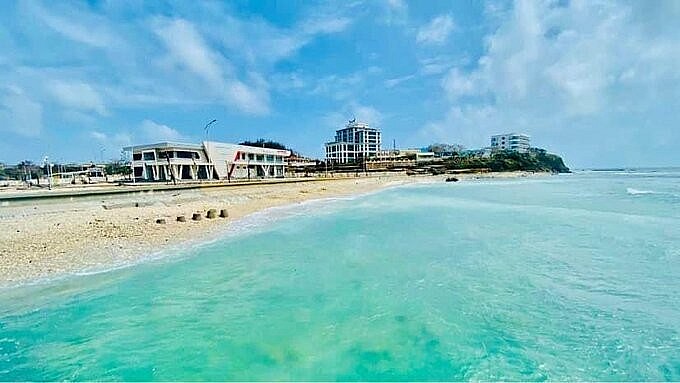 A hotel in Ly Son Island has been shut down due to the absence of tourists. Photo: VnExpress
Many hotel and homestay owners have been forced to take up jobs like masonry and fishing to earn their daily livelihood as the pandemic has lasted for more than a year and shows no sign of ending any time soon.
Ly Son, formed by five mountains, four of which are dormant volcanoes, is a combination of three islands: Dao Lon (Big Islet), Dao Be (Small Islet) and the Mu Cu Islet. The island district has become increasingly popular among both domestic and foreign visitors in recent years, prompting locals to invest money in hotels, homestay facilities and other services.
According to local authorities, 170 hotels, motels and homestay facilities in Ly Son have been hit hard by the fourth coronavirus wave, cited VnExpress.
The 10-square-kilometer island has more than over 6,800 tourism workers, accounting for 35 percent of the island's population. In 2019, before the onset of the pandemic, Ly Son welcomed 265,000 tourists for a 30 percent increase year-on-year, raking in VND276 billion (US$11.7 million) in tourism revenue.
Without tourism, Ly Son residents rely solely on agriculture and fishery but only more than 550 fishing boat owners maintain a stable fishing job while the price of garlic, the district's main agricultural product, has fallen by half against the same period last year.
Over 10,000 Australian consumers to taste Vietnamese rice
A promotion program titled 'Viet Nam, Land of World's Best Rice' will present 10,000 bags of Vietnam's Ban Mai Cung Dinh rice to consumers in Australia.
Organized by the Vietnam Trade Office in Australia and a number of enterprises, the program features a series of activities between August 18 and September 27, aiming at trademark promotion and trade connectivity, reported VNA.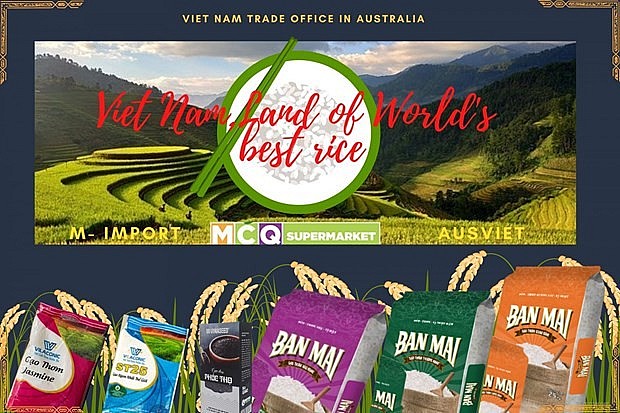 The 'Viet Nam, Land of World's Best Rice' programme. Photo: moit.gov.vn
The rice gifts will be distributed via the M-Import company and MCQ supermarket chain.
In addition, AusViet company will also offer hundreds of promotional gifts of Vietnam's ST25 and Jasmine Vilaconic rice trademarks in Melbourne.
In Sydney, an event inviting local people to try cooked rice using different Vietnamese rice products available in Australia is scheduled to be held based on local social distancing conditions.
A virtual rice exhibition will also take place at the end of the program.
According to the Trade Office, in July, despite the fact that Australia was cutting its rice import, Vietnamese rice exported to the market grew impressively by 37.03 percent from the same period last year.