Vietnam News Today (August 29): HCMC Shippers to Resume Operations in 8 High-risk Districts
Vietnam News Today (August 29): Vietnam records 12,097 new local Covid cases; Vietnam considers granting registration certificate for conditional circulation to Nano Covax;
Vietnam News Today (August 29) notable headlines
Vietnam records 12,097 new local Covid cases
Vietnam considers granting registration certificate for conditional circulation to Nano Covax
HCMC shippers to resume operations in eight high-risk districts
Int'l Army Games 2021: Vietnamese delegation receives high evaluation
Government chief orders vaccinations for students before new school year
Vietnam, US enhance health security partnerships across region
Vietnam seeks to expand co-operation with Hong Kong
US-supported project strengthens Vietnam's wildlife protection efforts
WHO presents medical supplies to support Vietnam's Covid-19 fight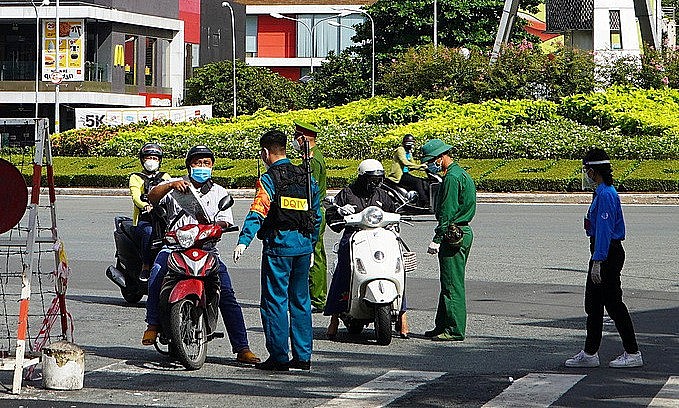 Forces check travel papers of people at a Covid checkpoint on Nguyen Binh Khiem Street in HCMC, August 23 2021. Photo: VnExpress
Vietnam records 12,097 new local Covid cases
Vietnam confirmed 12,097 new local Covid-19 cases in 39 cities and provinces Saturday, bringing the total coronavirus tally in the new wave to 418,321.
Saturday's is the third largest single-day tally since Covid-19 broke out in Vietnam, after 17,409 recorded on Friday and 13,417 on Saturday last week.
Of the day's tally, 5,629 cases were detected in quarantine and locked down areas, while the remaining 6,468 in the community with unclear sources of transmission.
Three localities with the highest numbers of new cases continued to be HCMC (5,481) and its neighbors Binh Duong (4,049) and Dong Nai (797), all three being major industrial hubs.
352 new coronavirus deaths were recorded, with 271 in Ho Chi Minh City, 38 in Binh Duong, 16 in Dong Nai, 15 in Tien Giang, four in Long An, two each in Dong Thap and Khanh Hoa, and one each in Da Nang, Ben Tre, Nghe An and Thua Thien-Hue.
The coronavirus death toll in Vietnam so far is 10,405, accounting for around 2.5 percent of all cases in the country.
12,375 Covid-19 patients were announced recovered Saturday, bringing the number of recovered cases so far to 210,989, cited VnExpress.
Over 19 million people have received at least one Covid-19 vaccine shots. Over 2.3 million are fully vaccinated.
Vietnam considers granting registration certificate for conditional circulation to Nano Covax
The National Committee for Ethics in Biomedical Research under the Ministry of Health (MoH) has agreed that the mid-term results from Nano Covax's phase 3 clinical trials will be submitted to the Advisory Council for the Registration of Circulation of Drugs and Medicinal Ingredients for considering the issuance of a registration certificate for the conditional circulation of the vaccine.
In its statement issued on August 28, the National Committee for Ethics in Biomedical Research affirmed that the homegrown Covid-19 vaccine meets safety requirements.
The statement also mentioned the committee's conclusion at its urgent meeting on August 22 to evaluate the mid-term result of Nano Covax's phase 3 clinical trials until August 18, stressing that the Covid-19 vaccine has immunogenicity on the tried cases.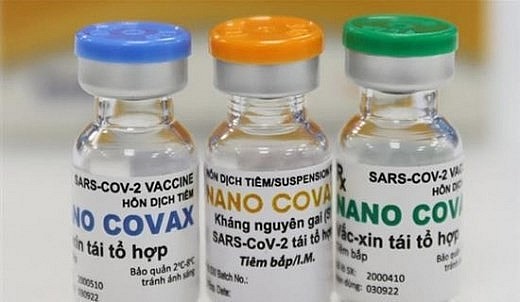 Nano Covax vaccine likely to get a registration certificate for conditional circulation. Photo: Ministry of Health
The committee also requested additional results of the plaque reduction neutralization test (PRNT) of Coronavirus on Delta and Alpha variants to meet enough test results in accordance with the approved plan, reported VNA.
The committee proposed domestic vaccine developer Nanogen Pharmaceutical Biotechnology JSC and the research team to complete a report on updating and supplementing the clinical trial research results of Nano Covax and send it to the ethics committee and the advisory council for evaluation and approval.
"If Nano Covax vaccine is granted a registration certificate for circulation, it can only be used conditionally basing on the quantity and plan approved by the Ministry of Health," the statement said.
People administered with the vaccine must be closely monitored for safety similar to those joined the phase 3b clinical trials, it added.
The two agencies will specify conditions for continuing or stopping circulation when they collect enough data on the protective efficacy and safety of the vaccine, according to the statement.
According to the ethics committee, the MoH has created favorable conditions for domestic vaccine producers, including Nanogen, to research and develop Covid-19 vaccines.
HCMC shippers to resume operations in eight high-risk districts
Authorities in HCMC have allowed shippers in Thu Duc City and seven districts, all high-risk Covid areas, to resume services amid daily tests.
The decision came following a meeting between Deputy Prime Minister Vu Duc Dam and Ho Chi Minh City leaders Saturday afternoon to discuss shopping demands among residents as the city tightens travel curbs to contain the spread of the virus.
Under the new decision, all shippers who utilize tech apps in Thu Duc City, Districts 8, 12, Go Vap, Binh Tan, Binh Thanh, Binh Chanh and Hoc Mon will be permitted to offer delivery. Earlier, they were asked to suspend services as the city tightened travel curbs from Aug. 23.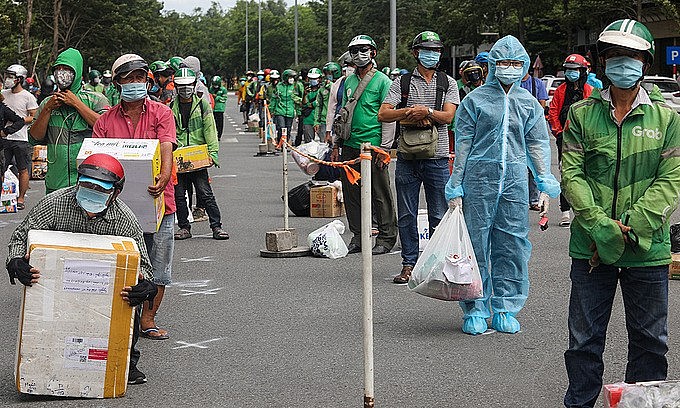 Shippers wait to deliver packages at a field hospital in Thu Duc, HCMC, July 21, 2021. Photo: VnExpress
Every day, at 5-6 a.m. shippers in the eight high-risk areas will undergo rapid Covid tests at mobile medical stations operated by the military in their wards, and should results return negative, be allowed to operate.
Shippers in the remaining 14 districts of HCMC that have continued to operate after August 23 will be tested twice a week, VnExpress reported.
Currently, there are over 12,500 shippers operating in the 14 low risk districts. The figure would increase to 25,000 after shippers in the high-risk areas are allowed to resume services.
HCMC, epicenter of Vietnam's fourth coronavirus wave since April, has recorded nearly 205,000 local Covid-19 cases in the new outbreak.
It has undergone a series of social distancing orders amid persistent coronavirus threats, and has banned people from going out starting Aug. 23. Residents would have their food, medications and other necessities delivered to their doorsteps instead by local authorities.
The government wants HCMC to bring the coronavirus situation under control by Sept. 15.
Int'l Army Games 2021: Vietnamese delegation receives high evaluation
A high-ranking delegation from the Vietnam People's Army (VPA) led by Lieutenant General Phung Si Tan, Deputy Chief of the General Staft of the VPA, visited Alabino training ground in Moscow, Russia, and encouraged Vietnamese officers and soldiers joining the ongoing International Army Games 2021.
Lauding the efforts and achievements that Vietnamese teams have gained so far, Tan asked them to make better preparations for competitions, ensuing safety and continuing to maintain the highest determination and solidarity.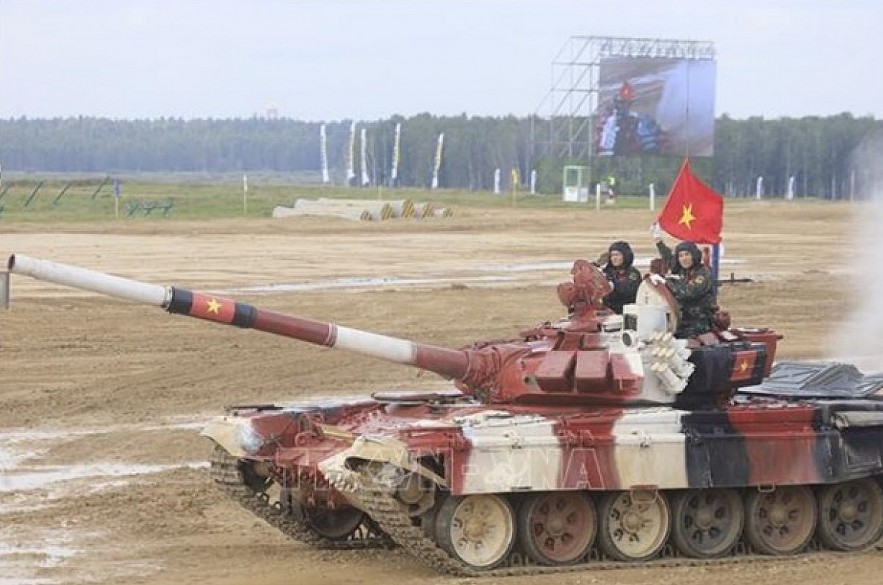 Vietnamese Tank Crew No.2. Photo: VNA
He said that the Russian side highly valued Vietnam's sending of a high-ranking delegation to the International Military-Technical Forum "Army-2021" and showed interest in the Vietnamese tank team, especially Tank Crew No. 1, cited VOV.
Vietnam's high sense of discipline and friendship with teams from other countries has also received high evaluation from the Russian side, he said.
The performance of Vietnamese teams competing in events in Russia have been applauded by other countries, Tan added.
The Vietnamese tank team ranked ninth overall as of August 27 after Tank Crew No. 2 finished its competition in group one at Alabino military training ground in Moscow.
Teams in group one will have last games on August 28 and 29. The Vietnamese tank team will compete on August 29 morning (local time) to gain a birth to the semi-final round.
The International Army Games 2021 is being held from August 22 to September 4 in 11 countries, Russia, Algeria, Armenia, Belarus, Vietnam, Iran, Qatar, Kazakhstan, China, Serbia, Uzbekistan. In total, more than 5,000 military personnel, consisting of 277 teams from 42 countries, take part in 34 competitions of the Games 2021.
Government chief orders vaccinations for students before new school year
Prime Minister Pham Minh Chinh has ordered authorities to seek proper vaccine sources and ensure that students are put in the priority group to receive vaccinations as soon as possible so they can return to school.
Upon addressing a national online conference of the education and training sector on August 28, the cabinet leader requested that the Ministry of Education and Training collaborate with the Ministry of Health to implement the Covid-19 vaccination programme for students.
Moving forward, they will have to access vaccine manufacturers, seek sources of vaccines suitable for people over 12, and devise a plan to prioritise vaccinating students according all age groups.
In line with this plan, the country should vaccinate students before they return to school like in other countries, he said.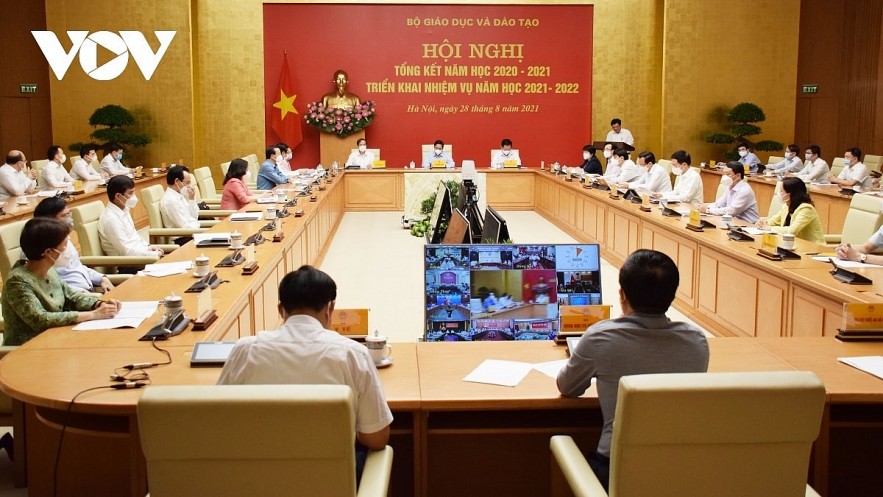 PM Pham Minh Chinh chairs the national online conference of the education and training sector. Photo: VOV
Leaders of many localities have also suggested prioritising vaccinations for students.
According to Nguyen Thi Quyen Thanh, vice chairwoman of the People's Committee of Vinh Long province, 91% of teachers in the province have received their first Covid-19 vaccine dose and 44% have been fully inoculated.
However, students still haven't been vaccinated so they have no choice but to continue studying online.
It can be considered that this form of learning is not effective, especially for over 14,000 disadvantaged students, she noted.
Thanh therefore suggested that priority should be given to students over 12 to be vaccinated in order to allow schools to reopen, reported VOV.
Nguyen Thi Thanh Lich, vice chairwoman of the People's Committee of the Central Highlands province of Gia Lai, said it was tough to keep students learning amid school closures in the province, especially due to the localities socio-economic situation.
She said she expected a vaccination programme for students in order to allow them to return to school and their traditional way of learning.
Vietnam has to date received approximately 28 million doses of vaccines from various sources. The country has also administered roughly 19 million doses of Covid-19 vaccines.
Ho Chi Minh City, currently the hardest hit locality by Covid-19, has recently announced its plans to inoculate people aged between 12 and 18 from September if there is a suitable vaccine source available.