Vietnam News Today (Dec. 31): Hanoi Bans Outdoor New Year's Eve Programs over Covid
Vietnam News Today (Dec. 31): Vietnam records 19,848 new local Covid cases; Navies of Vietnam, Thailand bolster cooperation; Hanoi bans outdoor New Year's Eve programs over Covid; Vietnam leaves strong imprints as active, effective member at UNSC.
Vietnam News Today (Dec. 31) notable headlines
Vietnam records 19,848 new local Covid cases
Navies of Vietnam, Thailand bolster cooperation
Hanoi bans outdoor New Year's Eve programs over Covid
Vietnam leaves strong imprints as active, effective member at UNSC
Quang Nam aims to attract foreign visitors during National Tourism Year 2022
Health Ministry receives 100,000 doses of Russian-donated Sputnik Light vaccine
Vietnam takes active part in multilateral cooperation mechanisms in 2021
HCMC beats target, posts 3 pct rise in 2021 budget revenue
No live spectators for HCMC's New Year countdown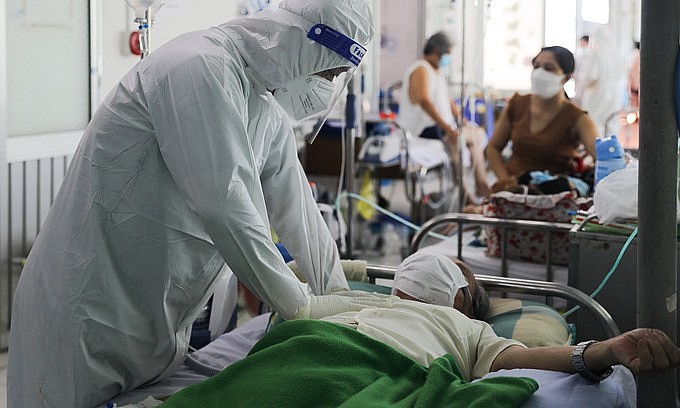 A doctor checks on a Covid-19 patient at a hospital in HCMC's District 8, September 21, 2021. Photo: VnExpress
Vietnam records 19,848 new local Covid cases
Vietnam on Thursday recorded 19,848 local Covid-19 cases, including 2,868 cases detected on previous days in the southern province of Ca Mau.
The coronavirus tally in the fourth wave since late April is 1,708,129 cases.
The three localities with the highest numbers of cases are Ca Mau with 3,876 cases, Hanoi with 1,866 cases and Tay Ninh with 935 cases.
291 deaths are added to the national database on Thursday, with 53 in Thua Thien-Hue, 37 cases in Ho Chi Minh City, 20 in Binh Duong, 16 each in An Giang and Can Tho, 15 each in Dong Thap and Vinh Long, 14 in Tien Giang, 13 each in Kien Giang and Hanoi, 12 in Soc Trang, 11 in Ba Ria-Vung Tau, 10 in Long An, nine in Tay Ninh, eight in Ben Tre, six each in Binh Thuan and Ca Mau, five each in Tra Vinh and Phu Yen, two in Hau Giang, and one each in Hai Phong, Lang Son, Lam Dong, Dak Lak and Bac Lieu.
The total number of coronavirus deaths so far is 32,168 cases, or around 1.9 percent of all infections, cited VnExpress.
34,102 Covid-19 patients were announced recovered on Thursday, bringing the number of recovered cases to 1,336,644.
Around 77.5 million people have received their first Covid-19 vaccine shots, 67.7 million have received their second shots and over 4 million have received their third shots, including those receiving the third shot of the three-shot combo of Cuba's Abdala vaccine.
Navies of Vietnam, Thailand bolster cooperation
Rear Admiral Nguyen Duy Ty of the Naval Region 5 High Command held phone talks with the Commanders of Thailand's First and Second Naval Area Commands on December 29.
Vietnamese navy officers at the talks. Photo: www.qdnd.vn
At the talks, the sides underlined that joint activities between the countries' navies have reaped positive results, thereby promoting cooperation, mutual understanding and trust, as well as maintaining maritime zones of peace and stability that foster economic development.
In the coming time, they will continue to exchange information via established communication channels, as well as fully and effectively implement agreements on regulations on joint patrol on bordering sea areas signed by the naval forces of Vietnam and Thailand in 1999.
The sides are to closely join hands in settling maritime incidents on the sea, according to VOV.
They also agreed to propose the countries' Defense Ministries to continue sending patrol ships to each other's ports once the pandemic is put under control.
Hanoi bans outdoor New Year's Eve programs over Covid
Hanoi will allow no outdoor programs on New Year's Eve while the central towns of Hue and Hoi An will suspend a series of countdown events due to the worsening pandemic situation.
Authorities in Hanoi have decided not to organize fireworks shows and outdoor countdown events on New Year's Eve as in previous years in order to prevent the gathering of large crowds amid the surge in daily infections over the past weeks.
The capital city of more than 8 million people has recorded over 42,000 infections during the fourth coronavirus wave that hit the country late April. It has seen a surge in daily infections over the past two weeks, becoming the country's Covid epicenter, prompting local authorities to suspend on-site dining in many downtown districts and tighten pandemic prevention measures.
Hoi An will also cancel an art program planned December 31 to welcome the New Year as the town has recorded a series of community transmissions over the past days with unclear transmission source, reported VnExpress.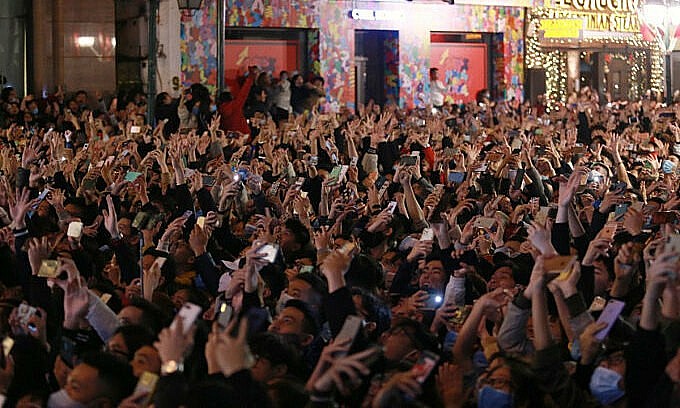 People attend a countdown event near Hoan Kiem (Sword) Lake in downtown Hanoi, December 31, 2020. Photo: VnExpress
The ancient town plans to welcome over 400 domestic tourists on tour packages containing visits to the town and local traditional craft villages with strict pandemic prevention measures on the first day of 2022.
Authorities in Thua Thien-Hue Province have also decided to suspend a countdown event scheduled to be held in the downtown area of Hue on New Year's Eve and to postpone the January 1 launch of a night street zone around Hue's Imperial Citadel.
Over the past week, Thua Thien Hue has recorded nearly 400 new infections every day, more than half of which are community transmissions.
Prime Minister Pham Minh Chinh had last week ordered a ban on large gatherings during the New Year and Tet (Lunar New Year) holidays over the worsening pandemic situation and rising concerns about the Omicron variant.
HCMC is among several localities to have announced to cancel New Year's Eve firework shows.
Vietnam leaves strong imprints as active, effective member at UNSC
As Vietnam started its role as a non-permanent member of the UN Security Council (UNSC) on January 1, 2020, UN Deputy Secretary-General in charge of peace activities Jean-Pierre Lacroix told Vietnam News Agency that he believed Vietnam would be an active and effective member of the council.
Lacroix's comments, along with the almost absolute yes votes for Vietnam to become a member of the council, showed the strong confidence and expectation of the international community in Vietnam's capacity and responsible engagement in the common efforts for peace, stability and security in the region and the world.
The reality has affirmed that in its post, Vietnam has taken part in discussing and seeking solutions to all issues included in the UNSC agenda for all regions, including conflicts in Africa, humanitarian crisis in the Middle East, and other important matters such as the prevention of mass destruction weapon proliferation, the protection of civilians in armed conflicts, maritime security, climate change, and Covid-19 response.
Ambassador Philippe Kridelka, Permanent Representative of Belgium to the UN, affirmed that Vietnam has a strong voice and gains trust from the world, especially countries in Asia, Africa, Europe and the US.
UK Permanent Representative to the United Nations, Ambassador Barbara Woodward highlighted that Vietnam directly engaged in settling many important issues, affirming that Vietnam's contributions are valuable.
Meanwhile, UN Antonio Guterres said that as the President of the council (in January and April 2020), Vietnam showed its ingenuity and the role of a mediator and bridge in supporting the settlement of conflicts, creating a peaceful atmosphere among world powers.
Vietnam and representatives from member countries of the United Nations Security Council attend a discussion on Yemen in May 2021. Photo: VNA
Particularly, as the ASEAN Chair in 2020, and the only ASEAN representative at the UNSC, Vietnam upheld the central role of the association in coping with regional security issues as well as strengthening cooperation between the ASEAN and the UNSC as well as the UN as a whole.
Ambassador Nathalie Estival-Broadhurst, Deputy Permanent Representative of France to the UN said that Vietnam has been very successful in connecting ASEAN with the UNSC. Meanwhile, Armida Salsiah Alisjahbana, UN Under-Secretary-General and Executive Secretary of the UN Economic and Social Commission for Asia and the Pacific (ESCAP) underscored Vietnam's contributions in promoting the comprehensive partnership between the ASEAN and the UN.
Ambassador Dian Triansyah Djani, Permanent Representative of Indonesia to the UN, underlined that Vietnam has made considerable contributions to the enhancement of the voice and image of the ASEAN at the UNSC, cited VNA.
Meanwhile, Permanent Representative of the Philippines to the UN Ambassador Enrique A. Manalo affirmed that by adding ASEAN matters to the UNSC agenda, Vietnam has helped to raise the bloc's image to a new level and enhance relations between regional organizations and the UN, especially the UNSC.
Looking back on active and effective contributions that Vietnam has made to the UNSC, Director-General of the UN Office Tatiana Valovaya said during a meeting with President Nguyen Xuan Phuc in late November that hailed Vietnam's excellent performance as a non-permanent member of the UNSC for 2020-2021 with many initiatives and practical contributions to global issues.
Quang Nam aims to attract foreign visitors during National Tourism Year 2022
The upcoming National Tourism Year 2022 is expected to present a prime opportunity for the local tourism industry to recover and continue elevating the image of both the nation and Quang Nam province to domestic and international tourists, according to local authorities.
Tran Van Tan, vice chairman of Quang Nam Provincial People's Committee, said there will be a diverse range of activities taking place throughout National Tourism Year 2022 under the theme of "Quang Nam - Green tourism destination".
These events include tours to traditional craft villages, a journey along part of the legendary Ho Chi Minh trail, and heritage sites in the locality, as well as various river and eco-tours.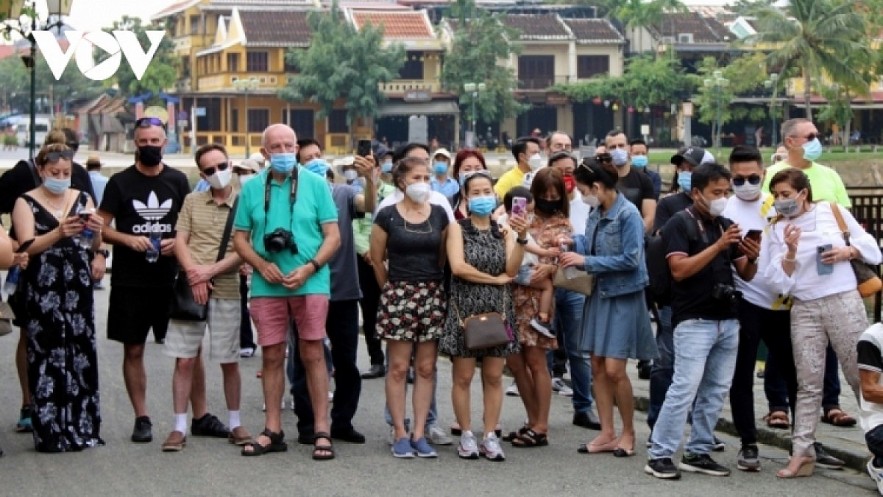 Photo: VOV
Tan emphasized that National Tourism Year 2022 will officially kick off on March 25, 2022, at Hoi An Impression Theme Park, noting that the event is expected to contribute to reboot the local tourism industry as the nation moves into the post-pandemic period.
Deputy Minister of Culture, Sports and Tourism Doan Van Viet expressed his belief that the event will lay a foundation for both domestic and international tourism activities to bounce back, stimulate greater tourism demand, and showcase Quang Nam as an attractive tourism destination, VOV reported.
The National Tourism Year 2022 must be organized on a national scale in order to become the local tourism industry's largest event, develop the tourism brand of the locality, introduce unique tourism products, as well as enhancing linkages with other localities throughout the region, Deputy Minister Viet noted.
The Deputy Minister went on to suggest that the Vietnam National Administration of Tourism (VNAT) and relevant units provide assistance in disseminating information on the event both at home and abroad, and hosting major events as well as ramping up international tourism activities.